Max Gärtner is an explorer. Max Gärtner is a ranger. Max Gärtner is a contemporary artist. With his graphically abstract representations of the animal kingdom the artist examines the relationship of the natural and the supernatural. Max Gärtner's fascination with animal species makes him investigate artistic expression that disregards any boundaries set by natural science. His work is free, imaginative and delicate. Gärtner thereby also discards any distinctions between the real world and the dream world. This creates beautiful works of contemporary art infused with strong graphic design elements.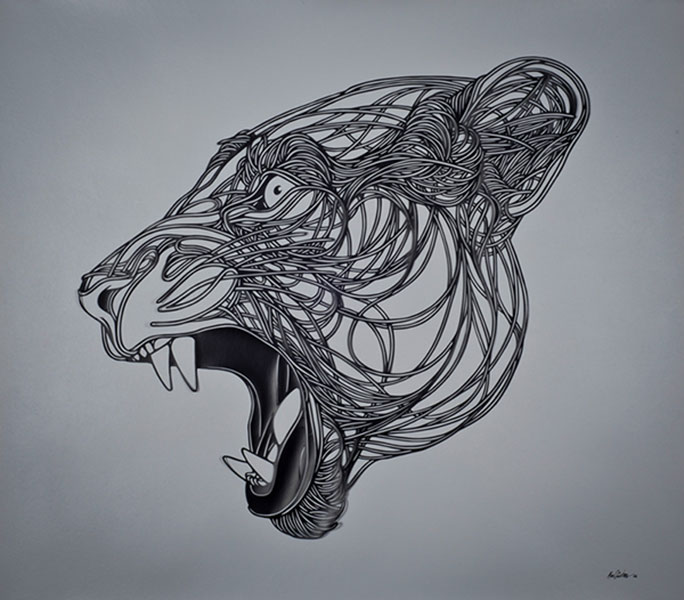 This is Max Gärtner
After completing his Graphic Arts degree in Barcelona in 2008, Max Gärtner went on to become a well-respected illustrator and graphic designers. He was also involved in various projects with the Barcelona-based art collective Barri Groc. Since 2012 the German/Spanish artist lives in Berlin and further develops his artistic skills and expressions. His works have been exhibited at numerous solo- and group- exhibitions worldwide. Two recent group shows the artists participated in where the Pictoplasma Festival in Berlin and the Mexican pendant in Monterrey.  His most recent solo-exhibition will be hosted by BC Gallery.  The show titled No Lie in Fire will present a series of work that investigates his fascination for animals, humans and creatures.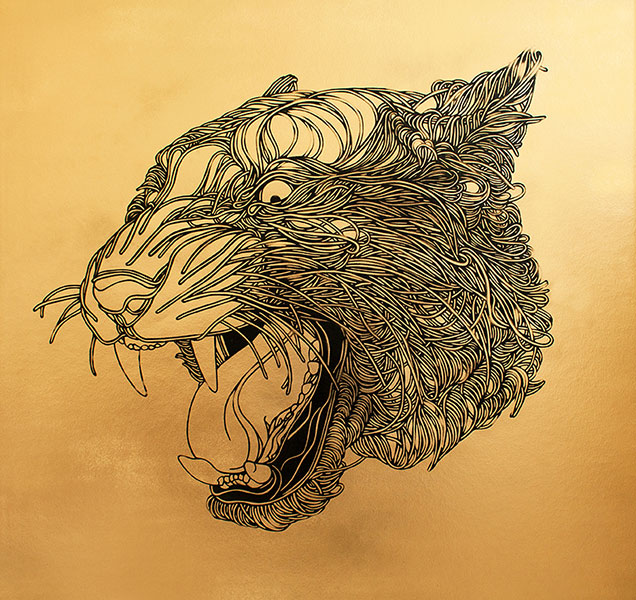 Totems
With No Lie in Fire Max Gärtner aims to mediate his impressions of wanderings through woods and all those things that occur to him in a metaphysical state during his journeys. It's about things that cannot be described in a rational way. He does not try to communicate through language but to make them appreciable for the viewer through his art. No Lie in Fire is a title chosen by the artist himself, which demonstrates that for him there is no clear division between 'reality' and the metaphysical world. There are totem- like creatures, either animals or human that appeared within different states of consciousness. Those creatures are now the main focus of his paintings. Through his very unique way of creating portraits consisting only of lines that are both, extremely detailed but also graphically abstract he pays tribute to his totems.

Artist Statement
Gärtner says about his work. "There are encounters in life, which are accompanied by an incredible force and which, once experienced, leave you convinced of their significance as messages from a higher universal power. It makes no difference whether these encounters occur within dreams or a waking state because the idea of a sole, true and singular reality is false and out-dated, and everything one feels, exists and as such may and should be considered a reality. This is an exhibition of portraits of some of the creatures I have encountered and who have influenced the course of my life on a fundamental level. I do not know how else to describe it, other than encounters with extremely old souls, which I would like to identity here, free from any religious connotations, as gods."
No Lie in Fire will open at BC Gallery in Berlin-Friedrichshain on November 14th and run through December 27th. The opening reception will be hosted this Friday beginning at 6pm.
To never miss any exhibition hosted by BC Gallery sign up to My Widewalls.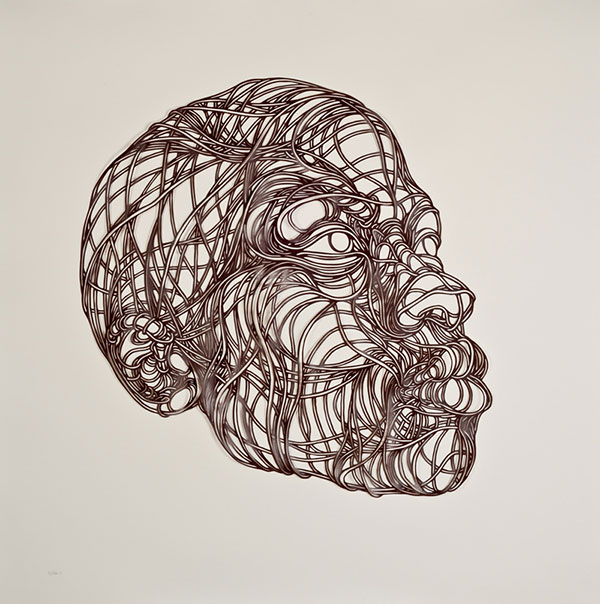 Images courtesy of BC Gallery