There is something sentimental and strangely charismatic in the work of Max Gimblett. On his 80-year-long journey, with a big-hearted expression and mind-no-mind approach, Max Gimblett created and still creates paintings, sculptures, works on paper and ink drawings inspired by multidimensional exploration of the man spirit. As the most eminent artist from New Zealand, Max Gimblett, perpetuates his last series of works in a form of celebration of his 80th birthday and an exhibition entitled One day in the afternoon of the gods. But, it is not the end. The Gow Langsford gallery – the host of his exhibition, marking his milestone, decided to publish and introduce a hardcover book entitled From Grafton to the Guggenheim. This 175-page book is created as a partial biography that is filled up with sketches pinpointing the gallery's tight and long relationship with Max Gimblett.
Max Gimblett - Synesthesia of Eccentricity
Max Gimblett, a deeply spiritual man with a clear vision, is not just characterized by an unusual mixture of contradictions. At the same time impetuous and reasonable, hesitant and vigorous, he is living on the golden edge of eccentricity. With an open spirit, Max Gimblett is creating the artwork interwoven by a faded odor of the Old Spice and charming old boy humor. However, his life and artwork are like an open book that is complex to read and understand. The poetry of his continuum lays in that spontaneous charisma that can predict and fulfill our contemplations and expectations.
The Expressive Journey of Comprehension
The canvases of Max Gimblett are hyper-expressive and polychromatic. Followed by the mischievous game of the different tones of dark red, gray, mint green, navy blue and ocher, Max Gimblett reminds us of that inexhaustible energy he has even though he is an 80-year-old man. His memorable canvases invite us on a multicolored and mystical journey of finding and comprehension of ourselves. Led by sentimentality and generosity, Max at the same time tears up and raises his voice, creating a unique universe of deep emotionally expressive series of work entitled One day in the afternoon of the gods.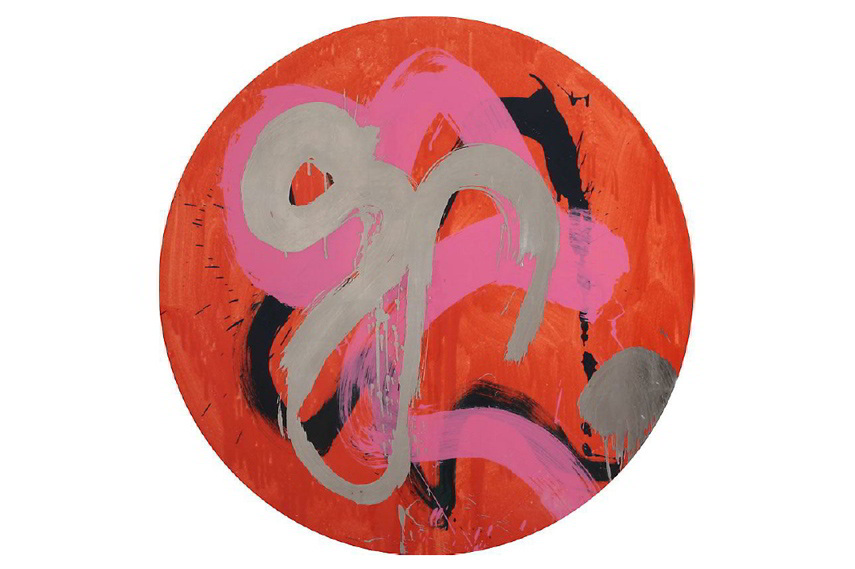 Max Gimblett's Exhibition at Gow Langsford Gallery in New Zealand
Playing with various emotions and expressive tones, Max Gimblett, year in year out, creates the series of visually astounding paintings. This time, on the milestone celebration of his 80th birthday, he prepares the marvelous series of paintings that will not leave you indifferent. The selection of his work will be on view February 23rd- March 19th, 2016, at Gow Langsford Gallery in Auckland, New Zealand. On the same day of the exhibition opening, Gow Langsford Gallery will launch a hardcopy book entitled From Grafton to the Guggenheim-part biography, part the scrapbook of this New Zealand most noted artist.
Featured images in slider:  Max Gimblett - The Way of Aeon, 2014; Max Gimblet - Crimson Love, 2014.