A country of incredible diversity, vastness and richness, Indonesia has one of the most vibrant and cutting-edge art scenes in Asia. Fresh, energetic and lively, contemporary art from Indonesia retains a surprisingly strong sense of local identity, consistently referencing a wealth of established visual and cultural tradition, while reflecting the newer influences shaping its production.
Influenced by the nation's traditional heritage, diversity, and the dynamic modern society in which they're living now, Indonesian contemporary artists are continuously breaking norms and challenging limits, influencing and expanding observers' sense of reality. Combining traditional and contemporary influences, they are expressing their own understanding of the world in a language entirely their own.
This is particularly true for the area of Jogjakarta, the home of legendary artists such as Kartika Affandi, Popo Iskandar, and Hendra Gunawan who emerged into the global stage. After the Suharto Era started in the late 1960s, Jogjakarta became known as the hub of artists and their creativity.
An online platform with a noble cause and a bigger purpose, Mayinart seeks to bridge the gap and help provide the essential skills and exposure that Indonesian, but also Indian and Singaporean artists need to get a fair chance to showcase their work. They are particularly devoted to uncovering artists from the most interior and rural areas of these countries, bringing to light that amazing piece of art sitting in a dark basement of their studios. Building a genuine camaraderie with them, the artists have entrusted them exclusively with their masterpieces which they bring to the consumers and like-minded partners.
We are bringing two of Mayinart's Indonesian artists that you should look out for - Januri and Budi Ubrux, both bringing strong messages and observations on a range of social and political issues.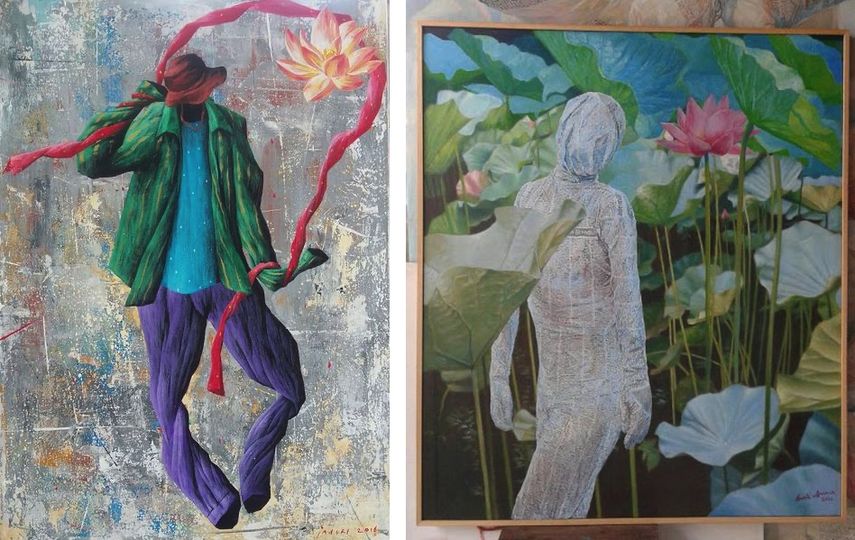 The Practice of Januri
Born in Tuban, Januri was raised in a farming community, exhibiting a great talent for drawing from an early age. At the age of 15, he moved to Yogyakarta, continuing his fine art studies at the Indonesian Art Institute (ISI) Yogyakarta four years later.
Using his art as a medium of narrating a range of social issues, Januri feels his work continues the art tradition of artists such as Beckman, Chagall, Francisco de Goya, Gustave Courbet, Diego Rivera, Affandi, Hendra Gunawan, Sudjojoo, Sudjono Kerton and Djoko Pekik, among others.
Over the years, his work evolved both in terms of the visual language and themes represented. Since the beginning of his career, human figures have been the focal point of his work. In his early practice, he depicted them with transparent color, reflecting on the political condition of his country, while the scenery in the background only had a function of supplementing the figures.
Over time, Januri began using darker colors, placing more emphasis on the background. In his recent works, the landscape takes more central role, being rendered with the same strength as his subjects.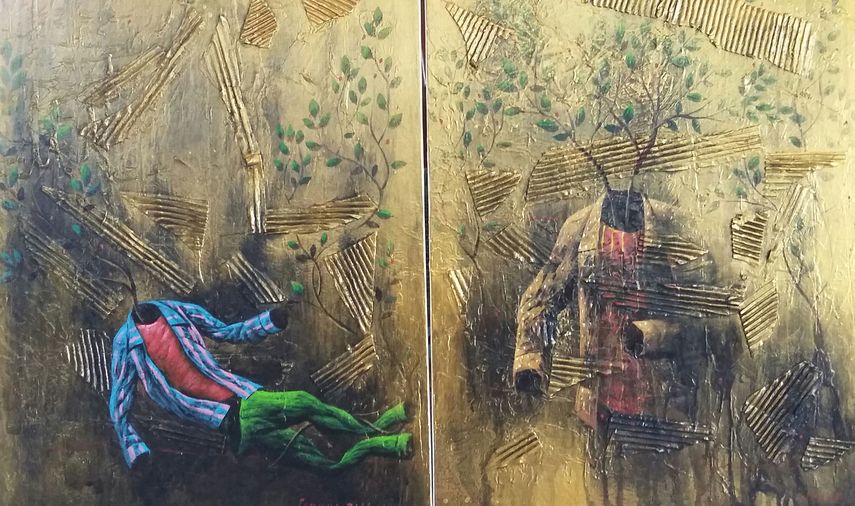 The Practice of Budi Ubrux
One of the most progressive and radical new artists to emerge from Indonesia, Budi Ubrux's are powerful satirical observations on social degeneration. Exploring the impact of the government's 1999 transition from the "New Order" to the "Reformation Order" on society, he addresses a range of social and political issues, such as the political oppression, the ironic role of the media, and above all, a strong sense of disappointment in prevalent ideologies, and disenfranchisement of the individual.
Ubrux communicates his ideas through a very unique visual language. His canvases are populated by faceless mummified figures covered in newsprints, resulting in an alarmingly haunting aesthetics. While media was historically supposed to serve as the "the eyes and ears of the people" with ethical integrity, today it has evolved into something the artist describes as "the ulcer of corruption".
With its content of screaming headlines and tawdry iconism, media culture increasingly overwhelms and manipulates real facts while working as a vehicle for reproducing the transient consumerist philosophy. Exploring how reality is mediated and shaped by media, the artist wraps his subjects in newsprint entirely, referencing the way media wraps around human life and makes individuals disappear under the overwhelming news. The viewers are often left wondering who these figures are and what their reality would be beyond prints covering them.
The newsprints in the artist's works are executed in such intricate detail and texture that many viewers mistake his works for mixed media. While Ubrux is primarily a painter, he also applies this unique technique to statues, installations, and even vehicles.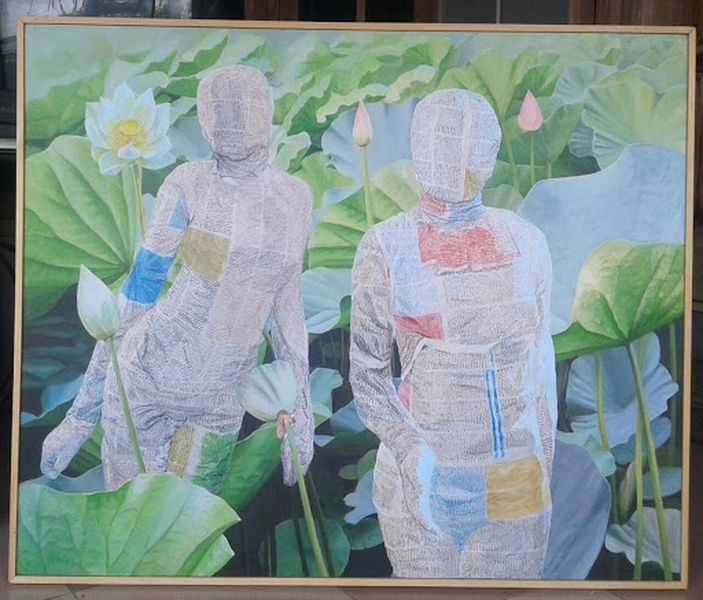 Collecting Indonesian Art
Indonesia is recently becoming increasingly recognized around the world as being a hot spot of creative energy and interest, drawing the attention of collectors for the diversity, vivacity and ambition of its art. Indonesian artists are increasingly coveted by homegrown and regional collectors and fetching ever-rising prices in both primary and secondary markets.
Indonesian art has a great future because of its diversity in style and content and of its many talented artists. However, to understand its repertoire, one should visit museums, collectors, galleries, auction houses, artists' studios and other exhibitions in the area. This is where Mayinart can help, connecting you with that one piece that you have been looking for. Be sure to check out their roster to discover more amazing Indonesian artists, and beyond.
Featured image: Januri - Landscape, 2017. All images courtesy of Mayinart.