The Museum of Friesland is currently hosting a comprehensive exhibition of M.C. Escher's work, a show titled simply and appropriately Escher's journey. A wide assortment of original artworks proving why this artist is considered master of complex mathematical images made their way to the city of Leeuwarden in The Netherlands, the birthplace of M.C. Escher, whose inhabitants still hold the artist's work close to heart.
Escher's journey shows the artist's development from a technically skilled graphic designer to a world-renowned printer. With that goal in mind, the exhibition prepared by the Museum in Friesland makes the growth of M.C. Escher as a visual artist literally tangible. It allows viewers to see through the printmaker's eyes - from the gray flat Netherlands of the 1910s to the sun-baked mountains of the Mediterranean which he created later in life.
Accompanying the 80 original prints are letters, drawings, photographs and personal objects, all of which help us walk a mile in M.C. Escher's shoes.
Escher's journey is will also provide an audio tour that guides visitors past the masterpieces. In it, director Peter Greenaway brings the artist's words to life as he reads from the letters and diaries in which Escher reported on his life and travels.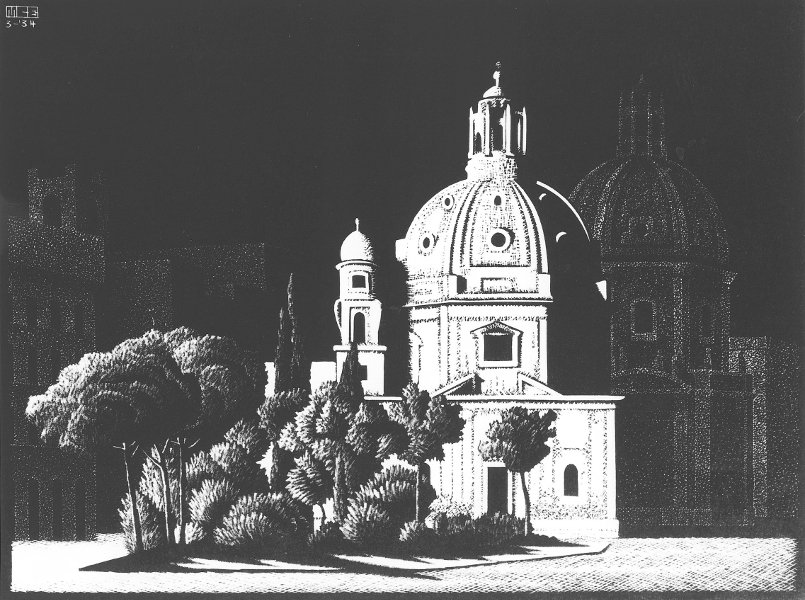 The Life Journey of M.C. Escher
Maurits Cornelis Escher was born in 1898 in the city palace of Leeuwarden, precisely where the Princessehof National Museum of Ceramics can now be found.
While he was still a young aspiring artist, M.C. Escher went to Italy where he spent what eventually turned out to be his happiest years. He experimented with weird perspectives and image compilations, as evidenced by a series of prints of Italian villages and his dark portrayals of Rome at night.
Once he was back in the Netherlands, Escher converted all these experiences and impressions into a system of complex mathematical images and impossible worlds. As a result, an Italian mountain landscape can be seen in the background of the Belvedere, while the port city of Atrani was a part of Metamorphosis II.
What followed is one of the most stunning creative evolutions in the art history of Netherlands - M.C. Escher soon became a master of iconic tessellations, visual metamorphoses, experimental perspectives and technical proficiency. Furthermore, his works forever remained reflective of elements from different periods in his colorful life.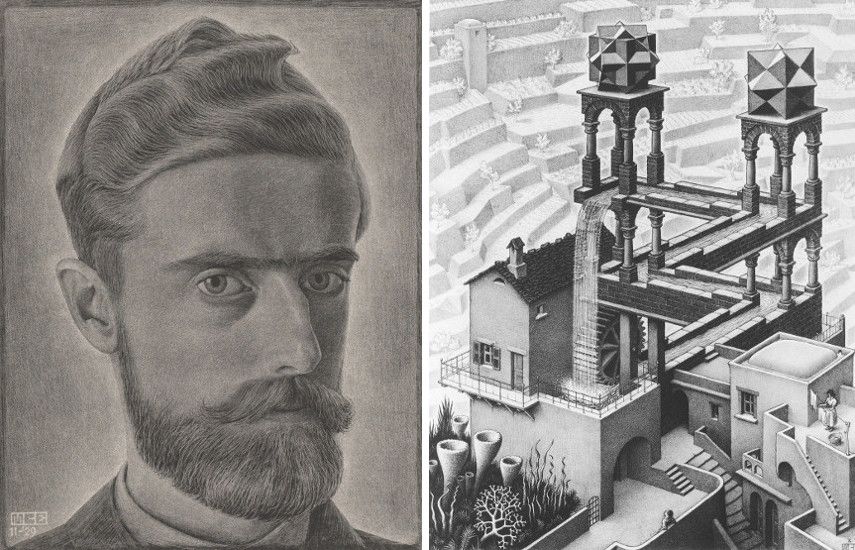 Taking Printing Techniques to a Whole Different Level
During his artistic career, Escher experimented with various printing techniques - and he was extraordinary with every single one of them. Initially, he started out with linocuts and slowly became acquainted with the etching technique.
He eventually learned what turned out to be his favorite printing technique, woodcuts, at the School for Architecture and Decorative Arts. Most of his finest works were done in this challenging technique.
Escher also tried his hand at mezzotints, but this technique turned out to be too time-consuming. Moreover, the plate used for printing was very sensitive to wear, which stopped him from making large print runs. This, ultimately, completely eliminated mezzotints from the artist's repertoire.
Trailer of A New M.C. Escher Movie
Masterpiece Works On Display
More than a few masterpieces can be found among the works in the Museum of Friesland's latest exhibition.
One of the definite highlights is Eight Heads (1922). At least two variants of this woodcut are known, in which the motifs of four women's and four men's heads are printed several times. In one version, Escher printed the woodblock nine times and, in the other version, six times but in a different composition. Described in the artist's letter from 1940 as "the only print I possess", Eight Heads is one of the first tessellations the artist had made.
Of course, the famous Day and Night, perhaps Escher's most renowned work, will also be on display. This image was printed with two blocks, one for the grey parts, and one for the black.
Another masterpiece on view is Convex and Concave (1955). In it, Escher turns a Mediterranean-style building inside out as different perspectives merge in a dizzying yet conflicting manner. Escher once said:
Can you imagine that I have been thinking continuously about this print for more than a month because all my attempts have always proved to be too difficult to understand?
These attempts are reflected in the ten preliminary studies presented together with the print.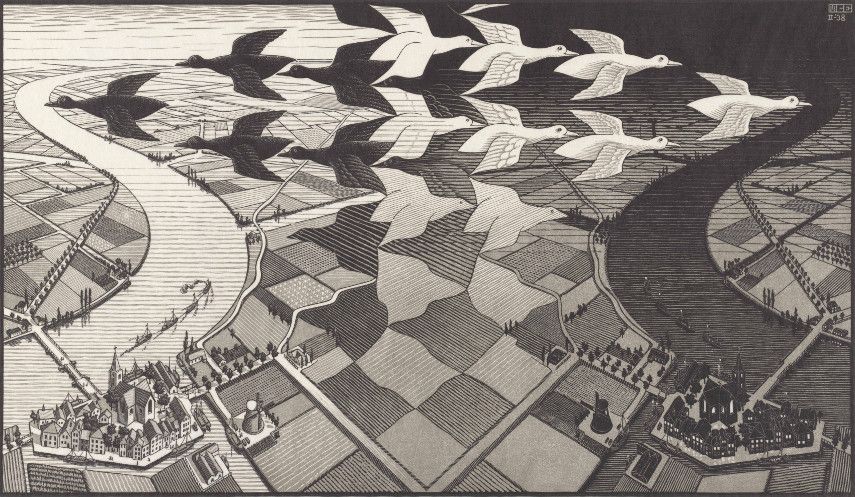 A Very Special Piece of Carbon Paper
Escher's Journey at the Museum of Friesland also includes a very special loan from a private collection which, although not an artwork, is a must-see of any Escher fan out there. It is a sheet of carbon paper that M.C. Escher used to transfer his representations to stone or wood, including the aforementioned Day and Night piece made in 1938.
In fact, details of the famous Day and Night can still be recognized in the tangled lines on the carbon paper. This special carbon paper reveals a great deal about Maurits Cornelis Escher's working method. A very practical printer, he used the carbon paper several times for different prints. He wrote:
A graphic artist essentially has something of a troubadour; he sings and repeats the same song in every print he makes form the same woodblock, copper plate or lithographic stone.
By exhibiting the carbon paper, the Museum brings the visitor closer to the artist and his creative process.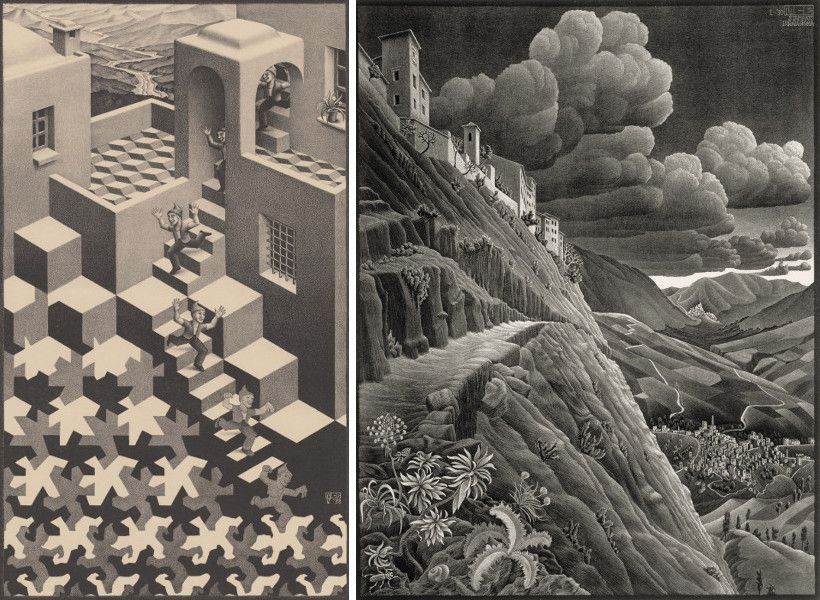 Leeuwarden,The Land of M.C. Escher and his Charming Art
In 2018, the city of Leeuwarden will be transformed into a legitimate Escher wonderland.
In addition to a major exhibition of his work, the Museum of Friesland also presented the exhibition Phantom Limb: Art beyond Escher, with impressive installations by contemporary national and international artists - these artworks mislead viewers and take them into a world where nothing is quite like it appears to be.
In addition, the Museum is organizing projects in the province throughout the year, bringing together various groups within the community, all of which have Escher as a mutual binding factor.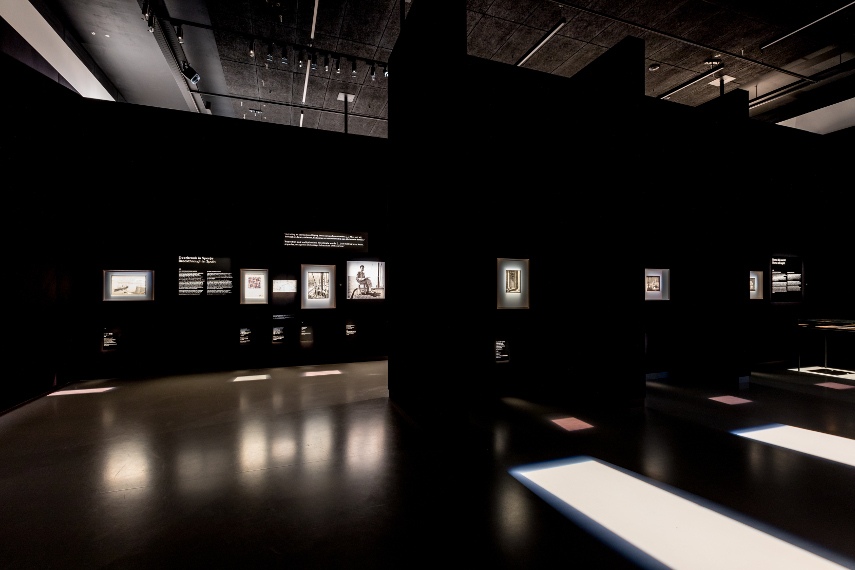 M.C. Escher Art Exhibition at the Museum of Friesland
In preparation for this exhibition, the Museum of Friesland has worked closely with the M.C. Escher Foundation in Baarn. Luckily, the renowned organization opened up its archive and loaned a substantial part of its collection. The Gemeentemuseum Den Haag and the Rijksmuseum Amsterdam also loaned a number of important works and early prints, so the ongoing exhibition allows us to truly understand one of the most influential artists the Netherlands ever had.
Escher's journey is open for viewing until the 28th of October 2018 at the Museum of Friesland in Leeuwarden, the Netherlands.
Editors' Tip: The Magic of M.C. Escher
M.C. Escher is renowned for his ability to render the visions of his mind's eye. The visions themselves were remarkable: for Escher, the skin of the visible world was nothing more than a piece of cloth that could be cut, folded, shaped and rearranged in marvelous ways. A superb draftsman, he portrayed these other-worldly transformations of space within the familiar borders of a sheet of paper. The Magic of M.C. Escher does justice to this original artist's inventions. Escher's works―woodcuts, lithographs and drawings, accompanied by quotes from the author, are brilliantly arranged to form a cinematic look at his achievements. Here is the magical world of the artist's mind, an uncharted realm full of exotic conceptions and inventions.
Featured image: Portrait of M.C. Escher. All images © The M.C. Escher Company, B.V. All rights reserved. Images courtesy of The Museum of Friesland.