When someone is called "The Michelangelo of Graffiti", you know that the exhibition of this artist is going to be something special. Kalen Ockerman is 43 year-old guy born in Santa Cruz, California, back in 1971. However, Kalen Ockerman is also one of the most famous graffiti and mural artist from Los Angeles, much better known as Mear One. And the inhabitants of Montpellier (France) will be able to see some of the Mear One's artwork at the exhibition that was labeled "Sketches of Babylon II".
| | |
| --- | --- |
| Mear One - The Hood - Sketches of Babylon II, 2015 (detail) | Mear One - Don't Walk - Sketches of Babylon II, 2015 (detail) |
Mear One @ gallery At Down
Mear One will present four of his sets of monodistortion at gallery At Down. But, what is a "monodistortion", anyways?
That's something Mear One invented: in order to "lose himself", and "rethink" a process of painting, the artist started to paint his works like a printer. He hand painted repetitions of like pieces to create paintings without sharp angles and without much definition. Being known as a very politically and socially engaged artist, like many of his rebellious colleagues, he won't miss the opportunity to show his stands on these topics. For instance, one of his paintings called Don't walk depicts a hot day in some urban jungle. Behind the traffic light that says Don't Walk! there are some Tower-of-Babel-alike buildings; but on top of the traffic light, where traffic cameras are usually put there's a combination of vicious-looking, oil-leaking machine gun and camera on which is written NWO. Perhaps short for New World Order? And perhaps an Order in which you get killed if you do anything against the establishment - even if that is walking across the street when told not to.
| | |
| --- | --- |
| Mear One - 1 - Sketches of Babylon II , 2015 | Mear One - Don't Walk - Sketches of Babylon II, 2015 |
Mear One's art
Mear One started his graffiti art while he was still in his teens, back in the late 80's, producing graffiti in Los Angeles. In the early 90's he started to get some recognition, as he was the first graffiti artist from LA that went to Tokyo to paint live, in front of the audience (that was in 1993). While his works until mid nineties were mostly about and dedicated to hip-hop music, he has turned to much more deeper and universal subjects since: politics, philosophy, revolution. This is also the period when he started to paint on canvas as well, rather than just on walls. He's considered one of the most influential graffiti artist, for developing 3D graffiti letters with powerful background, instead of painting 2D letters. His graffiti and murals are considered to be the connection between street art and fine art. Some of his most famous works include the anti-Bush paintings in the middle of presidential campaign in 2004, as well as his later anti-GMO mural.
| | |
| --- | --- |
| Mear One - The Hood - Sketches of Babylon II, 2015 (detail) | Mear One - Don't Walk - Sketches of Babylon II, 2015 (detail) |
Gallery At Down
Gallery At Down is a contemporary art gallery in the center of Montpellier, France. It hosts solo and group exhibitions of artists from the graffiti culture, both from the established artists and new artists. The exhibition "Sketches of Babylon II" will be open from February 6th until March 28th.
Unique in style and expression, Mear One creates works visually relatable to Sainer, but conceptually tougher. His drawing is strong, his chromatism reduced, and if you enjoy his expression, you might like the studio work of Xenz and his Chicago series or Ludo and his apocalyptically green solutions.
Sign up now for My WideWalls and be up-to-date with contemporary and street-art.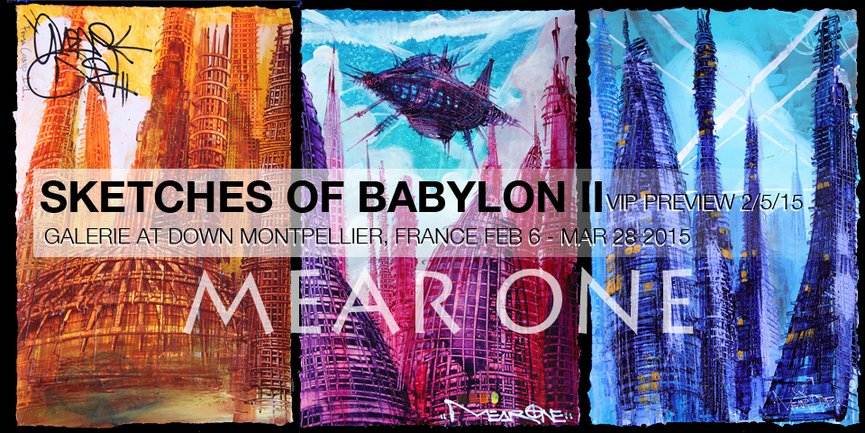 | | |
| --- | --- |
| Mear One - Art is my right | Mear One - Global Uprising |
Featured image: Mear One - The Hood - Sketches of Babylon II, 2015
All photos courtesy of At Down gallery and the artist