Throughout history, African-American artists have been challenging hegemonic representations of blackness, addressing its social, cultural and psychological dimensions within a modern society. Exploring techniques of representation through drawing, painting, photography or site-specific installations, they reflected symptomatic forms of racism and notions of identity within the dominant society.
Unit London brings together a group of artists who explore artistic mediums and the role pigment plays in the expression of identity. Titled The Medium is the Message, the exhibition presents works by 18 artists who collectively navigate a world which stigmatizes Blackness and Brownness while simultaneously celebrating its cultural products. These artists reflect notions of identity through portraiture, domestic settings, and seemingly mundane scenarios.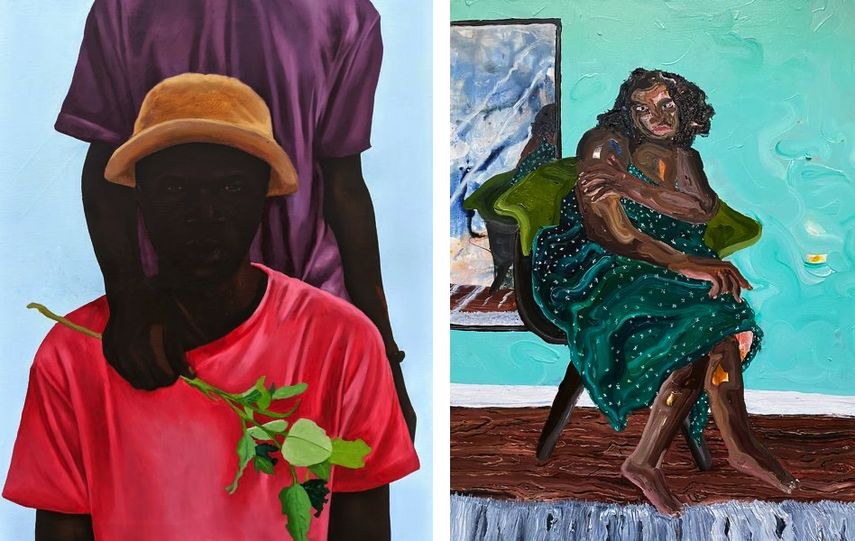 The Medium Is the Message
By highlighting tradition, ritual and familial relationships, many of the participating artists challenge stereotypes and politicized images of black people seen in popular and visual culture. Often drawing from their own lived experiences, they challenge the assumption of what it means to be a black body in a contested space, exploring new frontiers.
As the curator Azu Nwagbogu explains, the representation can be empty if it is not succeeded by unfettered existence. This exhibition seeks to ponder existence beyond representation.
The Blackness presented here is authentic, quiet, and confident. It rejects the societal gaze whereby Blackness is inextricably linked to majesty or misery with very little gradation between the two, their art unveils many facets of black existence that encompass play, solitude, contemplation and a range of human experience with approaches that do not kowtow to exoticism, but rather reflect the communities from whence they were birthed.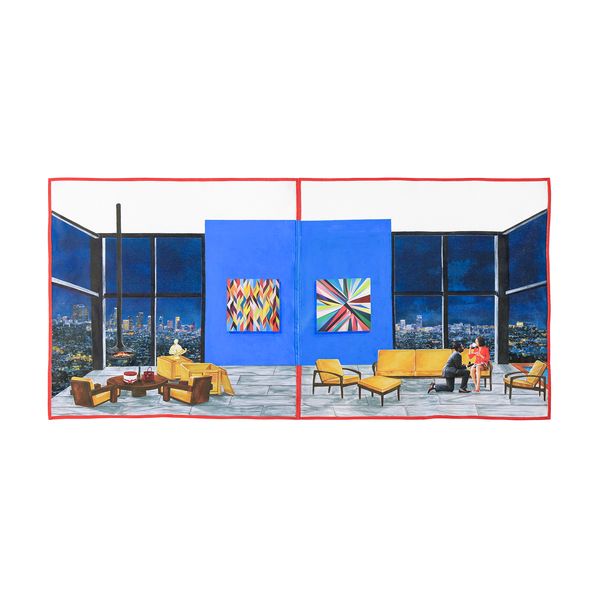 Participating Artists
The exhibition brings works by Collins Obijiaku from Nigeria, Ludovic Nkoth from Cameroon, Sungi Mlengeya from Tanzania, Eniwaye Oluwaseyi from Nigeria, Edozie Anedu from Nigeria, Zandile Tshabalala from South Africa, Wonder Buhle Mbambo from South Africa, Tiffany Alfonseca from Dominican Republic and United States, Talia Ramkilawan from South Africa, Emma Odumade from Nigeria, Katlego Tlabela from South Africa, Sthenjwa Luthuli from South Africa, John Madu from Nigeria, Barry Yusufu from Nigeria, Ngozi Schommers from Nigeria, Manyaku Mashilo from South Africa, Ojingiri Oluwaseun Peter from Nigeria, Dawn Okoro from Nigeria and United States.
The practices of these artists are diverse; Collins Obijiaku celebrates blackness through elegantly constructed portraits, while Sungi Mlengeya explores themes centered around women, specifically black women. Edozie Anedu explores popular culture, focusing on the human condition, societal behavior and how these have affected him on a personal level, while Talila Ramkilawan addresses her own lived experience with South Asian identity, culture and trauma. Sthenjwa Luthuli uses human figure silhouettes and motifs to create work that's both beautiful and compelling, yet which also alludes to the complexities of the world, while Dawn Okoro creates works that embody space, movement, pattern, design, texture, and color; as well as lived experiences and self-reflexivity.
The Group Show at Unit London
The exhibition The Medium Is the Message will be on view at Unit London from October 2nd until November 14th, 2020.
Featured image: Sthenjwa Luthuli - Untold Stories, 2020. Courtesy Unit London.