The unique graffiti and music festival – Meeting of Styles in London – is about to begin at the site of Nomadic Community Gardens, off Brick Lane and Cheshire Street. Amidst all the concrete and buildings, this festival will create an oasis within a city, with a variety of different activities, from music to live painting. With free entrance, the visitors of the festival will have an opportunity to enjoy a spectacle of live painting from more than 50 painters, character artists and writers. All of them will collaborate in painting the walls for two days. The festival is being organized for the seventh time by EndoftheLine, with support by Relentless, Loop & Auchentoshan.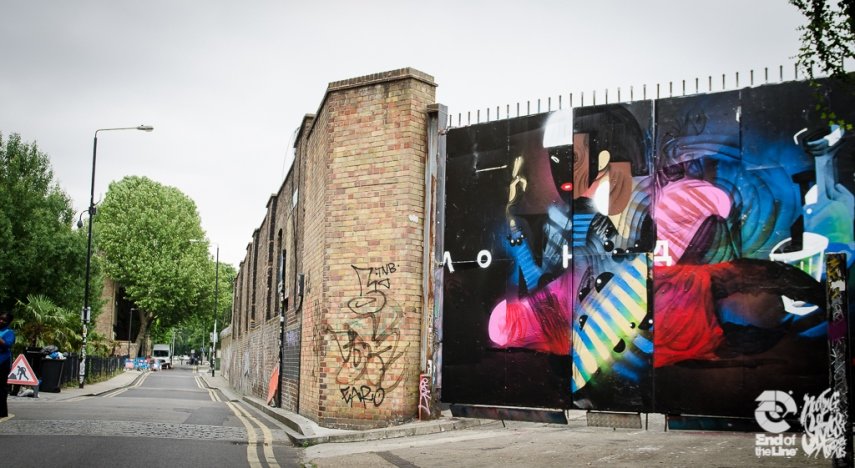 International Meeting of Styles in London Bringing Together Great Artists
More than fifty artists will take part at this cross-artistic celebration of graffiti, street art and music. The artists will be painting a wall leading from Brick Lane to the event site, so the visitors should get the vibe from the sound of aerosol cans, and seeing a huge number of amazing works in the making and after.
As always, Meeting of Styles festival wouldn't be so spectacular without great and diverse music. And, this year, the line-up is just as amazing. The festival is bringing Ghosttown and the lyrical genius Dabbla, DJ's Maj Duckworth, Sugai, & Super Scratch on Sunday, with Blabbamouf who will perform on Saturday. Trackside Burners (Itch FM) will be in attendance, while famous Soom T has also confirmed the participation. So, for all lovers of good graffiti art, there will be also great musicians, from different genres, including Hip Hop, Reggae, Scratching, Beatbox, Bass and Noise. If you find yourself in London these days, be sure also to visit the Relentless Number 5 space on Denmark Street, where the EndoftheLine presents an exhibition of the International Meeting of Styles in London. There will be new permanent mural to be installed by Meeting of Styles artists Ekto & Jim Vision featuring lettering designed by Mezzo from Brainwash crew (the exhibition is opened until June 9, 2016).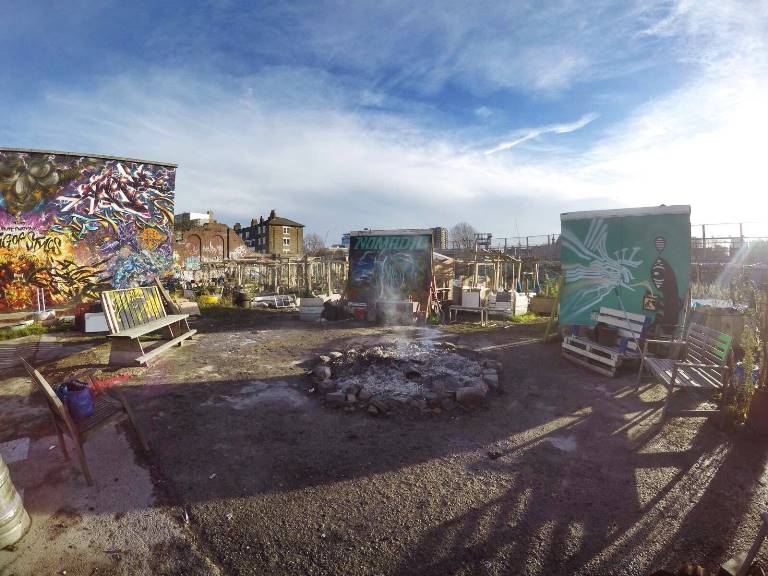 Art, Music and Food Festival
Like every year, there will be great food and drink at the site. EndoftheLine will be hosting a popup Rockwell House Bar, with tasty refreshing tipples on hand to keep the visitors hydrated and happy. This year, the festival has support from Auchentoshan, the premium single malt whiskey (be sure to try their Auchie & Ale). When it comes to hot food, it will be served by Roving Cafe London, the "inhouse" café. On the BBQ will be the Dry Rub Club who'll be cooking up flavorsome, marinated delights, and many other things. During the festival, there will also be a mini market and crafts village, while Vapez Club also joined the festival's club. If you're coming with your children, there will be workshops running, so kids can practice painting and drawing. On Monday, May 30, the Nomadic Community Gardens will host their monthly party, just in perfect moment, when the majority of the Meeting of Styles walls will be completed.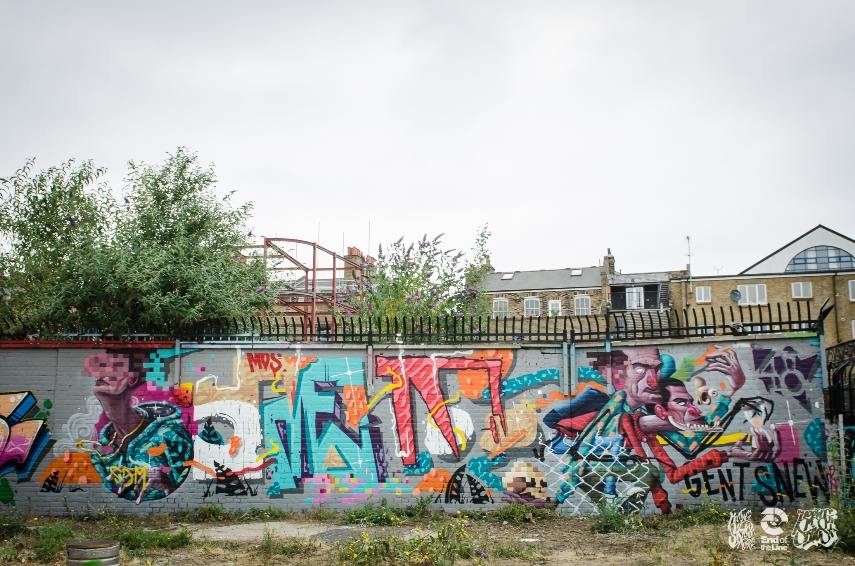 Meeting of Styles Festival – Practical Information
The Nomadic Community Gardens is located between the tracks on the north side of the overground between Shoreditch High Street and Whitechapel station. The festival takes place on May 28 and 29, 2016 in the organization of EndoftheLine (founded by Jim Vision and jointly run with Matilda TD, producing community driven projects, large-scale murals, videos, and events). For more information, please visit the official website of the festival.
Featured Images: EndoftheLine - T. Elhaj; MOS, 2010 - ghetto Farceur crew; MoSuk, 2010. All Images courtesy of EndoftheLine,