Mehdi Ghadyanloo art exhibition presented by Howard Griffin Gallery will showcase the latest large-scale paintings and sculptural installations by this deeply philosophical contemporary painter and street artist from Iran. Spaces of Hope will be presented  in a 14,000 square foot subterranean former industrial testing facility of Ambika P3 in central London, where the viewers will have a chance to become deeply immersed into these mystical works which reflect on universal human conditions of hope, fear and isolation. Mehdi Ghadyanloo correlates the ancient Persian wisdom and culture with it's today's present isolated political position, and envelopes these two in Western modernist architectural and painting aesthetics.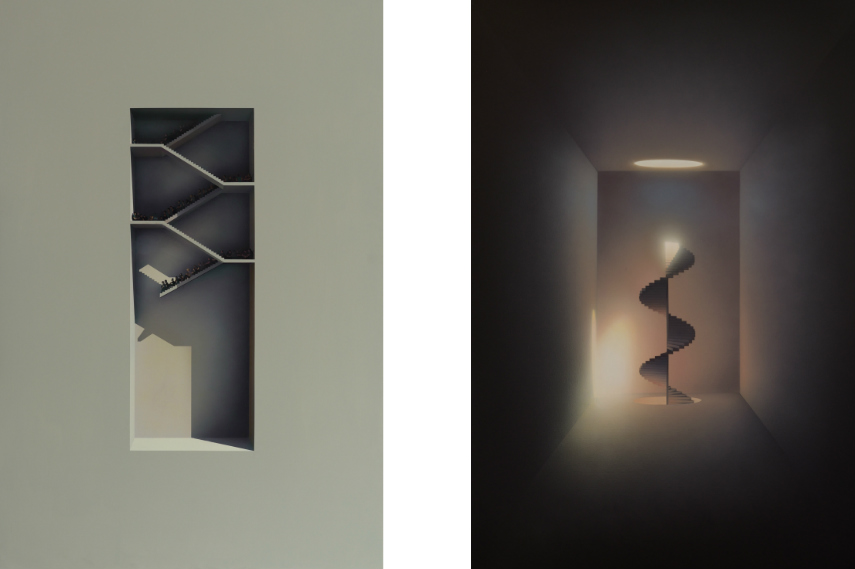 Persian Philosophical Heritage, a Trigger for Hope
The artist grew up in times of instability caused by war, and lives in a setting of a contemporary isolated Iran; but often moves across borders to distribute his profound, utopian and universal ideas of human existence, which serve as interconnecting points among different cultures, despite the global political anxiety. He expresses the ancient Persian cultural and philosophical heritage; where light, hope and love serve as potential guides trough the vast atmosphere of the isolated landscapes. These melancholic landscapes, embraced by rays of light, allow the simplicity of architectural forms to become supporting elements for the abyssal questions raised by the artist. Architectural elements such as stairs leading nowhere become representatives of human condition and fate, but never provide a direct answer, only point to potential places of salvation which leave us haunted by a hope not yet manifested, a hope foreshadowed by light.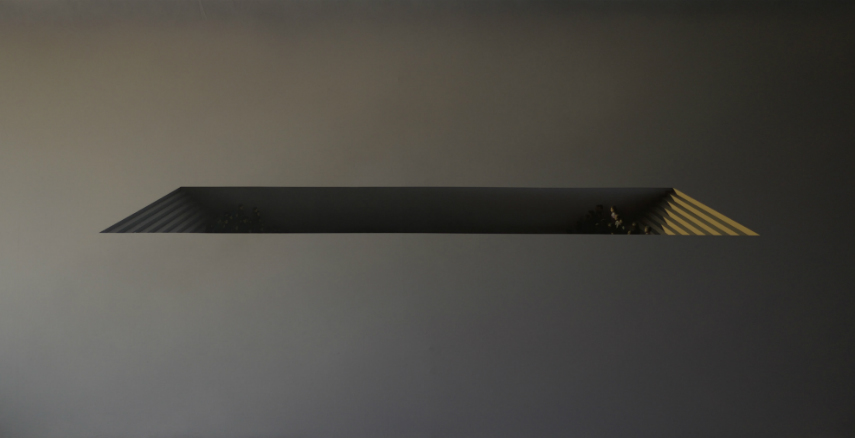 Modernism as an Aesthetic Reference
The form of Mehdi's paintings is inspired by the Modernist era, portrayed by his surrealist style that often reminds of the work of Rene Magritte, especially by the choice of his palette, or of the metaphysical spaces created by Giorgio de Chirico. The simplicity and minimalism of the lines that build up his landscapes have a reference to the works of Le Corbusier and 20th century modernist architecture, which is also very present in today's Iran. In relation to the architectural elements, he places miniature human figures as a perfect contrast with the boundlessness of the space surrounding them; an artistic choice displaying the human inability to fully understand or act upon the massive imprisoning shapes which prevent us from moving freely or choosing upon life circumstances.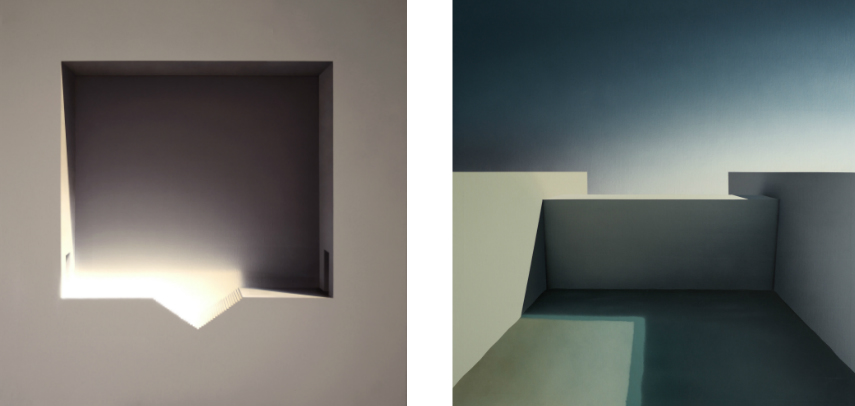 Mehdi Ghadyanloo Art in a Former Industrial Testing Facility
Since Mehdi Ghadyanloo is passionate about large formats, not only in painting, but also in his urban works in Teheran where he painted over 100 gigantic murals; the exhibition will also be held inside a vast space that perfectly allows his artistic preoccupation to be expressed. The Howard Griffin Gallery Off-Site Project Spaces of Hope will be located in the industrial testing facility of Ambika P3 in central London,  with the opening starting at 7 PM on Thursday, March the 2nd, 2017. The visitors will be able to see the exhibition until Sunday, March the 5th.  
Featured images: Mehdi Ghadaynloo - Voice Cut Off, 2016, Mehdi Ghadaynloo - Deadened Profits, 2016, Mehdi Ghadaynloo - Genealogy of Isolation, 2016, Mehdi Ghadaynloo - The City of Hope, 2016. All images courtesy of Howard Griffin Gallery.