After the first show outside his homeland last year with Galleri GEO in Norway, Mehdi Ghadyanloo is continuing his introduction to the world with a solo show in London. Represented by the Howard Griffin Gallery, Iranian artist painted his first mural abroad, as well as introduced a whole new body of work created exclusively for his show Perception. Known for putting a lot of effort into presentation of their shows and representing the artist, the gallery got a full makeover for this exhibition, turning the space into an installation exploring the concept of time and space through perspectival illusion. (Similar exhibitional concept was displayed with Phlegm's Bestiary last year, as well as with RUN's Parabola di G.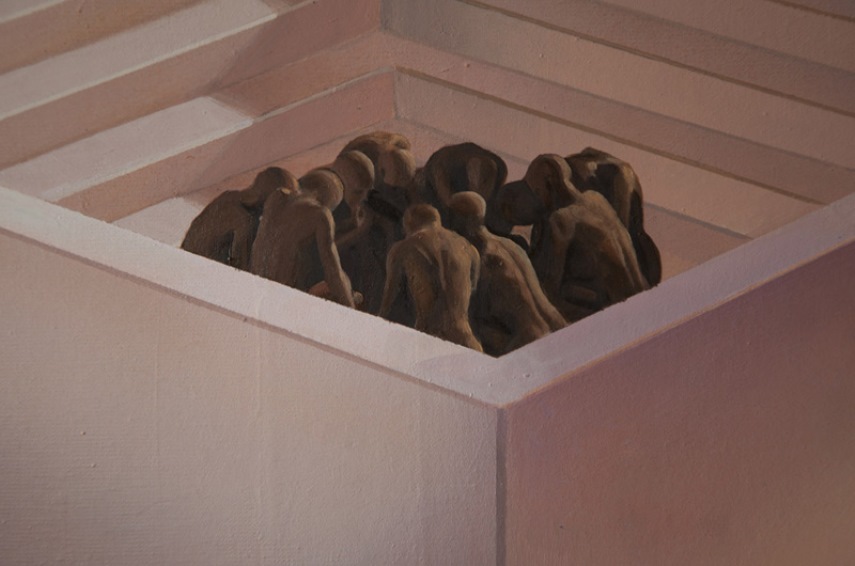 Mehdi's Utopian Vantage Point
While his 100+ murals created through Beautification Bureau of Tehran's municipality are showing mostly utopian, impossible scenes and radically altered perspectives of everyday Iran, the works created for Perception are showing more serious and meaningful side of his art. The atmosphere and feel of Magritte's work that his public works have been compared with, are present in his gallery pieces as well, but in a sharper and more concentrated form. Still recognizable in their visual language, Ghadyanloo's canvases are focused on one story. This simpler, more focused approach, makes them stronger and easier to read, which is a great opportunity for an artist that comes from a politically turbulent environment to express his concerns, beliefs, fears and hopes.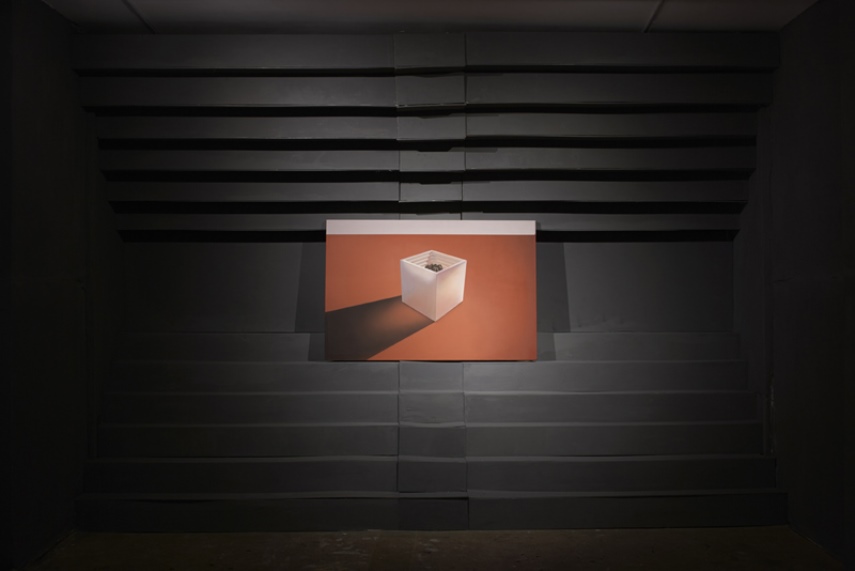 Metaphysics of Ghadyanloo
Through a series of works showing wast, empty landscapes, with unusual objects levitating above tiny, insignificant humans, his paintings are carrying the universal themes of anticipation, loss, and sadness, shown through metaphoric, dream like scenarios. It's the surrealist, dream like scenery and witty play with perspective and dimension that his infamous murals are known for, which he is cleverly incorporating in his gallery works as well. But with the dynamics of experiencing the gallery works being different than murals, he is using this opportunity to cover deeper, more common essential themes.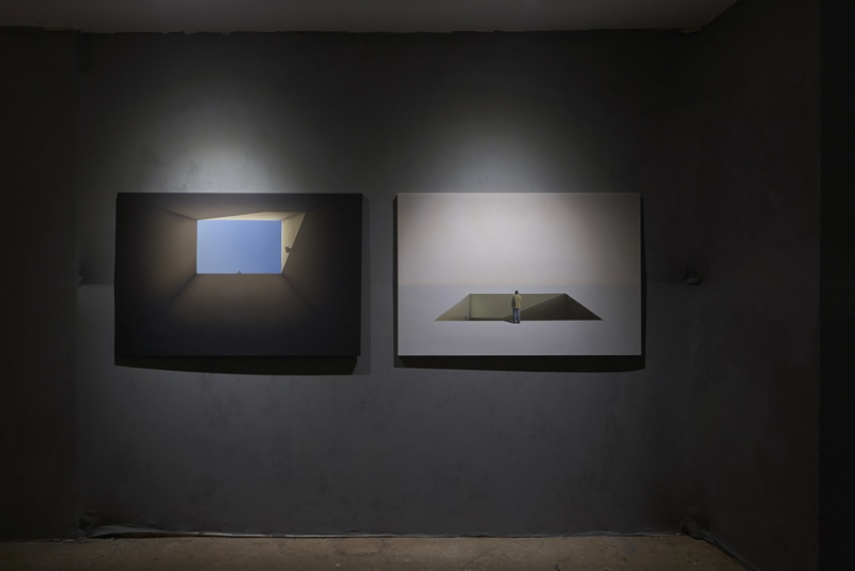 Exhibition at Howard Griffin Gallery
This exhibition shows the unique and great talent behind Ghadyanloo's work as a contemporary surrealist painter. Where most street artist create shows that are just smaller, gallery friendly version of their street work, his pieces are a whole different step further in his recognizable practice. Perception opened on 26th of February and will stay on view through 23rd of April, on view at Howard Griffin Gallery.
Recently,  Mehdi Ghadyanloo completed another fantastic mural in Tehran you can see in our Street Update #66.
Love street art? Sign up for My Widewalls and stay in love!