When you witness the horrors of war with your own eyes, it is hard to erase those images from your memory. You just keep on carrying them around wherever you go, whatever you do, for as long as you are here. Ever since he had experienced the war between Iran and Iraq in the 1980s, Iranian artist Mehrdad Khataei has been continuously trying to give those memories a shape. So, he started drawing, painting, and illustrating people who had suffered through a terrifying experience - a nameless catastrophe. And for the first time he is going to show his work outside Iran. It is going to be exhibited in a solo show titled Shadows coming soon to Sophia Contemporary in London.
Profound Portraits of Loss
Khataei's characters are somehow lost in this world. They are abstracted. It seems like they do not belong here anymore. Like they don't belong anywhere as a matter of fact, as this unnamed terror has destroyed everything they had. With broken dreams and with their hopes torn apart, they are searching for a place to be, over and over again. You can see the anger in their eyes, but they somehow appear calm. You can see the sorrow, but they are not giving up. Even when they accept their own destiny, they do not sit still upon it. Using the pencil on paper with mixed mediums, Mehrdad Khataei is profoundly portraying the aftermath of loss. He is depicting people usually in black and white, with splashes of colors, mostly red. It might symbolize blood, yet it emphasizes the courage and strength of his characters.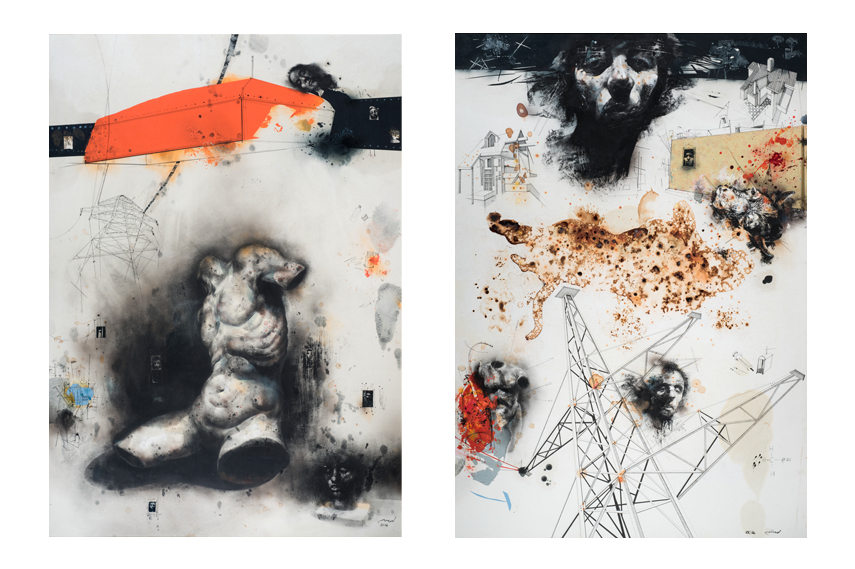 Inspired by Imperfection
Mehrdad Khataei is not naive and he doesn't want his art to appear that way. He obviously doesn't believe in fairytales and utopia-like future. He is very much aware of the imperfection of the world around him. That is exactly what inspired him for the Shadow series of drawings and multi-layered sketches. It is a baseline for further exploration of various counterparts of society, such as order and chaos, normality and insanity, mainstreamed and marginalized groups, or conformists and outlaws. There is a thin line between those who have everything and those who have lost everything they had. Khataei's sketches and graphics are capturing the deepest human feelings while he clearly wonders what has happened to humanity. Is the whole world gone crazy and turned everything upside-down? How can we survive?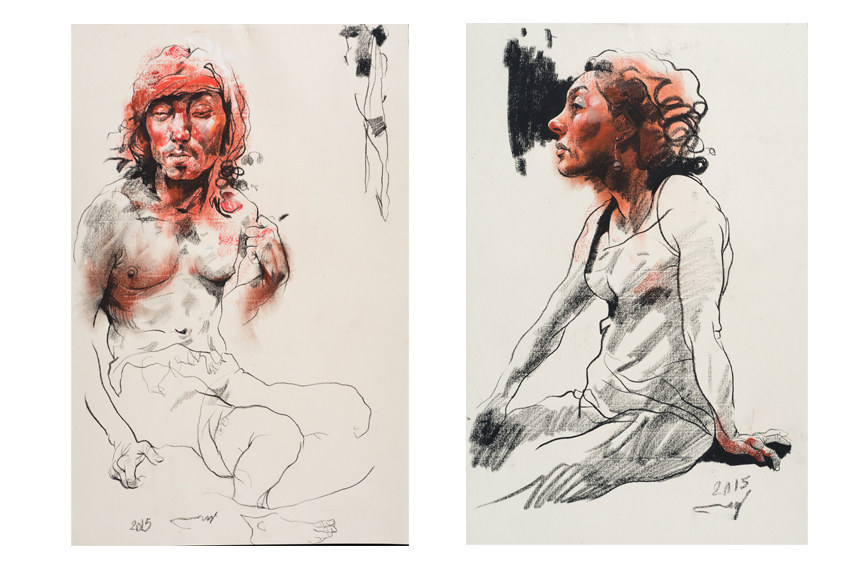 Mehrdad Khataei Exhibition in London
Everyone can lose in this game of life, that is for sure, but only the most courageous out there continue the struggle. Mehrdad Khataei's Shadow series is dragging the brave ones out of the dark and bringing them into the light. Do not miss the opportunity to view his artworks. The exhibition titled Mehrdad Khataei: Shadows will be on a display at Sophia Contemporary from April 29 until June 4, 2016. After numerous successful group exhibitions and art fairs around the world, this is going to be the first Khataei's solo show outside Iran.
Featured image: Left: Mehrdad Khataei - The Zone #2, 2014 / Right: The Zone #25, 2014. All images courtesy of the artist and Sophia Contemporary Gallery.