On July 24th, the art world will celebrate the 80th birthday of the legendary artist Mel Ramos. To mark the occasion, Galerie Ernst Hilger in Vienna is hosting an exhibition with an interesting name: Peek-a-Boo, referring to the children's game, which features paintings, drawing, sculptures, light box and print editions from Mel Ramos's rich artistic oeuvre and an amazing career spanning over fifty years. On view, there is also the new Birthday Edition Vintage Peek-A-Boo portfolio, published as a limited edition of eighty copies and consisting of six motifs that Mel Ramos painted in 1964.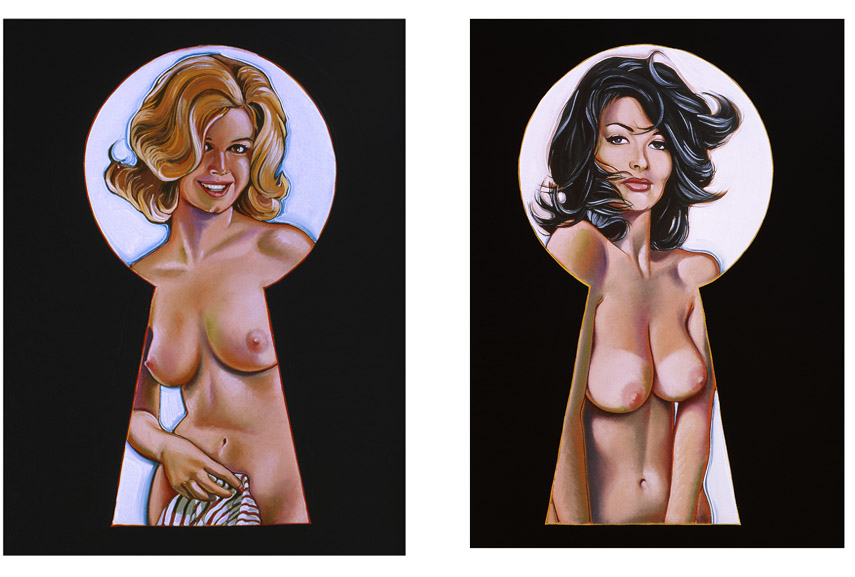 Pop Art Pin-Up by Mel Ramos
Known mostly for his figurative paintings of superheroes and female nudes, Mel Ramos gained popularity as part of the Pop Art movement of the 1960s. His interest in commercial pin-ups resulted in the iconic images of voluptuous female figures that could be found on Chiquita bananas, cornstalks, candy wrappers or martini glasses. Together with other celebrated artists of Pop art, he conceived and contributed to the integration of popular culture and its elements into current trends in art, fusing them with the notions of mass media, but also mass production. Mel Ramos was also one of the first artists to paint images from comic books, which were exhibited along with the works of Roy Lichtenstein and Andy Warhol at the Los Angeles County Museum of Art back in 1963.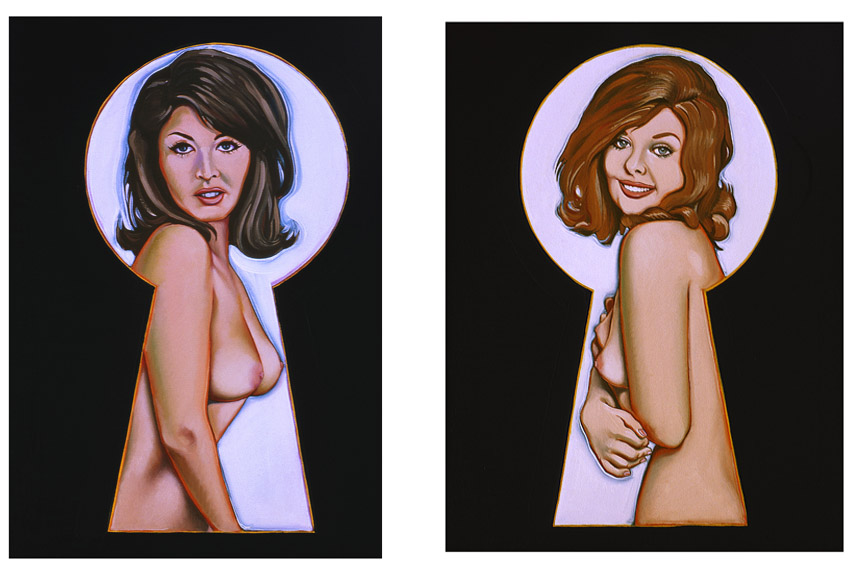 Peek-A-Boo!
The title of the exhibition hosted by Galerie Ernst Hilger refers to the artworks from the portfolio of the same name, which allows the viewers to observe many nude women through a black frame in the shape of a keyhole. Both seductive and girlish, Mel Ramos's girls' alluring sensuality offers something more than sheer sexual desire and objectification. In other images, where commercialism is mixed together with the notions of the female nude and the appeal of the pin-up girls, we see fashion models or actresses, some of which quite famous, like Marilyn Monroe, merged with widely spread and famous products, such as the Havana cigars, StarKist cans, Snickers, Coca Cola and many other brands. Through these images, Mel Ramos gives a unique view of popular culture, which helped redefine its standards and influenced many generations to come.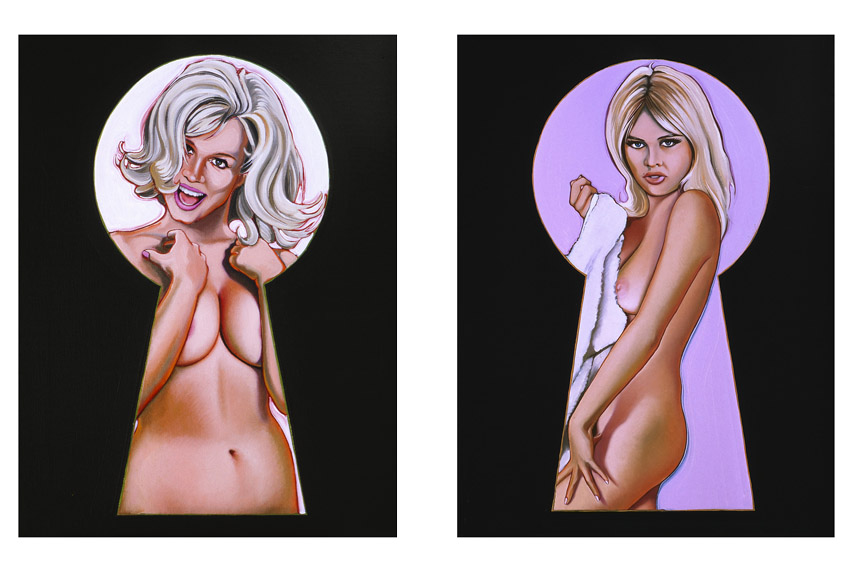 Mel Ramos at Galerie Ernst Hilger
Peek-a-Boo, an exhibition of works by Mel Ramos opened on July 4th at Galerie Ernst Hilger in Vienna, Austria, and will be on view until September 4th, 2015. The prices of the artworks range from 2,800 to 4,400 euros for the prints, 15,400 (subscription) after 22,000 for the vintage portfolio, 35,000 for lightboxes, 25,000-30,000 for drawings, 154,000-300,000 for the sculptures and 400,000-550,000 euros for paintings.
The gallery will have a summer break from August 1st until August 17th.
Scroll down for the exhibition catalogue.
Never miss out on a show near you - sign up for My Widewalls today!
Featured images in slider:
Mel Ramos - The Pause that refreshes, 2007. Polychrome Fiberglass, 53x53x15cm. Edition of 8
Left: Mel Ramos - Martini Miss #1, 2013. Lightbox, steelcut, synthetic resin varnish, acrylic glass, 75,5x56,5x23cm. Edition of 24 / Right: Mel Ramos - Gitanes, 2012. Polychrome resin, 85x48x70cm. Edition of 8
Mel Ramos - Miss Spudnut, 1965. Oil on Canvas, 178x178cm
All images copyright Mel Ramos, courtesy of Galerie Ernst Hilger.