Over the past fifteen years, the artist Melissa Vandenberg has been working across a diverse range of media, including sculpture, works on paper and performance, to challenge the viewers to consider their personal constructions of self, identity, place and nation. As Vandenberg explains, her art "questions the notion of a 'homeland' and how national identity intertwines with individual identity." 
Identity is in the home we create, the goods we possess and in the land we live.
Maus Contemporary is hosting a comprehensive solo show of this talented and innovative artist. Titled smoke 'em if you got 'em, the exhibition will bring together older and more recent bodies of Vandenberg's work.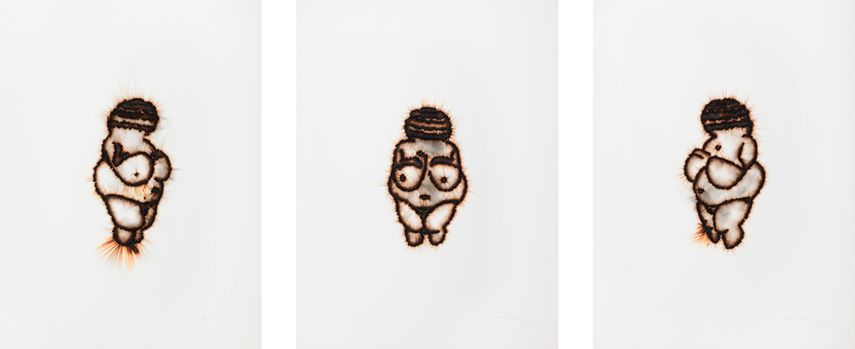 The Practice of Melissa Vandenberg
Using everyday materials such as matches, fabric, stickers, wood, temporary tattoos and found objects, Melissa Vandenberg explores the political landscape by using national identity, folk art, ancestry, immigration and the perception of a homeland as points of departure.
Informed by the assembly-belt industries of her hometown Detroit, and the homespun aesthetic of the Southern US where she now lives, the artist combines repetition, reminiscent of assembly line manufacturing, with the hand-made, aka woman-made. Through her works, she constructs poignant narratives about the fleeting nature of power and limits of patriotism and faith.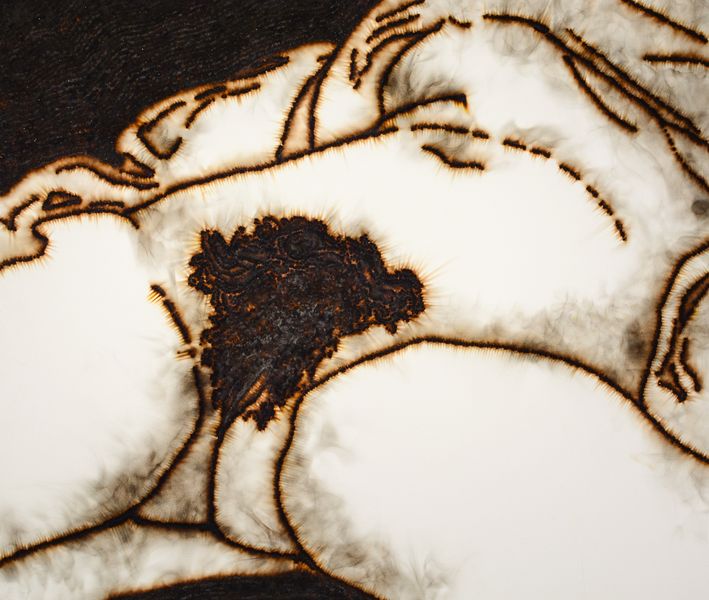 Moving Within and Between Media
Vandenberg masterly learns, explores and uses different kind of media, often revisiting methods but reinterpreting their meanings.
Focusing on the iconography of identity, Vandenberg's Sink or Swim: Family Style, for instance, features three life vests fashioned from salvaged American flags hang from a handmade wall-mount. As repetition is a central motif to her production, she inserts selected symbols such as stars or stripes and certain texts within many of her works. By using the word EXIT for example, in both Clouds of Vertical Development and Seen, Not Heard, the artist created an oscillating relationship between these two series.
Drawing on the matchstick drawing methods of her 1998 Untitled (Match Drawing Series) works, Vandenberg has produced a new series of burn drawings which was recently presented at PULSE Miami Beach by Maus Contemporary. Made from matchsticks ignited across Arches paper, the drawings span vaginal forms, flags, text, maps, ovaries and Buddhas silhouettes. Although turning towards figurative, the artist continues to employ the same icons from her collages and three-dimensional works.

Melissa Vandenberg at Maus Contemporary
The exhibition smoke 'em if you got 'em will be on view at Maus Contemporary in Birmingham, AL from January 18th until March 1st, 2019. The opening reception will take place on Friday, January 18th, from 6 to 8 p.m.
The artist's monographic publication is expected to be released in the Spring.
Featured image: Melissa Vandenberg - Bang Bang, 2016. Match burns on Arches paper ca. 29.5 by 40 in. (ca. 75 by 101.6 cm). All images courtesy of Maus Contemporary.