Modern dance was developed as a reaction to the stiffness of traditional dance methods and was related to different innovative humanist theories at the beginning of the 20th century. Figures like Isidora Duncan or Louie Fuller are considered pioneers of the new moves and routines, while Martha Graham and George Balanchine were early practitioners of modern dance who run their own companies. The dancer which belonged to the following generation and who truly revolutionized the movement was indeed Merce Cunningham.
This student of the Graham Company gradually developed his personal method and was undoubtedly the most important figure in the dance world for more than five decades. Cunningham constantly experimented and was interested in bold and quite risky solutions; he believed that the best results are achieved when movement, sound, and visual art are conjoined together for the sake of performance.
Merce Cunningham belonged to a wider circle of artists and musicians with whom he collaborated often so it is not unusual that his entire oeuvre is analyzed from different cultural perspectives. At the Los Angeles County Museum of Art (LACMA), an exhibition titled Merce Cunningham, Clouds and Screens will focus on the dancer's collaborations with other art-makers, in order to explore and underline the importance of the artist community and mutual creative exchange.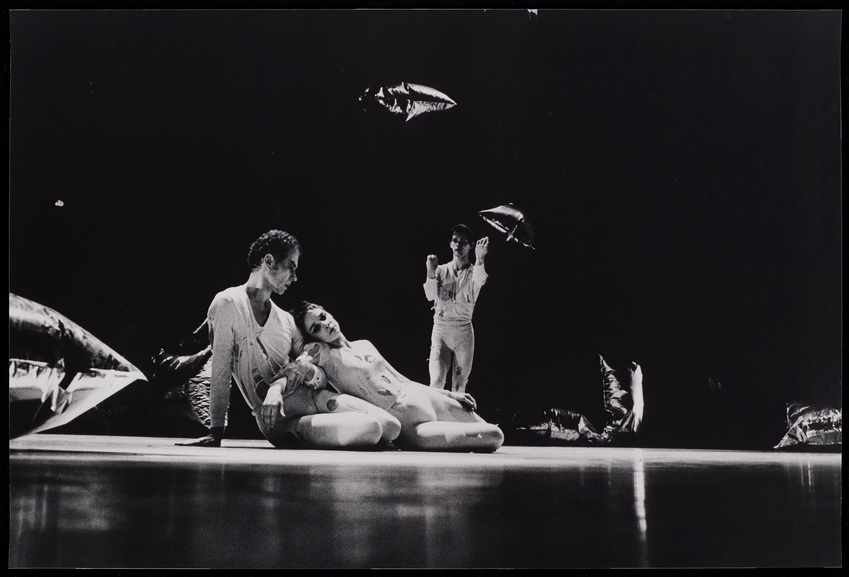 The Development of The Dance Mage
Merce Cunningham was born in Washington in 1919. In his early youth, he took tap dance class from a local teacher and he quickly fell in love with dance. From 1937 to 1939, he attended the Cornish School in Seattle in order to study acting, yet he found it too limiting and concrete.
Cunningham preferred the ambiguity of dance more, since it gave him the freedom to explore and experiment with the movement. During that period, the young dancer was noted by none other than Martha Graham, who invited him to join her company. Starting in 1939, he danced as a soloist for the company. The first solo concert of Merce Cunningham took place in New York in 1944 with composer John Cage, who soon became his partner and frequent collaborator until Cage passed away in 1992. Both of them lectured at the famous Black Mountain College where in 1953 Cunningham formed the Merce Cunningham Dance Company.
His choreographies were always more than just choreographies; they encompassed specially made costumes, sets, and music done by Cage. Cunningham produced over two hundred dances and eight hundred site-specific choreographic works during his lifetime. A fundamental referential point of his practice is an ancient Chinese divination text I Ching or Book of Changes; he used this piece in order to determine the sequence of his dances and, as it often happened, dancers were not informed of the order until the night of the performance.
Until the early 1990s, Cunningham performed as a dancer in his company, and he devotedly led it until his death. Interestingly so, in 2009, on his 90th birthday, he presented new work titled Nearly Ninety at the Brooklyn Academy of Music in New York.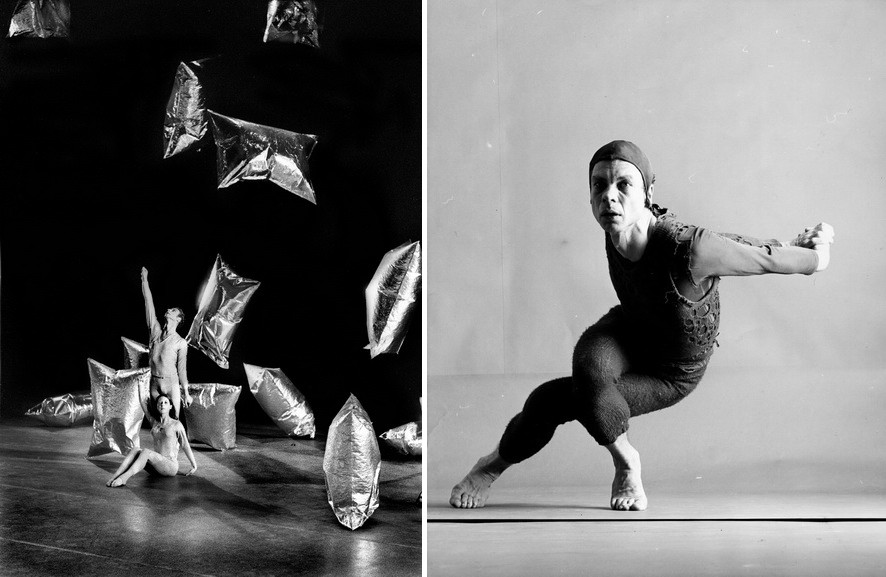 Merce Cunningham Collaborations With Andy Warhol and Charles Atlas
The upcoming exhibition at LACMA will feature immersive installations by Andy Warhol and Charles Atlas, two artists who worked closely with Cunningham's company, which will be followed by two video projections of early dances by Cunningham.
Namely, Warhol's Silver Clouds was actually produced together with a scientist and Billy Kluver. This site-specific work consists of a number of hovering silver-colored clouds filled with a mix of air and helium, which were perceived by the Pop Art icon as interactive floating paintings. In 1966, Silver Clouds debuted at the Leo Castelli Gallery in New York, and shortly after Cunningham saw the show, he proposed to Warhol that they use them as the setting for his dance RainForest.
The following installation by Charles Atlas, one of the pioneers of video art, was MC9 stands for Merce Cunningham to the ninth power and is aimed to underline the choreographer's decades-long exploration of the relationship between live performance and video documentation. Atlas selected sequences from twenty dances performed for the camera, as well as documentary videos he made with Cunningham. The shoots are intervened by Atlas with innovative techniques as the onstage movement of the camera along with the dancers and using cross-cutting and animation techniques to suggest multiple events happening simultaneously.
The recordings of the choreographies Changeling from 1957 (a solo piece for which Robert Rauschenberg designed the set, costume, and lighting), and Night Wandering from 1958 (a duet with dancer Carolyn Brown - for which Rauschenberg redesigned costumes and lighting), will also be on display at LACMA.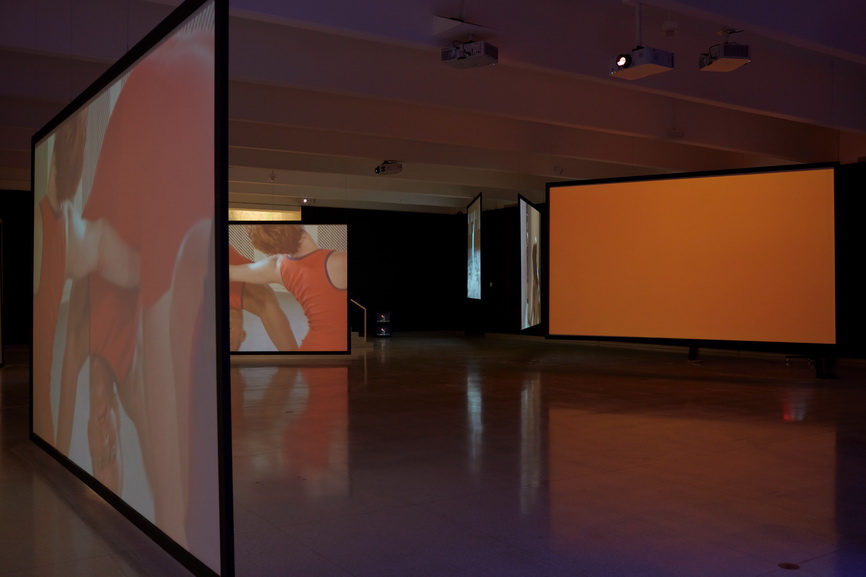 Merce Cunningham at LACMA
This important exhibition is curated by José Luis Blondet, curator of special initiatives at LACMA, and is a fragment from the grandiose retrospective organized by the Walker Art Center in 2017 titled Merce Cunningham: Common Time.
In February 2019, artist Jennie MaryTai Liu will present a new choreographic work as a reaction on the exhibition aimed to investigate the physicality of dance to the expanse of the virtual cloud and applying exhaustive chance procedure in a study of the body as an algorithmic mechanism, both intuitive and logical. This Los Angeles-based artist is known for body-based practice expressed through various media from choreography and writing to theater and to video.
Merce Cunningham, Clouds and Screens will be on display at the Los Angeles County Museum of Contemporary Art from 28 October 2018 until 31 March 2019.
Editors' Tip: Merce Cunningham: Common Time
Renowned as both choreographer and dancer, Merce Cunningham (1919–2009) also revolutionized dance through his partnerships with the many artists who created costumes, lighting, films and videos, and décor and sound for his choreographic works. Cunningham, together with partner John Cage, invited those artists to help him rethink what dance could mean, both on the stage and in site-responsive contexts. His notion that movement, sound and visual art could share a "common time" remains one of the most radical aesthetic models of the 20th century and yielded extraordinary works by dozens of artists and composers, including Charles Atlas, John Cage, Morris Graves, Jasper Johns, Rei Kawakubo, Robert Morris, Gordon Mumma, Bruce Nauman, Ernesto Neto, Pauline Oliveros, Nam June Paik, Robert Rauschenberg, Frank Stella, David Tudor, Stan VanDerBeek, Andy Warhol and La Monte Young, among many others.
Variations V (1966) - Merce Cunningham Dance Company
Featured images: Charles Atlas - MC⁹, 2012, Collection Walker Art Center; T. B. Walker Acquisition Fund, 2015, © Charles Atlas, photo by Gene Pittman, courtesy Walker Art Center, Minneapolis. All images courtesy LACMA.