To understand the term Mestizo, one must delve deeply into the history of Latin America and interpret this, seemingly simple, word in any and all of the numerous ways. Mestizo is the Spanish term traditionally used exclusively used for people of mixed European and Pre-Columbian American descent. It is also insinuates something mixed, composed of many parts, the eclectic whole. For Europeans it appeared exotic and foreign in the centuries of conquistadors, but for the most part of Latin America today, it is an integral part of their identity.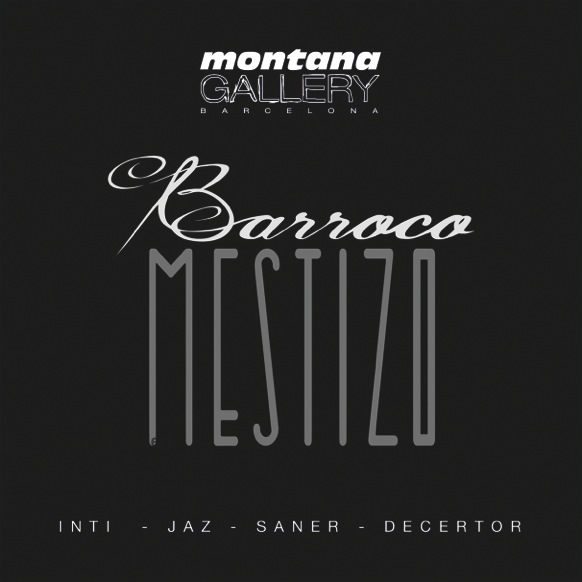 Mestizo Baroque
Back in the 16th century, Europeans that settled in South American territories brought their culture with them. At the time, baroque art was flourishing throughout the old continent, and it was considered prestigious to follow trends, so to say, even in art. It was a frequent occurrence that a local artist, a mestizo from a neighboring village, would be commissioned to conduct a piece, usually of religious nature, but strict rules were imposed onto him - he was not to put any of his own perspectives and ideas into the picture, but only to follow the rules of European style to the letter. This was, of course, not only absurd, but impossible, and the absolute majority of works produced during this period by local artists was actually the eclectic fusion of baroque and indigenous art, filled with references to the artists' own villages, lives and families. The new style is today known as Mestizo Baroque.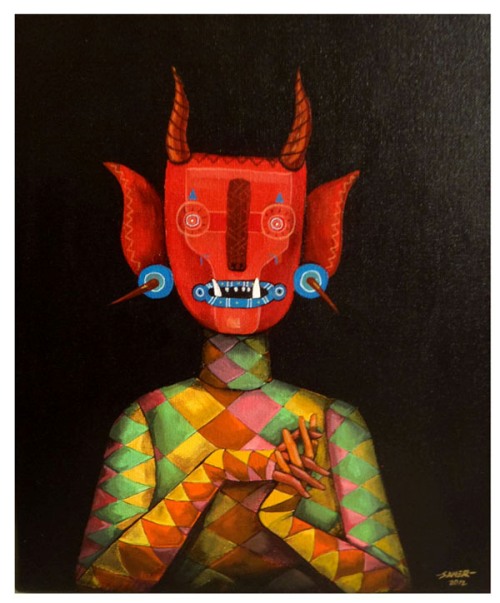 Montana Show
Montana Gallery in Barcelona invited four artists from four different countries in Latin America, all of which are characterized with bubbling art scenes, to show their works in a collective show symbolically entitled Barroco Mestizo. In the first exhibition of this type at the gallery, four acclaimed names of South American mural art will be participating - Inti from Chile, Jaz from Argentina, Saner from Mexico and Decertor from Peru. These four amazing artists will showcase a new series of work inspired by mestizo artists and their practice of the now distant conquistadorial era.
Barocco Mestizo is opening on July 3 and it will remain on view through August 30, 2014 at Montana Gallery in Barcelona.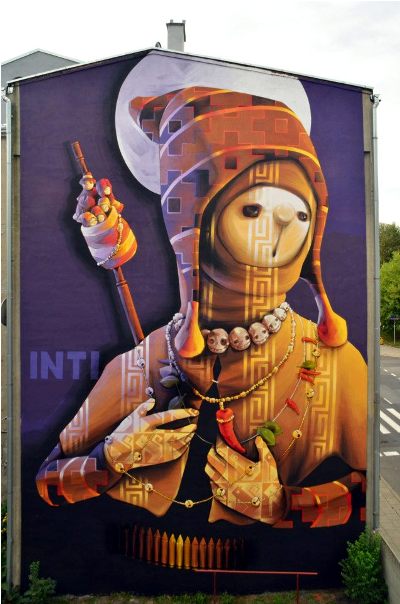 The Four Modern Mestizo Artists
All of the four artists are widely known for their highly distinguished styles, all of which are richly infused with local heritage.
The art of Inti, who even took his moniker from the ancient Incan sun god, features characters overtly referencing the pre-columbian culture of Chile fused with contemporary imagery and abstraction.
Jaz is an Argentinian artist whose style is a wonderful mixture of traditional imagery and strong modern colors and juxtapositions, heavily populated with references from lucha-libre wrestling, ancient creatures and old Argentine traditions.
Mexican Saner is the magician of color who conjures up ghosts and masks of the traditional underworld, all deeply inspired by the Mexican day of the dead.
Decertor is a Peruvian muralist, whose characters' features are deeply rooted within the local culture and aesthetics, while he still performs illegally in many urban areas.
Emulating the mestizo tradition, Inti, Jaz, Saner and Decertor will present their interpretations of old engravings and works, looking into the past while incorporation their signature, contemporary styles in what promises to be a spectacular artistic delicatesse.