During the 1960s and 1970s, the global art scene blossomed with various artistic practices and movements. It was the time when a large number of artists experimented with various media, and especially the traditional ones such as painting and sculpture were at stake. In 1979, renowned art historian and critic Rosalind Krauss published an important essay called Sculpture in Expanded Field in order to define and emphasize different approaches and practices which dealt with redefining physicality and space itself.
It seems that the upcoming group exhibition called Metal at Simon Lee Gallery draws its inspiration from Krauss' essay by featuring metal sculptures of six distinct pioneers of the Minimalist and Arte Povera movements produced between 1968 and 1990.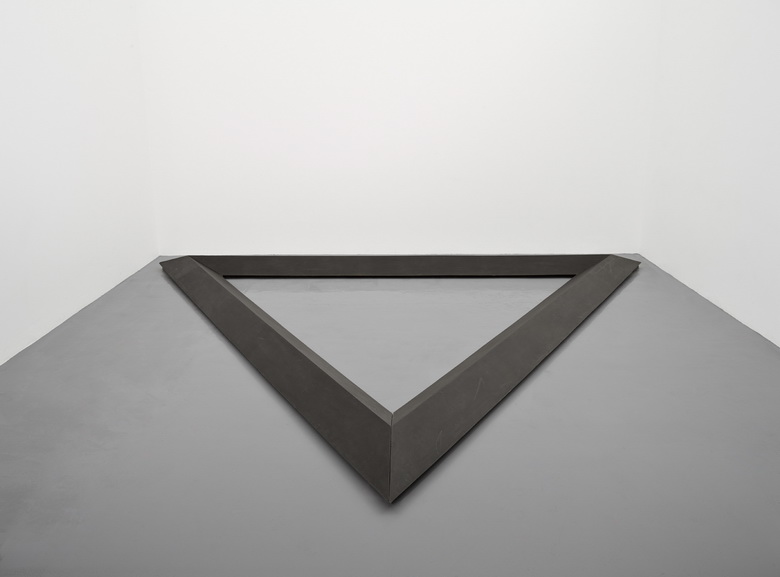 The Exhibition Concept
Namely, during the mentioned period Carl Andre, Bruce Nauman, Giovanni Anselmo, Luciano Fabro, Michelangelo Pistoletto, and Richard Serra were producing works in industrial materials such as iron, steel, and aluminum; all of their projects were embedded in the ideas of the mentioned movements to which they belonged, so they reflect the urge to dematerialize the artwork, deconstruct the traditional cannons inherited from academia, and propose a different perspective of the space as term intersected with various social and political implications.
Furthermore, the crucial ideas behind these projects like suspension and movement, the relations between different forces, luminosity and the technological features of the used materials will be accentuated with this exhibition.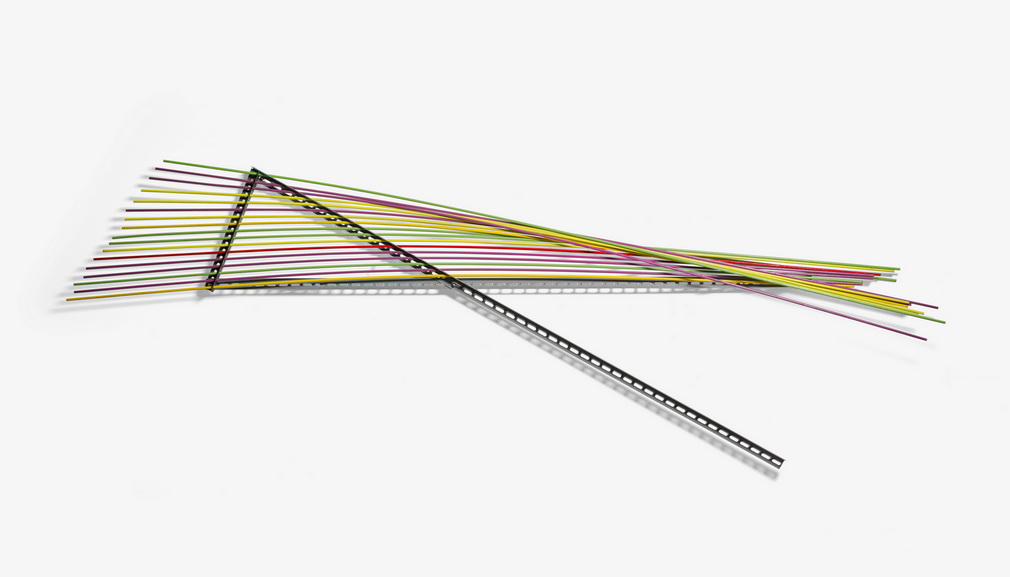 The Installment
On display in London will be the work T with Two made by Richard Serra in 1986. This sculptural intervention is constructed of two rolled plates of steel which are stacked to resemble a capital T from one perspective.
Bruce Nauman's Triangle was produced in between 1977 and 1980. It is made from a cast iron a makes a three-point boundary on the floor of the gallery space. The work of Michelangelo Pistoletto's Rittratto sigg. Lerre from 1987 is polished stainless steel which becomes a mirror populated by figures painted to human-scale, while 18 Aluminum Row from 1968 by Carl Andre lays flat on the gallery floor.
Giovanni Anselmo's Cielo accorciato (Shortened Sky), made between 1969-197,  is dealing with the limits of representation, while late Computer series of Luciano Fabro provides a sense of great lightness, despite being made with heavy materials such as iron and steel; it is a simple steel armature through which painted plastic tubing is threaded to create a geometric effect of two interwoven triangles.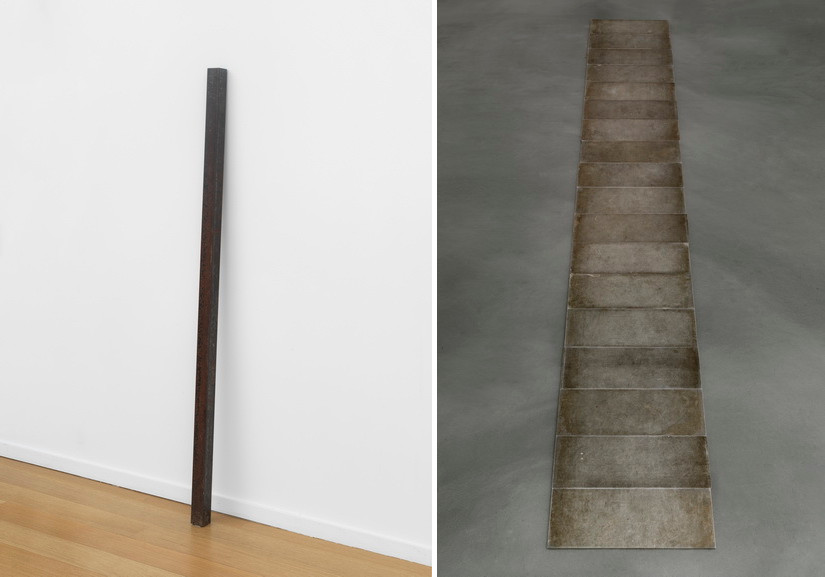 Metal Sculpture at Simon Lee Gallery
The mentioned phrase sculpture in extended filed is important for better understanding of various methods of intervention, and unexpected ways of seeing and interacting these works. Although the common notion of these projects was that they were just fruits of experimentation, this exhibition will show how performative they are since they are calling a viewer for participation and interaction by walking on its raw metal surface.
Metal will be on display at Simon Lee Gallery in London from 17 January until 23 February 2019.
Featured image: Michelangelo Pistoletto - Rittrattosigg. Lerre, 1987. Silkscreen on polished stainless steel 125 x 230 cm (49 1/4 x 90 1/2 in.). All images courtesy the artist and Simon Lee Gallery, London.