For its first show of the year, Berlin based Urban Spree Galerie has prepared a special program! After the very successful series of hand painted variations on the Teufelsberg print last year, this contemporary art gallery focused on an artistic grassroots approach decided to launch a new print series, this time directed towards subways and graffiti. Since Germany's capital is one of the cities where urban art culture is most developed and has a great support from its residents, first edition of the series entitled Metroidz Prints is rooted in Berlin (click here to read about the latest project Urban Spree was part of).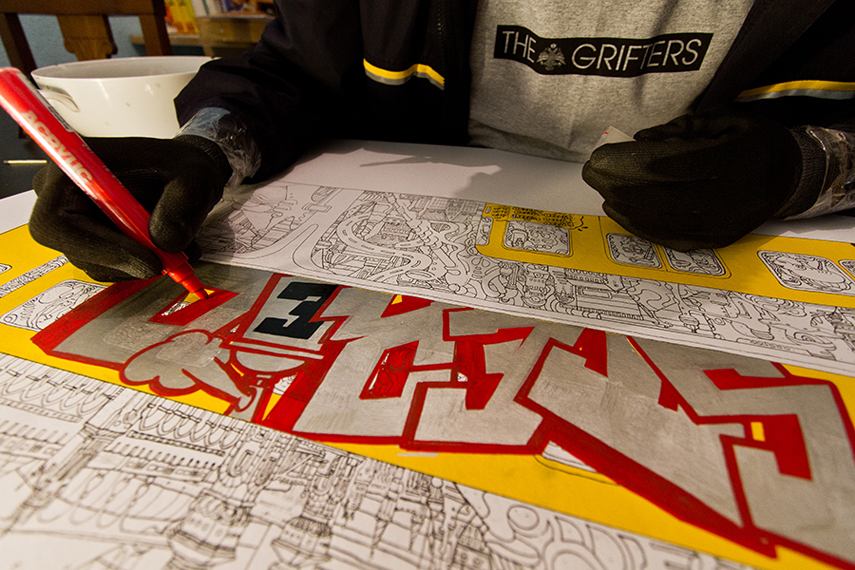 20 artists, 20 prints, 20 visions of Berlin
The choice of the artist responsible for the drawing was cast on French artist Niklos for his capacity to create an original drawing based on a real as well as imaginary Berlin cityscape with high density backgrounds, sci-fi elements à la Moebius and lots of attention to details. After the design was done, the edition of 40 prints was screen printed by Dolly Demoratti in her Urban Spree studios in an edition of 2 colors, black and 'yellow U-Bahn' on 270 gsm archival paper, in a large 100 x 70 cm format. Against this backdrop, French photographer Thorfine, curator of the show, has asked 20 street artists from Berlin that are still active to be part of the adventure and freely project their art and vision on the drawing, showing off their signature styles as well as their different ideas on Berlin (check out our article 10 New York Graffiti Legends Still Kicking Ass)…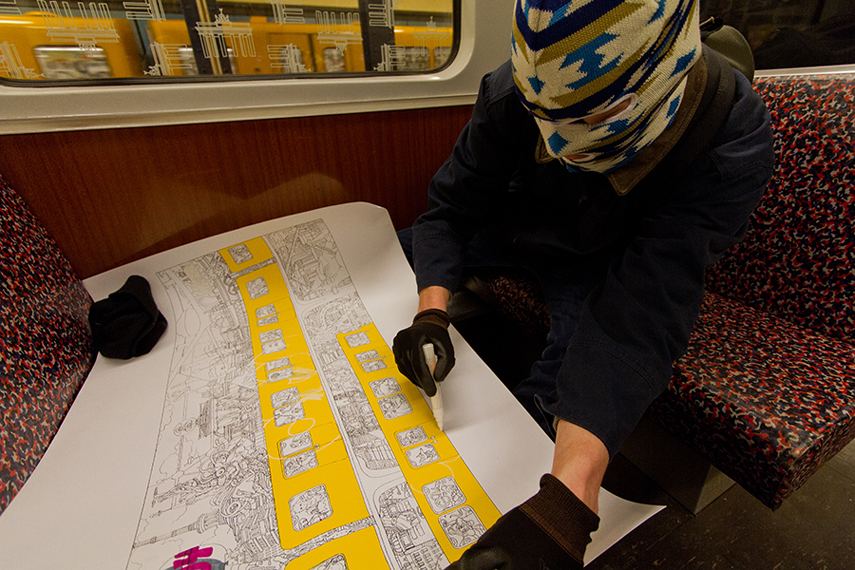 Metroidz Prints Opens March 1st at Urban Spree in Berlin
The exciting line-up consisted of artists that will present their ideas on the project is one of the strongest Berlin has to offer: Fach, Trik, Spirit, 1UP Crew, Roza, Fino, Poet, Quis, Tour, Shade, Bas2, Chika, Igid, Inka, Leroy, Roger, Pesd, Eshok, Stereo and Tin. The Metroidz series can be viewed as a historic slice of the Berlin subway graffiti culture of the past decade as well as a strong artistic manifesto for Berlin style writing, in a format never attempted before. The 20 prints will be presented on Saturday, February 28th, 2015 at the Urban Spree Galerie, with three additional A/P prints hand painted by Niklos himself. Niklos will draw directly on the gallery walls to create an original scenography for the print show Metroidz Prints. The regular, 2 color edition print series will also be available at the Urban Spree Gallery in a limited run of 20 prints.
Metroidz Prints officially opens on Sunday, March 1st and will run through March 20th, 2015 at Urban Spree Galerie, Warschauer x Revaler Str., 10245 Berlin Friedrichshain.
For more exciting exhibition announcements, sign up for My Widewalls today! 
Metroidz Trailer from Urban Spree on Vimeo.