Although figurative painting is considered to be a traditional and somehow retrograde media, it still has a certain power if socially relevant subjects are being explored. This is especially interesting in the context of engaged woman art practices which are still focused on the matters of body and identity representations, which is not strange due to the constant presence of the patriarchy despite the alleged emancipation and the progress of society.
A young artist from London, Mia Wilkinson is dealing exactly with these themes in regards to the fluctuation of digital images. With her upcoming solo exhibition titled THIS IS NOT PORN at the Public Gallery, she tends to explore how the female identity is being constructed in a chaotic media culture.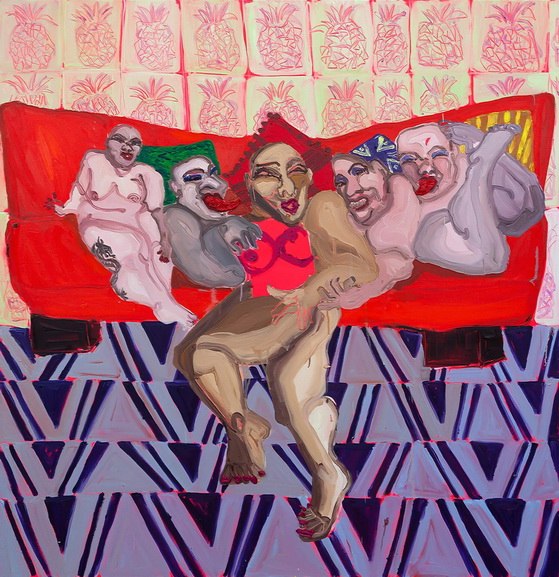 The Rising Star
Mia Wilkinson was born in 1992 in County Durham. After graduating at Wimbledon College of Art in 2014, the artist moved to London and started exhibiting around the UK. Her own artistic practice is empowered by collaboration with the feminist collective Sweet 'Art.
Although at first glance deranged and bizarre, the female figures in Wilkinson's paintings reflect various social issues related to the desired image of a woman projected by the media. By appropriating various nude models from art history (references can be found in the work of Francis Bacon or Jenny Saville) to stereotypical representations of the same in the contemporary moment, the artist exposes how the notion of gender has to be constantly reexamined.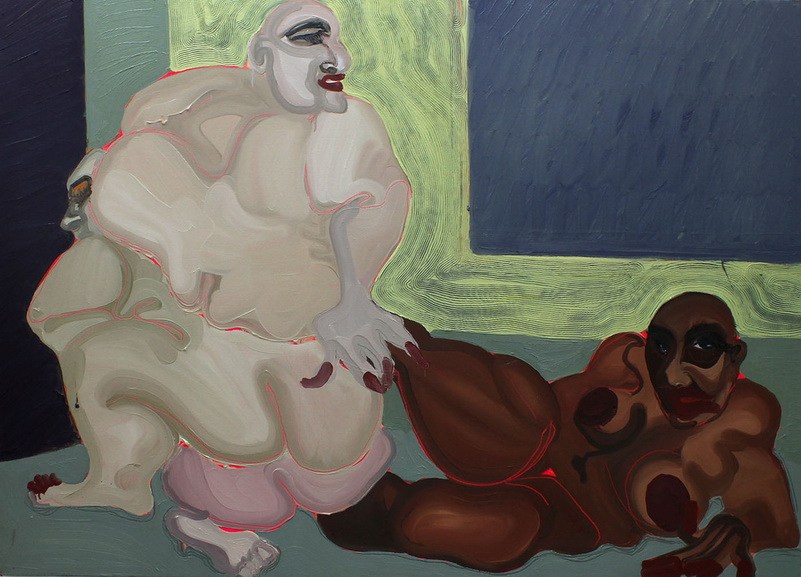 The Wandering Bodies
For this particular exhibition, Mia Wilkinson produced works deeply inspired by fetish online forums, pay-per-click member sites and social media accounts. By focusing on pairs or groups of obese and black bodies contrasted by bright or dark scenography, the artist constructs peculiar narratives suffocated with different kind of longings, desires, and expectations.
In order to understand better her interest in different types of corporeality, it is important to mention that during the process Wilkinson was deeply fascinated by the bodies of female bodybuilders and SSBBW (Super-Sized Big, Beautiful Woman) - a term used to describe a very overweight woman paid to eat or sit on a person to satisfy their erotic desires.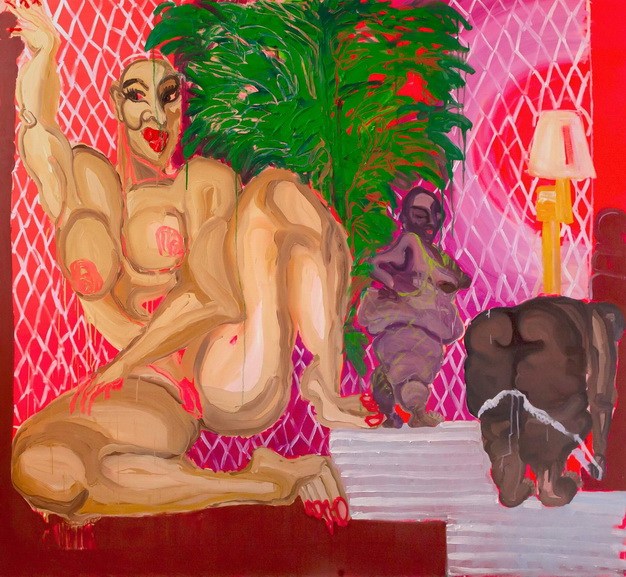 Mia Wilkinson at the Public Gallery
The artistic practice of Mia Wilkinson is based on the feminist agenda; a need to expose disobedient bodies in their physicality expressed in an unsettling manner. In addition to this conclusion is her artist statement about this series:
Accidental properties created by applying wet on wet, prove just as important to my work; dripping from the nipples and nails and mouth and feet, that go in and out of the women enable a feeling of sensuality sprinkled with disgust.
The exhibition THIS IS NOT PORN is on display at the Public Gallery, new venue specialized in solo shows of emerging artists based in the creative hub of Hackney Downs Studios, East London. The audience will be able to see it until 4 August 2018.
Featured image: Mia Wilkinson – Asscream Sunday, 2017. Oil on canvas, 150 x 75 cm. All images are courtesy of the artist and Public Gallery.