If you take a look at how Miami looks like today, it would have probably been very hard to realize that just one hundred years ago Miami-area was a kingdom of mosquitos and reptiles: a swampland that wasn't appealing for visiting, to say the least. Fast forward a hundred years, and there you have it - Miami is a big center and one of the leading US cities in finance, media, entertainment. And, of course, arts.
Miami has it all, when it comes to visual arts. It starts all the way down, on streets, where incredible street art is being made at the part of the town called Wynwood. The Design District and Wynwood are also parts of Miami where you want to be, if you are interested in visiting galleries - there are more than a hundred art galleries in this two neighboring parts of Miami. With so much choice, you are bound to find something you like in all those galleries, whether you are interested in a lowbrow piece, or you are looking for some blue-chip art - you'll find everything you are looking for. Of course, just before the winter comes, in the beginning of December, Miami turns into an international art capital, because that's when the Miami Art Week starts - from famous Art Basel at Miami Beach, to Art Miami, Art Wynwood or Red Dot. There are around 20 art fairs in Miami, mostly when the weather is perfect in Miami, and ugly in most of the Northern hemisphere.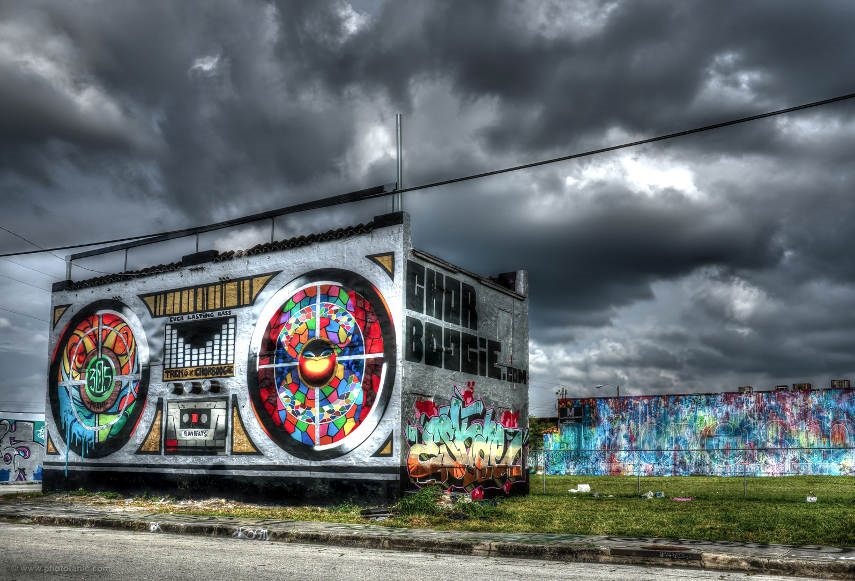 Wynwood Art District - The Center of Street Art
Back in 2009, there were nothing "artsy" in Wynwood. The empty warehouses in a declining neighbourhood did not suggest that anything like today's Art District would have ever appear in these blocks. But then, Tony Goldman, the real estate developer and, apparently, an art visionary, injected an infusion into Wynwood. Goldman, who died in 2012, looked at all those warehouses without windows, and it occured to him that these walls could become great canvases for street artists.
They sure did.
You just cannot prepare yourselves when entering the Wynwood Walls for the first time - you can be sure that you have never seen anything like that. Street artists from all over the world started to come into Wynwood, completely changing the appearance of abandoned and once ugly warehouses. Today, there are more than 70 galleries in Wynwood - if Miami Beach and Art Basel is the right place for collectors, Wynwood is the right place for the street artists: Os Gemeos, Invader, FUTURA 2000, Dearraindrop, FAILE, Shepard Fairey, Ben Jones, Ryan McGinness, Ara Peterson, Retna, PHASE 2, Gaia, Vhils - that's just the short list of world's famous street artists that have decorated the Wynwood Walls. Over 80,000 square feet of walls, to be precise. You could walk for hours, staring in incredible murals, and, as Robert Fontaine said to WideWalls, "no two images found on the walls of Wynwood and surrounding areas are created similar".
But, hey, when you are already walking and looking a thing of beauty after a thing of beauty, why don't you do that same thing on the second Saturday night of every month? Every second Saturday there is an Art Walk in Wynwood, when galleries and art studios open their doors for the passengers - it usually
starts at 7 PM, and lasts deep into the night.

Those big and small red dots are not some strange skin, or, rather, map disease. It's just a part of a large number of galleries across Miami.
The Gallery World of Miami
Ok, so you are definitelly convinced that Wynwood Walls is a place you need to visit if you ever go to Florida. But, remember, we've mentioned some galleries as well? Wynwood itself has around 70 of them, and the Design District is also famous for its galleries. Similar to Wynwood, the Design District also consists of old warehouses that have been turned into restaurants, art galleries and coffee shops, and some of those galleries you shouldn't miss. There's The Markowicz Fine Art gallery with its internationally renowned artists' works on display (Andy Warhol, Damien Hirst, Tom Wesselmann, Fernando Botero). Opera Gallery and Adamar Fine Arts are also contemporary art galleries at the hearth of the Design District, as well as Maman Fine Art. Then, there are Galleria Ca' d'Oro with its goal to introduce contemporary Italian art to the US audience, and de la Cruz Collection Contemporary Art Space which is an extension of Carlos and Rosa de la Cruz's home, where for over 25 years they have shared their collection with the public. Finally, there's also Locust Projects - a non-profit exhibition space dedicated to providing contemporary visual artists the freedom to experiment with new ideas without the pressures of gallery sales or limitations of conventional exhibition spaces.
But that was just the Design District. In the Wynwood Arts District there are other renowned galleries: Rubell Family Collection and Contemporary Arts Foundation, with a collection of works by the likes of Jean-Michel Basquiat, Keith Haring, Damien Hirst, Jeff Koons, Cindy Sherman, Kara Walker and Andy Warhol. Then there's the Robert Fontaine Gallery, which is providing a widespread platform for emerging, mid-career, established and master artists, from American Pop Art to digital media and street art. Before 1986, the Bakehouse Art Complex (BAC) was just an old bakery, abandoned as the rest of the neighborhood. So, back then, when there were no Second Saturdays and no Wynwood Walls, and - actually - no galleries at all, a group of artists transformed that bakey intof the non-profit BAC, which today is an incubator for artistic creativity.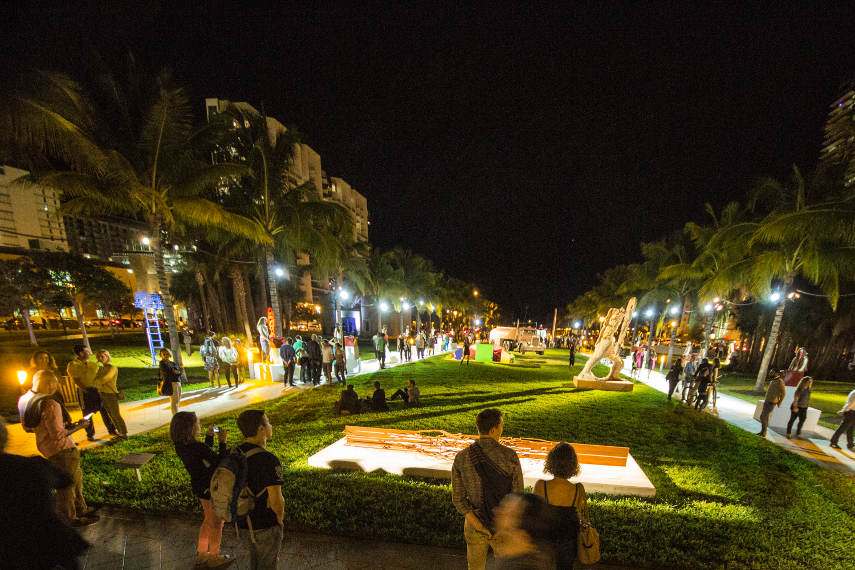 Art Fairs and Miami Art Week
If Miami had only Art Basel Miami Beach as art fair, it would have been enough for city to transforms itself into one of the world's art capitals. But, Miami has much, much more than "just" a satellite of Art Basel Switzerland, which is, by the way, the longest running international art fair. Art Basel Miami Beach is the art culmination of the year, where every gallery (more than 150 of them) and every artist put their best works. The whole town just explodes with the energy during the Art Week, when Art Basel starts the frenzy. And that's quite a frenzy, as art fairs and parties simply swarm the big part of Miami. Apart from Art Basel Miami Beach, there's also Art Miami, a longest running art fair in Miami, with many international galleries and artworks, modern and contemporary. Miami Project, with plenty of female and cutting-edge works, curates a selection of important artworks from around 60 US galleries. It is a somewhat new fair, as well as Art Wynwood, the annual Presidents Day Weekend art fair, and Red Dot Art Fair.
Sign up for My WideWalls for FREE and be up-to-date with contemporary and street art.
Slider image: Wynewood - Mural by Eduardo Kobra (Courtesy of Wally Gobetz, Flickr)