One of the most high-profile art events in the world, Art Basel decided to cancel the upcoming edition of its Miami Beach fair, scheduled to take place at the Miami Beach Convention Center in early December 2020. Initially planning to present its artists in Miami Beach in conjunction with Miami Art Week 2020 event, Vertical Gallery is now bringing an all-star winter group show to Chicago. Titled Miami in Chicago, the exhibition will present the latest bodies of work by Martin Whatson, Alex Face, Mau Mau, Collin van der Sluijs, Joseph Renda Jr., Mysterious Al and David Heo.
As Patrick Hull, owner of Vertical Gallery, explained, the cancelation of in-person art fairs doesn't mean they "can't still celebrate the artists that have been working all year on their collection of work."
We had/have a very strong group show roster for Miami Art Week, and are excited to feature all of the artists in our Chicago gallery for the entire month of December.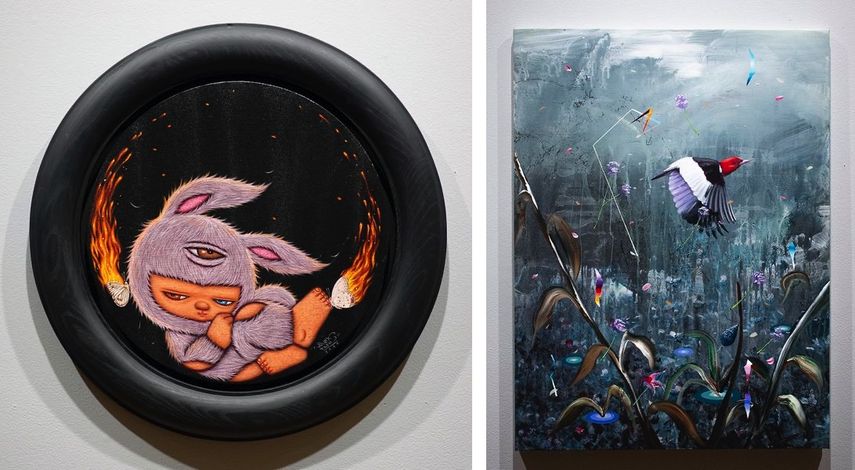 Martin Whatson, Alex Face, Mau Mau and Joseph Renda Jr.
A Norwegian street artist, Martin Whatson is best known for calligraphic scribbles in grayscale voids. Combining abstract movement with figurative stenciled compositions, he creates unique stencil scenes that send messages of peace and love. Through his practice, he symbolically recreates the urban environment and then vandalizes it to reveal his vibrant transformations.
An influential graffiti artist in Thailand, Alex Face is best known for his character Mardi, an aged, disillusioned child wearing animal costumes. Seemingly playful lighthearted, his works explore deeper themes of poverty, environmental crisis and the present and future of society.
A British graffiti artist, Mau Mau creates poignant works that document times. Often incorporating political, environmental and cultural commentary, these works mostly feature his trademark character, a mischievous and fun-loving fox.
A Chicago-based artist, Joseph Renda Jr. creates works that explore the symbiotic connection between humans and the natural world. Depicting highly realistic human forms interwoven with illusive natural elements, he is intrigued with unifying contrary ideas such as life and entropy, chaos and order and nature and mankind.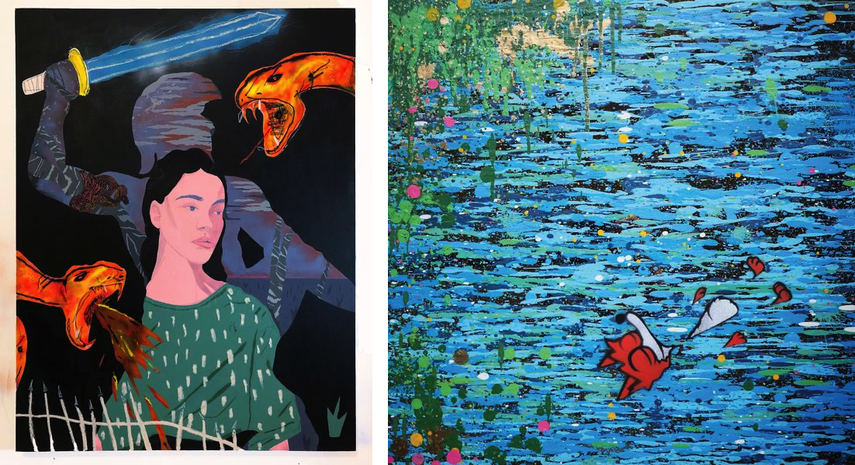 Collin van der Sluijs, Mysterious Al and David Heo
A Dutch illustrator, artist and gallery owner, Collin van der Sluijs translates personal pleasures and struggles in daily life into his own visual language. Through an instantly recognizable visual style, characterized by a rich color palette and vibrant brush strokes, he explores our lives, but also society at large.
A London born and Melbourne-based urban artist, Mysterious Al draws his inspiration from ancient tribal masks, reimagined in wild contemporary colors. Striking and at first glance intimidating, his work is imbues with fragility and vulnerability.
A talented Chicago-based artist, David Heo creates vibrant paintings influenced by daily observations and personal experience, like a visual diary of social life in your 20s. Using non-traditional materials like crayons, house paint and construction paper, Heo creates scenes that examine the complex, emotionally charged interactions taking place in bars, nightclubs and other after-hours milieus.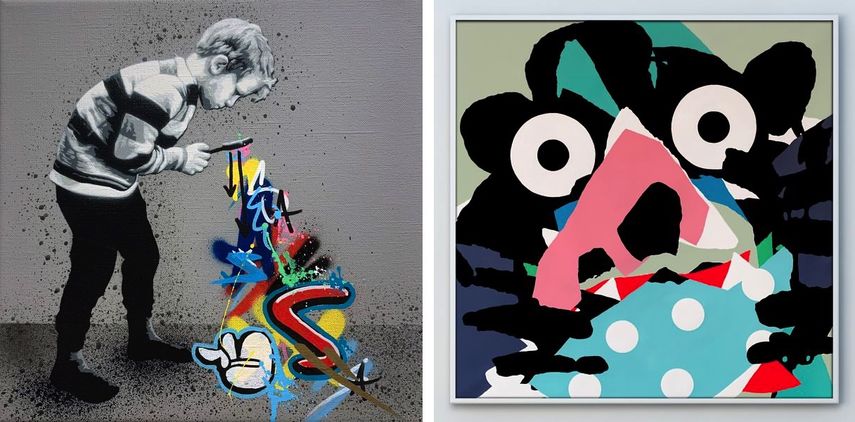 Miami in Chicago at Vertical Gallery
The exhibition Miami in Chicago will take place at Vertical Gallery in Chicago from December 1st until December 26th, 2020.
Featured image: Joseph Renda Jr - Destruction as Creation. All images are courtesy of Vertical Gallery.