If someone walked up to me and whispered - "land of freedom and opportunity" into my ear, America would probably be the first association that would spring to mind. Whether that would be induced by propaganda instilled in our thoughts by media, can perhaps be answered by describing the very scenes that one would imagine upon hearing that whisper. Images of Montana's big open skies with its Lewis and Clark Trail and Yellowstone park, preeminent coastline of Oregon, Great Lakes and stunning islands of Michigan, rugged beauty of Utah and the frozen landscapes of Alaska, all invoking endless awe. Therefore, it should be expected that many of the country's artists draw inspiration from such terrains. One of those artists certainly is Michael Gregory, albeit his limited palette of whites, black and gray often draws ruminating landscapes that invite contemplation. Nancy Hoffman Gallery will be providing, on March 10th, the opportunity for such contemplations for all aficionados of Americana, in an exhibition titled Here and There, Far and Wide.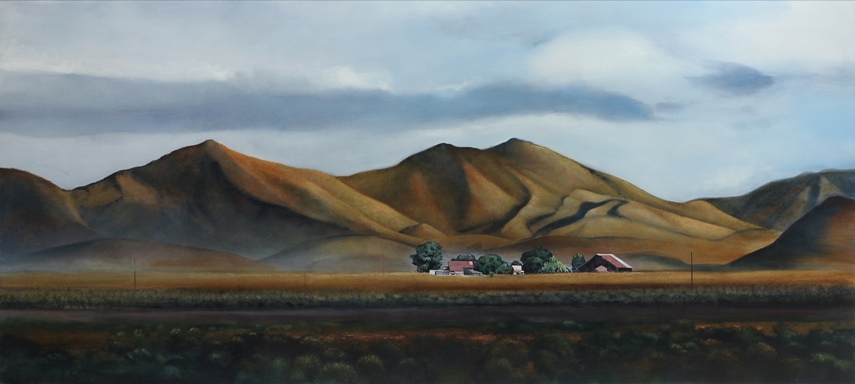 Michael Gregory, Aesthetics of The South-West
Simple objects such as a barn or a silo, telephone poles, fences, or the background of open skies put forward as the main focus in the field of view, mark the artist's respect for the gloomy aesthetics of Steinbeck's depictions of southern and central California. Spawning from his obvious love for the land, Michael's art does not aspire to be photorealistic, but rather display mental conception that he constructs while taking in the vast landscapes as he drives through the West.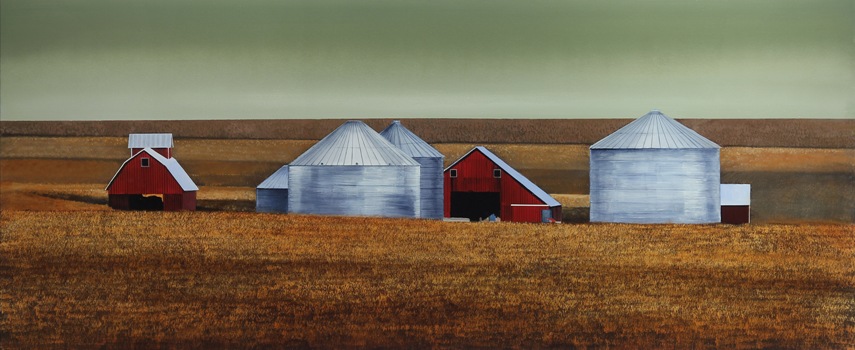 The Beauty Of Melancholy
Many of his works show us mountains at dawn, open skies and fog floating through them, a sort of argument for the appreciation of dismal beauty that imbues us with a sense of serenity when we isolate ourselves from the bustling cities. Just like choosing the panoramic mode on your digital camera, his paintings are elongated horizontals, reminiscent of the view from a moving object. Colors are usually done in subtle but rich style. Michael could be called a landscape painter, but, there are no dull or boring landscapes to be seen in his works. His are the night skies not polluted by light shone from the polluted cities. His paintings take us back to another time, a time when the world was simpler to understand. Perceptible in his paintings is also a sense of paean that sprawls from the sense of understanding one's memory.

Michael Gregory, Here And There, Far and Wide at Nancy Hoffman Gallery
Works that Gregory has included in Here And There, Far and Wide series, seem to stop the time and turn the viewers' attention to its passage, which deteriorates everything until only the mist of memory remains. These works are true, unadulterated, Americana. Perhaps the most amazing thing about Michael Gregory's work is that the sensations one gets by looking at his paintings, those of particular places, are illusory. They are not bound to specific locations but rather represent a composite of artist's memories and sensations gathered on his long drives through solitary landscapes. Michael Gregory's collusion with Nancy Hoffman Gallery will try and provide true insight into the artist's psyche by allowing us to appreciate the artist's statement spoken while gazing at this particular set that "every sunrise is miraculous and novel". The exhibition will be held from March 10th through to April 16th.
All images courtesy of Nancy Hoffman Gallery