Michael Page art exhibition Nostalgia Kills at the Corey Helford Gallery is the artist's first major show in the CHG space. As if someone broke open a bag of colorful candy, allowing the memories of the childhood freedom and play to fall, the artist's latest paintings continue to explore the imaginative world. Following the thread of his previous images, the dream-like state, ambiguous settings, and surrealist atmosphere decorate the artist's reflections and relationship to his children's imaginative worlds which stand at the core of his latest series.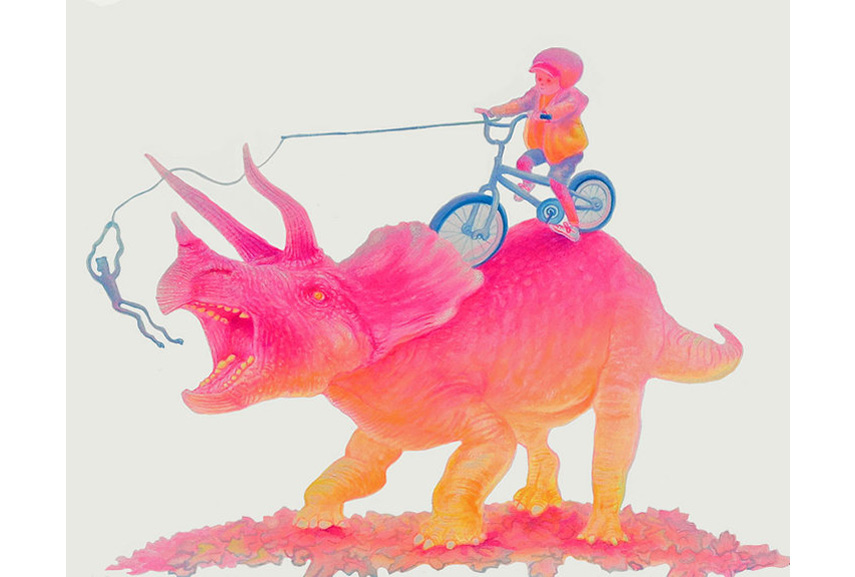 Latest Images of Michael Page's Art
Painting with acrylic and oil, Page creates dreamlike realms that lead the eye through an ephemeral landscape of exploding color and form. Taking as a source of inspiration his role of being a father, each of his images express pivotal moments throughout Page's family life. From playing pirates and taking bike rides, to showing his children how to brush their hair and teeth, each painting displays these cherished moments in illusory detail. Using free association as a technique, Page glazes each canvas with multiple layers of color to create a dream-state in which he says nostalgia resides and is ready to be expressed into form. About his latest collection the artist says "Now that I am a father and get to play with my kids every day, I get to see the world and all its wonders through their eyes. As I look back over the years watching my children grow, play, and learn, it's fascinating and heartbreaking to feel the lightning speed of time. I find myself frantically seeking to witness all my children's little steps and moments. It's hard to sit back and think about all of the things you should have done, or want to do for your own children".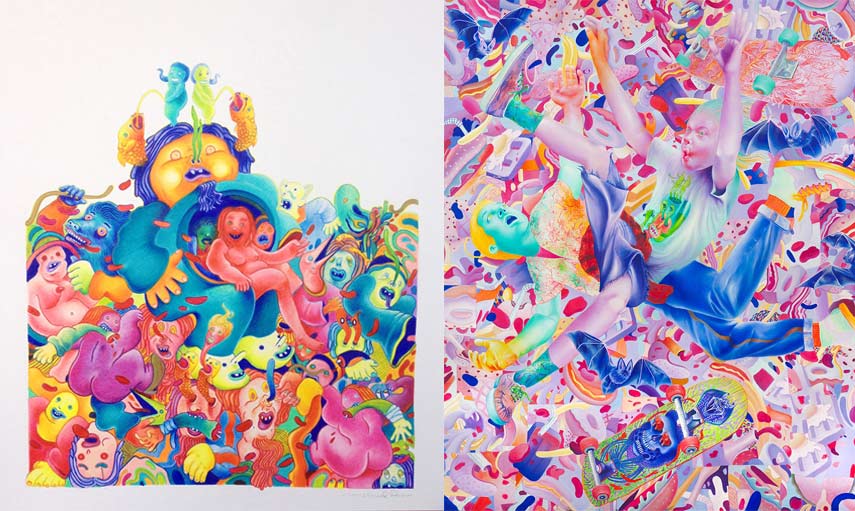 The Bursting Energy
Understanding that nostalgia is mostly positive, Page reflects on the idea that it can also hold that "sickening feeling if you sit with it too long". As such, his latest images are bursting with energy and unstoppable freedom available only to fearless children. As always, Page's images take their public on a journey to the land of the most imaginative creatures, and human figures which stand as symbols of most cherished parts of the artist's life.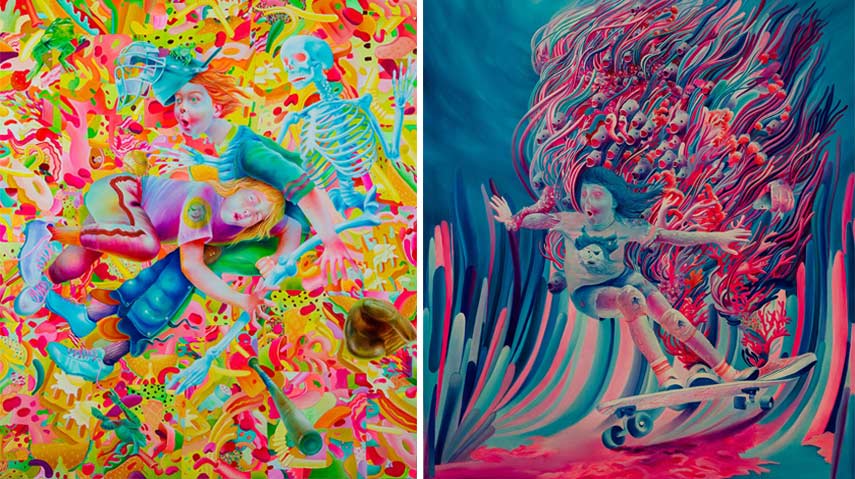 Michael Page Art Exhibition at Corey Helford Gallery
Peering into his own childhood and basing his work on its relation to his children's imaginative world, Michael Page's first major show at Corey Helford Gallery is a celebration of vibrant hues and form. Featuring fourteen new paintings his exhibition Nostalgia Kills is a continuation of the celebrated style of creativity the San Francisco-based pop-surrealist artist is known for. The exhibition is on view in the main room of the gallery from January 21st, 2017 lasting through to February 18th, 2017.
All images courtesy of Corey Helford Gallery. Featured image in slider: Michael Page – The Collide I, detail (acrylic-and-oil-on-canvas, 42x48 inches); Michael Page - In Process, Shot of Joyride II; Michael Page - In Process, shot of Fisherman's Ride