Artist Michael Richards didn't know George Perry Floyd Jr., but yet he did. Richards wasn't here to see what he hoped for: resolution on systemic racism and implicit bias in policing. Neither was George Floyd. However, both men had something in common: they knew what it's like to be down.
Michael Richards: Are You Down?, the first museum retrospective of Richards' art, opened at the Museum of Contemporary Art North Miami (MOCA). Its timely opening took place one day after Derek Chauvin was found guilty on all three charges.
The exhibition title's play on words is far from being playful. First, it's an invitation to contemplate a retrospective of works that lead us into Richards' psyche and imagination. Possibly, this phrase could imply feeling sad. However, in light of recent events, "down" implies physically pinned in one place, or more so, dead.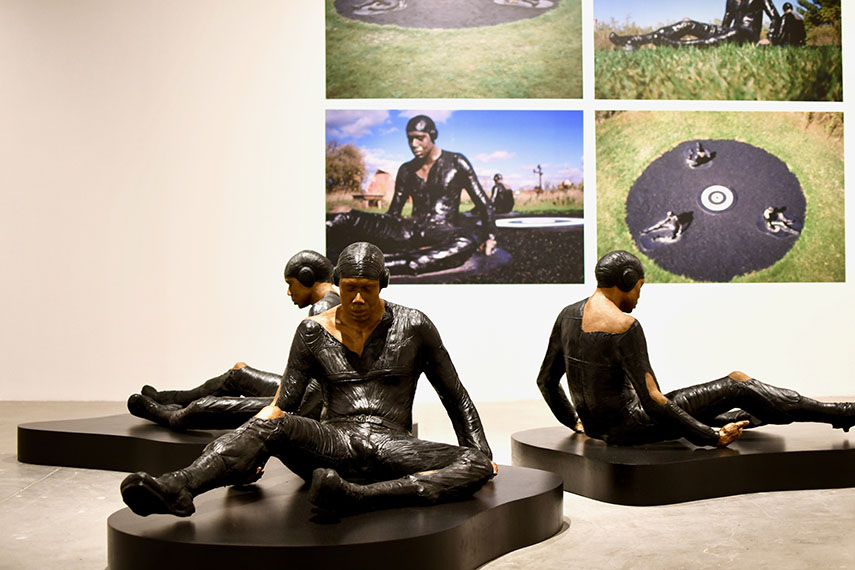 Who Was Michael Richards?
Michael Richards was an Afro-Caribbean artist whose sculptural and drawing practice reflects on issues of racial inequity, anti-blackness, and diasporic identity. He passed away in the 9/11 terror attacks while working in his studio located on the 92nd floor of World Trade Center Tower One.
Although only 38, Richards left behind a legacy of works that can now be seen in grandeur at MOCA North Miami. The exhibition also serves as a spiritual homecoming, because from 1997-2000 he was an artist-in-residence with the National Foundation for Advancement in the Arts at ArtCenter/South Florida (now Oolite Arts).
Richards opens his artist statement with a question: "Does the glass ceiling which excludes also reflect the desire to belong?" He continues to outline the duality of being a black man in America. He writes:
I wish primarily to give voice to the psychic spaces in which exist both hope and frustration, faith and failure, and the compromises which must be negotiated in order to survive.
As the viewer navigates through the exhibition, we are seduced by a metaphorical space (as he describes it) drawn to the ecstasy of flight, but then pinned down by tar. We fall down the ladder rather than climb up, and confuse dismembered human parts for chicken wings on a plate from a popular diner.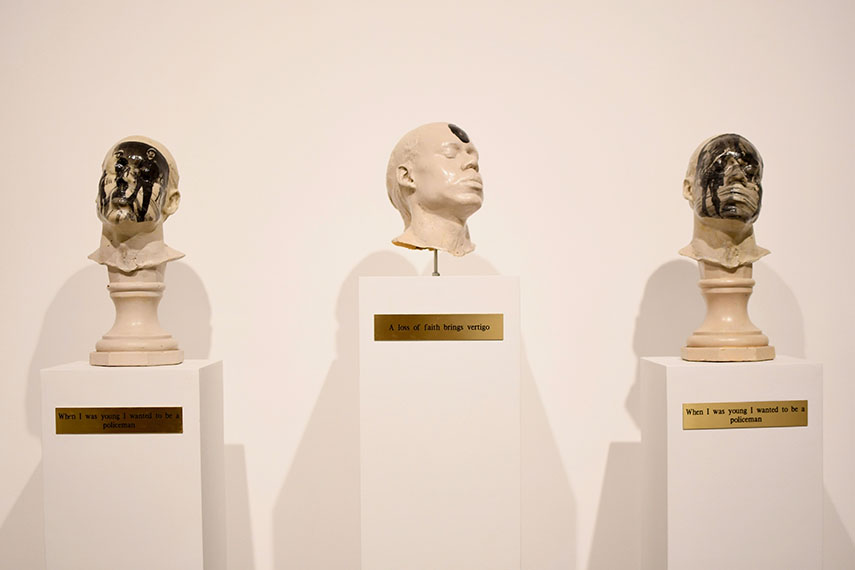 Visible With Invisible is a Metaphor for Blackness
Let me Entertain You (1993) is made up of photographs from a past installation that took the form of the dressing room that belonged to Bahamian-born American entertainer Bert Williams'. Williams would paint his face black like his white counterparts. The viewer is drawn into the scene through four mirrors that are silkscreened with messages: Black; Blacken; Black Enough; Black Enough For You? Richards noted, "The mirrors are a metaphorical device—a reflection of society and how we perceive ourselves through the eyes of others." The idea of seduction is present since the viewer shares this small space with Williams yet upon a subtle shift, the viewer disappears from the scene. Visible with invisible is a metaphor for blackness.
The reference to Icarus is another metaphorical device used in some of Richards' works. Winged (1999), made of bronze and metal, seems to hang effortlessly. Arms are outstretched as if to imply flight, but are in fact two arms separated from its torso and placed back together. The sculpture is weighed down by five bronze feathers as if just plucked from a bird. Here repeats the idea of winged as both flight and appendage.
On the other side of the exhibition, some of Richards drawings and works show his talent as an avid draftsman—an aspect of his work that is lesser known. Created over the course of five years, these intricate images describe thwarted plans for escape. Icarus depicts, what appears to be, four chicken wings with the subtitle, Icarus Wings n' Things. However, a closer examination reveals that the chicken wings are actually four male legs disjointed and repositioned into a kneeling position.
The target is another recurring motif. Exhibition namesake and work, Are You Down?, is a large-scale work of three life-size black men clad in flight gear sitting with their backs to each other. Their heads are down not as if in shame, but more deflated. For the original installation (that is shown in a photograph) there is a target and bullseye between the men. The work references the Tuskegee Airmen, the first African-American pilots in United States military history and Richards used his own body to cast the figures for the sculptures. Not in a heroic sense, but to recall how at the same time that Tuskegee Airmen were receiving their training, black men were being used in experiments to see how syphilis would progress through their bodies.
Similarly, in Climbing Jacob's Ladder (He Lost His Head) (1994), each step has a word to form the sentence: "Climbing Jacob's Ladder He Lost His Head." The steps and feet lead down to decapitated heads strewn around a bulls-eye and target. Here, the idea of a glass ceiling is implied and Richards statement that says: "I attempt to examine the feelings of doubt and discomfort which face blacks who wish to succeed in a system which is structured to deny them access."
A Loss of Faith Brings Vertigo from 1994 is made up of five pedestals that each display a bust with photo transfers of images depicting police violence against black people. Four pedestals have plaques that read: "When I was young, I wanted to be a policeman." The fifth bust that spins has an image of Rodney King and the plaque bears the title of the work. Does the work imply innocence lost or naivety? As stated in the work's description, "the narrative of Richard's sculpture is one of a loss of faith in the police and the dissolution of their implicit relationship to safety and protection."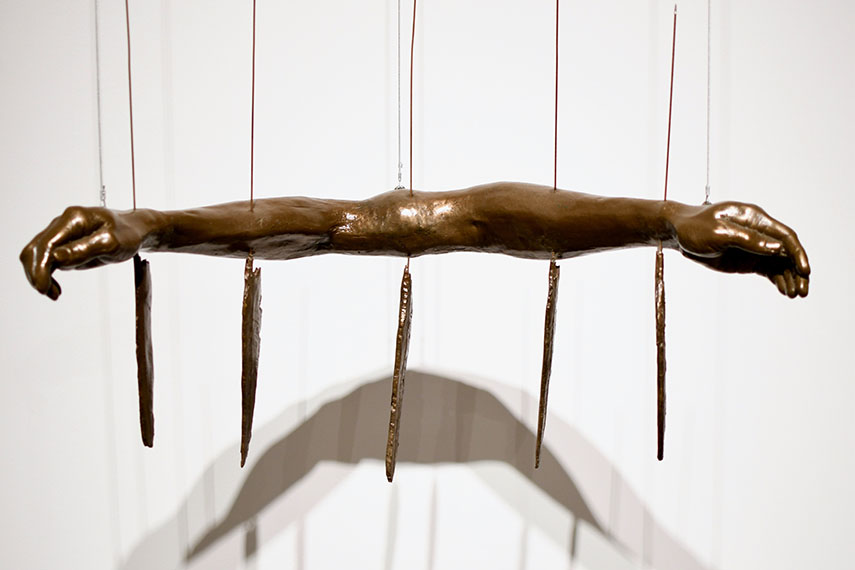 Are You Down? At MOCA North Miami
2020-2021 proved that it's not sadness, but anger that carves the path to solace. Richard's legacy serves as a conduit to reform and his message will continue through a new generation of artists. Since 2018, Oolite Arts has also given a $75,000 annual award in his honor, the Michael Richards Award, to Miami-Dade County-based artists.
In the US, we can only hope to be at a crossroads where simply being is not good enough. "He was a human being."
Michael Richards: Are You Down? is on view at the Museum of Contemporary Art North Miami (MOCA) until October 10th, 2021.
Featured images: Michael Richards: Are You Down?, Installation Views at MOCA North Miami, 2021. © Lisa Morales.