Up for its third edition this year, the Curated Section can now be considered one of the most anticipated parts of VOLTA NY. Taking place in New York this March, the fair will dedicate 2,600-square-feet of its space in the heart of PIER 90 to the exhibition, offering an exciting look at a popular artistic medium.
The Aesthetics of Matter, as this thematic show is titled, is set to present a group of artists exploring the ideologies of collage within their practice, through the means of material, language, text, cultural and personal concepts. That said, it will feature artwork ranging from painting and sculpture to photography, video, text and printed matter, all relating to collage as a construct.
Following the first two editions in 2016 and 2017, led by Derrick Adams and Wendy Vogel respectively, the honor of curating the Curated Section goes to a duo for the very first time. Racquel Chevremont, former candle store owner and model, is know for running the State Street Salon, a platform for artists, curators and collectors in Brooklyn. She currently owns an art consulting business. Mickalene Thomas, on the other hand, is a distinguished visual artist, filmmaker and curator, known for paintings that combine art-historical, political and pop-cultural references. Her work introduces complex notions of femininity and challenges common definitions of beauty and aesthetic representations of women.
While this is not their first collaboration in the art world, Mickalene Thomas and Racquel Chevremont will debut as co-curators at VOLTA, and here's what they have to say about it.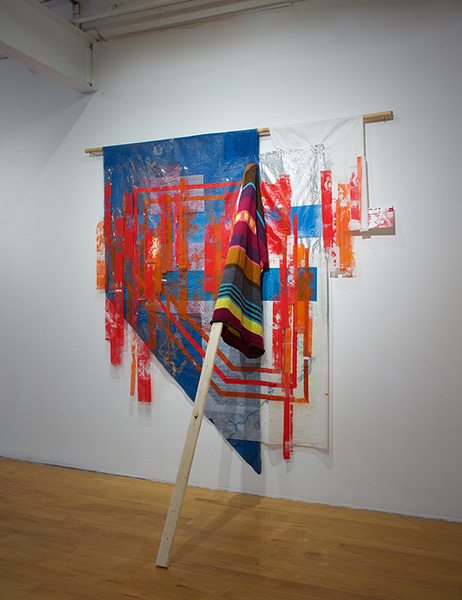 The Aesthetics of Matter
Widewalls: This is only the third edition of Curated Section, but it seems to already be an important part of VOLTA. What were your impressions of the first two exhibitions, by Derrick Adams and Wendy Vogel?
Mickalene Thomas and Racquel Chevremont: We loved the first two iterations of the curated section, they were fantastic.
Widewalls: Your theme of the show gathers artists who refer to collage through various disciplines. Where does the idea to honor this medium this way come from?
Mickalene Thomas and Racquel Chevremont: The idea to honor this medium came from art history, in times of instability many artists have chosen to work through collage to process information and respond.
Widewalls: How would you say this concept relates to the times and the conditions we live in today?
Mickalene Thomas and Racquel Chevremont: Our concept relates to the times and conditions we're living in today because we as people are being bombarded daily by images, thoughts and ideas more now then at any other time in history. How as an artist are you to process it all?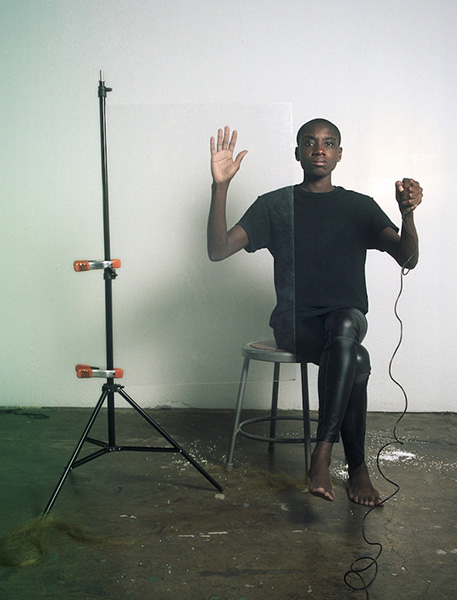 The Participants of the VOLTA's Third Curated Section
Widewalls: Can you tell us a little bit about the artists involved? What can the visitors expect from the artworks on view?
Mickalene Thomas and Racquel Chevremont: The viewers can expect to be challenged by their own idea of what collage is as well as by how the artists have chosen to respond to the current sociopolitical climate as it relates to their individual lives and practices.
The artists we've chosen work in varying disciplines, most of which might not be what the viewer imagines and expects when they hear the word collage.
From Text to sculpture to photography and video, we as curators hope to broaden the discourse of collage.
Widewalls: Why is an exhibition of this kind important for an event like VOLTA, in your opinion? How does it enrich it?
Mickalene Thomas and Racquel Chevremont: An exhibition of this kind is important for a fair like VOLTA because it brings back the original concept of what VOLTA was interested in doing in the first place, show artists who are not represented at the larger fairs.
By giving up valuable square footage from the standpoint of a fair, it shows their commitment to artists not just galleries. It solidifies their position of wanting to be considered as something other than solely a commercial endeavor.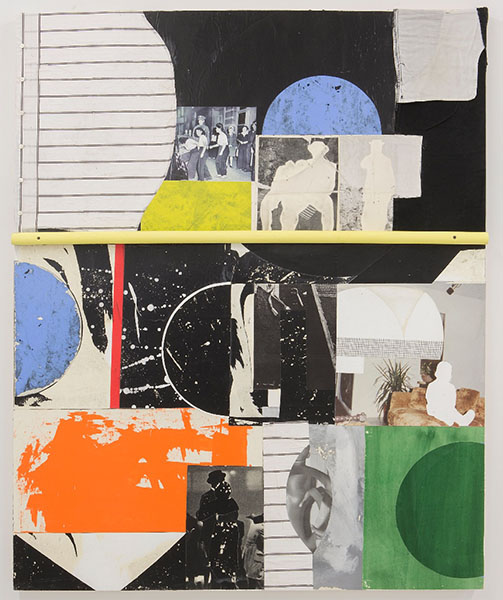 Mickalene Thomas and Racquel Chevremont for VOLTA NY 2018
Widewalls: Is this your first collaboration with VOLTA?
Mickalene Thomas and Racquel Chevremont: Yes, this is the first time working with VOLTA for both of us.
Widewalls: You conceived "The Aesthetics of Matter" together, as a curator duo. What was this experience like?
Mickalene Thomas and Racquel Chevremont: Curating this together has been a great experience, initially we both drew up a list of potential artists and there was a lot of overlap. Then we had to come up with the concept, after reviewing the artists we noticed a trend.
No matter what medium some of the artists were working in we quickly came to realize that they were processing a lot of thoughts, ideas, current events and life experiences and coming at answers in very different ways.
That's when The Aesthetics of Matter was conceived.
Widewalls: How does and how will this exhibition reflect on your individual careers?
Racquel Chevremont: For me it's an extension of something I've already been doing when I think about it, just on a more public platform. Most people know me as a collector, some people know about my work as a consultant for corporations and private collectors as well as artists.
About my unwavering desire to make sure artists of color are represented and visible. Then there are those who might only know me as Mickalene's muse, haha and I love that too.
This will hopefully allow them to see me in a different light, as part of a team, deux femmes noires, watch out we're only just beginning!
Mickalene Thomas: For me it's important as an established artist to clear a path for artists that are of the next generation or simply support them in their artistic practices. I've been curating since 2009. My curatorial debut was the Brand New Heavies exhibition at the former Collette Blanchard gallery in the Lower Eastside.
Since then, one of my missions is to provide access to as many artists of color as possible. I enjoy being among talent and I have no problem sharing the space of success. It's necessary for me to include them and thus I did the same once again when I curated the acclaimed tête à tête exhibition.
I would say VOLTA and the debut of Deux Femmes Noires as a platform is the newest incarnation.
Featured image: Mickalene Thomas (left) and Racquel Chevremont (right), Photo by Guillermo Cano. All images courtesy VOLTA NY 2018.