An Australian multidisciplinary artist whose practice encompasses publishing, video, murals and public works, Mik Shida creates psychedelic entities guided by explorations of the relationship between ritual, sexuality and love. Working as an ancient shaman, he channels the spirits which seem entwined in a ceremonial act, transcending the bounds of known reality.
In these shamanic "tableaux vivants", spiritual, ritualistic and organic elements unite, creating a portal into alternate dimensions where spells and energy fields abound. His murals serve as spiritual beacons, large outdoor gateways meant to create an intercession with spirits.
The artist has been invited by the Berlin gallery Urban Spree for a 2-month art residency. During this period, the artist has created a new body of work, including large format paintings and installations, which will be presented at the gallery. Titled A Conduit Order, the exhibition will be on view from June 28th until July 22nd, 2018.
We had a chat with Mik Shida to find out more about his practice. In an exclusive Widewalls interview, the artist talks about the importance of movement in his practice, about channeling spirits, his working process, inspiration, and much more.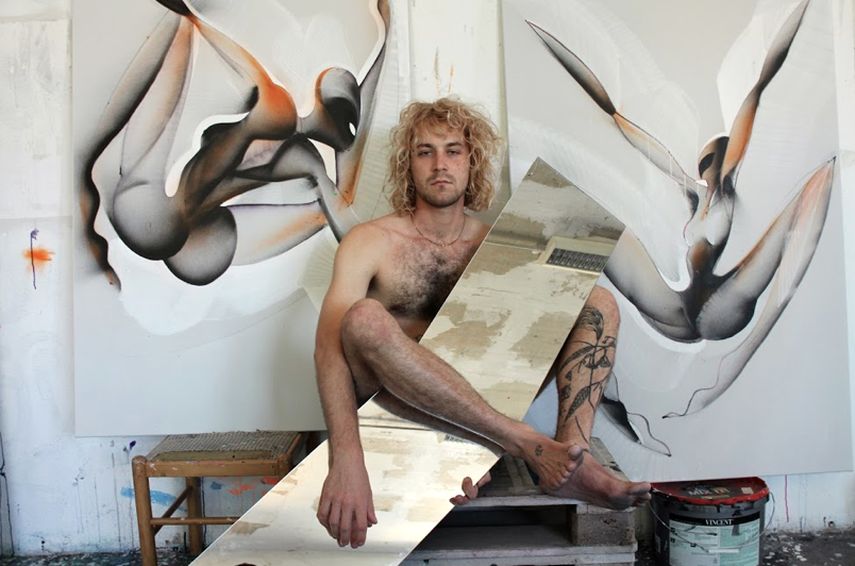 A Conduit Order
Widewalls: A prolific two-month residency at Urban Spree will culminate with an exhibition titled "A Conduit Order". Could you tell us more about this new body of work and how it came to life?
Mik Shida: I feel blessed to have gotten the opportunity to do this Residency at Urban Spree. I've worked relentlessly to create the entire body of work onsite over these past 2 months.
Widewalls: Your works explore the relationship between the ritual, sexuality and love. Are your psychedelic entities rooted in any specific spiritual traditions?
MS: I would say that the spirits I paint come from a primal place. Some would just call it my subconscious but I feel like they come from a deeper collective source.
That very same source that has inspired myth and religion across time. It might be divine inspiration, or perhaps just cold animal instinct.
Regardless humans as a species have been channeling deities like this since we became humans and I believe this process is crucial for the health of our society and individual well being.
I would describe them to be like dreams. But as an artist you aren't simply dreaming for yourself, you dream for an audience, for the wider public.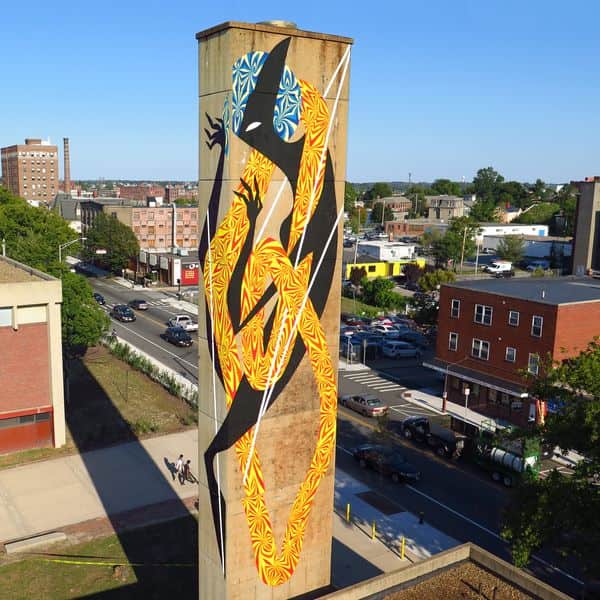 Channeling the Spirits
Widewalls: The movement of the body is also an important part of your practice. How does this translate into your work?
MS: My work reflects movements in the figures that emerge and also clearly shows the motions of my body as I create them. I try to pick mediums that really record and express the speed at which strokes are placed onto the surface.
In this latest body of work, I have used a kind of watercolor sponge technique that leaves tiny glitches in the paint as I speed up or finish strokes. This leaves the entire work vibrating with energy almost like I have crystallized my physical flow into each piece.
Widewalls: You often describe yourself as a shaman who channels spirits that transcend the bounds of known reality. Could you tell us more about your working process?
MS: My process is relatively simple. To begin, I approach each work without a plan or any doubts. Once I have started I try not to over consider what I'm painting and act as instinctually as possible.
This process often leads to quite sensual and erotic imagery.
While my process is very spontaneous in hindsight I always find consistent themes to different periods in my work. In a few instances, after much time I've discovered what I could only describe as warnings, but unfortunately, I usually miss these while they could still help.
Widewalls: How has your work evolved over time?
MS: I feel like many elements in my work have stayed consistent. The natural flow to them, the energy and movement.
However, I am also always exploring and I am not interested in sticking to any set medium or method. By constantly using new tools I keep the process interesting for myself and avoid the safe path that leads ever down into stagnation.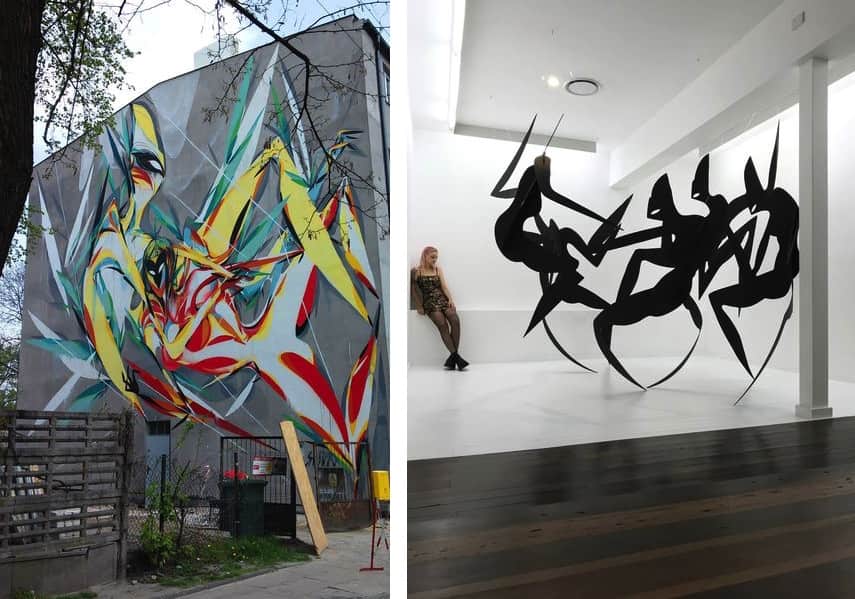 Future Plans and Projects
Widewalls: Which artists have inspired you along the way and whose work do you appreciate now?
MS: At his point, I think I am most inspired by the Jugendstil/Art Nouveau period. Artists like Aubrey Beardsley and Egon Schiele. I'm very much into Jungian Psychoanalysis and other such frameworks that blend mythology with scientific thinking and operate in an archetype based symbolist manner.
I also recognize a massive influence from Science fiction artists such as Frazetta, Roger Dean and Giger. I have great admiration and envy for writers like Tolkien and Frank Herbert who spend their lives forming entire worlds.
I often hope my life's body of work can create another world in a similar way. I respect art that expresses meaning rather than presenting a shallow de-constructivist vision of the world.
Widewalls: Could you reveal some of your future plans and projects?
MS: I've struggled to decide where to move and what to do next for a decade now. I think this is what can happen when you are from Australia, a paradise that is so very isolated from much of what is happening in the world.
I try repeatedly to put down my roots only to once again pack up and travel.
For the rest of the year, I have an adventure in Asia planned but I'm also always happiest to go where I have been invited.
Featured image: Mik Shida Mural. All images courtesy of the artist and Urban Spree.