Mike Egan paintings are coming to the Chicago-based Matthew Rachman Gallery for exhibition titled I Saw You At My Funeral. As the title might suggests, the paintings by Egan are inspired by questions of mortality and death. For all human beings, death is the most painful moment in life – it is a known fact that those who grieve the most are those whose beloved ones passed away. Mike Egan has always been fascinated about mortality, and this eventually influenced his artistic approach. Egan is dealing with the questions of life and death, mortality and immortality.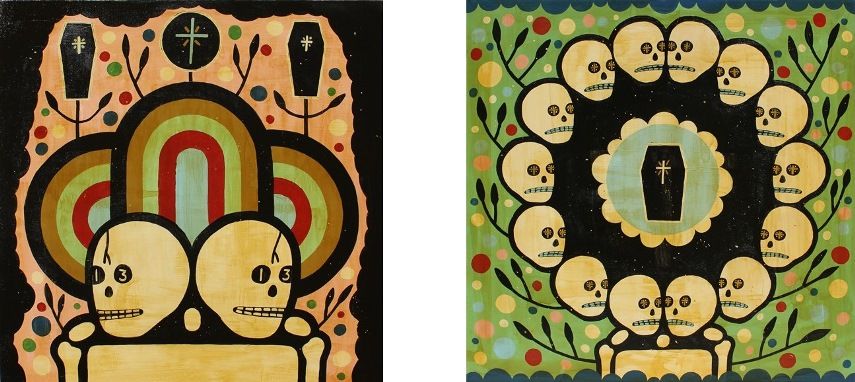 The Art of Mike Egan
Born in Pittsburgh, Pennsylvania, Mike Egan received his B.F.A. from Edinboro University. He was a quite young when he became very interested in art and death. Egan was so fascinated by life, death and mortality that he wanted to attend the Pittsburgh Institute of Mortuary Science and become an embalmer and funeral director. However, Egan's art is not only about life and death. As a child, he drew cartoon and skateboard graphics, but soon after that, he developed an interest towards devils and skeletons. Working in funeral houses, Mike Egan developed a unique visual approach in which he represents the most intimate and painful moments of life. His acrylic paintings on panel depict skeleton-like figures holding coffins, often mourning. In many paintings, it's not easy to understand if a subject is dead or alive, which points out that even those who passed away are not the only ones who are "hurt". The unique style Mike Egan uses is a mixture of different approaches, from folk art and German Expressionism, to influences of Day of the Dead, horror films, religion, Halloween. Egan has been exhibiting since 2006 in the United States, Germany and the United Kingdom.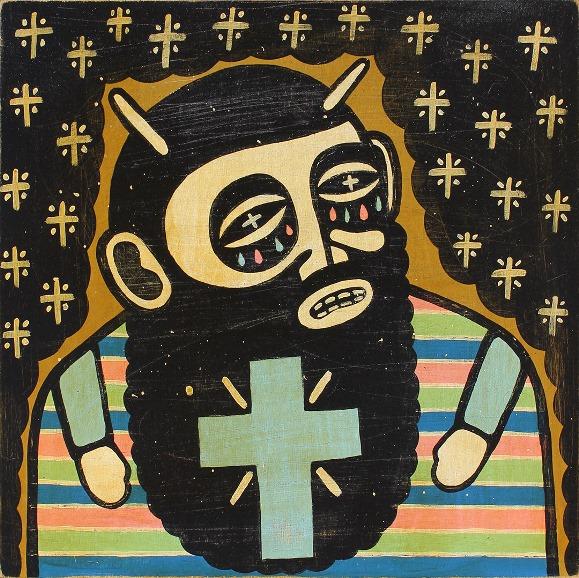 I Saw You At My Funeral
The exhibition I Saw You At My Funeral takes place in unique social and political context in the United States. As the artist explains: "There are so many tragic shootings and acts of violence in the world and it is constantly spoon fed to us through the media. These paintings act as a reminder to me that there are so many people to say 'goodbye' to, and that we must not forget them." It seems that more than ever before Mike Egan believes it's important to continue working on the subject matter that has been his main focus throughout his career. From the wars in the Middle East and attacks in Europe, to gun violence and massive shootings in the United States – there is surely too much death to comprehend.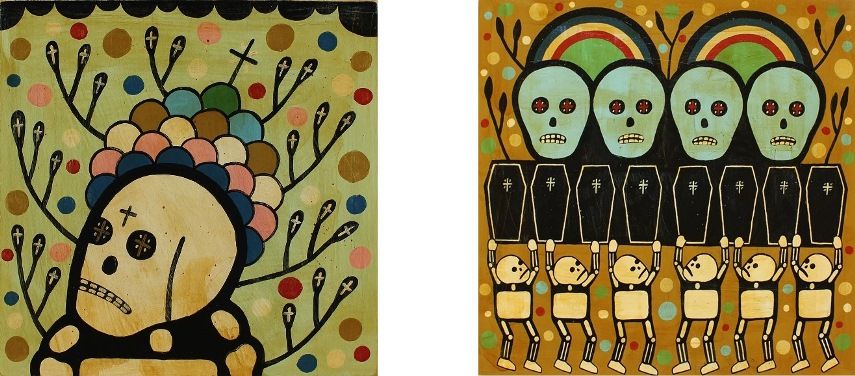 Mike Egan Paintings at Matthew Rachman Gallery
Mike Egan's latest paintings will soon go on view in Illinois. During the I Saw You At My Funeral show, the visitors will have an opportunity to contemplate about life and death while enjoying Egan's paintings. Price range of works in I Saw You At My Funeral is between $250.00 and $2,200.00. The exhibition will be on view from September 10 until November 4, 2016 at Matthew Rachman Gallery in Chicago. The opening reception is scheduled for Saturday, September 10, 2016, 6-9pm.
Featured Images: Mike Egan - Forever Dead Together; Mike Egan, detail. All Images courtesy of Matthew Rachman Gallery.