Modern talk is becoming shorter and shorter, more visual than literary, with all the emoticons, signs and slashes and dots. Mike Giant decided to take the whole phenomenon a step further, creating a series of Modern Hieroglyphics, drawings with a distinctively narrative expressed through a wide range of symbols. His visions and stories are to be exhibited on the Independence Day at the Black Book Gallery in Denver, Colorado. The artist recently relocated from California to Boulder, and this will be the first solo show for him in the new home state. A limited edition print will be released as well, going for the special price of $20 at the opening night, along with a very small edition of watercolored print finished by hand that will be priced at $100.
Modern Hieroglyphics will remain on view at the Black Book Gallery through July 26, 2014.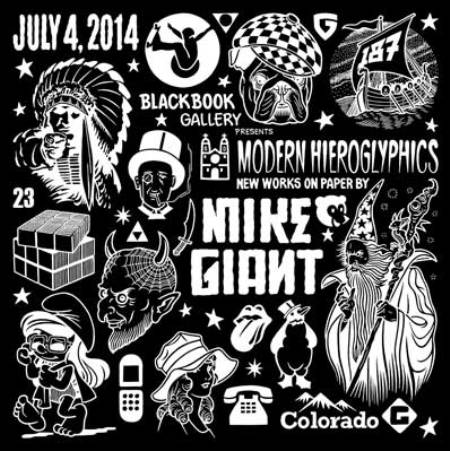 Sign Language of Tattoo Master
Running away from the craze of Downtown LA, Mike Giant came to Boulder, Colorado in search of peace and a better quality of life. Having his hopes answered, he also encountered allergies that are not so pleasant, but a fresh creative drive as well. Modern Hieroglyphics exhibition will showcase 25 of his new drawings on paper, executed with Sharpies with pencil notes on the margin. Giant finishes his works symbolically - with a thumbprint, following the concept of the series.
Admittedly, his art is influenced by conspiracy theories, which are encrypted into the array of generally known signs he employs in his drawings. Reading Giant's work is sometimes challenging, but this challenge proves to be intriguing for everyone who appreciates his tattoo expression. His drawings display all the virtuosity of Giant as a tattoo artist, but the absence of color emphasizes graphic potential. He tattoos paper, juxtaposing one image to another, and just like every skin picture has a story, he indicates one on the side. Modern Hieroglyphics are Mike Giant's pictorial encyclopedia, his story of lives, events and secrets, transferred into the language of emblems and signs.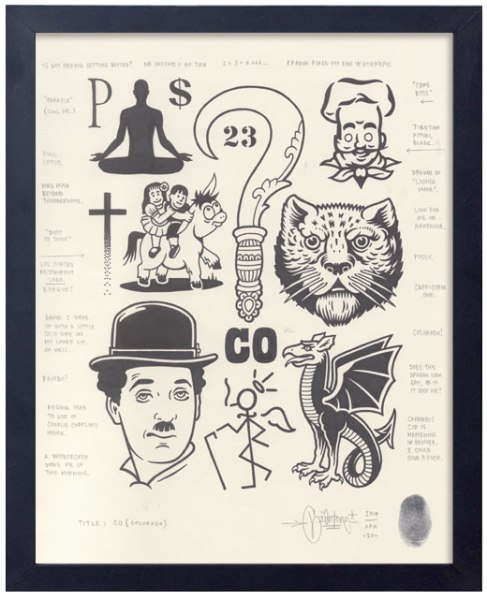 Work and… work
Working as a designer for the REBEL8 brand, Mike Giant spends less than a half of his time realizing personal art projects. His days are fully consumed with commercial endeavors and creative outlets, allowing for almost no time for side projects. His distinctive style is a mixture of vintage, rock n' roll, biker culture, heavy metal and badass iconography, while he admires artists such as Sofles, an Australian graffiti writer.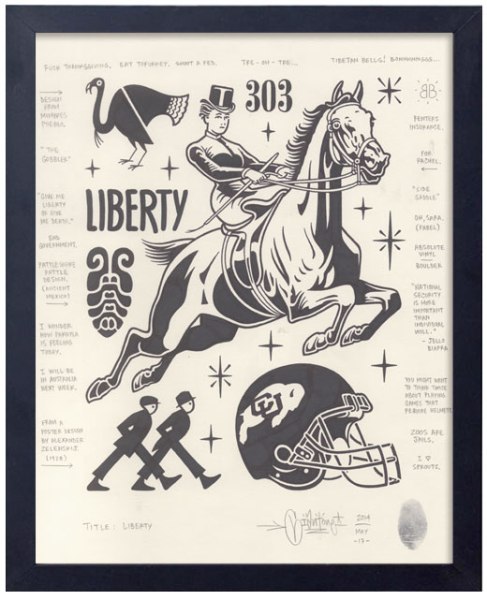 Mike Giant
Mike Giant grew up in upstate New York. From an early age he engaged in drawing. His life path took him over numerous states and countries, from New Mexico to Thailand, over London, San Francisco, Tokyo and New York. His musical taste and interests ranged from heavy metal, punk rock to hip hop, and these subcultures still have a predominant influence in his tattoo and fine art work today. In a very elliptic description of his biography, it can be seen Giant's life is a whirlpool of travel, creativity, music and women, bringing him to this moment in time, when he continues working in Boulder, his new residence.