A San Diego-based artist, Mike Maxwell is known for works featuring poetic dreamy scenes that examine humanity, conceptuality, genetics, and consciousness. His work reflects his desire to learn and understand things that are so prevalent in our society but are often forgotten by the masses.
The artist's latest body of work is currently on view at bG Gallery. The gallery hosted his first solo show in 10 years titled Complicated Contradictions featuring an eclectic body of work with different clusters of themes coming together.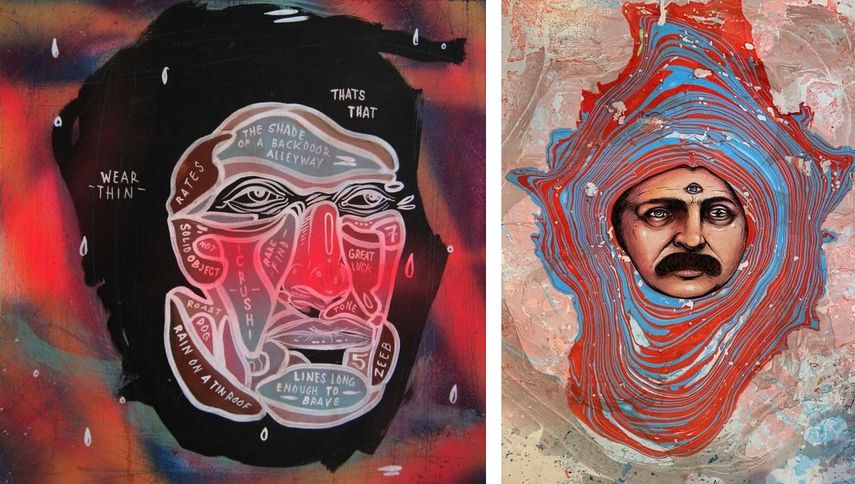 The Practice of Mike Maxwell
A fixture in the art world underground since the late 1990s when he worked as an artist assistant for Shepard Fairey, Mike Maxwell rose to prominence with a portrait logo he created for the popular Joe Rogan podcast, an artist-interviewing-artist platform that saw over 100 episodes over a five years span and featured the likes of Mike Giant, Anthony Lister, Ed Templeton, and many other prominent painters and creative types from the scene.
With an art practice encompassing painting murals in the streets, drawing on train cars and painting in the studio, Maxwell has developed a gritty yet mature, raw yet refined style. Combining influences that range from the street art scene, to old school graphic techniques to Old Masters, he has created an unapologetic body of work that focuses around the human experience, themes of religion, sex and science.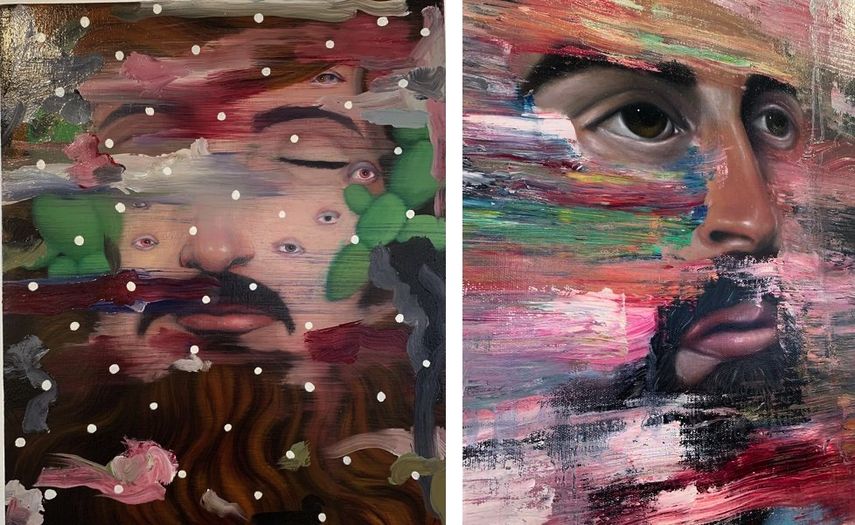 Complicated Contradictions
For the exhibition at bG Gallery, Maxwell has been given full creative reign to showcase his art in the purest light. In this self-curated show, the artist integrated his recent works in into a one-of-a-kind showcase.
In conjunction with the show, the gallery will host a ZOOM panel exploring the early 2000's Underground, Street Art, and Pop Surrealism scene. Moderated by Jim Dainchendt, a Vice-Provost for Traditional Undergraduate Studies and Dean of the Colleges at Point Loma Nazarene University in Southern California and an art critic and journalist, the panel will explore turn of the century events through the lives of those artists active through the period, and the complex divides that they had to navigate.
With their multi-faceted practices, these artists contributed to the development of what many now refer to as the New Contemporary Movement.
In addition to Mike Maxwell, the panel will also welcome artists Mike Giant and Van Arno.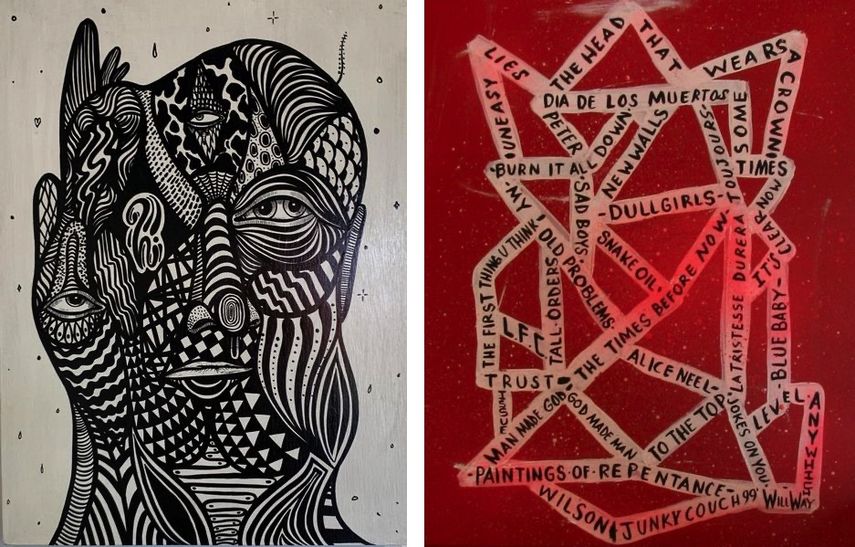 Mike Maxwell at bG Gallery
The exhibition Complicated Contradictions is currently on view on bG Gallery in Santa Monica, CA until August 6, 2020 and on their website website. A portion of the proceeds from the exhibition will be donated to the Black Lives Matter movement.
The online art panel The Live Free Generation: Complicated Contradictions of the Early 2000's Underground, Street Art, and Pop Surrealism, scene will be held at Zoom on August 6, 2020, 7:00 - 9:00PM PST. To join, use the code 310 906 4211.
Featured image: Mike Maxwell, Complicated Contradictions installation view, bG Gallery.