Usually working in a T-shirt with a Superman logo on its front, the towering artist Milan Ćuk dedicates his creative days to unleashing superheroes from stone - or, better yet, assembling them bit by bit. Ćuk is a masterful mosaic sculptor who utilizes this ancient, tedious technique to breathe life into comic book figures such as Hulk, Batman and Flash.
Ćuk primarily uses stone and glass, just like the traditional approach to mosaic-making dictates, although he does use some cheaper and easier-to-handle materials recent centuries provided to these kinds of sculptors. Still, make no mistake, Ćuk's method is an extremely difficult one as this artist spends countless hours assembling tiny pieces that slowly but surely turn into amazing mosaics, some of which are made from over five thousand small segments!
Yet, although this technique is notoriously difficult to master and demands an extreme amount of persistence, Milan Ćuk would not trade it for any other art-making method in the world. As he sees it, he's ready to take the good as well as the bad mosaics are able to offer him.
What fuels Ćuk's creativity is the very superheroes he makes from small pieces of stone - he is lifted by the concept of a fearless character who possesses supernatural or superhuman powers and is dedicated to fighting evil.
Although these characters are pure works of fiction, both his way of talking about his artistic practice and his mosaics made us believe that we do not really have a need for flying man - all we need is more persistent, creative and hard-working men like Ćuk and the world will surely be a better place as a result.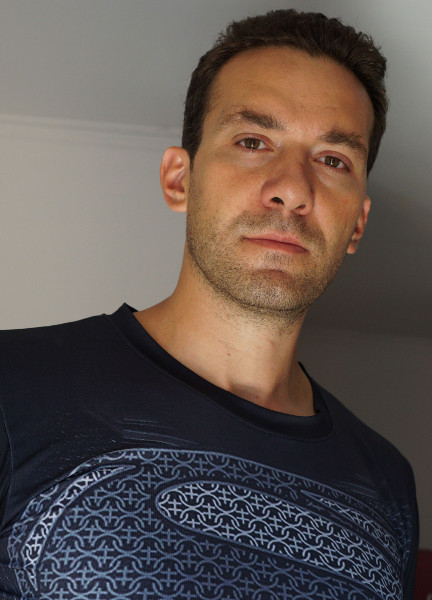 Before Milan Ćuk Picked Up the Chisel and Pliers
Widewalls: Can you take a trip down memory lane and explain your artistic beginnings? Did you always work with mosaics or have there been other favored technique before that one?
Milan Ćuk: Like most of us who studied art, I was exposed to numerous techniques that attracted and interested me. But what helped me the most with defining myself as an artist was finishing restorations of paintings.
Once I finished my studies, I got an opportunity to work as part of a program that was in charge of protecting monuments, so I met with ancient traditional techniques such as fresco and mosaic. Working on the conservation of frescoes in Serbian medieval monasteries, I had the opportunity to work on restoring many masterpieces of Byzantine art.
I quickly noticed the great use of mosaics in the construction of churches and monasteries, and they became an integral part of every church because of their durability and the beauty of making a painting in stone. From that moment on, I started to dabble in making mosaics.
Widewalls: Why has Ancient Greece always been such a great source of inspiration for you throughout the years?
MĆ: While I was learning about the Ancient Greece, I was fascinated by the society and its evolution. Many minds that lived in those times such as Pericles, Phidias, Aristotle, sculptors and painters, magnified the man.
The man was important and he or she contributed to the society the best they could. It is something that every man wants. He wants to feel that he's a part of something and that he works for the general good of the society in which he lives.
Therefore, that culture left a big mark on the whole world, as well as on me.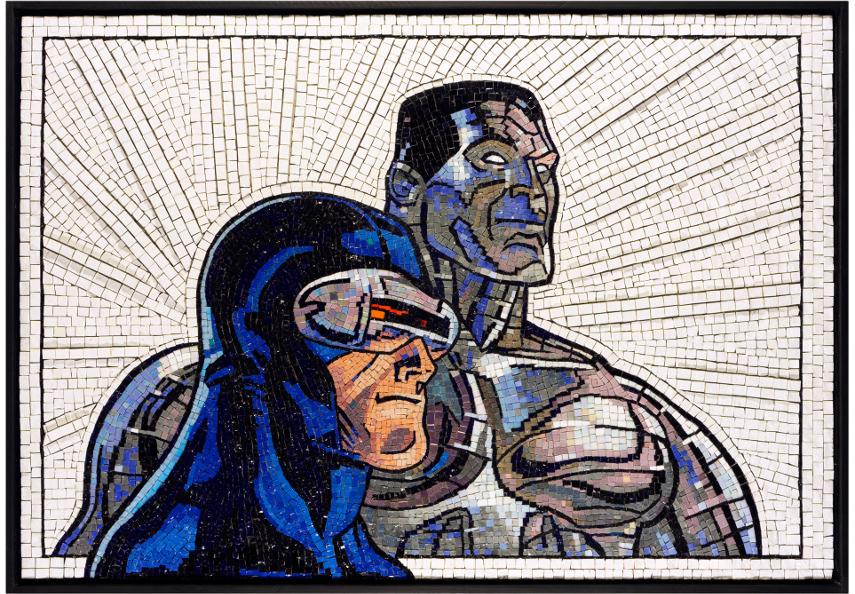 The Magic of Mosaics
Widewalls: Why mosaics? What does this ancient technique offer that no other medium or method does?
MĆ: The mosaic carries the weight of antique times and speaks about the passing of time. The mosaic is made of stone and glass which makes the image more powerful.
There is no coincidence in a mosaic. Everything must be planned, every dice is there for a reason. So I love this technique because, at the same time, it makes me simplify things and poses limits on what I can and can't do.
Furthermore, the materials used to make a mosaic picture are very stable, so the work will exist for as long as this world exists.
Widewalls: Can you tell us a bit about the process of creating your mosaics? What are you hoping to achieve with them, how should they affect the viewers?
MĆ: The process of creating mosaics requires detailed preparation.
First, you have to carefully choose a motive that could be created. The small mosaic dice is the most important part of mosaic itself. It dictates what the format and the motive will be.
The materials must be aligned; otherwise it can be a very difficult and time-consuming process. Over the years, I gained the experience of working on a mosaic with ease and enjoyment.
This is important for this technique. The sculptor should do his best to reach the observer and attract him. I want my work to make the observer feel confident in his dreams and do something brave for himself and for others.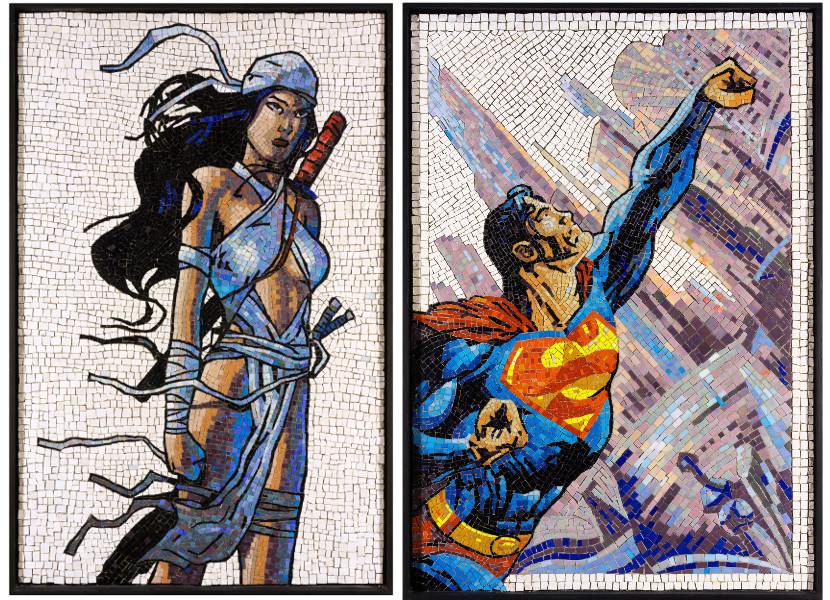 The Incredible World of Comic Books, From Batman to Silver Surfer
Widewalls: For you, everything revolves around comic books. Why are you so fascinated with these fictional worlds? Do you follow the current flow of the comic world? How do you feel about its current trajectory?
MĆ: I'm fascinated by comics because they indirectly influence the world we live in. In ancient Greece, art that was created was inspired by Greek mythology.
The time we live in now has its own modern mythology in comics. Comics have become a part of our everyday life and they are imbued with people all over the world.
I am fascinated by the expansion of the comics after the Second World War. Now, comics are at such a high level that they are being created by greatest writers in the world.
It would be interesting if we could ask Jack Kirby if he was able to even imagine that the comics will experience so much a success one day.
Widewalls: We gotta ask you to break the tie - DC or Marvel?
MĆ: Before I started working, I wasn't aware of that difference. They were all superheroes to me and I never noticed that there were two different publishing houses.
My brother introduced me to this world, since he had been working in publishing for years, building up the popularization of comics in Serbia. He drew my attention to many details from the comics world and opened me the door to that universe.
After reading some of their most famous comic books, I can say that I am slightly more inclined to Marvel. Because of that, my first mosaic collection involved characters like The Hulk and The Silver Surfer.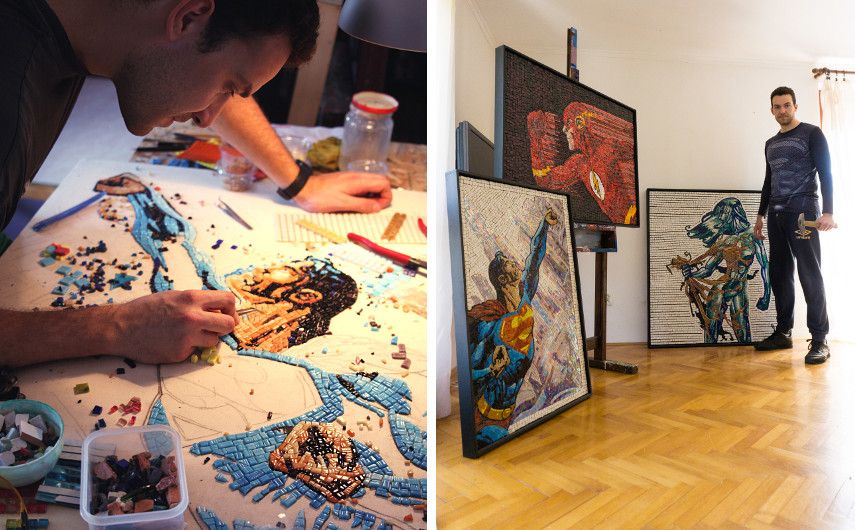 Bringing Superheroes to Life
Widewalls: What is the concept of a superhero that appeals to you so much?
MĆ: Growing up in a country like Yugoslavia, the cult of the hero was very prominent. Many people were killed and sacrificed for freedom and there are many monuments dedicated to folk heroes.
A hero is distinguished by his faith and intention to truly change something for the better. We now live in a time when we have a lot of fake heroes. They represent themselves as heroes yet employ lies and deception.
Take Batman, for example, a symbol of the fight against crime and corruption. Although he is a man without superpowers, he never makes compromises with criminals and thieves. Sometimes he wins and sometimes he loses, but he always distinguishes good from evil.
Widewalls: When you create your own superheroes, are they any different than the original characters?
MĆ: No, my superheroes are the same as they are in comics. I want to show them in full force and to emphasize their values and what they believe in.
Again, I return to the Greek mythology where, through art, adventures of the Greek heroes are represented by showing how they were solving various tasks and struggling against various mythological beings.
I just want to do this with the heroes of our contemporary mythology. I want to empower them with stone and glass as Greek artists have worked with their heroes.
Widewalls: If you could bring to life only one superhero in this day and age, who would it be? Who could help the world most?
MĆ: If I had to choose only one, that would be The Hulk. He is like a revolution and he alone can change things from their roots.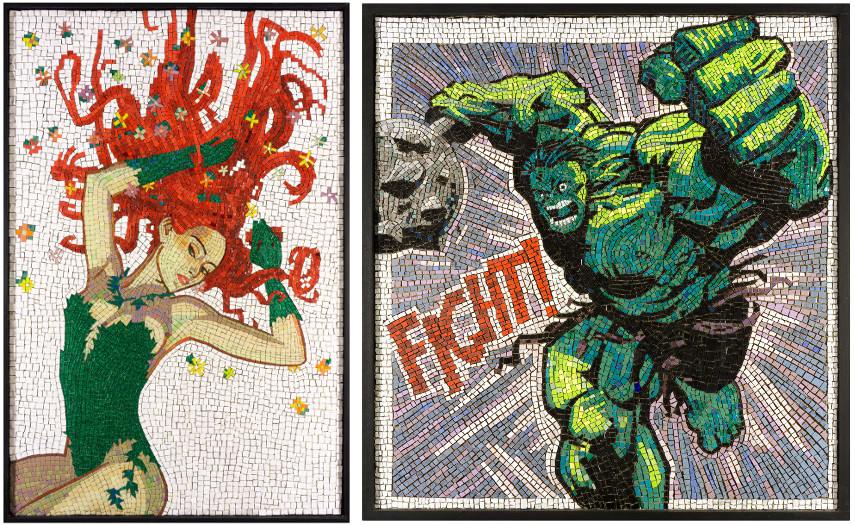 Past and Future Projects
Widewalls: Can you tell us a bit about how the show at the TransformArt gallery went? This was your first solo exhibition, so did it go as you hoped it would?
MĆ: This was my first exhibition and it was called Mosaics From Some Other Universe. After a few unsuccessful attempts to find a place where I could exhibit my work, I came across people from TransformArt Gallery that immediately recognized my dedication and enabled me to exhibit my work.
For years, I posted my work online and I had good reactions from people all over the world, but I was not able to see the reactions of people viewing my work in person. And those reactions turned out to be fantastic.
The people of all generations were sincerely interested in coming to the exhibition, even though some were not connoisseurs of comics. They recognized and saw something new, and many of them were coming to the exhibition couple of times. This was more than I expected.
Widewalls: What have you got lined up for the future? Any notable projects or shows we can look forward to?
MĆ: It is certain that I will remain in this art niche, inspired by contemporary mythology and comics. Also, I will have a joint project with artist Danilo Baletić from the TransformArt Gallery who became famous for his transformers sculptures from recycled materials.
We will try to revive another superhero that will be a mix of three-dimensional sculptures and mosaics.
Major challenges are coming...
Featured images: Milan Ćuk - Batman, Silver Surfer, Cannonball, Flash. All images courtesy of the artist.