Coming from an art and architecture background, Miljan Suknović allows the structural cleanliness into his world of chaotic abstraction, positioning his expression in relation to space and environment. His paintings are viewed as an integral part of their surroundings, as a coherent group, rather than isolated objects, as the artist keeps pushing the metaphysical limits of canvas, suggesting his compositions even outside the large-scale frames. The scale is in direct relation to the conceptual spreading of his visual ideas, it inspires and drives his creative spirit, which brought this New York based artist of Serbian origin much success. His ongoing exhibition at World Trade Center in New York is entitled Constellations II, featuring Suknović's work next to pieces by Jeff Koons, Jenny Holzer and Kenneth Snelson. A parallel and correlated event is to open soon at Catherine Ahnell Gallery, entitled Constellations III, presenting further explorations in abstraction by the artist.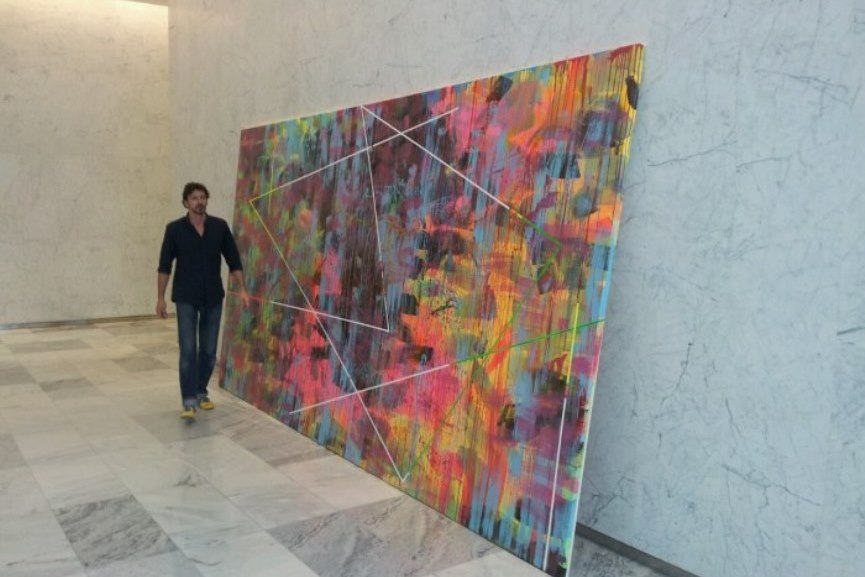 Emerging Abstract Artist - Miljan Suknović
Today based in New York, Miljan Suknović studied art and architecture in Belgrade, Prague and Florence, graduating in 2005. He was the recipient of DAAD Scholarship for Artist, and he continued his artistic research in Hamburg and New York. Over the years, Suknović exhibited in Italy, France, Serbia, Greece, Germany, USA and Montenegro in numerous solo and group exhibitions. His first solo show is the USA was hosted by Union Gallery New York in 2008. As a painter, he creates canvases on a large scale predominantly, but his art spreads onto murals and other techniques.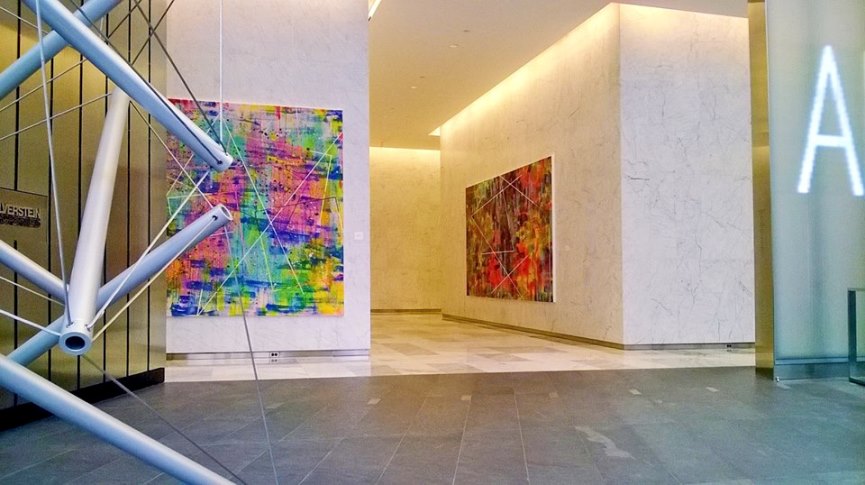 Abstraction without Limits
As artist devoted to abstract expression, Miljan Suknović started investigating the convergence of American culture and technology after relocating to New York city. He developed a recognizable, chromatically rich style, in which the dynamics is kept alive by mutually contrasted and connected lyrical and geometrical elements, emphasizing the eclecticism of his thought. The contemplative process expanded further from the initial idea, compelling the artist to include the concept of 'limitless' into his work, by fusing unrestrained chaos and calculated order. Angular shapes follow the linearity, implying the geometrical organization of the canvas, while being counteracted by bold splashes of color, freehand strokes and unpredictable movement of form. These abstract landscapes come from one place, but together, they represent the infinity of visual potential, growing both in pictorial saturation and scale.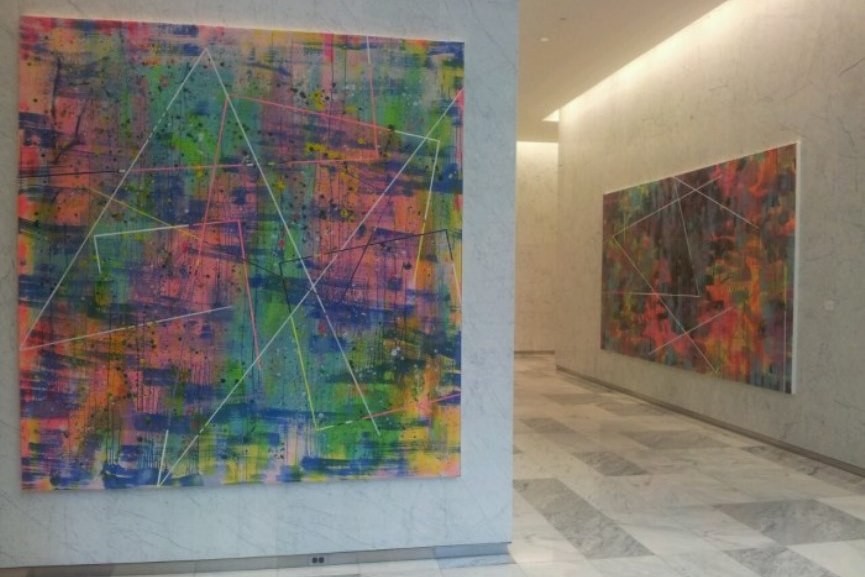 Constellations III at Catherine Ahnell Gallery
Currently in preparation, Miljan Suknović exhibition Constellations III is scheduled to open on November 12, 2014, following the Constellations II show at World Trade Center (his second invitation to exhibit there). On view from November 13 through December 15, 2014, Constellations III will introduce fresh Suknović's interpretations of abstract immensity.
Despite the recent tendencies of returning to figuration, abstract art has never left the art world. Still strong in works of artists such as Futura (whom we interviewed recently), or a new hope of the international art scene, David Ostrowski, abstraction presents a way of experiencing art on both contemplative, and energetic level. Opera Gallery presented an Abstract Expreiences exhibition last May, breaking down the perceptions of abstractionism through decades, as did the BC Gallery in Berlin more recently.
Catherine Ahnell Gallery recently hosted a spectacular installation/exhibition by Sambre.