According to German authorities, dozens (maybe even hundreds) of people sexually assaulted around 100 women around the Cologne Main Railway Station and famous Cologne's Cathedral, during the New Year's Eve. These attacks provoked public outrage in Germany. More than 100 women filed criminal complaints of sexual assault and robbery, including two accounts of rape. What makes the whole assault even worse is the fact that the victims described their attackers as being Arab or North African in appearance, thus putting the story in the middle of the heated debate on Germany's liberal refugee policies. Thousands of protestors gathered in Cologne the day after this news was revealed, while controversial Swiss artist Milo Moire protested in Cologne as well, performing against the violence against women.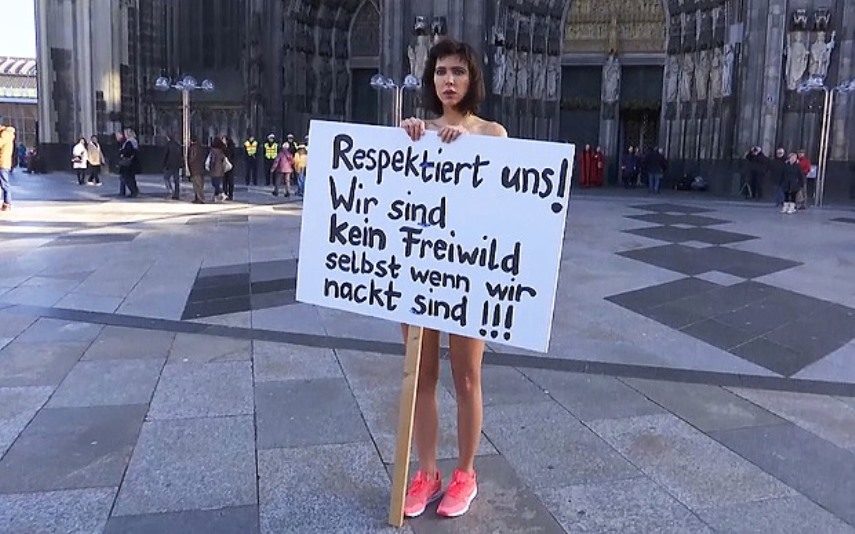 The Performance of Milo Moire in Cologne
Milo Moire, a Swiss performance artist, is well known for her nude performances and the use of her body in her art. Dealing with the questions of female body, contemporary feminism and being part of the so-called vagina art, Moire raised her voice against horrific sexual assaults that took place in Cologne during the New Year's Eve. She performed a naked protest with a sign reading, Respect us! We are not fair game even when naked!!! The 32-year old Moire stood on the square outside Cologne's world-famous cathedral for around 20 minutes on Friday morning, watched by members of the public. The German police allowed performance to take place, and even attempted to divert some young men in the area away from the naked protest artist.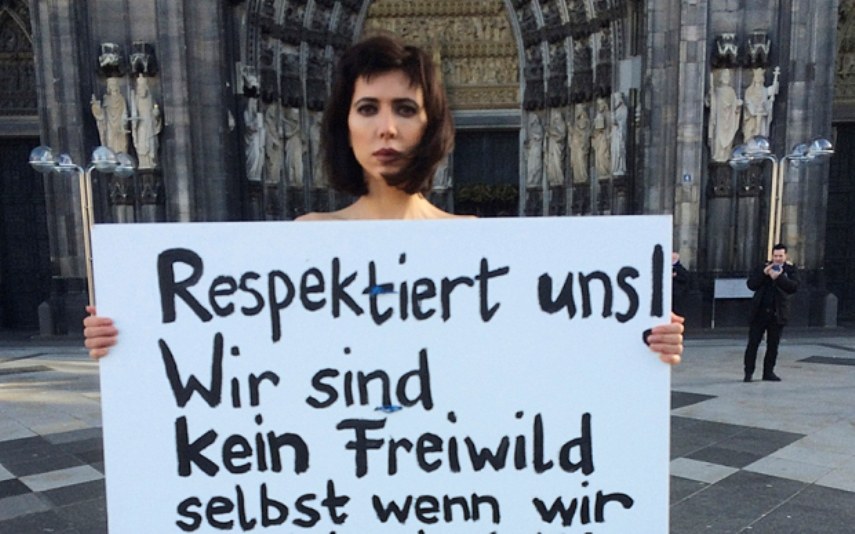 Sending a Message through Performance Art
Many pose a question (not only in this case, but in general): Can these artistic acts of protest change anything? Maybe not much, but it can certainly raise awareness about human rights abuses, different types of violence and the problems marginalized groups are facing with. Let's just mention Tania Bruguera, and her work, and how her art raised awareness about the position of artists in Cuba. These types of performances (performance as an act of public protest) are usually accompanied with statements made by artists. Moire also gave a statement, and according to the German Bild, Moire said: I stand for women's freedom to move freely. For the things we've achieved in the past 50 years – for women's emancipation. I don't want people to trample on these values and for women to have to adapt themselves. Women must be able to live their values of freedom, with self-determination and self-awareness. I am firmly convinced that women will no longer be treated as sex objects when a naked woman is treated with as much respect as a clothed one. I have no tolerance for what happened and how things have gone afterwards. I immediately felt as if I were being addressed. This is my first explicit political statement. Finally, if art cannot change things, than many human rights organizations, such as Amnesty International, would not use it in order to promote values such as piece, respect for human rights, and non-violence.
Video of performance by Milo Moire in Cologne
Nudity and Female Performance Artists
This is not the first time Milo Moire conducts a performance completely naked. Moire's PlopEgg No. 1, performed at Art Cologne 2014, was a work of action painting that involved the expelling of paint filled eggs from her vagina on to a canvas, thus creating an abstract work of art. In 2015, Moire was arrested by French police, and spent the night in the cells, after posing for naked "selfies" with tourists in front of the Eiffel Tower. And we could continue to name other performances by this controversial artist. But, let us not forget, she is not the only performance artist using nudity in her art. And when it comes to the final outcome, it's up to a viewer to decide: Did Milo Moire managed to send any type of political message during her performance in Cologne?
We would like to hear your opinion! Please comment on our Facebook page!
Featured Image: Milo Moire Performace in Cologne (Photo credit: OLIVER BERGAFP/Getty Images). All Images used for illustrative purposes only.