Time's running out. Mira Lehr's Tracing the Red Thread at the Museum of Contemporary Art North Miami (MOCA) ends on November 4th. Time is also running out on experiencing this exhibition as discourse and the journey as didactic. Being spiritually connected to Florida's aquatic ecosystem isn't good enough. Slay the Minotaur of passivity and act.
Tracing the Red Thread is a museum-wide exhibition divided into four separate rooms. Follow the red thread and let your eye wander through a labyrinth of beauty. Lehr's exhibition leaves you in wonderment, but grappling with concern.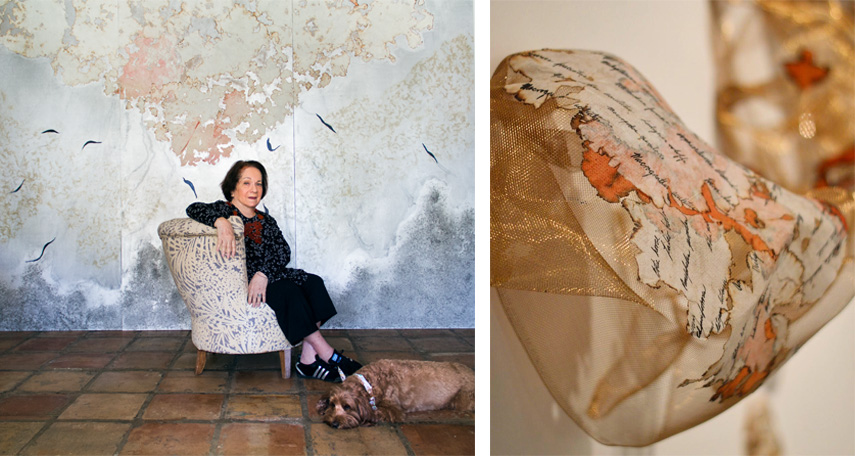 Tracing the Red Thread
Step into the main gallery and be met by ceiling to floor mangrove sculptures: twists of marine rope, steel wire and rods, burned and dyed Japanese paper, and resin. These structures tower over the viewer, as if stating that they were here first and the human action of pulling on one would have a chain effect of consequences upon the whole system.
Linger and marvel over Mira Lehr's paintings of Ignited gunpowder and fuses, burned and dyed Japanese Paper, silver emulsion, and acrylic paint on either panel or canvas. Siren's Song is 40 feet long!
Think about Lehr's Below the Surface that conveys the mysterious beauty of invertebrate jellyfish, while reminding us how climate change has brought them closer to the shore and a potential danger to humans. The large-scale installation is made of resin on Plexiglas panels burned and dyed Japanese paper, Japanese ink and steel beads on acrylic. The panels cast shadows on the wall, submerging the viewer into an altered reality.
Read the scientific names of coral and fish and marvel at the coral's capacity to organize individual organisms into complex, interdependent communities. Lehr's Invisible Cities "reminds us that we are all dependent on each other and that politics need not interfere with the satisfaction of human needs."
Finally, listen and watch a projection of water on reflecting coral walls made up of carved mirrors. Mixing Currents is an ocean wave composed of multiple halide light bulbs hung from the ceiling. The viewer is surrounded by light and facing his/her reflection. While coral bleaching threatens 20% of the world's coral, scientists are learning how to clone coral using special lights. Coral are vessels of light and life and Lehr presents us with a metaphor for hope.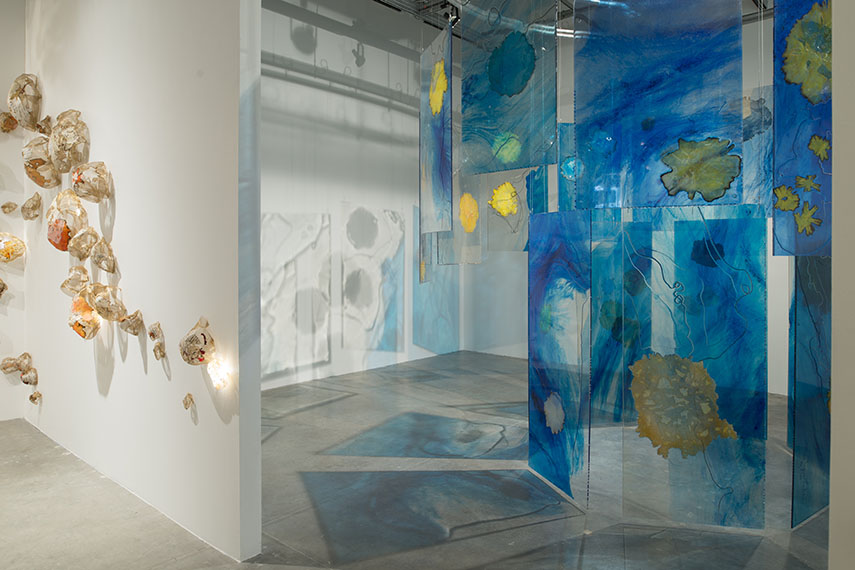 Mira Lehr at MOCA North Miami
When describing her paintings in a video titled Dreamscapes, Lehr states that painting is a process of discovery where the artist discovers his/herself. She says:
You are an explorer. You find out who you are, you find out about yourself.
It is too easy to point the finger at others when coming to terms with Florida's threatened landscape. Tracing the Red Thread is an invitation for us to become the explorer. Our role in the journey can be instrumental in helping to protect the mangrove forests while appreciating Lehr's inspirational message through the beauty of her art.
Mira Lehr: Tracing the Red Thread is on view at the Museum of Contemporary Art North Miami through November 4, 2018.
Mira Lehr: Dreamscapes
Featured images: Mira Lehr, Tracing the Red Thread at Museum of Contemporary Art North Miami, installation view; Mira Lehr - Mixing Currents. Photos by Daniel Bock for MOCA North Miami. All images courtesy the author and MOCA North Miami.