As street and urban art enthusiasts, we got used to finding art on the walls, looking at them from a distance, appreciating the artistic efforts from afar. But how often do we stop by these basic manmade structures which constitute our everyday surroundings and take a closer look of the walls themselves and their textures filled with stories and histories. There is an artist with a keen eye who masterfully draws the beauty out of those littlest parts of our urban surrounding that we tend to overlook. Her name is Miranda Donovan, and she is currently presenting her three series of work at CNB Gallery in Shoreditch, London.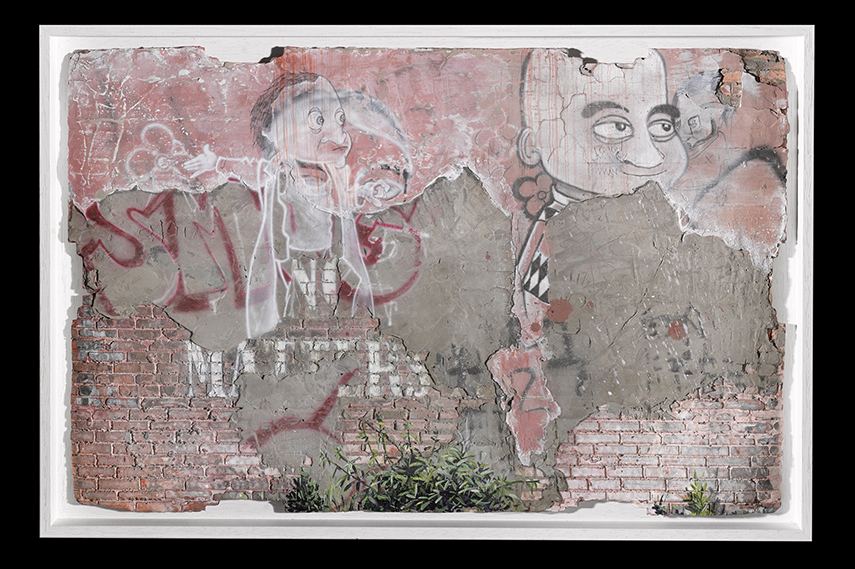 Miranda Donovan – Love For the Walls
The work of Miranda Donovan is the intricate merger of fine art influences, the result of her educational background, and love for the free-spirited street art expression. The unconventional idyllic landscapes painted on the decaying reconstructions of urban surfaces, such as brick walls, brought international recognition to the London-based artist who has since then exhibited worldwide, with her works selling out even before the exhibition opens. The urban assemblages of Miranda Donovan or "sculptural paintings" as the artists likes to call them, explore the complex relations between humans and their man-made surroundings, contemplating the ephemeral nature of human lives and their aspirations, a thought that is underlined by the juxtaposition of lively and colorful imagery executed on the crumbling materials and textures.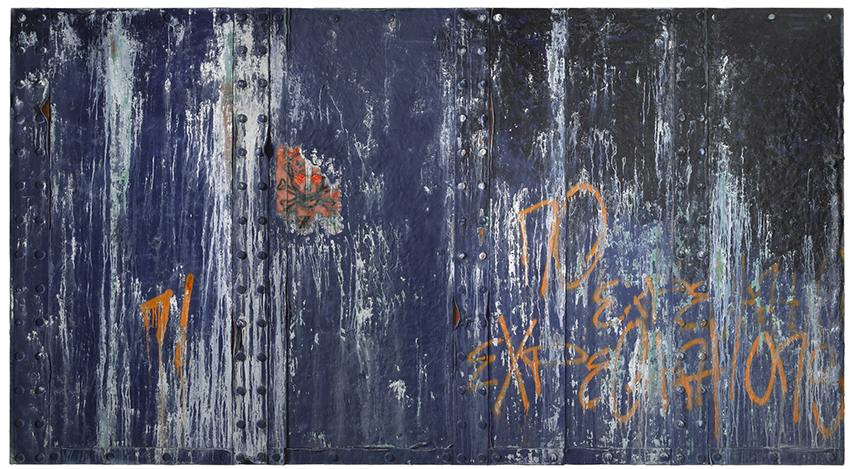 Temporality of Human Aspirations
The temporality of building materials, mirroring the temporality of our species is explored in the Metaphors for Mankind exhibition, as a continuation of the everlasting artistic inspiration of Miranda Donovan. The new works fluctuating once again between the mediums of painting and sculpture are united by their theme, focusing on the reflection of the human condition and the bleaker sides of our existence. Works presented at CNB Gallery are a selection from three series: Donovan's signature brickwork pieces, paintings on carefully carved bricks from building materials, her steel sheet works with rivets made from resin and the miniatures on cement. Concentrating on the texture and materiality of the works, the acclaimed British artist is inviting the viewers to look closely the deteriorating surface and contemplate the stories of aging and mortality.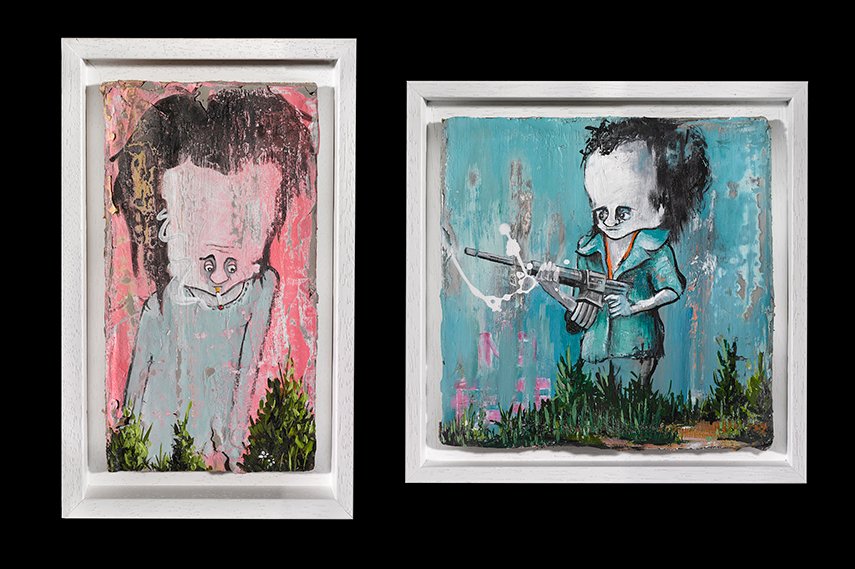 Metaphors for Mankind at CNB Gallery
Collaborating once again with Mark Hix, Miranda Donovan has put up an amazing display of the works created during the past two years. The Metaphors for Mankind exhibition has already started, but it still isn't too late to stop by the CNB Gallery on Rivington Street in Shoreditch, London and discover the metaphors behind the crumbling surfaces of her paintings. The exhibition will stay on view through November 12th, 2015.
Enjoy the world of contemporary art with a free sign up for My Widewalls!
Featured images:
Miranda Donovan - No Expectations, 2013-14. Acrylic, Swarovski crystals and resin on board 198 x 366 x 7 cm, detail
Miranda Donovan - Keep Walking, 2014. Oil, acrylic, enamel and resin on panel - 67 x 120 x 5 cm, detail
Miranda Donovan - Face in the Wind, November 2014. Acrylic, auto paints and mixed media on cardboard - 44 x 63.5 cm
Miranda Donovan - Out walking, 2015. Acrylic on motherboard - 27.5 x 29 cm, detail
Miranda Donovan - Mental, 2015. Acrylic, auto paints and mixed media on board - 122 x 140 cm, detail
All images courtesy of CNB Gallery