Driven by a motto "New Year – New Me", or in this case "New Year, New Shows, New Artists!", the Galerie Zimmerling & Jungfleisch is getting the year off to a roaring start. Under the title Resurgence, the gallery will present MIST graffiti, an explosive solo exhibition by this acclaimed French artist. As the artist's first solo show with the gallery, the exhibition will feature a combination of Old School Lettering, Urban Calligraphy, and Abstraction. Described as one of the most rebellious abstract painters of his generation, MIST proves this title with this unique compilation of works painted between 2013 and 2017. With vibrant compositions, acid colors and imperial outlines, these works will give the audience the opportunity to lose themselves in abstract and hypnotic composition combining urban and contemporary art.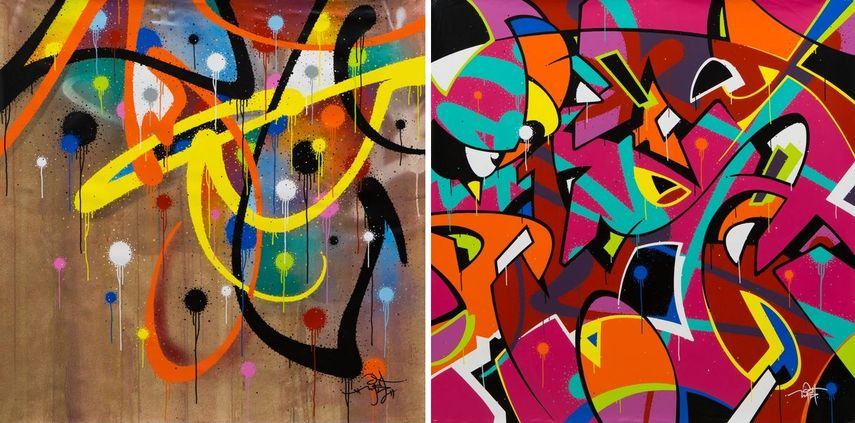 A Passion for Graffiti
Guillaume Lemarquier, better known as MIST, has discovered his passion for graffiti very early along the rails of the RER. He created his first graffiti piece in 1988. Very quickly, he became recognized as being one of the most talented and respected writers in Paris. He has excelled both at drawing of characters and his lettering. Since then, he has established himself as a major figure in contemporary Urban Art. He is also known as one of the pioneers of "designer toys", small vinyl sculptures inspired by his favorite mischevious character imp Malus that are today sold in toy shops all over the world. He has exhibited alongside international artists such as Keith Haring, Futura, Rammellzee, and Jean-Michel Basquiat.
The Dynamic Abstraction
MIST has significantly marked the generation that gave birth to what was to become street-art culture. Drawing inspiration from graffiti aesthetics, he has developed his talents on walls, canvases, and sculptures. Created in slightly acid colors and wildstyle, his paintings leave nobody indifferent. His works are mainly inspired by graphic codes of the graffiti, yet the construction lines of his letters and their contours have disappeared from them. After working more than 10 years in the studio, he created a form of abstraction whose dynamism and spontaneity stayed intact. The patina of his backgrounds still shows the stigmata from the abandoned walls. Today, he is mostly dedicated to canvases and sculptures that he creates in his Montpellier studio.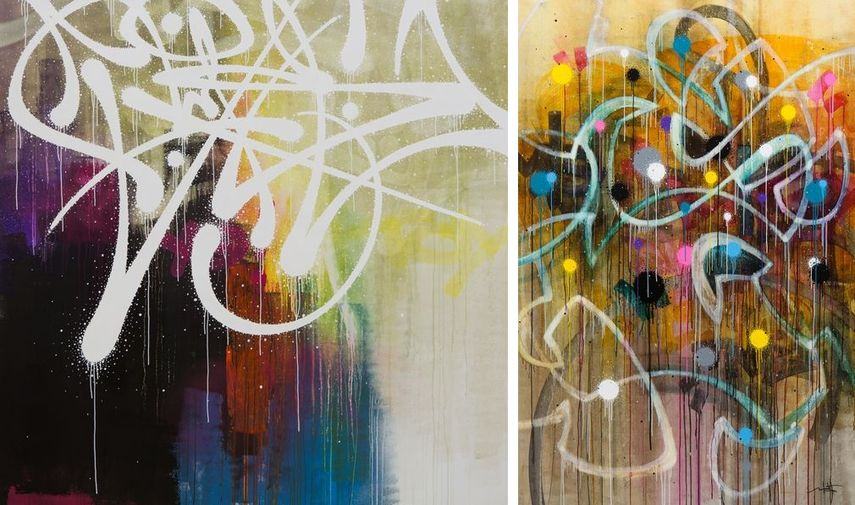 MIST Graffiti at Galerie Zimmerling and Jungfleisch
The Galerie Zimmerling & Jungfleisch pursues a clear contemporary art program with an emphasis on Urban Art. Besides exhibition curating and art dealing, the gallery also arranges and supervises façade paintings and places artists/muralists with private or business clients. The exhibition Resurgence will be on view from February 16th until April 1st, 2017. The opening reception will be organized on Thursday, February 16th, from 7 to 11pm. The artist will be in attendance and a catalog will be published to accompany the show.
Featured image: MIST - Ascendant Cloud, 2016 (detail). All images courtesy of Galerie Zimmerling & Jungfleisch.