To compare different cultures and traditions is a challenging task – you have to focus on similarities, but also on all the differences that exist between contexts. It's particularly challenging when you compare cultures that have different norms and values. Amazing German street artist mittenimwald has always been interested in Japanese culture – and for his latest show that was recently opened at 30works Gallery in Cologne, and that is entitled Sushi Connection, the artist merged Western and Japanese cultures. So, the mittenimwald exhibition was opened on December 5, 2015. In a wonderful atmosphere, those who came to the opening reception had a chance to hear and see mittenimwald speaking about the artworks that were exhibited, as well as to enjoy the wonderful works that are still on display.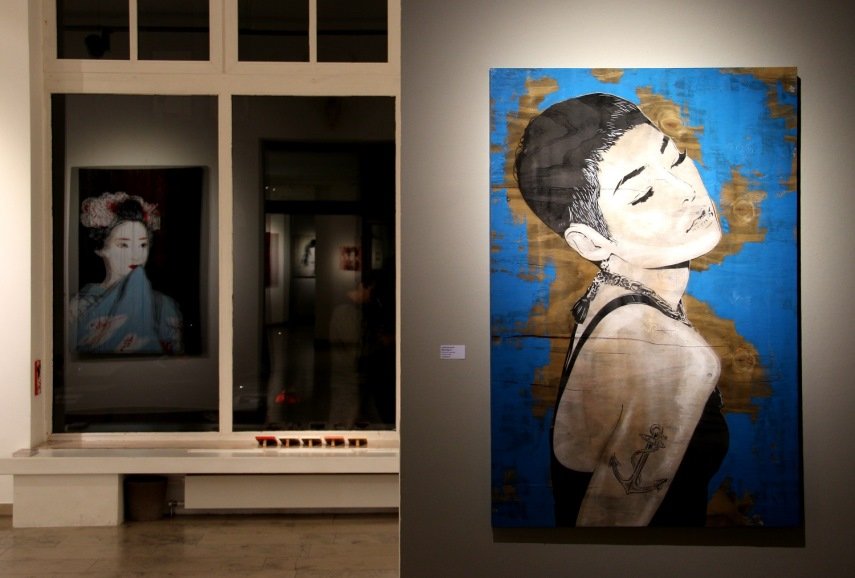 The New Body of Work by mittenimwald
Being interested in Japanese culture, mittenimwald created a new body of work that is focused on the prevailing image of women in Japan. In this series of works, the artist is actually dealing with stereotypes and prejudices. His compositions are full of contrasts – women and girls that mittenimwald is depicting are serious, self-confident, proud. However, these representations of women and girls are juxtaposed against a graphic world inspired by the Western concepts of punk and pop culture, as if they were re-placed into another context, where other values operate. In this way, new meanings are being attributed to the values that characterize Japanese representation of female. Now, women and girls are very pin-up, tongue-in-cheek and not at all innocent, especially when accompanied by mittenimwald's so-called "claims", writings that serve as speech bubbles attributed to his characters. "Can I Play With Your Mind?", asks one of the girls, luring us into a sort of a reversed psychology game in which we're not really sure who's asking whom that very question.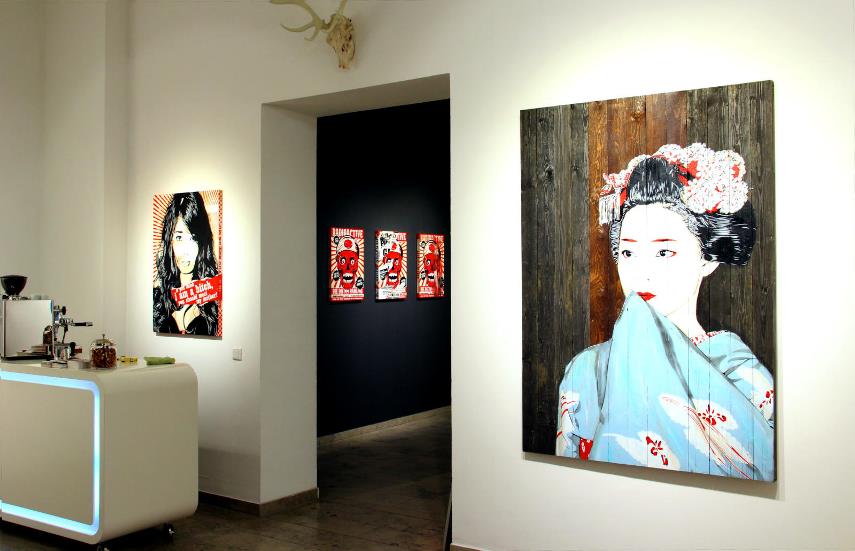 Sushi Connection
As we already mentioned, the exhibition of new works by mittenimwald was opened on December 5, 2015. The opening was quite exciting and interesting. The artist was present and the atmosphere was bright. After a welcoming and introductory speech by Gérard Margaritis, the gallery owner, Anja Backhaus and mittenimwald discussed vividly his artistic approach with remarks towards current exhibited artworks. Although the whole night was great, one particular moment was the most exciting one - the poster-signing by the artist. It was certainly the highlight of the evening. Everybody gathered in front of the desk and was happy to get a signed example with personal dedication. So far, there are 15 artworks sold. However, since the exhibition has just opened, the number of sold artworks will definitely be higher. The price range of the artworks is round about between € 200 and € 5.000.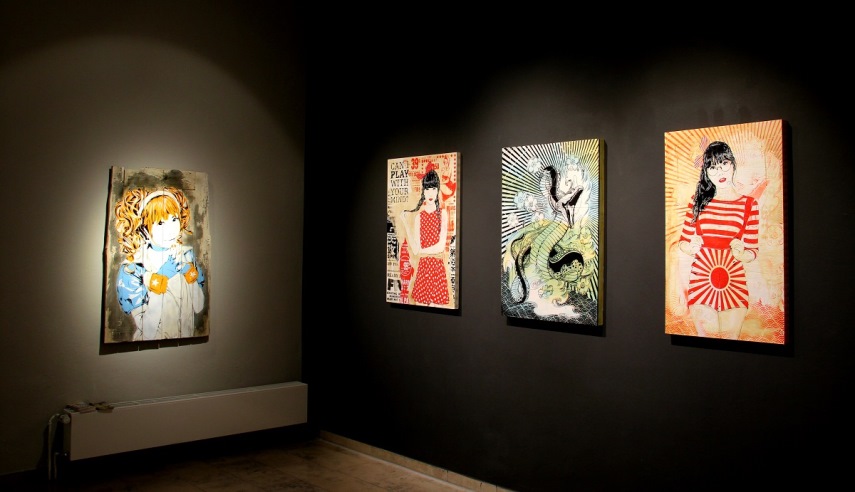 mittenimwald Exhibition at 30works Gallery
If you find yourself in Cologne, or nearby, do not miss this amazing art event – it's still ongoing. We saw quite remarkable exhibitions this year at 30works Gallery (let us just mention Pure Pop Art group exhibition held in November or CityLeaks @ 30works urban art exhibition held in September). And Sushi Connection show with the latest works by mittenimwald is a perfect opportunity to enjoy great art or to but some nice piece before Christmas. The show will be on view until January 9, 2016 at 30works Gallery in Cologne.
Featured Images: mittenimwald - 30works Gallery, Sushi Connection. All Images courtesy of 30works Gallery.