Paris-based MMArt Project presents a strong collection of artworks by three artists with shared past and Graffiti-based origin. The ongoing group show attempts to combine the abstract, geometrical aesthetics and representation pursued by 36RECYCLAB and Swiz, and the expressionist style practiced by Nascio, the third artist featured on the occasion. All of the works formally and conceptually reflect on the history of Abstraction, but tend to inform its future as well. Since their techniques differ from one another, they simultaneously interact and stand in contrast to each other. This shows the comprehensive nature of the exhibition, which aims to survey rather than define Abstraction as such.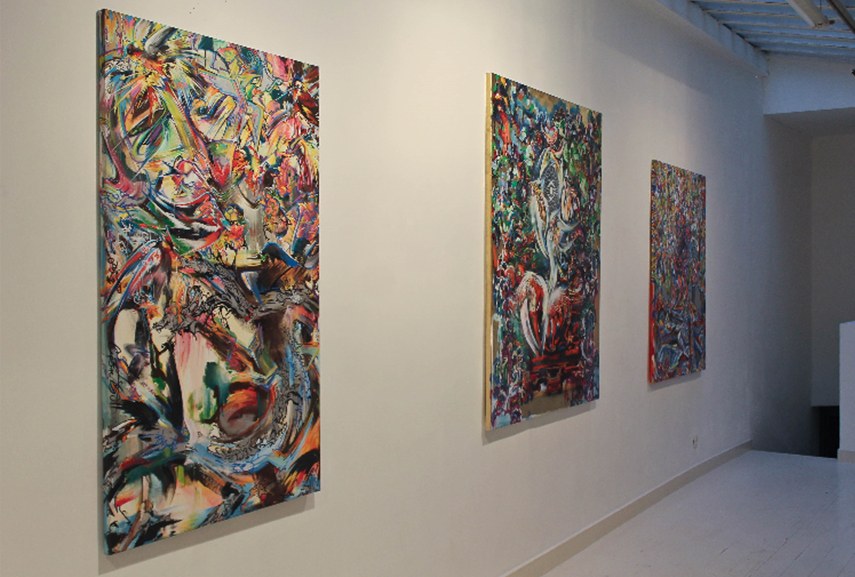 Nascio - Suggestive and Expressive
An astounding array of vibrant shapes and colors takes place in Nascio's pictorial works. His art is inspired by books, cinema, sci-fi and music, and it is even described as hallucinatory, revealing an outburst of organic shapes bathed in a very unusual selection of colors. These shapes usually represent fragments of trees, literally and metaphorically, since trees are central objects in Nascio's art. Each tree has its own, unique appearance and idiosyncrasy, which is reminiscent of portraiture, although it does not represent humans.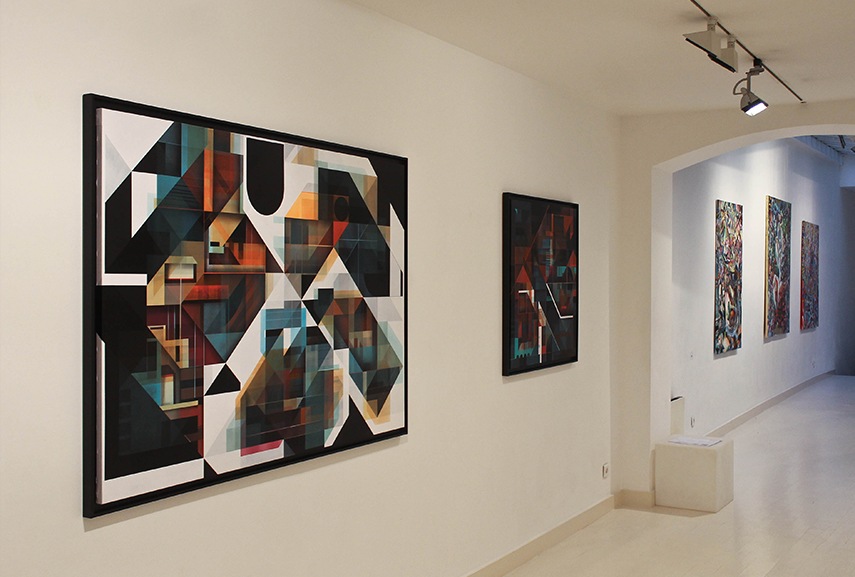 36RECYCLAB and Swiz Meet in Geometric Abstraction
36RECYCLAB's work, on the other hand, exemplifies a more radical aesthetic approach, which focuses on urban collage, industrial elements and architectural composition. The transdisciplinary character of his oeuvre is perhaps best described through a list of his interests and genres that he used to take on in the past, which include graffiti, sticker bombing, sculpture, drawing, painting and installations. One thing that remains the same is the absence of color, and the digital-native aspect of an extremely precise visual vocabulary. Geometric abstraction takes a slightly different form in the works made by Swiz, which consist of basic geometrical shapes, persistently suggestive of architectural imagery. Although his work could be compared to 36RECYCLAB's to some extent, especially when put into words, in visual terms they do have substantial differences. Swiz's works deal with color and rely on it greatly, in order to reach balanced compositions, based on lines, surface and a very clear geometrical principle.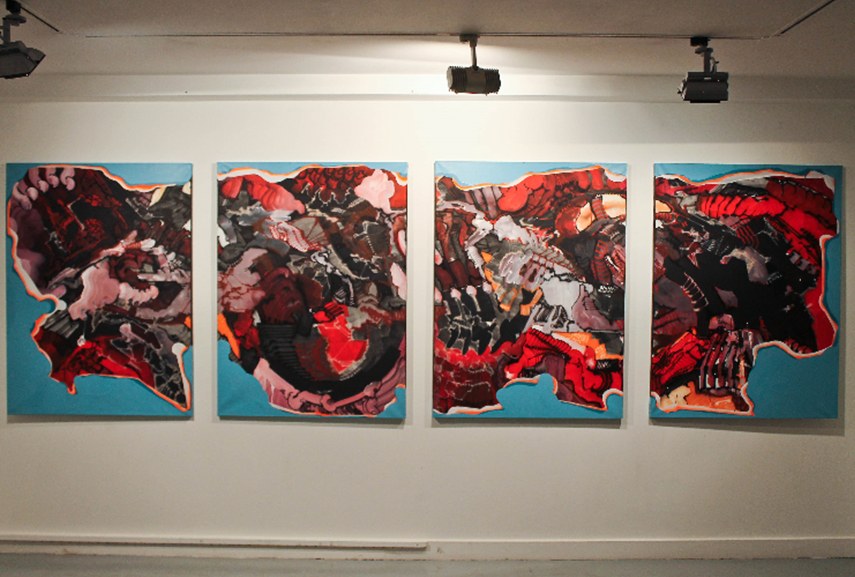 MMArt Project Group Exhibition
In addition to the works made by three protagonist artists, the exhibition also includes the fruit of a collaboration between DEM189 and Fabrice Yencko (COKNEY). Their work will be interesting to the audience for many reasons, first of which is the fact that this show launched the Project ROOM, which is a new space dedicated to presenting new projects, solely. But moreover, this work has a very amusing story behind it. The piece of art consists of four parts, but it is presented as a unique piece painted simultaneously by two artists, whose styles were complementing each other and eventually succeeded in creating a completely original, remarkable artwork.
The MMArt Project exhibition has been on view from March 12th, and it will last until April 9th, in Paris, France. For more information, check out their official website.
Featured image: Artworks by 36RECYCLAB, photo by Nicolas Gzeley. All images courtesy of MMArt Project.