Perhaps without being aware of it, many of us have already come across a piece of Mobile Art. Also known as mobiles, these structures are usually hanging above cribs and are designed to provide entertainment and visual simulation for infants. However, their purpose doesn't stop there, as many similar constructions make part of the creative interior decorating arts and are considered artworks at large, mainly thanks to the contribution of mobile artist Alexander Calder. What characterizes both types of mobiles is the fact they rely on balance and movement in order to achieve their artistic effect; they are composed of a number of elements, usually abstract shapes, interconnected with wires, strings, metal rods or similar objects. As such, they represent a form of a kinetic sculpture because, unlike traditional sculptures, they do not remain static, but are mobile, set in motion by air currents, a slight touch or even a small motor. The superb design of each of its parts, as well as the construction as a whole, manages to achieve a kind of equilibrium that perhaps makes up the core of its marvellous aesthetics.
A Brief History of Modern Mobile Art
The history of mobile art is quite a long one if we take into consideration that wind chimes are also mobiles. Their suspended tubes, rods, bells and other objects were assembled to create a sound deriving from contact between the elements, and people in Asia, Greece and Ancient Rome used to make them using glass, bronze or wood. Wind chimes can still be found today, and in some cultures they are put on the entrance door for good luck, or even to send away evil spirits. However, it wasn't until the early 20th century that mobiles became a part of the world of the arts, through the works of Russian Constructivism artists and early kinetic mobile sculptures began experimenting with them: in particular the likes of Alexander Rodchenko, Naum Gabo and Vladimir Tatlin. In 1920, Surrealism artist Man Ray introduced what could be considered the first example of Mobile Art - entitled Obstruction, it was an assembly of 29 coat hangers based on the whippletree, a force mechanism attached to horses or mules that pull a plow or a wagon. Using the same rules of physics, the sculpture creates a balance thanks to an evenly distributed force through its linkages. A decade later, Italian designer and artist Bruno Munari made his Useless Machines, or "Macchine Inutili", made in cardboard and vivid colors and designed to interact with their environment. And then, in the 1930s, the meaning and the purpose of sculpture as an artistic medium was shaken to its core by Alexander Calder's innovative hanging mobile designs, which we now know as the true mobiles and the proper products of Mobile Art.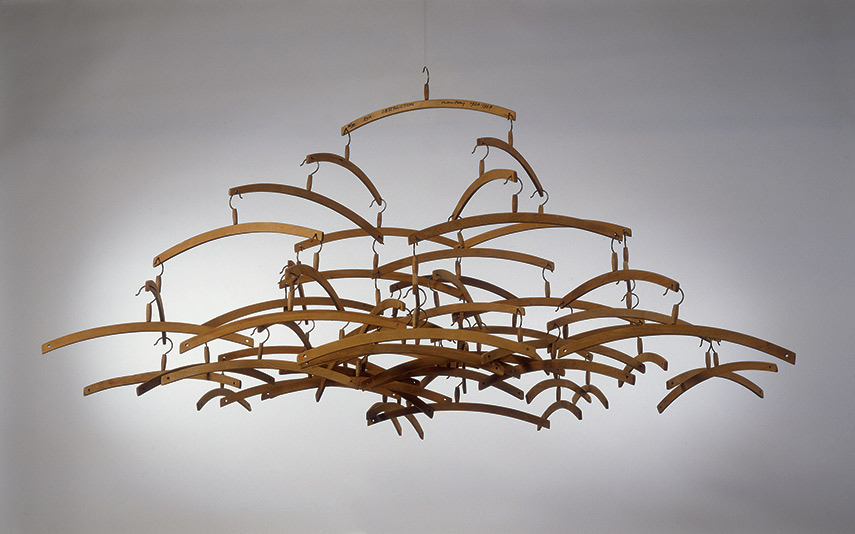 The Revolutionary Mobiles of Alexander Calder
In 1943, Albert Einstein visited the exhibition of hanging artworks by Alexander Calder at the Museum of Modern Art and famously said: "I wish I had thought of that". If this isn't acknowledgment enough of what his mobiles achieved, I'm not sure what is. Indeed, what makes the kinetic pieces of this remarkable artist so groundbreaking is the fact that he was a curious and experimental mind. He too explored the possibilities of the whippletree mechanism, but instead of attaching lower elements to both ends of the carrying element, he replaced them with abstract shapes. This, naturally, opened up an entire universe of creative combinations and ideas, which the artist did not hesitate to employ for the next four and a half decades of his career, until his death in 1976.
In 1931, Marcel Duchamp coined the term "mobile", using it to describe the artist's early, mechanized pieces and defining motion as their crucial characteristic. These artworks were influenced by the abstract work of Piet Mondrian, Joan Mirò and Sophie Taeuber-Arp, who all used geometric figures and simple colors in their paintings. He transmitted this kind of abstraction through shapes moving in space, usually made of sheet metal, painted in the same colors and sometimes accompanied by different objects, such as cloth, rubber, cork and found items. His mobiles were manipulated by means of cranks and motors and eventually became his signature artworks, changing the way sculpture is perceived as a medium. What's interesting is that he emphasized the importance of the machines in his Mobile Art, as an important new factor in the future of human affairs, and often described his pieces as useless and meaningless. "It's just beautiful, that's all. It can make you very emotional if you understand it. Of course, if it had some meaning it would be easier to understand, but it's too late for that."
Alexander Calder ended up making thousands of these useless and meaningless hanging mobiles, from miniature pieces to entire installations up to 100 feet in height. They're also highly popular among collectors; in 2014, his 1957 Poisson Volant was sold for whopping $26 million at Christie's New York.
Video - Alexander Calder Mobile Art piece entitled Poisson Volant, 360 View
Mobiles Today
Because of Alexander Calder's absolute dominance in Mobile Art, not many others today dare trying their luck in this creative field, and if they do, they usually only end up being compared to him in an unfavorable way. Still, the evolution of design from modern to contemporary throughout the 20th century, of course, provides with many possibilities, in materials, methods and visual aspects alike. Mobiles remain a unique form of art that could be adjusted and customized to fit any style and space, and as such they are timeless and evergreen. Today, there are a few talented mobile creatives who were not intimidated by the powerful legacy of the father of mobile. Among them, we have Joel Hotchkiss, who has been making hanging kinetic compositions out of materials like natural metal and colourful fabrics since the early 1980s; Marco Mahler, with his smaller fine art sculptures and large custom-made mobiles, as well as 3D-printed pieces, in collaboration with Henry Segerman; handmade designs by Julie Frith, Joseph Craig English's artworks inspired by Matisse's jazz cutouts, the intrinsic constructions by Timothy Rose, kinetic works of Carolyn Weir…
  Editors' Tip: Alexander Calder: Performing Sculpture
Alexander Calder: Performing Sculpture provides detailed insight into a pioneering process undertaken by the mobile artist: rather than simply refashion sculpture's traditional forms, he envisioned entirely new possibilities for the medium and transformed its static nature into something dynamic and responsive. Aside from the reproductions of personal drawings and notes, the publication also features the new research from a wide range of renowned scholars, furthering our understanding of the remarkable depth of his beloved mobiles and entrenching his status as an icon of modernism. It gives an insight into how his training as a mechanical engineer influenced him to develop a characteristic form of mobile and kinetic sculpture that turned him into one of modernism's most captivating and influential figures.
All images used for illustrative purposes only.