Widely considered to be one of the forerunners of the British graffiti scene and street art movement, Mode 2 is best known for his style that escapes any posturing and antagonism. Growing up in Covent Garden, Mode 2 has witnessed the emergence of hip-hop as a new culture, inspiring him to pick up the spray paint and start doing graffiti. Ever since, hip-hop has served as a great source of inspiration. Drawing from this culture of expression, the notions of rhythm and corporal movement have always been in the essence of his practice. The fluidity of his lines and the virtuosity of his style have made him one of the greatest masters of the European graffiti scene and a great source of admiration for his peers.
His latest body of work is currently on view at Galerie Openspace in the exhibition titled Préludes… The artist presented 25 new artworks on canvas and paper that explore the universality of music through motion, dancing, writing, and visual composition. With a body of work conceived as an intense feeling translated into painting, the exhibition suggests a growing excitement brought by that moment that comes before and anticipates the future such as the preface of a book one is really looking forward to reading, hints of a promising artistic style about to blossom, first notes of a music track, or first moves of a dancer entering the stage. Continuing to draw from the energy and inventiveness of hip-hop in order to explore his own limits, Mode 2 oscillates between topics, compositions, colors and lines.
In an exclusive interview for Widewalls, Mode 2 talks about his latest exhibition, the notions of rhythm and movement, the emergence of the British street art scene, the obsession with a female figure, his studio work, the power and responsibility of street art, and much more.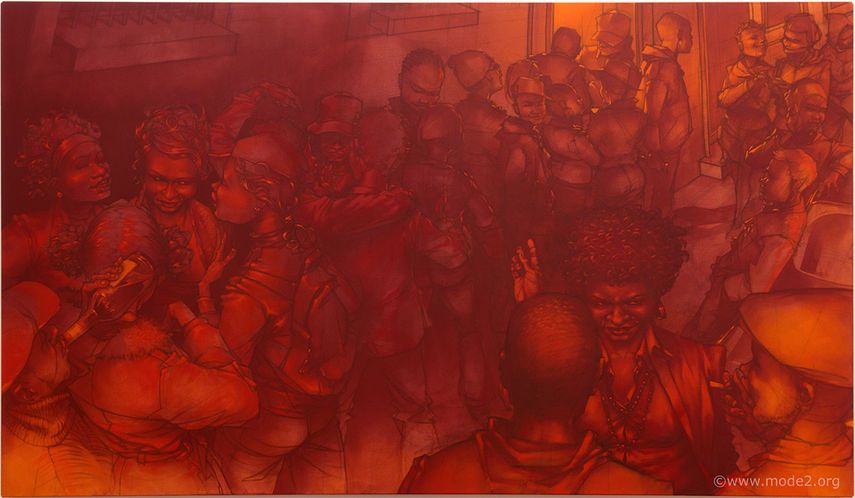 The exhibition at Galerie Openspace
Widewalls: Your exhibition Préludes… is currently on view at Galerie Openspace. Can you tell us more about this new body of work and the concept of the show?
Mode 2: Préludes… is a reflection on those states of longing, anticipation, of impatience almost, and excitement; as we await the coming of a particular event that we had been looking forwards to, as we queue up outside of a venue for a promising club-night or party, or as we hear the first notes of a new tune that hit us in just the right places.
Parallel to this, there is the same feeling of heightened anticipation when a performer that we admire steps onto the stage, steps into the dance cypher, tunes their instrument, or clears their voice before the microphone. On a more interactive level, there is also a similar feeling when we find a partner on the dance-floor, whether we've known them for years, or meet at that very moment, and we get a vibe going on between ourselves; even if it's a tune we have never danced to before, anticipating where the rhythm will lead us in a spontaneous manner. Dancing together should not automatically mean anything sexually-orientated. This is just two people reacting together, or against each other, in rhythm, such as in b-boy up rock battles; though it can also be applied to jazz, house, or any other music genre where people feel like moving.
This synchronicity or symbiosis between two individuals can eventually also be transposed into an erotic setting, whereby those moments that precede the first bodily contact, the first breath or the first touch, or else the foreplay that announces what is to come, all fall under the sensation of anticipation and excitement, as we fantasise on the promises of what is to happen next.
All these forms of waiting and anticipation have the dimension of sound in the background, whether imagined or actual; so the idea of music is there under all its manifestations. From actual rhythms and melodies or the sound of shoes and sneakers marking the steps or sliding on the dance-floor, to the sound of somebody's breath against our own skin, the ruffle of fabric or the unzipping of clothing, or else the sound of wet flesh rubbing against flesh, dry, moist or wet; these all form a backdrop of music, if not an odd symphony of eroticism that accompanies particular moments of intense intimacy.
On a level that may seem more abstract to the general public, but totally natural to those from within the culture, there is also a certain dimension of anticipation and promise in the act of writing, maybe more in the act of tagging and throw-ups than in the execution of the final outlines of a piece; even if this last process is what brings the letters right out from the fill-in and the background. The act of doing it at night-time, when all the colours turn to shades of grey, has furthermore the promise of what the result will finally be when we see it the next day in daylight; if we ever get to see it at all.
I am not the kind of person who will explain what is behind specific drawings and paintings, as the interpretations that the audience makes of them are often just as interesting, if not more so, than my own original intention. It is their form of observation, coupled with what it inspires in the audience, that had and has kept the best elements of music, dance and writing culture in a state of perpetual positive innovation and evolution. The Hip Hop notion of "call and response", whether on the dance-floor, the turntables, the microphone or the walls and trains is another interpretation of this dialogue between artist/performer and audience.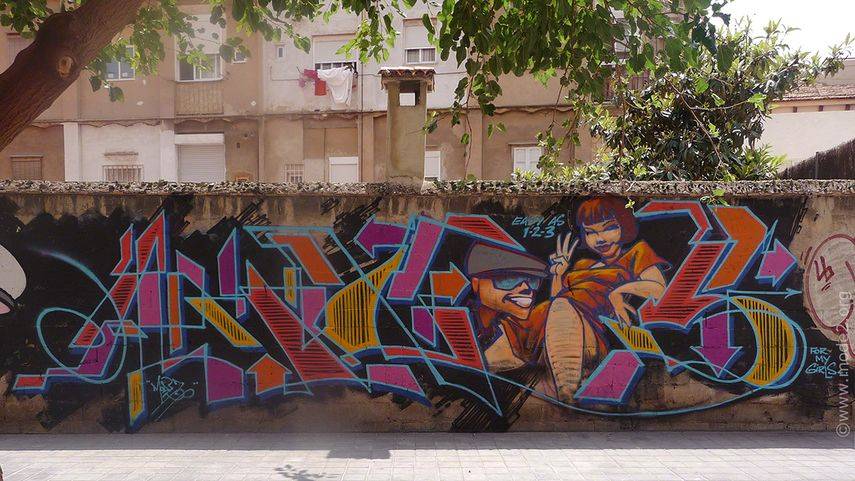 WW: Hip hop, corporal movement and a notion of rhythm have always served as an important source of inspiration for you. How does this translate into your canvases?
Mode 2: I used to stutter as a child, and I "stuttered" with my hands when I was learning to play the oboe in secondary school. I think that somewhere I also stutter with my feet, when I'm on the dance-floor, finding difficulty in marking the steps on time, doing any popular dance-step in rhythm, or preempting where a particular jazz or salsa tune is going; each with their specific rhythm structures. On one side then, I have always been aware or rhythm, but what is going on in my head is often going too fast, or is simply out of sync with how I would like my body to react to it.
I have also hardly ever ridden a bicycle in my life, never trusted roller-skates, and don't know how to drive a car; having a deep distrust for any moving parts between my feet and the security of being in contact with the ground. And yet, the antithesis of all of this is how I control the contact between a pencil, paintbrush or marker and a piece of paper or a canvas. It is also to do with how much pressure I apply to a spray-can nozzle, and the movement that my wrist, elbow, or shoulder make, as I bring a vision out of my head onto the surface in front of me.
I have always had melodies fluttering through my head, and have good memory of music I may have heard since early childhood. Though I had to give up on music in secondary school, the notion of composition has always also been how I would approach filling the four corners of a piece of paper with images; and since I was drawing figuratively, the human body and characters are something I've always been obsessed by. I am nowhere near the level of a Jamie Hewlett, or the long list of comic strip illustrators that I have admired and been inspired by, but each square or rectangle had to be filled in a dynamic way, where movement was involved.
I am very much a voyeur, and watch people all the time, whether they're on their own or interacting with others, whether on the street, on public transport, in a restaurant, museum, bar or club; anywhere. The way they walk, hold themselves straight, lean against anything, or the way they tip their shoulders, hips, play with their hands, their hair and so on, are all things that I am always watching; because I make very little use of live models. I have to watch how they move, and record it somewhere in my subconscious, where I can call on it again, when I need a particular pose for a drawing. I view these characters in my head in a three dimensional environment, and try to rotate what I see along all three axes (x, y and z), until I find the angle that would best suit a particular body in movement, or a theme.
Somewhere then, the musicality that is one part of me alines itself with my voyeurism, and I bring the two together in the way that I draw the human body. Dance therefore, or dancing figures, represent for me perfect medium through which to explore my figurative work, as it spans such as wide range of movement, corporal vocabulary and rhythm across many cultures; and it can also be quite an extreme form of expression when we look at anything from jazz and Lindy-hop right through to where b-boying is today. Though I use the term "Hip Hop" very sparingly these days (because it means so many things to so many people), it is this fusion of different forms of expression that has helped me to find what works best for me in the way I draw and paint. I have now been doing the posters for Battle Of The Year every single year since 2000, and though I don't get to go out as much as I used to, I am surrounded by some of the most knowledgeable practitioners of the art form, and can always view on-line whenever the need arises. More often than not, though, the drawings come from my own visual memory of what I have seen and felt on the edge of a circle somewhere.
It is when you are in a club or on the edge of a circle of dancers that you realise the limits of your field of vision, and how your eyes and ears try to compensate for this; and that feeling of proximity to the dancers, and to people in the venue in general, which influences how I frame my work. There is also the snap photography that I have been doing since my earliest days in Covent Garden; either taking posed shots of my friends or shots people at parties. I was never a photographer, but always had a compact camera with me, and this helped me develop ways of taking shots from many different angles, the results of which made me think about drawing characters and scenes from different perspectives than simply face-on.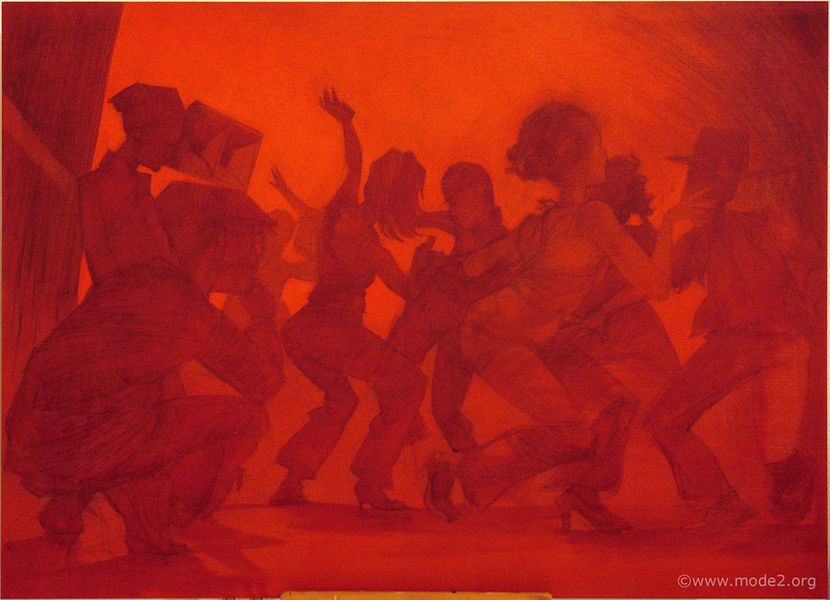 The Emergence of the Scene in the UK
WW: You are regarded as one of the forerunners of the British graffiti and street art movement. What was it like back then when you first started doing graffiti?
Mode 2: I was always drawing since I was a young child, but it was meeting with a writer called Scribla in 1984 which really helped to bring me to writing. He had already got caught painting under a building called the London Colosseum, a few months before, and was on probation, but he pretty much showed me all that he had learned, when he saw that I also could draw. He was incredible at portraits and caricatures, whereas I could invent characters out of my head, projecting through my hand what I had absorbed with my eyes; so we complemented each other that way, while we were both also in love with the letters as well. Scribla and I lived not far from each other, in South East London, so that also helped us to bond.
In Covent Garden, there was an office run by the GLC (Greater London Council) called Alternative Arts, and they managed the street entertainers who performed all over that pedestrian area. In the summer of 1984, they asked Scribla and I to do the banners for their annual festival that year, so from this first initiative, we got the permission to paint the hoardings that surrounded the building site behind the Royal Opera House. Two other writers called Canman and Snake painted the hoardings along with us, but they definitely had more experience and technique than I did back then. We mostly had shit car paint, apart from Marabu Buntlack, but we did what we could. I remember this girl from New York City, who was over on holiday, said she knew "Spank" from the back-cover of Subway Art, and told me that my piece was wack, when I had thought it was really good; with loads of arrows and everything. Her voice still rings in my head until this day, as I realised that I would never be able to write and paint like those who grew up in New York City, living the culture directly around them. I had to start looking for my own interpretation of style somehow.
We had very little image documentation to inspire ourselves from in those days, so maybe we fantasised more over what New York style would be, and saw a wide open field of interpretation of those styles before us. We were not held back by their rules, in the sense that nobody from another crew would come and beat us up because we copied anything of what we saw; but we anyway had to wait until summer 1984 for Subway Art to come out, which acted as a springboard to the culture worldwide. Before then, I only had the opening scene from Welcome Back Kotter, the Buffalo Gals video with Dondi painting, and the Rocksteady Crew record covers by Doze Green.
I remember hearing about a writer called Kosh, who was apparently already doing trains back then, and Scribla and I ran into Zaki Dee, Eskimo and Zerox from the Trailblazers in summer '84. We heard about this big black dude called Pride, from Wembley, North West London; and then we all heard about 3D from the Wild Bunch crew in Bristol, who would go on to become Massive Attack. It was all new and open territory back then, and somehow those who could better express themselves were attracted to each other, because it was all so new and you were really curious about what anybody else was doing.
You could just about get away with a fair bit of tagging on the streets in those days, if the actual owner of the property was not the one who saw you, but I did get caught myself once, when my look-out didn't see the police coming. He was a nephew of the actor Denholm Elliot and called himself "Bad Boy". I guess this was the first big innocent summer for writing graffiti in London, but by the end of it, crews and rivalries were forming and the competitiveness for getting up and outdoing each other through style would gradually take over.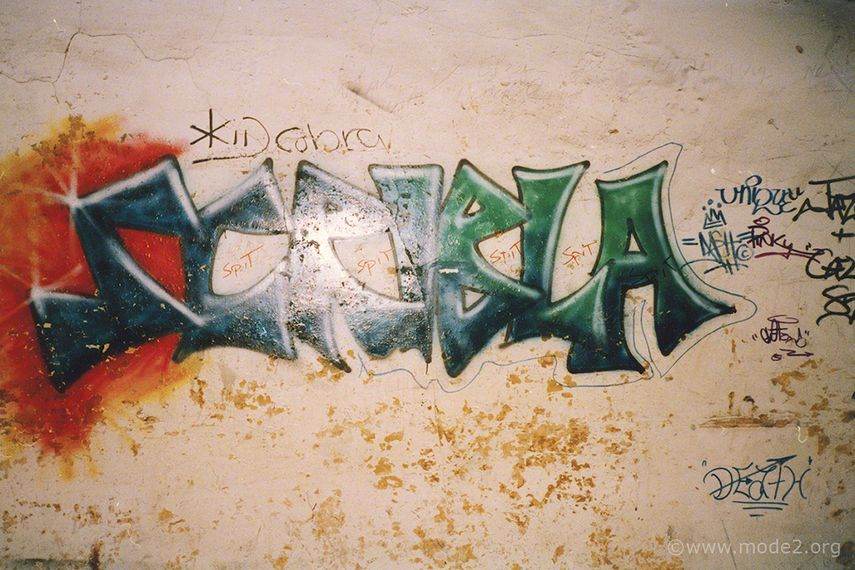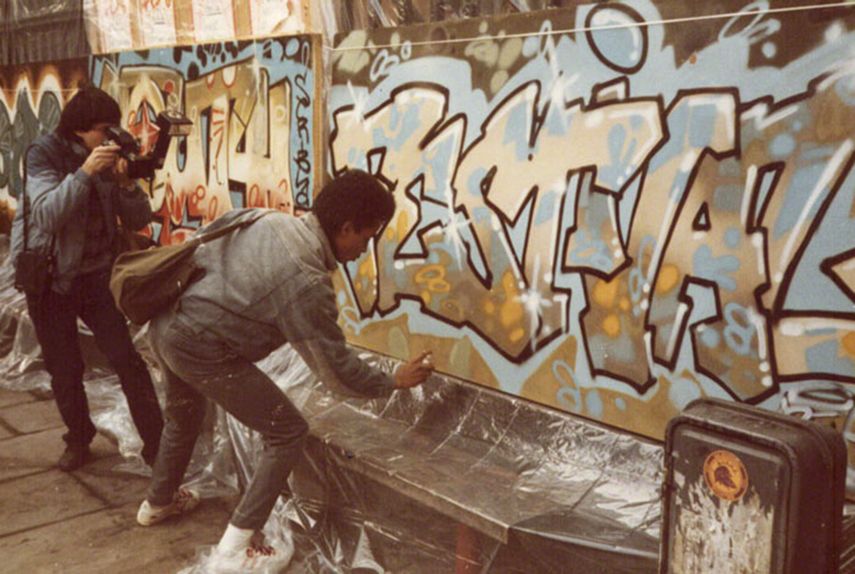 WW: A female figure is a recurring theme in your practice. How do you develop these female characters and what are you trying to convey with them?
Mode 2: I have been drawing female characters probably from the time a friend of my oldest brother got us into The Lord Of The Rings, Dungeons & Dragons, and, more specifically, the American monthly comic magazine called Heavy Metal; an off-shoot of the French Métal Hurlant; showcasing some of the same artists as the original, as well as introducing others such as Richard Corben and so on. Heavy Metal was categorised under "adult comics", because of the violence and nudity in some of the stories, but Dungeons & Dragons also had its fair amount of heroines and so on, though tailored for a wider age-range. This same friend also got Epic Comics as well, which had artists such as Art Suydam and Jeffrey Jones. These were a world away from the more schoolboy-orientated 2000AD and Warlord British comics that were from the UK, and you would have to go to specialist shops like Forbidden Planet to find them.
Aside from that, I also have an early childhood memory of the Abraxas album cover from Santana, Annunciation by artist Mati Klarwein, featuring a black lady at the centre of the image with a white dove between her legs. That was a pretty scary sight for a three year-old. Coming to the UK in 1976, I remember being mesmerised by singers such as Debbie Harry from Blondie, Kate Bush, Chaka Khan, Donna Summer, and even Siouxsie Sioux. All this imagery being thrown at me, coming from a small island like Mauritius where there wasn't much TV or any of this, really fed my subconscious, and later on I would start drawing female characters as part of the rest of what I drew.
I tended to have an attraction for the more unusual girls that I went to primary or to sixth form at secondary school with (it was separate boys and girls schools until you were about sixteen or seventeen); noticing how puzzled the other boys looked when I said that I found a particular girl attractive. I didn't actually fall for the typically beautiful girls, aside from the singers I mentioned, and my earlier female characters were more from my fantasy literature and science fiction background. I was actually very shy and insecure, when it came to chatting them up. When I started to hang in Paris from the summer of '85, I got to go to the Bains Douches, and was exposed to a much more adult world than the jams that we went to back in London, and the women I saw started to influence those that I drew. Looking back on that time, I find those drawings and paintings very teenage fantasy-like, and I can even detect that time when I had not yet noticed which models of back then had silicon implants. I learned to prefer the diversity of natural body-shapes since then…
Luckily there was Hip Hop, and the depiction of fly-girls, which helped to bring me closer to drawing the kind of female characters which reflected the few girls that were around our scene in Paris back then. It's through this that I started to portray more the kind of body-shapes that I saw around me, and the positive reaction that I got from the girls encouraged me to pursue this further, and depict characters which they could identify with a little more, if not feel empowered by. They could recognise each other as being more than just an accessory to the boys, but somehow also as sexy as they would like to see themselves. I have quite a few examples of girl characters next to my pieces who are pretty much inspired from real life girls seen on the street, on public transport, or out in the shopping arcades.
It is not easy walking this line between sensuality and sexuality without falling into sexism and the objectification of the female body. I guess I don't always get it right, given some of the feedback that I receive, but we live in an overtly sexualised society already, where it is omnipresent in the media, in entertainment, advertising, the music business, sport and so on. It is on one side used to sell products and different ideals of what a sexy woman is supposed to be (even when that in itself is a totally subjective opinion), but then on another side we are not supposed to talk too openly about it. from The Spice Girls of back in the days to the Rihannas, Beyonces and Miley Cyruses of more recent times, these "types" of women are paraded as being independent role-models, while at the other end there are legions of women decrying what they are doing as being the perpetuation of male stereotyping of women as mainly sexual objects.
With all of this surrounding us in "normal" society, it was quite natural for me to explore the erotic side of my work further, though I have always tried to keep it separate from my public work, apart from specific instances where I wanted to touch on the conflict of power between man and woman, in an environment that would not be accessible to younger people. The characters I did at the Lollipop festival in Stockholm in 1996 would be a crude example of that. And yet, it is precisely the relative ease with which children or young teens can access pornography these days, via mobile devices, is one of the reasons why I feel that we should be talking more about sexuality and sexism on more public forums. We otherwise leave the field free for the porn industry to do as it feels, more driven by economic prerogatives than any other factor. I have young children of my own, so this is definitely a worry for my wife and I, as parents.
How we feel about sex and what we are attracted to or turned on by is a very subjective matter, so I find myself manoeuvring between trying to project my vision of a more egalitarian view of sex, albeit in a heterosexual context, while somehow trying not to offend those who may eventually find it distasteful or even sexist. I am aware that I cannot make unanimity here, but this will not stop me from exploring something that may not even bring more sales of paintings, but at least I would have put my two cents in on the age-old debate.
Added to this we have had decades of the fashion industry dictating to us all what female beauty is supposed to be, but somewhere in between all of this, I am there trying to define some sort of alternative projection of female beauty that looks hopefully closer to the more normal human beings that I see around me, albeit sometimes what I think their bodies may look like under what they wear. I try to have a sketch book with me as often as possible, in case I see a woman on the street or on public transport who catches my eye because of some atypical feature that either shows their beauty or their sense of individuality; and I would try to sketch them as soon as I can, before the vision in my mind floats off into my subconscious.
The Battle Of The Year illustrations have also helped a lot, with regards to the representation of girls and women in my work, as it has always been a struggle to represent b-boys AND b-girls in a way that they feel is a reflection of how they are, how they feel, and what they aspire to. So somewhere along there Hip hop helped me again to guide me away from the purely cosmetic, and to people who were or are actually active, culturally-speaking.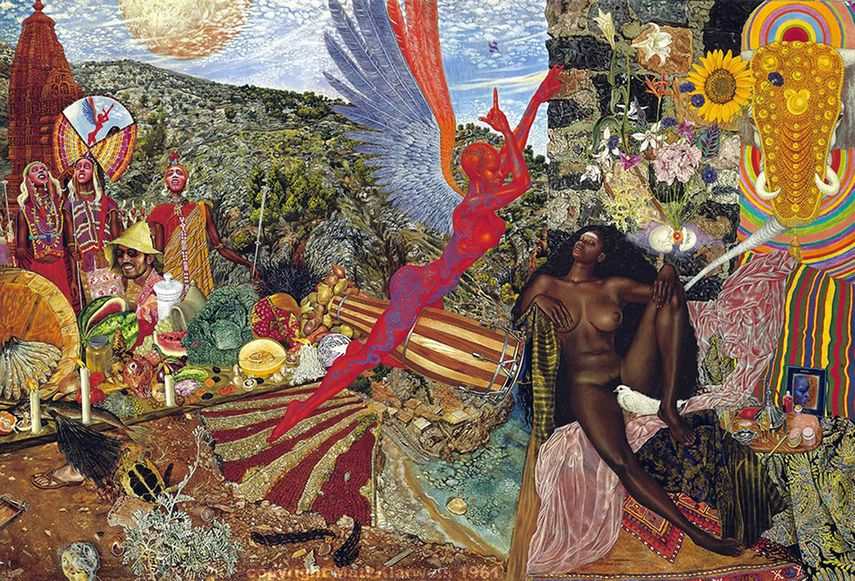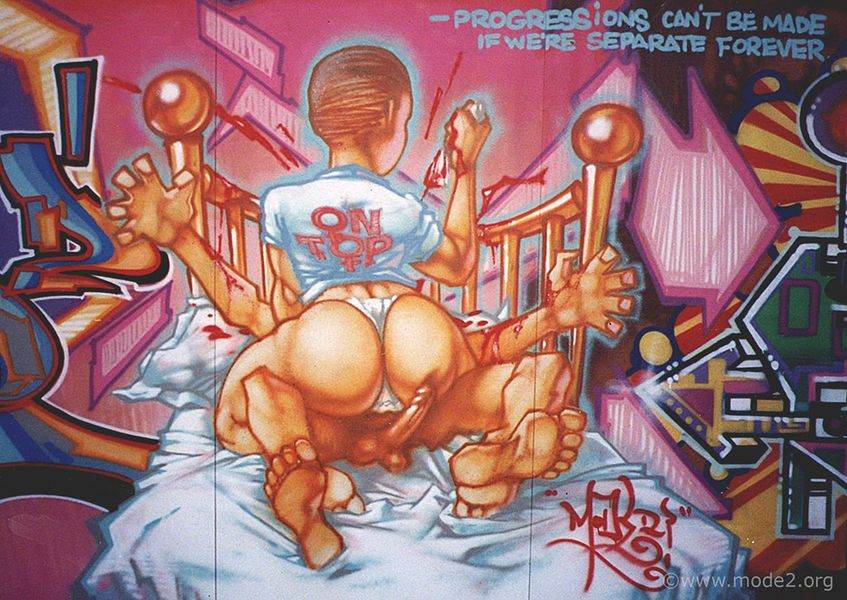 The Working Process
WW: Your work has moved from streets into the galleries. How do you differentiate between the work you are doing for the street and a more controlled setting such as a studio, while still maintaining your visual identity?
Mode 2: I have been working less and less on the streets these last few years, mainly because on one side working with brush on walls takes way too much time and effort, and on the other my body has reached its threshold of tolerance to spray-paint, and I suffer from sinus issues for days after using it. My illegal work was for the most part speaking to other writers, while the legal or tolerated spots would reach out to a wider audience.
My work in the street has and had always been about proximity to the public, producing murals where I would be able to talk to them about certain themes that I feel are important, and hoping that what I paint will have people stopping and exchanging about what they see before them. I had always gone from a bridge-building perspective, in a society where it's all about individualism, consumerism, and little time left for maintaining or rebuilding the social fabric that is important to any community. Much like in Hip Hop music, I used certain imagery like forms of sampling, in order to bring the public to look at the rest of the wall. Give them a little bit of what they want, in order to bring them to look at what you feel that they need. Of course these days there are loads of figurative painters out there, many sampling imagery as well, but though the technical ability is very high, much of what is being put up has me asking myself, "Why?".
I specifically liked long low walls that could potentially have been done illegally, thus keeping with one of the important parameters of accessibility to the culture. These stretched rectangles would be akin to whole cars and whole trains, and would usually be at ground or pavement-level, where I could develop a figurative, letter-based, or abstract narrative along its length, that in itself would be composed almost like music; again the link with sound and dance. I prefer walls that people can actually touch and run their hands along, somehow feeling closer to the person that painted these shapes and added these colours and symbols in order to break up the monotony of the day.
With regards to subject matter, I am conscious of not wanting to be putting imagery out there that is not suitable for all ages. There is a separation between the street and the studio along these lines. I wouldn't have so much of a problem if the piece was done illegally, or was in a place where only writers or older youth go, but I definitely keep some themes, mostly the eroticism or any form of violence, in a controlled gallery environment; where a room could be set aside for exploring themes not suitable for youngsters. This is what we did with the erotic room of Préludes...
I didn't get my own studio until 2011, as I have been more of a live and performance painter for most of my life; maybe because my first ever mural was the public hoardings of Covent Garden in 1984, or because I used to sing in the church choir and on stage for the school. We used to get invited to paint live on all those Hip Hop jams of the early nineties, but I stopped pretty much doing those, as they got completely out of control, and became a bit of a free for all. Besides, we never got paid, until I got in touch with many of the key writers getting invited to all the jams, and I got them to all ask to be paid a symbolic amount, or else we would simply stop all this free live painting stuff.
With regards to gallery-shows then, I used to end up coming to the venue a week or two maximum in advance, and do all the work on site. Futura tends to operate in pretty much the same way, but his style of painting, more abstract and gesture-based, is much more suited to this time-frame than mine. Still, I cannot resign myself to the idea of having to hand in a body of work more than a week before an opening. It would be like asking a list of important questions, and having to wait weeks for an answer.
I see the gallery-opening as a performance in itself, something close the first night of a theatre play, or the first of a few nights of a concert. Aside from the paintings that would have been used for the flyer, the rest would pretty much still be open to more modifications, until the eve if not the day of the opening; while some others would have been done on site; reducing the painting time to approach the level of excitement around the act of painting illegally, where you definitely have to finish within a certain time, no matter what, and there's no going back. I have to take my hat off to Samantha de Longhi and Nicolas Chenus at Openspace, for having allowed me the freedom to work in this way; as it took them way out of their comfort zone. I've put most of the galleries I have shown with through the same ordeal, so I'm not sure if they would have me again, or if they would want to work out another approach that would not have them on the edge of their seats so much.
This method of painting forces me to go to the essentials, and prevents me from settling down into the painterly lethargy that the studio atmosphere can force you into. I am still trying to teach myself to deal only with the essentials, and not get caught up too much into long and elaborate paintings. Once the basic intention is up there on the canvass people have a basic understanding of what's going on, and can interpret it as they will. There's always this danger of wanting to "show people that you can paint", which reminds me of so many of these boring graffiti-pieces that were technically good, but had no life, no soul.
Even when I was co-curating The Bridges Of Graffiti with Giorgio de Mitri, one of the exhibitions of the 56th Venice Biennale in 2015, I was taking care of the needs of the other artists, while I prepared the environment around my own paintings, making sure that they had everything they needed; or reporting to those from Giorgio's team who could help out. It's only the day before our private view that I really started producing the three paintings I had planned, though I had no sketches on paper. That said, the atmosphere of the place, and the company I was in, along with the music I had playing, set just the right tone for me to improvise the three paintings I produced.
Of course my subject matter would sometimes make me think that it would be worth expressing all the light and shadow into a painting, but I would like to be able to develop a quicker style of painting, rougher; and the studio is not the ideal environment for that. It's the mad adrenaline rush before an opening which might just provide the right setting and optimal mood for this kind of painting...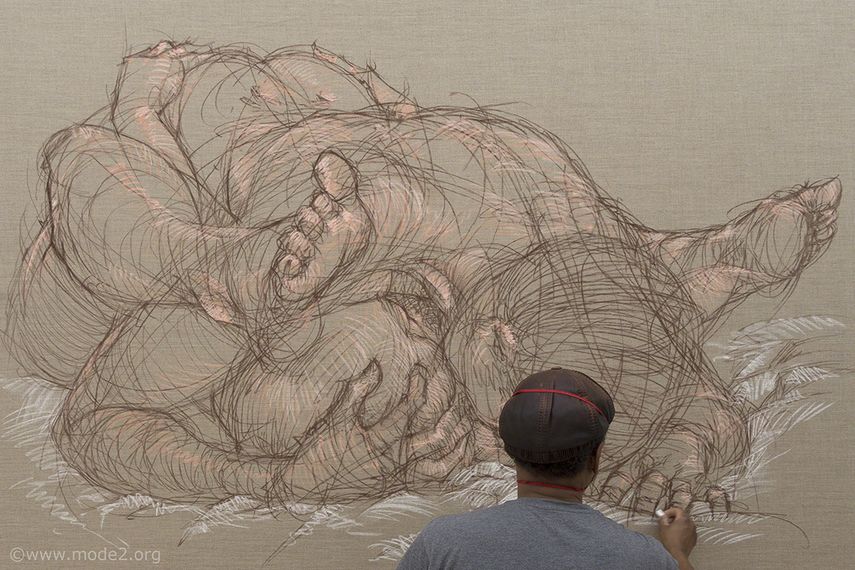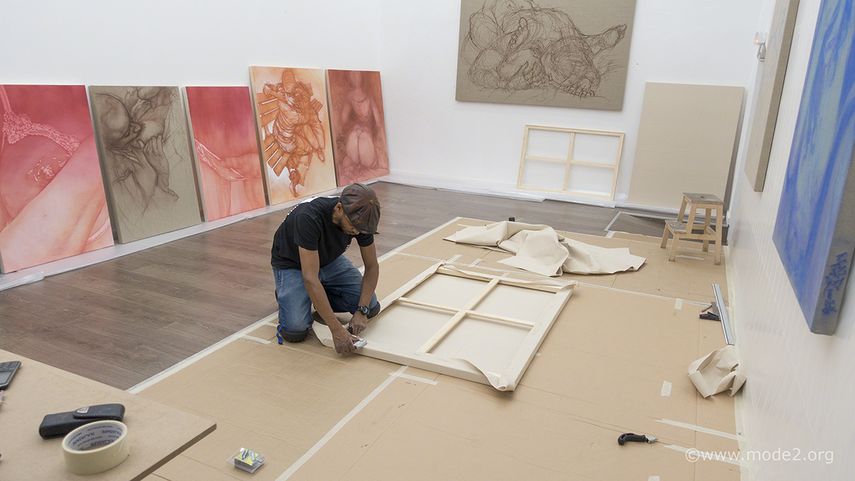 WW: Since it usually occupies a public space, what is the power and responsibility of street art today?
Mode 2: I have felt these last few years that street art has lost much of the power that it used to have, but maybe this is because of the sheer quantity of murals that exist out there now, along with all the books that have been published. It is now an accepted and tolerated aspect of our urban environment, and the general public have shelved it under "edgy urban decoration". It has lost much of its capacity to shock, or at least wake people up out of their daily monotony, because there are murals on nearly every corner, and the vast majority of the work is more eye-candy than anything that is questioning our existence, or questioning authority for that matter.
There was a particular era, somewhere around 2003, when Banksy, Shepard Fairey, Zeus, Invader, Swoon, Barry McGee, Blu and Os Gemeos were those getting the most coverage; but most of them came from a graffiti-writing background, and some still remained active writers with good hand-styles, or were still very active illegally, period. The public didn't see this aspect, as it was only the figurative language which they understood easily that they were attracted to, and they started asking questions about this. The media, however ignorant they were about the history of the whole scene, responded to this need of information by running many articles which were based more or less around each journalist's top ten murals and/or artists; devoid of any knowledge of the culture that had paved the way until this particular moment or movement.
Seeing how "hip" the art form had now become, many more young people were attracted to doing it too, but they had also only seen what was pretty much the product of many generations of active writing in the city, a culture which was directly anti-authority, and had taught its practitioners a new relationship with all that surrounded them; from walls, hallways, buildings, rooftops, public transport networks, tunnels, and so on. It is writing that had moulded this understanding of what's around us, and how best to exploit it. The vast majority tried to emulate or simply blatantly copy the visual language or the methodology of many of the names that I mentioned above, instead of trying to bring something new to the whole mix. This has somewhat diluted the potency and freshness of what it once was, as many new players jostled for position.
These days, I actually prefer the diversity that was for a while much more apparent, which we find in the work of Brad Downey or Evol, or even in those knitted pieces we find wrapped around trees or lamp-posts. The giant murals done on cherry-pickers begin to annoy me after a while, as if they have become the default expression of urban art these days. Certain projects such as El Seed's in Caïro stand out, or else the whole Favela Painting projects by Dre Urhan and Jeroen Koolhaas; but nowadays it is difficult to talk of power and responsibility, when so many artists out or art schools are fighting to get the opportunity to do huge murals for free, thus shooting the whole culture in the foot by devaluing it.
Certain players from outside, such as Yasha Young with Urban Nation in Berlin, have stepped in and completely transformed the make-up of the local "street art" culture, eclipsing the diversity of projects that used to happen before, such as the City Of Names in front of the Bethanian for Backjumps 2005; drafting in artists from abroad instead of encouraging the local diversity, and basically changing an "open source" community into their own game-plan and fantasy of what street art is and how it should be used. The organisation is apparently opening a street art museum in April 2017; go figure… Some of my own friends have been invited to come and paint for Urban Nation, though I'm not sure if they knew or could see what the end strategy behind it all is. All I know is that it is not a reflection of the local scene that I have been witness to over the years, having probably contributed to a lot of potential new artists narrowing their horizons considerably by thinking that only this path of cherry-picker murals for little or no pay is all that there is; take it or leave it. I hope that I am wrong of course, but at least there are still tags and throw-ups on the streets, or panel-pieces rolling by on the U-Bahn and S-Bahn when you least expect them.
On another level we had the Street Art: Banksy & Co show in Bologna that Christian Omodeo was co-organising, whereby there was another attempt at taking the art out of its original geographical and local context, and putting it into a museum, much like putting animals in a zoo, instead of leaving them in the wild where they belong. The pieces done illegally, or for certain neighbourhoods specifically, were consciously done with the understanding that they will only live as long as the quality of the paint used, or until a particular building would be pulled down. They were made for everybody to enjoy, and not to be sequestrated in an institution; the very antithesis of what they're about. There seems to be a form of neo-colonialism on one side, maybe with a bit of a "safari" mentality attached to it, with a cynical attempt to give it legitimacy by attaching the part of the Martin Wong collection to it . The people who were never down with us, but who think that they are better intellectually equipped to help us seem to think that we are morons who can't speak for ourselves. Yes, somebody likes me makes very long answers and sentences that require a lot of focus to digest, but I am being asked to squeeze forty years of history into sound bytes for people with a short attention, little care for historical and cultural detail, and more of a voracity for consuming images than appreciating a whole culture. And then we wonder why we're being asked more or less the same questions in interviews about things that happened decades ago...
When on top of all of this you start to see events like "The good the bad and the beautiful - innovative graffiti management for future European cities, with Graffolution", or "le Bel Echange sur l'Art Urbain", you really have to ask yourself about the level of co-opting that is going on, or why some people who used to be down back in the days, or that you may have collaborated with at some point, are either unknowingly fighting for the other side, or now pretty much willingly sleeping with the enemy.
Speaking of which, we shouldn't forget all these group projects done in "exotic" locations, such as Djerbahood, where 150 artists were pretty much parachuted on an unsuspecting holiday destination that was on the wane, post-Arab Spring and probably even more so after the Sousse attacks. For the life of me, I cannot understand why they couldn't use that same budget, carefully choose 15 artists who stand out from the crowd, and pay them to stay for a much longer period, build a relationship with the locals, and make site-specific work that looks less like street art that has been dropped like barrel bombs. I declined to take part, when I was sent the invitation e-mail. We allow short-sighted individuals who are more seeking personal glory, and wanting to establish their trophy wall to dictate how our collective culture should evolve; pretty much emptying it of its soul and relevance. Would you seriously like to travel the world to remote places and find yourself face to face with works from the same artists you've already seen in your home city? Are we going to subject the whole planet to this irrelevance, and then say, much like how GM crops contaminate the rest, that it is now fait accompli or self-fulfilling prophecy?
What we are also losing is the urban proximity of the art form, as well as its accessibility to just about anybody who wants to get down and play. Many decades ago, when people used to stand on subway platforms and a whole car would pull in, or why not even a whole train; somewhere in the back of some people's minds, they would have heard that youngsters go and steal paint, get into the train yards in the night, and produce this incredible work illegally in relative darkness. This realisation in turn would make some think, "Wow! I can do that TOO!"; so the art form contaminated the youth with the thought that they could do the most incredible things without having any money, or having to answer to anybody. This same "Fuck you!" mentality could therefore be transposed to just about anything else, and it kept the flame of anti-establishment very much alive, if not raging.
These days, when youngsters look at these huge cherry-picker murals, their thoughts would more be about the whole cost of logistics, the permission required, the insurance costs, the time required and so on. Oh yeah, people can also say, "Wow! What a great mural!", like Patti Astor in Wild Style; but in reality I find these murals to be trying to impress the public more by their sheer size than by their actual content. They are great feats of painting technique and artistry, bravery of heights and so on; but ultimately the background to all of this reeks of a "We need them" mentality, with regards to the authorities, so we won't have any anonymous superheroes anymore, like those whose names used to roll by on the trains, or whose murals would pop up out of the blue. And when it comes to the value of the art itself, the logistical costs far outweigh what the artists are being paid, when they're being paid at all. Aside from the purely neighbourhood murals funded by the locals themselves, who are actually calling the shots, and deciding what should be painted and where? I guess that this is why I still have enormous respect for Banksy and Blu; the Yin and Yang of what is being painted out there; but "art of the people, for the people" has pretty much ceased to exist, when I look at the rest of it; unless we can consider it a a pretty damning observation of the point to which pretty much everything has been domesticated by city authorities. I am no masked avenger going out there bombing every night; but I know what propositions to flat out refuse.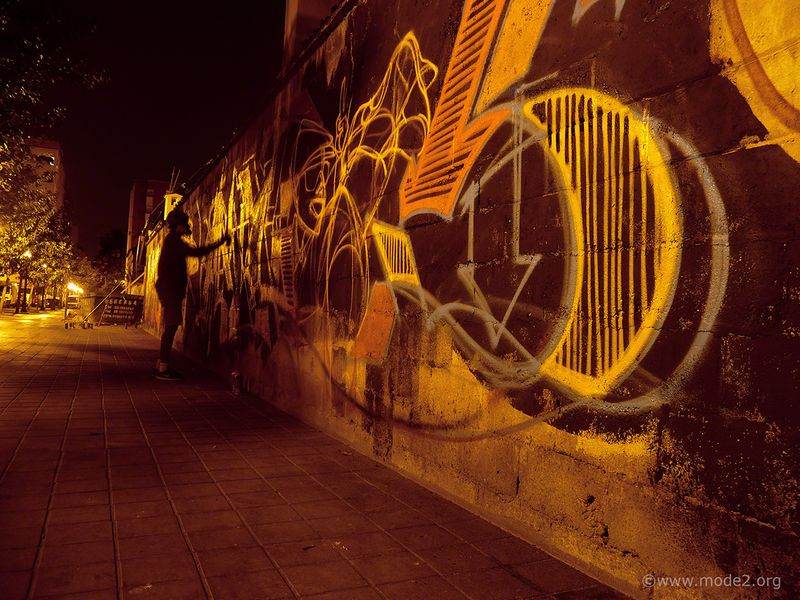 The Inspiration and Influences
WW: Who were your influences and whose work do you appreciate the most today?
Mode 2: Many of the writers from Subway Art were a massive influence on my beginnings in the culture. The names that made the most impact back then were Dondi, T-Kid, Futura, Erni, Zephyr, Kase 2, Duster, Lee, Mitch, Dez, Kel, and so on. There were many beautiful pieces in Subway Art, such as Seen UA's, or the Poem and Billy pieces on the front cover; but there's also a notion of rhythm that catches you more from some other pieces. It's a bit like whether or not you are more into DITC than DJ Shadow; a matter of personal preference over technical and artistic ability. The double-page with the Sonic-Bad, Quik, Spin and Disco pieces is incredible in its diversity; and the "Sonic" is what made me realise that I could build letters out of anything, going beyond what we may have seen up until that point with letters made out of wooden planks and so on. The Style Wars-Sab Kaze double-page, or the Kase 2 - El-Kay; those were all incredibly powerful pieces of art for people like me, and to imagine that these "things" used to roll in and out of subway stations, or be seen in transit, is something all of us who never made it to New York City before '85-'87 can only fantasise over.
There were also those who we didn't get to see much of in Subway Art, as they either were not on, or avoided Henry Chalfant's and Martha Cooper's radar; namely Phase 2 and Rammellzee. Pride from our crew was studying at Camberwell School of Arts in the early eighties, and would slice anything he could find on the culture out of magazines like Flash Art; going to the school library with a scalpel and performing extractive surgery on the rare pages with a hint of "graffiti", so we got to read interviews and see pieces and paintings that did not feature in Subway Art.
And yet, though many of us never got to New York, the photos of those pieces in Subway Art exported the energy to the four corners of the planet, and, as if NYC was a bottle of syrup, and we were all glasses of water, we all got a couple of drops or half-drops here and there. This is all we had to work with, but it was more than enough at a time when everything else that we knew, as in music, dance, and how you look, suddenly all seemed rather bland. So that's what we had that really kicked it off for us, and, once we realised that we didn't live in New York or Los Angeles (with regards to other forms of music and dance), we started to build our own interpretation of what we saw, heard, or otherwise absorbed. As I mentioned in a recent Facebook post though, you were pretty much stuck for certain letters, style-wise, if they happened to be the main letters from some of the NYC style-masters; like the letter "D" for me.
Years later, it is all too easy to just think of everything that we're doing being just "a style", but each of those styles used to have the name of the person who originated them, and were zealously guarded by the crew around these style-masters. We had a parallel situation happening in Europe, when Delta and Zedz INC began to work 3D into their letters, applying dimension literally, as opposed to adding depth to flat type. I think that the computer-rock style of the Kase 2-El Kay window-down in Subway Art was as close as it got. Erni was already exploring another version of this, while I had messed with 3D in my pipe-style (inspired by Sonic), as well as the letters I made for the French rap-group NTM in 1989, inspired by my brief stint working in 3D animation in 1987.
Since the advent of fanzines and jams, when we started to have our own media, and have events organised specifically with our culture in mind, we started looking more inwards than outwards, building a wall of mirrors than only sent back a reflection of ourselves, instead of looking beyond the horizon like we used to, always wanting the next thing to look and sound as new and different as possible, while keeping some link back to our roots. Every time that somebody smashed one of the mirrors and made a new exit point, they would get trampled under foot by the many who ran towards this new attraction, not even turning around to give any kind of credit to the person who innovated and originated. Our culture has been plagued by this ever since that time, and looking up to those who came before you, or recognising the debt you owed them, became a thing of the past. It was all about the "ME" and "NOW", not an "US" with a past to look back to, and a future that needed to be constructed together, as opposed to the free for all that it became…
Away from the writers themselves, I had many influences from my days of being into comics and heroic fantasy or science-fiction role-playing games, as it was an environment in which we all had to use our imagination so much; using the toolbox that these games provided and building our own worlds, our own characters, our own scenarios; the antithesis of today's video-games, where all the sound and graphics are provided, with those inventing these electronic games also setting the limits and parameters. It was an extremely enriching time back then, when we also painted lead figurines, built dioramas, went for and won competitions and so on.
With regards to fine arts, I have always felt as if the ghosts of the painters that I revered were forever hanging behind me when I was drawing, looking over my shoulder and criticising every wrong move that I'd make. From Michaelangelo, Leonardo, Raphael, Gentileschi, Caravaggio, then probably Klimt, Mucha and especially Schiele, who looked as if he was always drawing and painting using his wrong hand; gauche somehow, but always on point. There were also names like Bosch, Bruegel, Dürer, Delatour, Vermeer, Rembrandt, Velazquez, Goya, Degas, Rossetti, Millais, Holman Hunt, Courbet, Millet, Corot, Singer Sargent, Alma Tadema, Leighton of Stretton, Picasso, Modigliani, Toulouse Lautrec, Grosz, Zille, De Lempicka, Valloton, Bacon, Freud, Bellmer, Götz, and so on into the twentieth century…
With regards to artists from these days, there are also many names; some of which have clear influences from some of the names from earlier. Carolina Falkholt, Jenny Saville, Kara Walker, Theaster Gates, John Currin, Eric Fischl, Adam Neate, Jonathan Yeo, George Condo, David Choe, Futura, Shoe, Blu, Daze, Doze Green, Delta, Skki, JayOne, Smash 137, Revok, Todd James, Banksy, Eron, Rae Martini, Zero-T, Antony Lister, Os Gemeos, or Teach; and again, the list goes on.
Although I don't sit and stare at anybody's work for very long, I have stocked digital images from the web, and quite a collection of books, which I hardly ever open. I've been to see some exhibitions like Mucha in Milano, when I was there fr my Transitions show at Galleria Patricia Armocida, and I aim to go and see the George Condo show in Berlin before it shuts. I did go to see El Siglo de Oro recently, covering the golden age of Spanish painting. When it comes to anything related to writing, graffiti, or street art, I don't bother collecting images of other people's work, and would rather see it in the flesh, in its original context.
I am always afraid that my subconscious records what I see, and will make me regurgitate it in a less fulfilled version of the original, when I'm looking for ideas in my head. This may in some way affect my own originality, so I try to only briefly glance at works from other painters, artists and photographers. I spend the rest of my time feeding off of the people and situations that I see in real life, and letting music sculpt the rest.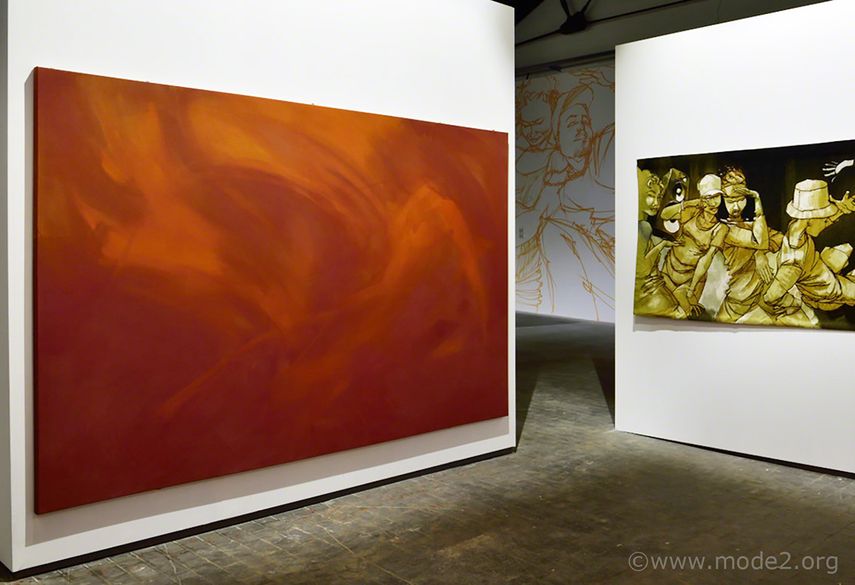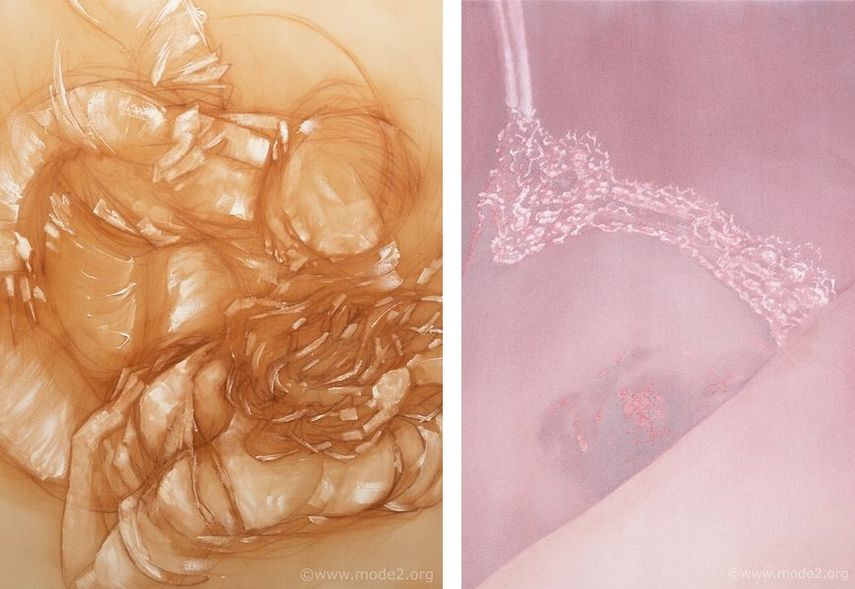 WW: Do you have any future plans and projects you would like to share with us?
Mode 2: There are some projects that I am working on, that I cannot talk about, so you'll have to wait and see what eventually happens with those. In this day and age, we should try to keep our cards as close to our chest as possible, because too many people with mobile devices want to make themselves seem important by being the first to report on some particular subject; even if the premature exposure will kill the actual project before it has grown enough to hold its own. That's one of the reasons why my intervention in the Lasco Project #3 at the Palais de Tokyo was called "Underground Doesn't Exist Anymore". So you may see me at some point in the future participating in an art project, but I guess you also like nice surprises, so…
With regards to my own personal projects, I would really like to eventually get myself a larger studio space, which would allow me to explore more movement-based painting, trying to catch the rhythm and dynamics of letters or characters in action, but in pretty much an abstract manner. I tried this on one of the large paintings I did at The Bridges Of Graffiti exhibition, as I had been talking about it to another artist friend years ago. He is a writer who used to dance ballet, and I was asking him why doesn't he just put pots of opaque acrylic paint, each with its own wide brush in, and simply express how he used to fly through the air when he danced. With everything that I have been explaining in this very long interview (it's my long replies, I know) about music, rhythm and dynamics; this field of exploration had been gnawing away at me for some time; though I'm not sure that the public, or the buyers for that matter, will actually get it. I would have to sell a few more paintings beforehand, so I can buy myself the free time to experiment and explore this direction further.
I would also like to further explore working with modelling paste, as I did for the first time on three of the paintings on show at Galerie Openspace. This is also a process that requires working quickly, applying the modelling paste to the acrylic binder on the canvas before it dries; so that it blends in with the pigment of the pastel that has been pulled by the binder itself. This was a first for me, having been wanting to work with volume since over a year, but not having had the chance to apply it yet. I had already bought some to use on the Backjumps 20+1 show, but then thought that it may be too heavy for the cardboard that I was painting on. I had been itching to give it a try ever since.
Another field that I would like to do is to take the eroticism a step further, but also towards some form of abstraction, by making paintings of close-ups of folds of skin, curves, maybe even moist flesh and body hair, taking it to a point where what I have painted would almost suggest the body's own smell, aroma, perfume; the same way that people imagine their own music to dancing figures. It is difficult to gauge at this point if I would be wanting a photorealistic rendering, which is neither my forte nor my wish; or instead go for a more expressive way of painting, bolder and rawer. I call it in French "la mémoire corporelle", which evokes a lot more than any English translation ever would.
I had been talking on and off with the guys from Dokument Press about the possibility of doing a book, so maybe we've finally reached that point where I should get into this, but that will take a lot of time to get together, and I'll have a lot of convincing to do, having left them out in the cold on that for five years. I respect them for their consistent quality output, so I would trust them more than publishers that I don't know… I have also spoken with somebody else about the possibility of a book based only around my sketches, whether in blackbooks or on loose paper; so that may be another avenue worth exploring, as what you do on paper, on canvas, outdoors, or as photography, can all be treated as separate entities. I have lived many different and parallel lives, which is why it is so very hard to give any short answers to some of the most basic questions that you can throw my way; so to try and squeeze everything into one book would make no sense...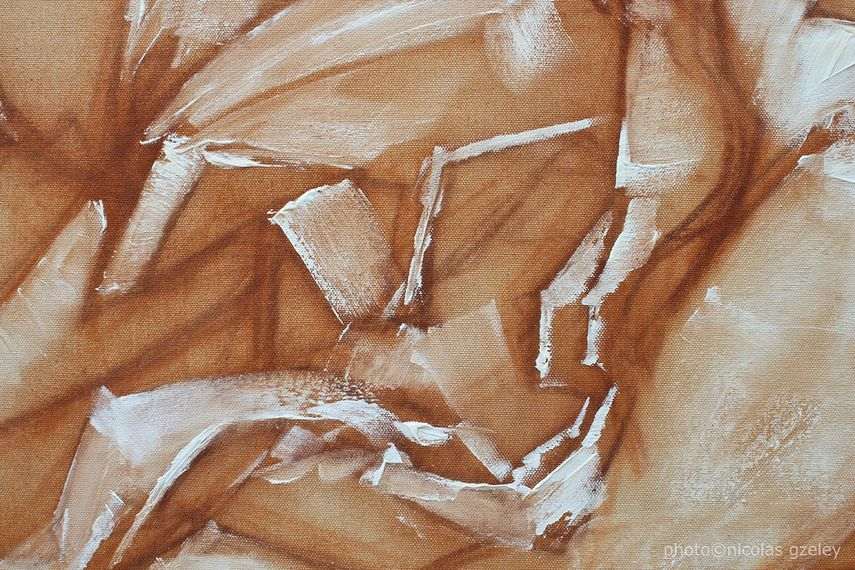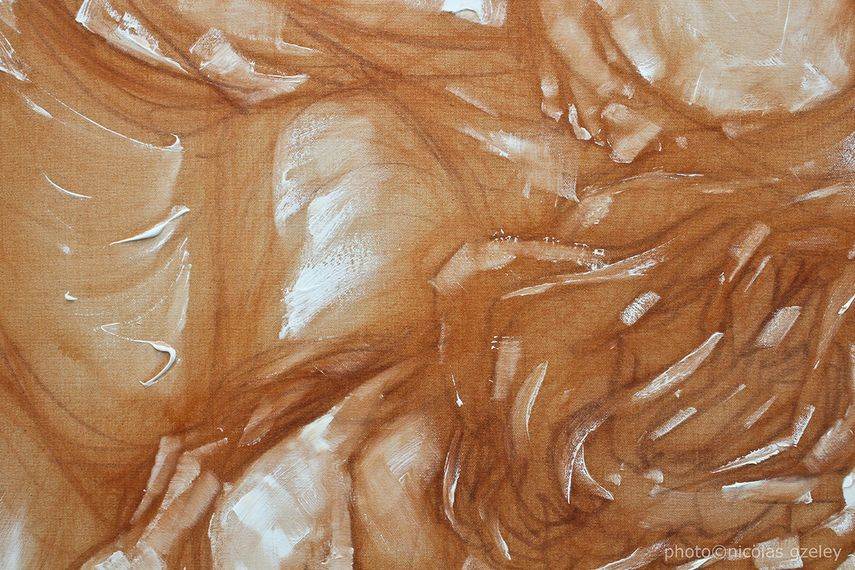 Featured image: Mode 2 by Laurent Gudin. All images courtesy of Mode 2.