Innovation in art is often characterized as a singular event that happens once and forever changes the course of what follows. However, the new ways of saying and doing things often arrive over years, if not decades. Sometimes, it takes a lifetime to become an artist and to have the work recognized.
The exhibition The Long Run currently on view at the Museum of Modern Art in New York taken from the MoMA collection acknowledges that artists can experience many breakthroughs in their work at any age. By chronicling the continual experimentation of artists throughout their practice, the exhibition demonstrates that invention is a result of sustained critical thinking, persistent observation, and countless hours in the studio.
Featuring works from the second half of the twentieth century, the showcase visits the later careers of artists, including familiar names such as Louise Bourgeois, Philip Guston, Jasper Johns, Georgia O'Keeffe, Andy Warhol, Lee Bontecou, Melvin Edwards, Gego, David Hammons, Joan Jonas, Helen Levitt, Elizabeth Murray, Gerhard Richter, Frank Stella, and many others. Broad-ranging in background and approach, all of these artists are united by continuously testing an expanding the boundaries of their medium.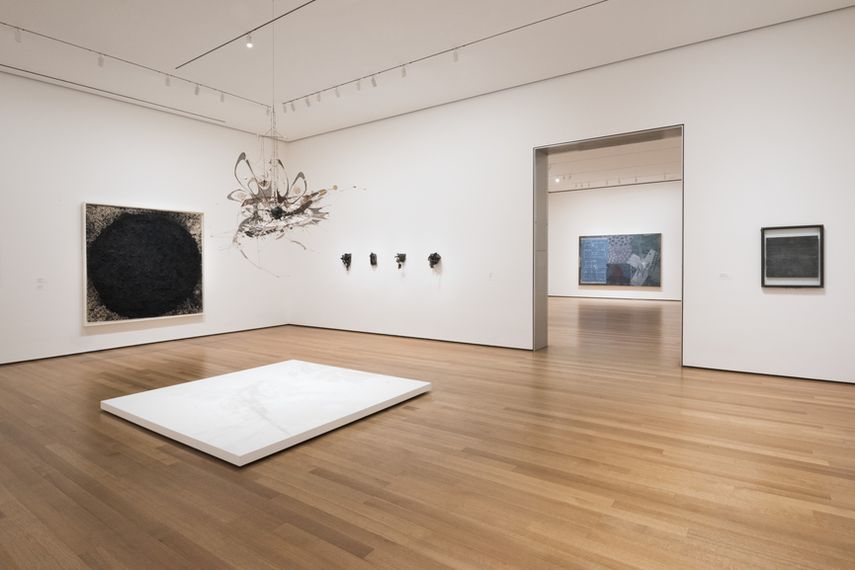 The MoMA Collection Celebrating All Facets of an Artist's Career
The exhibition features around 130 works of art spread throughout 15 galleries and hallways of museum's fourth floor. Majority of works have been made after 1970 by artists who were at least 45, and usually quite a bit older. The exhibition pays special attention to unexpected bursts of creativity towards the very ends of artists' lives, usually in their 70s and 80s.
The exposition swings between small solo exhibitions by artists that Museum collects in-depth and thematic groupings of artists usually represented in the collection by far fewer works. Offering another look at the history of art over the last half-century, the exhibition The Long Run celebrates everything that makes an artist's career - investigation, reflection, commitment, reconsideration, even the occasional about-face. It pays special attention to
Organized by Paulina Pobocha, an associate curator, and Cara Manes, an assistant curator, in consultation with their department head, Ann Temkin, chief curator of painting and sculpture, the exhibition The Long Run will be on view at MoMA until November 4th, 2018.
Let's take a look at some of the highlights of the show!
Featured images: Installation view of The Long Run, The Museum of Modern Art, New York, November 11, 2017–November 4, 2018. © 2017 The Museum of Modern Art. Photo: Martin Seck. All images courtesy of MoMA.
Georgia O'Keeffe - From a Day with Juan II, 1977
Creating a substantial and compelling body of work over the course of 70 years, Georgia O'Keeffe is now regarded as the mother of American modernism. However, when she started an intimate relationship with Juan Hamilton, 58 years her junior, it caused a real art scandal.
After Hamilton showed up one day at her doorstep to ask if she needed help around the house, it was a beginning of a relationship that lasted until her death, thirteen years later, at the age of ninety-eight. The painting From a Day with Juan II was created when she was 90 years old and depicts the Washington Monument.
Featured image: Georgia O'Keeffe - From a Day with Juan II. 1977. Oil on canvas, 48 x 36″ (122 x 96 cm). The Museum of Modern Art, NY. Georgia O'Keeffe Bequest. Copyright © 2017 The Museum of Modern Art /Artists Rights Society (ARS), New York.
Philip Guston - Source, 1976
Throughout his career, Philip Guston progressed from realism, to abstraction, and later to a highly influential style of cartoon realism. When he returned to figuration at the height of American Expressionism, he immediately experienced a fall from grace. In the eyes of the art world, his new style was seen as contradicting and mocking everything he had supposedly stood before.
Following the abandonment of abstraction late in his career, he created art eccentric and personal that actually pulled together formal and thematic elements from his entire career. Serving as an inspiration and a touchstone for generations of artists in the years since, this output is now regarded as his most authentic work. The painting Source from 1976 was painted when the artist was 63, only four years before his death.
Featured image: Philip Guston - Source,  1976. Oil on canvas, 6′ 3″ x 9′ 9″ (190.5 x 297.2 cm). The Museum of Modern Art, NY. Gift of Edward R. Broida in honor of Uncle Sidney Feldman. Copyright © 2017 The Estate of Philip Guston.
Louise Bourgeois - Articulated Lair, 1986
Exploring themes of domesticity, sexuality, and her childhood French-American artist Louise Bourgeois is considered as one of the leading sculptors of the 20th-century. Through the use of abstract form and a wide choice of materials, Bourgeois dealt with issues concerning universal balance.
In the 1980s, Bourgeois began to construct enigmatic sculptural environment she would eventually call "cells". Titled Articulated Lair, the piece can be entered and experience from within, where familiar and structural elements mingle. Informed by the animal world, the artist here explored the concept of the lair. As she explained, the lair is "a protected place you can enter to take refuge".
Featured image: Louise Bourgeois - Articulated Lair, 1986 (Installation View at MoMA); Painted steel, rubber, and metal; Dimensions variable, overall approximately 9' 3" x 21' 6" x 16' 1" (281.7 x 655.7 x 490.2 cm); Gift of Lily Auchincloss; and of the artist in honor of Deborah Wye (by exchange).
Jasper Johns - The Seasons, 1987
By representing common objects in the realm of fine art, Jasper Johns broke the boundary between fine art and everyday life. Guided solely by his own concepts and principles, Johns eventually established his own distinct style.
An artist of tremendous depth, Johns has employed a variety of materials, such as paint wax encaustic, charcoal, and ink, and sources, from popular culture and everyday objects and images to art historical and literary quotations.
In a series of prints The Seasons, Johns explores artifacts and seasonal symbols to represent the epochs of life and the cycles of growth and aging. A variety of motifs used previously in Johns' work appear, including a profile of Marcel Duchamp, a spiritual and artistic mentor to the artist.
Featured image: Jasper Johns - Seasons, 1987; four etching and aquatints plate: 19 3/8 x 12 7/8" (49.3 x 32.7 cm); sheet: 26 1/8 x 19 5/16" (66 x 49 cm); Gift of Emily Fisher Landau.
Agnes Martin - With My Back to the World, 1997
Early in her career, Agnes Martin developed an abstract geometric language that would endure throughout her long career. In the 1960s, Martin moved to Taos, New Mexico and found inspiration in the arid landscape and Zen Buddhism and Taoism, that contributed to her interest in nature. In her work, she aimed to capture the innocence and simplicity of everyday life.
Achieved later in her career, Martin's six-panel work With My Back to the World reflects her exploration of abstraction to communicate emotional and spiritual register as well as a formal one. Composed of delicately hued horizontal bands, the fields in the canvas evoke the colors of the desert and its stillness.
Featured image: Agnes Martin - With My Back to the World, 1997; Synthetic polymer paint on canvas, six panels; Each 60 x 60" (152.5 x 152.5 cm); Fractional and promised gift of the Ovitz Family Collection
Cy Twombly - The Four Seasons: Spring, Summer, Autumn, and Winter, 1993-94
Cy Twombly is best known for his large-scale, freely-scribbled, calligraphic and graffiti-like works on solid fields of mostly gray, tan, or off-white colors. An erudite, sophisticated, and emotional painter, Twombly focused on his immediate surroundings in Rome, responding to the beauty and history he found there.
In 1994, his Four Seasons arrived in New York from Italy for his retrospective exhibition at the Museum of Modern Art. Created while he was sixty-six years old, he metaphorically equated the rhythms of nature with the phases of human life. He chose Autumn to inaugurate the group.
Featured image: Cy Twombly - The Four Seasons - Spring, Summer, Autumn, and Winter, 1993-94; Synthetic polymer paint, oil, house paint, pencil and crayon on four canvases; Spring 10' 3 1/8" x 6' 2 7/8" (312.5 x 190 cm), Summer 10' 3 3/4" x 6' 7 1/8" (314.5 x 201 cm), Autumn 10' 3 1/2" x 6' 2 3/4" (313.7 x 189.9 cm), Winter 10' 3 1/4" x 6' 2 7/8" (313 x 190.1 cm); Gift of the artist
Gego - Sphere, 1959
A leading figure of Venezuelan abstraction of the 1960s and 1970s, Gertrud "Gego" Louise Goldschmidt believed that art is firmly rooted in spiritual values and that a creator is involved in a continuous process of discovery of the roots of the universe which he has been able to discover within himself. Using pure abstraction, she created art that always addressed the relationship between objects and architectural space.
The earliest work in the exhibition, Spehre was created in 1959 when the artist was forty-seven years old. This marks the first chapter in her thirty-year career, when she turned to sculpture, drawing and printmaking after a decade working as an architect. Throughout her career, she continued exploring sculptural volume and the expansive possibilities of line.
Featured image: Gego - Drawing without Paper 84/25 and 84/26. 1984 and 1987. Enamel on wood and stainless steel wire, 23 5/8 x 34 5/8 x 16 3/4″ (60 x 88 x 40 cm). The Museum of Modern Art, NY. Gift of Patricia Phelps de Cisneros in honor of Susan and Glenn Lowry. Copyright © 2017 Fundación Gego.
Joan Jonas - Reanimation, 2010-13
A pioneer of performance and video art, Joan Jonas often explored the possibilities of their combination. Always dealing with three-dimensional space, she expanded her spatial investigations in the 1990s with multimedia installations that combine video, drawing, sculpture, and audio components.
In collaboration with the composer and jazz musician Jason Moran, Jonas created Reanimation, existing both as a performance and an installation. Drawing from the qualities of Japanese Noh theater and on Icelandic writer Halldór Laxness's 1968 novel Under the Glacier, Jonas created a meditation on the evolution and uncertain fate of our ecosystem and its relation to human activity.
Featured image: Joan Jonas - Reanimation, 2010-12-13; Four videos (color, sound and silent) on custome screens within a prefabricated house structure, two custom benches (made by Ed Gavagan), and crystal sculpture; two wooden theater boxes with video (color, sound and silent); 15 ink drawings on paper; 3 oil stick drawings on paper, and 2 china marker wall drawings; Dimensions variable; Purchase, and acquired through the generosity of The Modern's Women's Fund, 2017
Marcel Duchamp - Female Fig Leaf, 1950
Throughout his prolific career, Marcel Duchamp challenged the very notion of what is art, sending shock waves across the art world that can still be felt today.
In the 1950s, he created a series of four small-scale erotic objects, including Female Fig Leaf from 1961. It is believed the sculpture is based on a mold of the exposed parts of the female figure of the other piece from the series Etant donnés. A reverse imprint of female genitalia, the piece is designated a "fig leaf", a term associated with prudery and censorship.
Having Duchamp as an inspiration from the beginning of his career, Jasper John gave this piece as a gift to the Museum in 1998.
Featured image: Marcel Duchamp - Female Fig Leaf, 1950; Electroplated copper over plaster; 3 1/2 x 5 1/4 x 5" (8.6 x 13.3 x 12.7 cm); Gift of Jasper Johns
Gerhard Richter - The Woods Series, 2005
One of the most important artists of the 20th and 21st centuries, Gerhard Richter has absorbed many ideas of several dominant movements, while remaining skeptical of all grand artistic and philosophical credos. Developing a distrust of painting's ability to accurately represent the world, this skepticism became the subject of his work.
The first series Richter completed after his 2003 retrospective at MoMA, Woods is comprised of series of dense and vibrant abstractions built from and marked by his signature technique of slathering paint with a rubber squeegee.
Featured images: Gerhard Richter - Woods (5). 2005. Oil on canvas, 77 5/8 x 52″ (197.2 x 132.1 cm). The Museum of Modern Art, NY. Gift of Warren and Mitzi Eisenberg and Leonard and Susan Feinstein. Copyright © 2017 Gerhard Richter