Living in image-saturated times means that anyone with a cellphone can take pictures, share them on numerous social networks, and scroll through endless albums of others. But what about photography as an art form? Are we able to actually see what we photograph? Moreover, can we manage to find value of certain images? New York's Museum of Modern Art calls it "visual literacy", and as the owner of one of the medium's most expansive collections in the world, it now offers an online photography course that will help anyone who's interested see and truly understand photographs. To do so, MoMA will present and elaborate on diverse ideas, approaches and technologies that are involved in the creation of an image, through lessons put together by Sarah Meister, Curator of the museum's Department of Photography.
An introduction to the MoMA Online Photography Course by Sarah Meister
The MoMA Online Photography Course - What Will You Learn?
Entitled Seeing Through Photographs, MoMA's online course consists of six sessions which explore 180 years of the medium's existence and the many ways it's been used throughout history and into the present day. Through six short films, four video conversations, sixteen audio slideshows, visits to artists studios, and more, the students can learn about what a photograph really is and how it can be used: ""as a means of artistic expression, as a tool for science and exploration; as an instrument of documentation; to tell stories and record histories; and as a mode of communication and critique in our ever increasingly visual culture." MoMA partnered with Coursera, an online platform which offers a great number of courses on many subjects, many of which were developed in collaboration with top universities and organisations.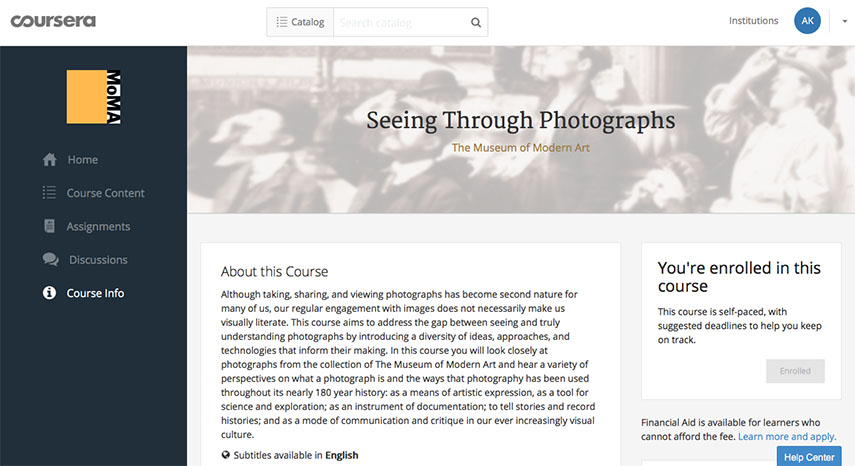 What Are the Lessons About?
To make MoMA's photography course as comprehensive as it is, curator Sarah Meister worked closely with a number of photographers, art professionals, MoMA educators, curators, digital media advisors and producers. As a result, the course content covers a total of six crucial themes, spread into six weeks starting February 10th, 2016. Each week consists of an introduction, readings and resources, video clips and other learning material, and a quiz where you can test your acquired knowledge. The course's lessons are: Introduction to Seeing Through Photographs, One Subject, Many Perspectives, Documentary Photography, Pictures of People, Constructing Narratives and Challenging Histories, as well as Ocean of Images: Photography and Contemporary Culture, with video conversations with artists Ilit Azoulay, Lucas Blalock, David Horvitz, and Anouk Kruithof.
The first week comprises a welcome video from the curator and the interview with Marvin Heiferman, author of the book Photography Changes Everything, while other talks, one featured every week, include Brazilian visual artist Vik Muniz, photographers Nicholas Nixon and Katy Grannan, and photo conceptualist Hank Willis Thomas. Also available are 16 audio slideshows, featuring interviews with artists like Tina Barney, Iñaki Bonillas, Harrell Fletcher, Mike Mandel, Susan Meiselas, Walid Raad, Martha Rosler, Thomas Ruff, Carrie Mae Weems, and Akram Zaatari, and curators Roxana Marcoci, Quentin Bajac, and Eva Respini (Chief Curator, ICA Boston).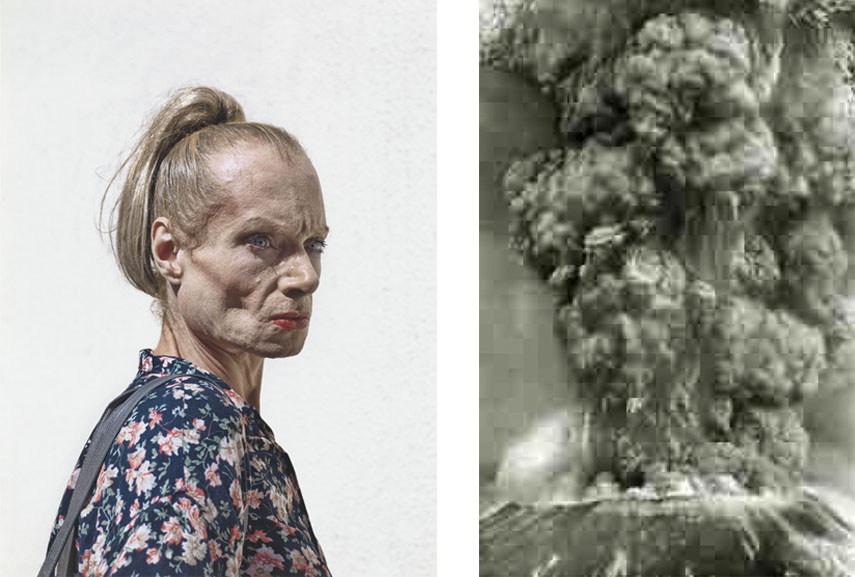 The Teachings of the Museum of Modern Art New York
As one of the most important art institutions in the world, the Museum of Modern Art has been taking its educational role very seriously. Their first online courses started back in 2010 through moma.org, and their teachings featured on Coursera have attracted over 200,000 learners to date. The thing that makes MoMA so crucial when it comes to photography is their experienced understanding of the medium, backed by, of course, their marvellous collection of prints, but also learning materials in form of books and publications. Among them, there will be those dedicated to the art of legendary photographers such as Ansel Adams, Alfred Stieglitz, Dorothea Lange, Cindy Sherman and Eugène Atget.
Due to the splendid variety of their work, the photo lovers and collectors alike will be able to understand the moment behind a photograph, the technique and the socio-political situation it was shot in, the significance it holds today and the influence it had on today's photographers and the art form in general, and much more. For someone who is thinking of jumping into the world of collecting photography, MoMA's online course seems to be the perfect start. All you need to do is head over to Coursera, sign up for an account if you don't already have one, and enroll. Happy learning!
  Editors' Tip: Photography at MoMA: 1960 to Now
The Museum of Modern Art has one of the greatest collections of 20th-century photography in the world. As one of three volumes dedicated to a new history of photography published by the Museum, this publication comprises a comprehensive catalogue of the collection post-1960s and brings much-needed new critical perspective to the most prominent artists working with the photographic medium of the late 20th and early 21st centuries. The book begins with an in-depth introduction followed by eight chapters of full-color plates, each introduced by a short essay. Over 250 artists are featured, including Diane Arbus, John Baldessari, Jan Dibbets, Rineke Dijkstra, William Eggleston, Lee Friedlander, Louise Lawler, Zoe Leonard, Helen Levitt, Sigmar Polke, Cindy Sherman, Wolfgang Tillmans, Jeff Wall, Carrie Mae Weems, Hannah Wilke and Garry Winogrand, among many others.
All images are from Seeing Through Photographs. © 2016 The Museum of Modern Art.