An impromptu gesture by the curators of the Museum of Modern Art (MoMA) in New York City made the headlines around the world in the previous weeks. Picasso, Umberto Boccioni, Matisse, James Ensor, Oskar Kokoschka, Francis Picabia, and Alberto Burri all went down to make room for artworks made by artists coming from the countries affected by the President Donald Trump's travel ban. Signed on the 27th January, but already suspended as US judges refused to reinstate Trump's executive order, the travel ban should have blocked travel for immigrants coming from seven Muslim-majority countries including Syria, Sudan, Iran, Yemen, Iraq, Somalia, and Iran. The ban should have also suspended the US refugee program for 120 days, and stop acceptance of refugees from Syria.
Although the election of Donald Trump as the 45th President of the United States provoked a series of responses from the art world, including the infamous call to strike that was criticized as elitist and futile, [1] the response from the foremost cultural institutions seemed to lack. This changed, however, at the beginning of February, when MoMA made its statement in a mode that intervened in the current political and cultural discourse in U.S., but also in a way that usurped the narratives and historical trajectories of the institution itself. But how effective this gesture is and what political potential it carries?
Read through the prism of current calls for diversity and inclusion, MoMA's gesture uncovers a problematic and conservative structuring of cultural industries which do little to productively tackle the regressive political decisions.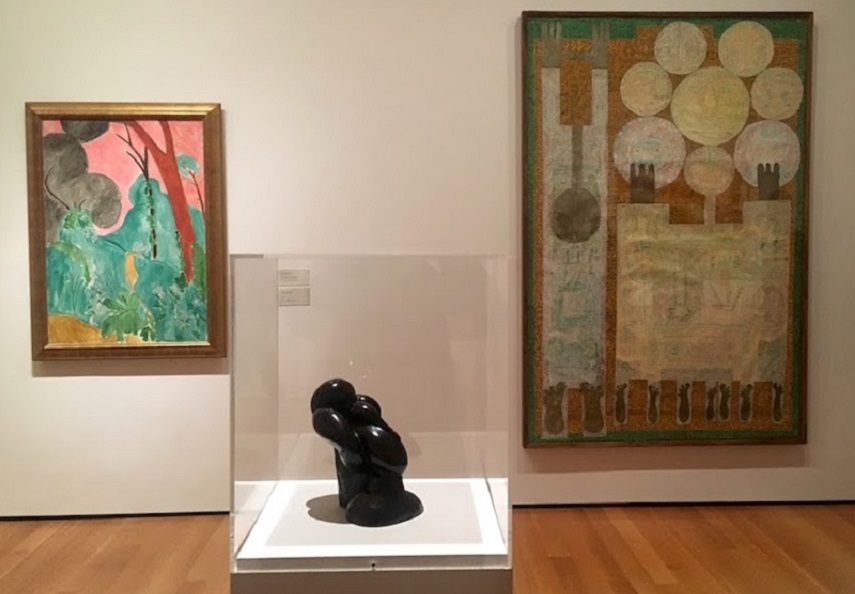 Muslim Countries Have (Modern) Art as Well
Although the Museum of Modern Art decided to include the artworks from banned countries in the galleries of its permanent collection, their placement at the fifth-floor galleries that display modern art up until the Second World War may seem as an unusual move, especially if we have in mind that the majority of the newly exhibited pieces belong to the later periods. Another issue at point here is the lack of any contextual framing besides the placards next to each piece that read:
"This work is by an artist from a nation whose citizens are being denied entry into the United States, according to a presidential executive order issued on January 27, 2017. This is one of several such artworks from the Museum's collection installed throughout the fifth-floor galleries to affirm the ideals of welcome and freedom as vital to this Museum, as they are to the United States." [2]
This lack of a deeper contextualization could be justified, to a certain degree, by a sudden decision to resurface these pieces and a short time span to plan and organize their placement. But at the same time, such a sudden decision haphazardly executed raises important questions if this 'event' could have been postponed until done in a more systematic manner that would grant these works an adequate consideration when included into the Western cannon of modern art.
An instant response conducted in the described manner seems aligned with different popular moves that mark current activism, often transforming it into a cultural sign that lacks tenacity. A quick decision by MoMA's curators Ann Temkin, Jodi Hauptman, and Christophe Cherix provoked by the ban, raises additional questions about the political potential of such a decision, and the type of politics it reinstates by offering to view pieces that say little more to an uninitiated observer than – Muslim countries have (modern) art as well.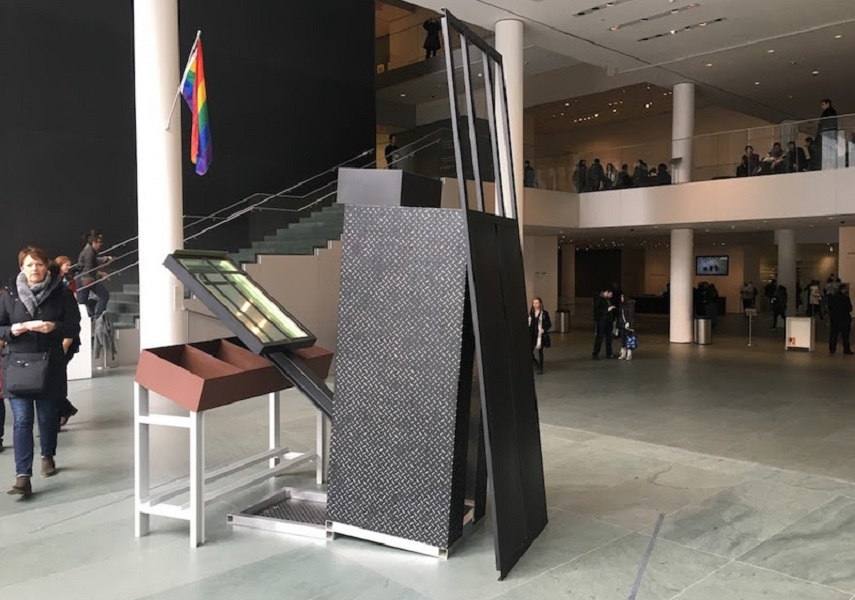 Cultural Industry and Diversity Production
While the previous statement may seem a bit curt, especially when general good intentions of the curators are taken into account, this does not vindicate the negative aspects the politics behind the rehanging of artworks contains. As Christophe Cherix explained: "The idea was to be inclusive and not disruptive… We wanted to have one [artwork] in each room to create a rhythm. It was more this idea of embracing those works within our tradition, within the narrative of our collection, within our values. Our galleries are also a platform where people can really think about the role of artists from those different countries within our own culture. The collection should also be reactive to what happens around us." [3]
Inclusive cultural politics adopted in this statement by Cherix is part of a broader problematic that marks contemporary cultural industry. Being included into something as opposed to being an active participant in decision-making regarding one's presentation, limits the potentialities of cultural productions, and constrains them to aesthetic presentations. The museum's decision does not address the power imbalances that created the situation that provoked MoMA to react in the first place.
From the above statement we see that values, traditions, and narratives of the 'host' culture provide a framework for inclusion of the selected pieces into a system which is little more than a system of superficial diversity that does not shift the existing power dynamics.
As Ghassan Hage explains: "…the diversity discourse within the cultural sector, has only created frames by which diversity is given 'permission' to exist under conditional inclusion. This is inclusion that is conditional on predefined, palatable criteria; a means to frame, describe and ultimately prescribe diversity through constructed visibilities." [4]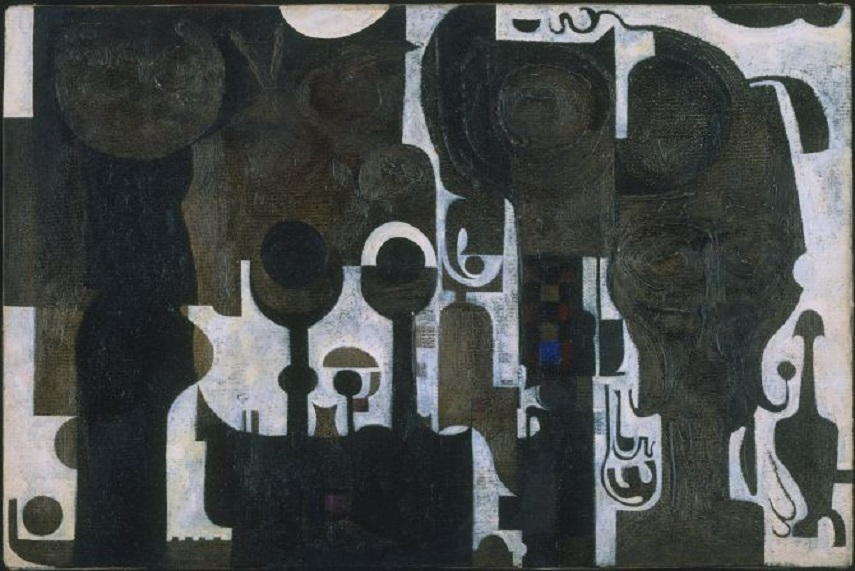 Imagining New Structures of Resistance after Trump Ban
Although several critics who already wrote about the rehanging of art from Muslim countries at MoMA went to describe and explain the shown artworks, including Ben Davis and Jason Farago of New York Times [5], this seems less important when broader structures guiding the politics of rehanging of the works is considered. Limited to a certain framework and within the system that enforces divisions and privileges certain narratives – MoMA is a good example of such a framework considering the history of the institution and focus on Western Modernism that they admittedly are trying to rectify in recent years – the story of each piece falls behind the culture of representation, that strips these works from a disruptive political potential.
Being representative of a certain culture that is deemed different but can be visually included into our system without disrupting it, divests the exhibited works by Tala Madani, Ibrahim El-Salahi, Zaha Hadid, Marcos Grigorian, Parviz Tanavoli, Siah Armajani, Shirana Shahbazi, and Charles Hossein Zenderoudi of their political significance within a given context.
It is not enough to be included into the exclusionary epistemic and discursive power structures as mere add-ons, but it is important to imagine and create new structures of resistance instead. Although rehanged with the idea of showing that museums remain open to everyone, and suggesting that many of the works at MoMA are made by immigrants and refugees, the curatorial approach of adding the artworks into the Western modernist narrative without creating its conceptual interruption leaves this gesture among the ones which lack stronger political stance considering the current situation.
References:
Jones J., (2017),

The 'art strike' against Trump is futile – cultural elites cannot affect change

, www.theguardian.com [February 17, 2017]
Brill K., (2017),

MoMa Removes Western Canon Pieces to Foreground Art From Countries Affected by Trump Travel Ban

, www.vulture.com [February 17, 2017]
Voon C., (2017),

MoMA Installs Works by Artists from Countries Targeted by Trump's Travel Ban

, hyperallergic.com [February 17, 2017]
Canas T.,

Diversity is a white word

, www.artshub.com.au [February 17, 2017]
Farago J., (2017),

MoMA Takes a Stand: Art From Banned Countries Comes Center Stage

, www.nytimes.com [February 17, 2017]
Featured images: A gallery at MoMA showing art from the banned Muslim countries, image via independent.com; A gallery  view at MoMA showing Parviz Tanavoli's sculpture The Prophet from 1964, image via tavosonline.com. All images used for illustrative purposes only.