The country of Luxembourg, although small, is home to one of the most beautiful towns with a great photographic history - Clervaux. This is where in 1994, the last existing version of the iconic 1955 exhibition The Family of Man took place, and where today many other events and shows honor the medium. One of them is Jardins, a project conceived to place photography in public spaces, particularly close to the town castle.
Between October 2019 and October 2020, the annual exhibition curated by Annick Meyer will put on view the works of Mona Kuhn, an established name in the world of portraiture. The Brazil-born, US-based artist is known for her intimate, sensitive shots, executed in large scale. In them, she experiments with nudity, texture, contrasts, light, forms both natural and man-made, in order to create tense, yet sensual visual narratives.
This could perhaps best describe Kuhn's series titled She Disappeared into Complete Silence, which the visitors of Clervaux will be able to see. Eleven of these photographs, featuring the female nude merging, overlapping, coexisting with its surroundings in the Joshua Tree desert in California, play with light both in terms of subject matter and the technical aspects, as they will be mounted on glass partitions and will be illuminated at night, giving this body of work new space for interpretation and enjoyment.
We caught up with Mona Kuhn in celebration of this exhibition, to ask her about this project and her relationship to Clervaux. She Disappeared Into Complete Silence is on view at Jardin du Bra'haus II, Montée du Château in Clervaux, Luxembourg until October 23, 2020.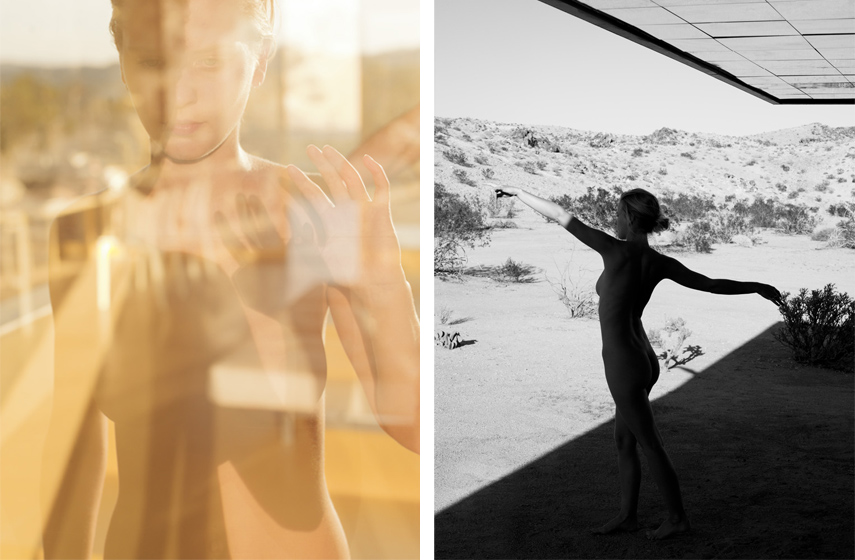 In Search for Light
Widewalls: What does the Joshua Tree desert in California bring to your photography, in terms of light and contrasts?
Mona Kuhn: The series is about a balancing act between the human scale, the desert landscape and geometric abstractions. So the desert light and landscape were pivotal in this photographic series. It offered many layers of unfolding metaphors.
For example, in addition to the golden desert light, I also really enjoyed working with variations of the same element: sand, glass and mirrors.  And once I brought the human element into it, the desert played a similar challenge, as it made it again so clear to us: we bloom and we also go back to dust.
The desert landscape is a perfect place to test one's existential understanding. While questioning it, I found some of the answers while creating the images.
Widewalls It would seem that an interest in geometry, patterns and a more abstract layout has grown lately. Is this a path you will continue to go down on?
MK: I am a fine art photographer curious about elements of representation but also about elements of magic we cannot easily define. I think about photography as a form of visual poetry, creating a visual vocabulary. I like to use the body as a source of inspiration, as a platform for metaphors, for intimacy and complexities of human nature, hoping to use the visual impact of provoking the viewer's imagination to encourage further thoughts than what is revealed.
For this specific series She Disappeared into Complete Silence, I was most excited about blending minimalism and abstractions. This is the first time where my visual narrative shifted from the nude expressed in the physical body to the abstracted expressions of the body. The desert light and glass architecture presented the perfect platform for a certain mix of California hedonism and surreal desert hallucination.
With every new series, I hope to continue to push forward my visual vocabulary, as a reaction to the world and to one's own sense of self.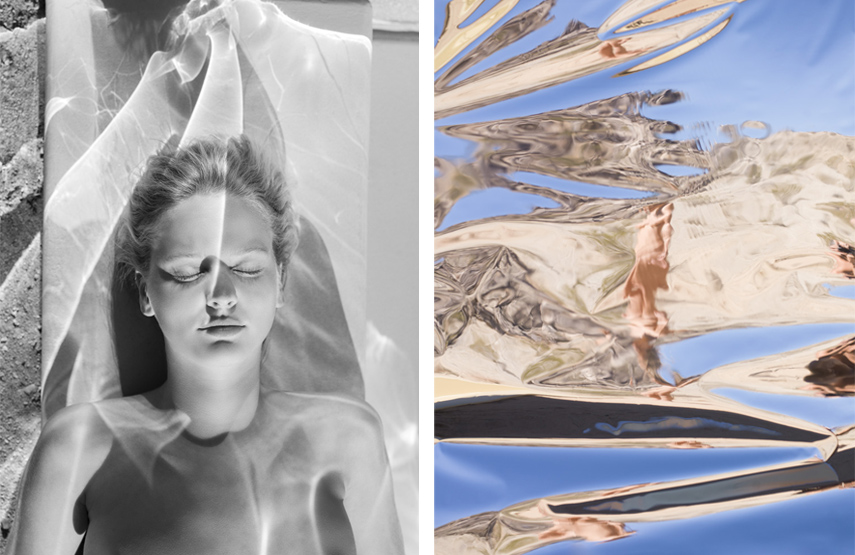 Mona Kuhn Photography in Luxembourg
Widewalls: The works in Clervaux are on display in public spaces. How would you say they would interact with this environment, compared to the traditional gallery/museum setting?
MK: In the last few years, and in addition to the gallery exhibitions, I started curating other artists' works to be displayed on billboards around main intersections of Los Angeles. It is exciting to bring art out of the institutional walls and into the streets. Considering the large scale billboards, my guiding motto was to stop traffic with art!
Recently, when curator Annick Meyer contacted me to be a featured artist in her annual exhibition around the gardens surrounding a castle, I just couldn't believe it! Clervaux is a beautiful town in Luxembourg, and the home to the last existing version of the famous exhibition The Family of Man assembled by Edward Steichen in 1955.
The selected works will be displayed in the immediate vicinity of the castle, in the center of the town. The eleven pictures will be mounted on glass partitions. The photographs are illuminated at night. The location has the appearance of a garden inspired by the historic planting that surrounded the castle in the past, and is sure to be stunning!
It is a real honor for me to be included in this year's exhibition, and a real pleasure for my works to be displayed not inside the gallery/museum walls but all around the gardens!
Widewalls: Could you tell us about the process of artwork selection for this occasion?
MK: I worked closely with curator Annick Meyer at Cite de l'Image in Clervaux. When she approached me, Annick already had a curatorial direction in mind, that she shared with me. The new installation and concept is called Still Light and is meant to examine the different situations, phenomena and qualities of light.
Together, we selected 11 works from series She Disappeared into Complete Silence, published by Steidl in 2019.
Widewalls: Have you worked with curator Annick Meyer before?
MK: This was the first time, and we hope to continue...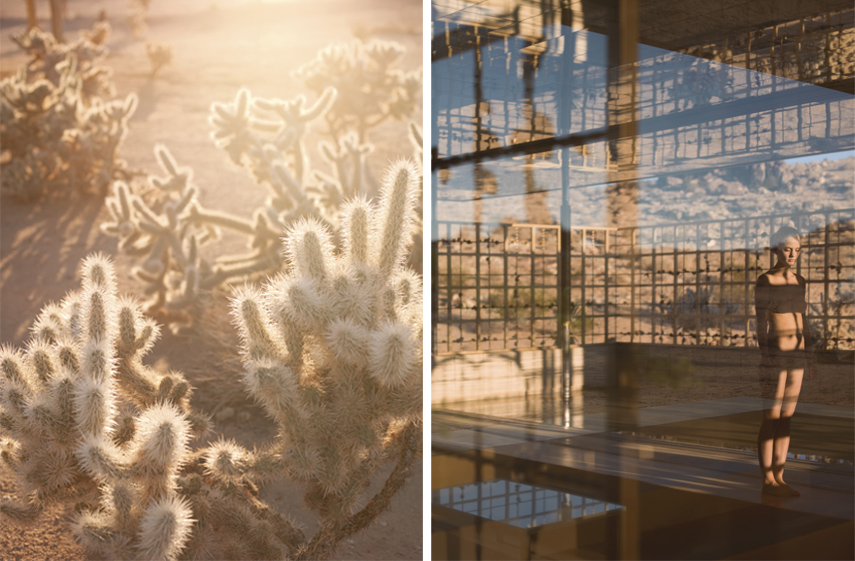 Looking On
Widewalls: With twenty years of experience in the field, how would say photography has changed during that period? Where is it now?
MK: Photography is a modern medium, and as such it evolves constantly.
I started photography at 12 when my parents gave me a camera for my birthday. That same day, I started photographing portraits of my close friends.  The professional part of it came much later, as my passion for it grew over the years.
From all the art forms, I like photography because it is fast and democratic, everyone can do it. Now the challenge is: how do you do it differently than everyone else? That is where the creative journey starts, in learning about yourself and expressing it through the medium of your choice.
Widewalls: What's next for you?
MK: I am currently working on a new photographic series, with parallels between 1920's surrealism, architecture, LA avant-garde and dreams. It will be published by Steidl in 2020. Its first exhibition opens in an art institution, where we will bring together stills and video installations, with multiple displays.
Just last week we met with the install experts and conceptualized ahead ideas to push forward boundaries of how photography is presented. Stay tuned!
Featured image: Mona Kuhn, self portrait. © Mona Kuhn. All images courtesy the artist.