The Fondation Beyeler in Basel is announcing its exhibition on the Impressionist Claude Monet as a "festival of light and color". Clicking through the site in search of more information, you will eventually discover the accompanying program titled Monet in the Morning. They describe the offer like this: "Early risers can enjoy the works of Claude Monet in morning tranquility. Start your day with a curator's tour (lasting 75 min.) or an accompanied meditation (ca. 30 min.) inside the exhibition". The exhibition itself sheds light on the French painter's artistic development from the period of Impressionism through his famous late period. The accompanying program is completely sold out. We talked to the curator, Dr Ulf Küster, about why more and more museums and galleries are including yoga in their programs, and about why he is traveling about with Instagrammers searching Normandy for traces of Monet. And Küster tells us about painting's advantage over photography - even though he believes Monet himself may have envisioned something like drone photography.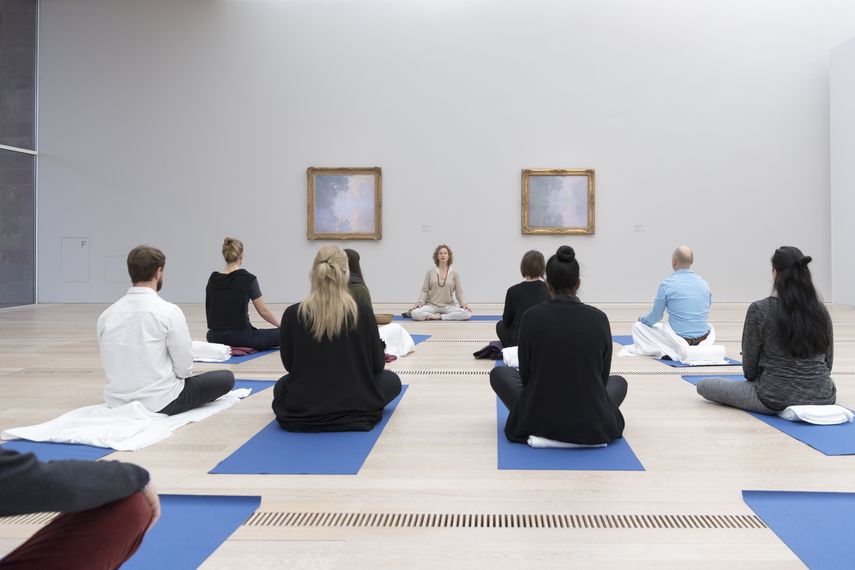 Yoga in a Museum
Anika Meier: Mr Küster, how do Monet and yoga fit together?
Ulf Küster: Good question. Yoga and Monet have nothing to do with each other. Monet certainly never had the faintest thought about yoga. Yoga already existed in Monet's time, but I don't believe it did in Europe. Yogic meditation and the topic of meditation fit Monet nonetheless because his paintings were preceded by a meditative process. Monet's question is how to represent the changing of nature. This is only possible by projecting oneself into the object and observing with great precision. In a figurative sense, observation does indeed have something to do with meditation.
AM: Do we really need people meditating in museums?
UK: Not at all. When I go to a museum, I can stay there for a long time; eight hours in the Louvre fly by - for people like me. Personally, I don't need an invitation to do yoga or meditate in a museum. But museums are increasingly becoming places where we go to fulfill a desire, places that are completely different than the world outside. People go to museums because they are places of otherness in the sense of "experiencing another world", a world distinct from the hectic bustle of daily life. If someone isn't used to going to museums and looking at images, guidance can be helpful. Contemplating images always means contemplating oneself. It is images we contemplate, but in doing so we are engaging with ourselves in a very altruistic way.
Meditation in the museum also has a totally practical motivation. I am often asked when very popular exhibitions like the Monet one will be relatively empty. The honest answer would be: hopefully never. As a private museum that receives little public funding, we are dependent on high visitor numbers. Our deed of foundation clearly states that art should be shown to many people and that young people, in particular, should be interested in it. This gave rise to the really quite obvious idea of opening the museum in the early morning, but only for 30 people. We now do this once every 14 days. Tuesdays between 7:30 and 9:00 a.m. we offer a curator's tour and meditation — yoga or Zen. Simply in order to enable the visitors to find the tranquility, they are actually looking for in the museum and in relation to art. I'm not at all surprised that it sold out so quickly. People seem to have a deep need to engage meditatively with art in a guided way.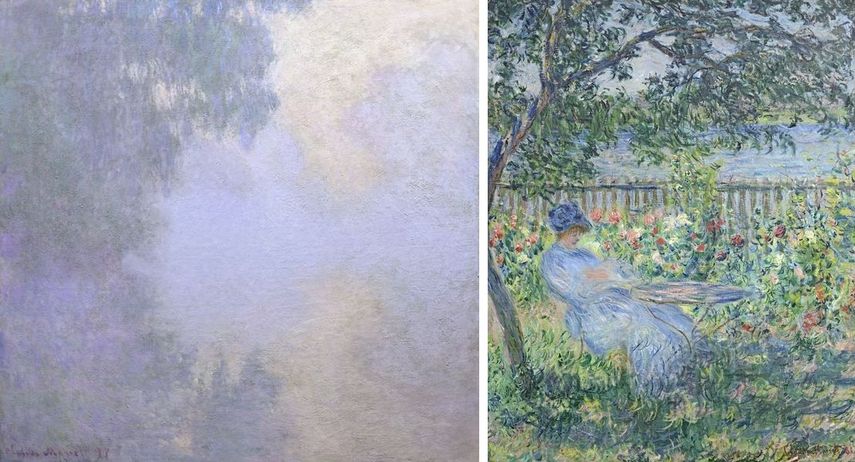 Monet and Meditation
AM: Who would take advantage of such an offer? Museum visitors who want to experience art in a different way? Yogis who want to get out of the yoga studio?
UK: Many yogis are potential museum visitors. Yogis won't come to the museum because they want to try out the Monet exhibition as their new yoga studio. Very many people who come to a meditation will be practiced and will recognize the opportunity. People who think, ah, it's a chance to be alone in the exhibition, they will come to one of my guided tours. It's amazing how many participants come from very far away. From Munich, for example. Yoga, breakfast and a visit to the park afterward are an opportunity to identify with the museum.
AM: Are there works by Monet that are particularly suitable for meditation?
UK: We meditate in front of the paintings of the morning mood on the Seine. I have since been to this exact place. Monet shows a situation that is perfect for really coming down all the way. The rivers are flowing into one another in the same way as the images flow into one another. On the one hand, it's a mirror image, on the other hand, a reflection of a mirror image is always also a way of contemplating the image in itself, or reflecting on the situation or on ourselves. So these are images that are particularly well-suited for meditation.
Contemplating almost any image by Monet requires an intensive, if not meditative engagement. The fact that the viewer interacts with the image in this way reflects the work of the painter. The more I think about it, the more interesting it becomes to me. The way it starts, as I experienced it as a kid, is that when you are standing in front of a painting, you see a lot of paint.  And then you step back and it congeals into an image. That's impressionism. The books about impressionism all say it's about the arbitrariness of the way the image is cropped. Of course, that's not it. The process is really important, the way Monet chose the situations he painted.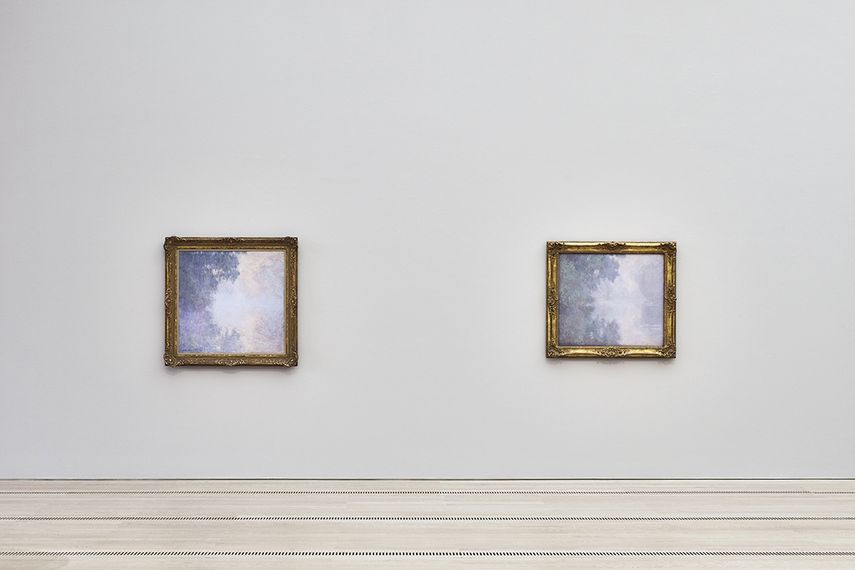 Following the Trail of Monet in Normandy
AM: You recently approached Monet in a different way. You were traveling with a small group of Swiss Instagrammers… to be precise, you were pursuing traces of Monet through Normandy. How was your trip?
UK: I'm a little clueless when it comes to social media. I don't have the time or the nerve to really do the Instagram thing. And then I think, it's always just a single format. It's all rather difficult.
They were at any rate interesting people, the kind of people who tend to travel with backpacks and get up at 3 a.m. to take a photo. It was new to me that there's a community online, the kind of thing where you always have to post a picture with feet in it. That kind of uniformity strikes me as somewhat questionable.
The trip was great, the results were exceptional — really great landscape photos made in sometimes crazy ways. Most of them had one drone with them that they didn't manage to sink in the ocean. Monet may have dreamt of something like drone photography, but of course, I don't know. Again, it was really nice to see how Monet is the one who actually invented these photos. Aside from one of these coastal cliff arches that somebody like Courbet had already painted, he was the first at everything. He also made these places accessible to photography. Monet saw it first, then the photographers came and made their postcards and their fabulous landscape photos.
AM: Landscape photographers on Instagram can hardly be distinguished from each other anymore, if we take the German Roamers, a loose-knit group of German Instagrammers, as our example. In order to garner the likes that bring commissions from big companies, all the photos have to make you go "Wow!"
The sharing of images on Instagram is an interesting phenomenon. It's somewhat comparable to what all Monet's images wanted to have that were painted in a certain style – let's call it impressionism. Despite my fascination with landscape photography, I, of course, have to say that I absolutely prefer the idea of the painted image, of the atmosphere captured by Monet. The atmosphere question in Monet's painting can be felt very acutely on the scene; so can the process which brings forth a painting. I see this as an advantage painting has over photography. Photography is also a process, that's clear, but it's a process that ultimately takes a backseat to the idea that photography shows reality. Photography still suffers from the notion that it shows reality.
AM: When you are following the trail of Monet in Normandy with Instagrammers, is that digital art communication? Or yoga in a museum: is it art, sport, performance, participatory art education?
UK: Yes, it's about art communication! We absolutely have to react to social trends and phenomena like social media. The people we are trying to reach for the time-honoured museum that is always reinventing itself — in the long term, this leads to the feedback that is very important to us. In a way, we are trying to create customer loyalty. People should still have the feeling that a museum is a place you visit because you experience something different there, something new and exciting that you can't experience anywhere else. Yoga in the museum is no doubt a way to show people this aspect, that immersing yourself in images is worthwhile even without guided meditation. Or that you can use images as a starting point for meditation. And people who are primarily engaged with Instagram can be convinced to engage with museums or with other kinds of images. It's important to us that parents go to the museum with their children or that grandparents go with their grandchildren. Instagram and yoga are opportunities to open windows for a new way of experiencing the museum.
Translated by Dr. John Koster.
Featured images: MONET IN THE MORNING - Mediation at the exhibition of Monet at Fondation Beyeler, 2017, Courtesy Fondation Beyeler.