Paintings, collage, mixed media works and installations of Monica Canilao emerge along with her site-specific work, found objects, paper works, quilts and photographs, telling the story of eternity, universe and everlasting cycles of spiritual life. Born From Ruins will be the first Los Angeles exhibition for the Oakland based artist, presenting a vast and diverse collection of her work, of which the Shibari themed photography will be shown for the first time in public. The show is hosted by Subliminal Projects, opening on June 7 and running through July 5, 2014.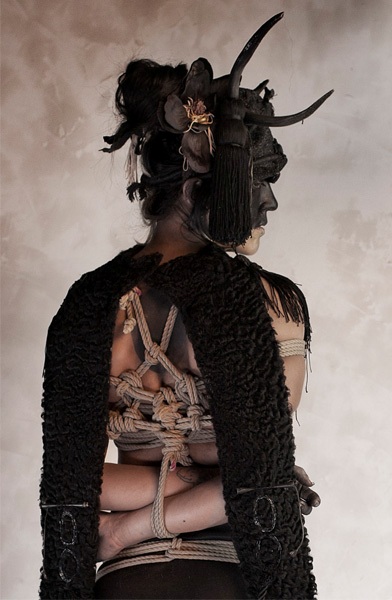 Subliminal Installation
The site-specific installation will encompass the entire gallery space, in which the artist will weave objects she found and preserved on her travels especially for this occasion. The recycled materials Monica Canilao uses evoke her past lives and experiences, people she met, places she has seen, her reminiscing and her present environment. On her own example she ponders on the deep relationship of humans and nature, while trying to determine our place on Earth.
Each time she exhibits, Monica Canilao displays evolutive steps in creation. Her work is constantly location-bound, while referencing historical art movements, such as 19th century parlor portrait painting, this time made with unexpected recycled tools. Narratives she brings to life are layered with gender topics and personalized histories. Painted birds or painted quilts each represent a different problematics, investigated through the artist's particular and elegant expression.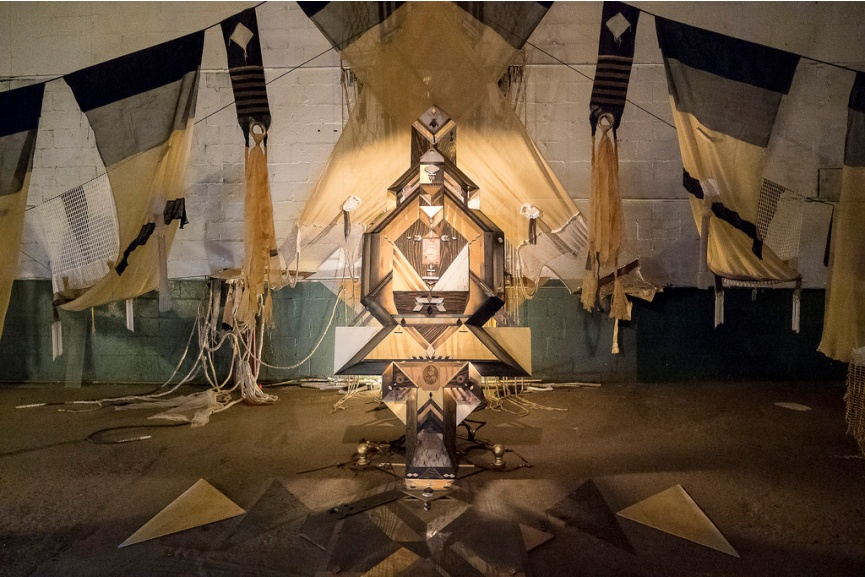 Crystalline Past
The centerpiece of the gallery installation will be a crystal coffin, emitting light from within and surrounded by dark, woven walls. It is the clear and powerful symbol of dealing with loss and acceptance, while life never stops.
Premiere of the Shibari inspired photographs will showcase a collaborative series the artist made after attending the mystical bondage performance. Her photographs display an aesthetics of the rope and body connection, exuding sensuality, oddity, vulnerability and power simultaneously. The photographs are therefore the result of a performance which served the artist as a channel to battle her emotional hurt and empower herself on a different plane.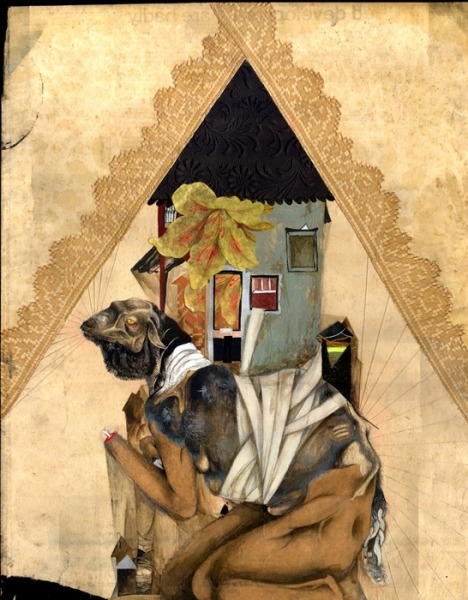 Monica Canilao
Monica Canilao is a prolific artist from Oakland, devoted to documenting current and past histories by compiling series of found and interesting objects. These testimonies of the past are combined with painting, sewing, building and other creative processes through which she combines and transforms them into figurative, recognizable imagery, portraying her own system of totems.
Her inspiration comes from observing indigenous peoples, native traditions and contemporary subversive cultures, while she investigates the links between them, referring to relations between different periods, individual and communal and secular and holy. She graduated in 2005 from the California College of Arts and Crafrs and her work has been exhibited nationally and internationally. Last year, she won the Eureka Fellowship by the Fleishhacker Foundation. Her career encompasses teaching as well, with classes held at the Berkeley Museum and the San Francisco Day School.
Officially based in Oakland where her studio is, Monica Canilao spends significant portions of her time in Detroit, while always tending to be on the move, while creating wherever she goes. Presently, she is involved in a Detroit based project opening this July at the Seafoam Palace of Art & Amusement.