Founded nine years ago, Moniker Art Fair is London's only contemporary art fair with its roots embedded in urban culture. The event is dedicated to spotlighting emerging and established talent from a burgeoning contemporary art movement characterized by its subversive and innovative spirit.
The acclaimed fair is now making a debut in New York with some of the world's most renowned urban and contemporary artists and galleries. As a city with a long history of urban and contemporary art, New York makes a perfect place for the fair's international debut. Taking place between May 3rd and May 6th in the industrial space of Greenpoint Terminal Warehouse, Moniker Art Fair New York will bring together 27 exhibitors presenting the best of international galleries and individual artists from all around the world.
This edition will be carnival-themed, embracing its interactive, immersive and participatory elements. Promising to be nothing short of spectacular, the fair will offer a sensational environment for artists, galleries, collectors and art enthusiasts.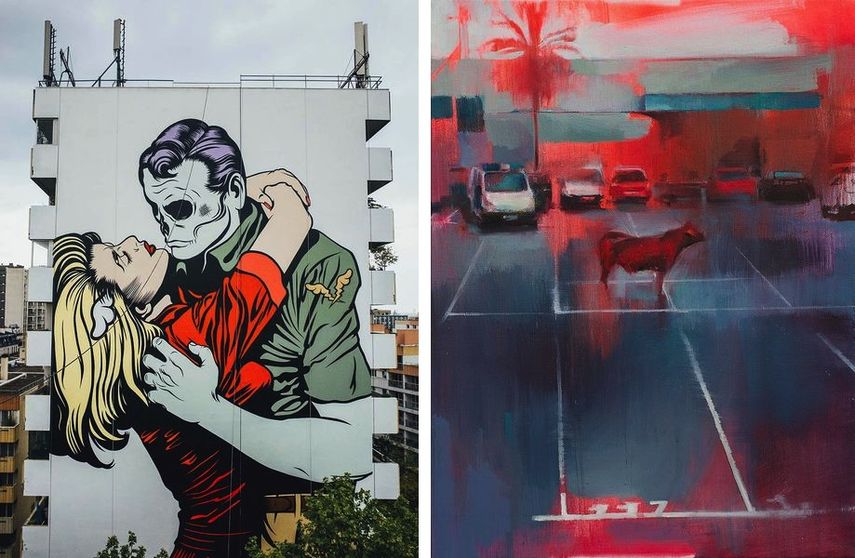 Solo Artists at Moniker Art Fair New York
In addition to the exciting exhibition program, Moniker Art Fair New York will also feature solo presentations of acclaimed artists from both the finer side of the street art movement and its related subcultures. Known for a curated, experiential and immersive focus, Moniker will create unique settings for the display of artists and their work.
Participating solo artists are INSA from the UK, Egle Zvirblyte from Lithuania, Skewville from NYC, D'Face from the UK, Icy and Sot from Iran, Brusk from France, Jose Miguel Mendez from Spain, Yok and Sheryo from Philippines and Australia, Derek Gores from California, ASVP from NYC,Gabriel Specter from NYC, Bom.K from France, Vermibus from Spain and Faith 47 from South Africa.
Thanks to Moniker, some of these artists will have a solo show in New York for the first time. Let's see who they are.
Featured images: Icy and Sot - Untitled at the lot radio. Moniker Installation Artists; Icy and Sot - The New American Flag. Moniker Installation Artists; Icy & Sot - Fence Installation. Moniker Installation Artists; Left: Eyejammie - Markdrew, 2009. SPOKE ART Gallery / Right: Fin Dac - Yuansu. Jewel Goodby Contemporary; Tim Conlon - BC80 BM. Roman Fine Art Gallery; Papay Solomon - Diluting Dreams. Creative Debuts. All images courtesy of Moniker Art Fair.
Vermibus
A Spanish contemporary artist based in Berlin, Vermibus uses the public space as a channel to criticize the aesthetic value of the consumer society. Collecting advertising posters from the streets, the artist transforms them and reintroduces them back into their original context, hijacking the publicity and its purpose.
This year, Vermibus will feature as one of Moniker's Open Studio spaces that will provide a unique chance for the audience to see him at work. In the work that the artist will create for Moniker, he will turn his attention to the philosophies of Ernst Cassirer, exploring the ways humanity has become a slave to its over-development over sentience.
Featured images: VERMIBUS - Unveiling Beauty. Mark Rigney; Unveiling Beauty. Mark Rigney
Bom.K
A Parisian-born artist, Bom.K is best known for paintings based mostly on his highly detailed pencil sketches. Being a part of the urban art and graffiti scene since 1990, he is a co-founder of Da Mental Vaporz (DMV) crew. Initially influenced by artists such as James Prigoff, Henry Chalfant and Martha Cooper, he has earned his reputation for creating brutal, dirty and aggressive depictions of the world through huge, sinister frescoes.
The work he will create for Moniker is a hybrid combining gonzo art and nude bodies and will be painted onto cinemascope size canvases. At Moniker NYC, the audience will have an opportunity to buy a print release exemplifying Bom.K's recent output.
Featured images: Bom.K, via subenysuben.com; Bom.K - Chair sous tissu et harmonie. Moniker Open Studios
Brusk
The French artist Brusk is best known for his dripping style that combines a calligraphic work in 3D, characters and tagging. Beginning to paint in Lyon at the age of 15, he is today regarded as an artist at the top of his game. The balance of his compositions is based on a subtle space management, voids, accumulations, materials, and multilayered plans.
The artist will be presented at Moniker's New York edition by Jonathan LeVine Gallery from Jersey City which has nurtured the careers of many celebrated artists.
Featured images: Brusk; Brusk - ROD1, 2015. Jonathan Levine Projects
Hera
A German artistic duo, Herakut is a fruitful partnership between the classically trained painter Hera and the graffiti artist Akut who have merged their individual approaches influenced by graffiti and street art. In Herakut's dialogical creative process, Hera creates gestural, emotional figures in a freestyle manner using tools such as spray cans, brushes and her hands, while Akut creates hyper-realistic images of animals and flesh using only a spray can.
Hera will be presented at Moniker Art Fair NYC by Vertical Gallery, Chicago's premier urban-contemporary gallery. She will be presented as both a solo graffiti artist and in collaboration with Akut (as the crew Herakut). An artist who believes that graffiti saved her life, she teaches it to any child who needs a cure from feeling invisible.
Featured images: Hera; Hera Mural, via ilovestreetart.com
Hebru Brantley
A Chicago-based artist Hebru Brantley explores personal and cultural memory in his art. He is known for creating narrative-driven work revolving around conceptualized iconic characters.
Working with a variety of different surfaces and media, Brantley uses these characters to delve into political and social issues with a conscious focus on playful insight and optimism, as well as possibilities of youth. Combining pop-art motifs and characters, his work insists on a contemporary and distinct narrative.
His work will be presented by Vertical Gallery as their second solo show at Moniker Art Fair NYC.
Featured images: Hebru Brantley; Hebru Brantley in Hawaii, via streetartnews.net
Egle Zvirblyte & Jose Miguel Mendez
A Lithuanian artist and illustrator based in London, Egle Zvirblyte has been creating a fun world of bright-eyed characters where every day is a street party and everyone's invited. The artist herself sums up her work as "bright, sweet and a juicy world of offbeats".
On the other hand, the Spanish-born and London-based artist Jose Miguel Mendez creates work characterized by a colorful palette, bold shapes, wavy line and great use of contrast.
These two artists will be presented at Moniker as part of the dual Open Studio, inviting guests to step inside their creative processes.
Featured images: Jose Migel Mendez - Follow Your own Path. Moniker Open Studios; Jose Mendez - Tropical Desire. Moniker Open Studios; Egle Zvirblyte - Tiger Rider. Moniker Open Studios. All images courtesy Moniker Art Fair.