London's premier event for contemporary art with its roots embedded in urban culture, Moniker Art Fair celebrates its 10th year anniversary, presenting a truly unique opportunity for veteran and first-time collectors to view and invest in the rapidly growing movement of urban and new contemporary art. Moving to a new location in Chelsea, the fair will take place between October 2nd until October 6th, continuing to push the narrative of urban art, and its role in the London art scene.
This year, the fair continues its collaboration with Urban Nation Museum, a wide-reaching, international institution that seeks to rethink the classical museum concept and help re-shape structures. As part of this partnership, Urban Nation will curate its Installation Hall with British artists presenting work dealing with England now, Brexit and the future for today's youth. Titled The English Edition "Dear George the UNion is Cross", the exhibition features 14 international artists.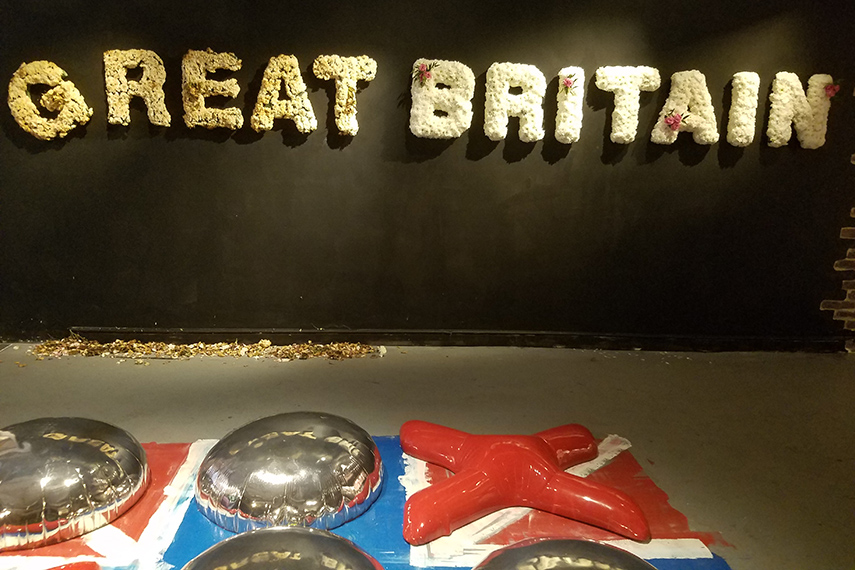 Moniker x Urban Nation
The exhibition brings together a truly stellar roster: Pure Evil, Sebastian Burdon, Snik, Nomad Clan, Tankpetrol, James Klinge, Dr. d aka subvertiser, Hayley Walsh, Fanakapan, Dotmasters, Eelus, and Prefab77. All of these artists will have a distinct exhibition space in which to present work focusing on the country's state of play. As part of this curatorial exchange, Moniker presented the exhibition of the US-based artist 2Alas at the Project M space in Berlin.
Tina Ziegler, Fair Director of Moniker Art Fair, highlighted the importance of uniting and celebrating our differences in times of uncertainty:
Through our unique curatorial partnership with Berlins' Urban Nation Museum, we are able to continue to build on our local foundations, while benefiting from such a rich cultural exchange. We are honored that Urban Nation has chosen to spotlight British Artists for our 10th anniversary fair - a perfect example of the encouragement UK artists receive from EU curators and institutions.
To find out more about this collaboration, we had a chat with three participating artists - Eelus, Pure Evil and Snik.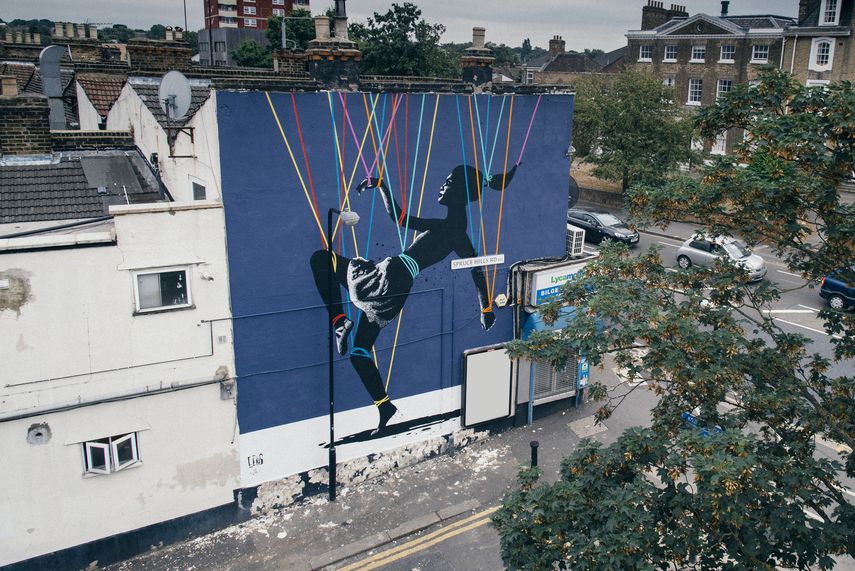 Brexit and the Arts
Widewalls: Just how inspirational is the current political turmoil in Britain for you?
Eelus: To be completely honest, politically themed art is something I generally try to steer clear of. In the early 2000s when I first started stenciling around East London, the streets were awash with naff politically-themed stencils. It was a part of the scene that I never cared for and never wanted to be a part of, and I've been sure to always avoid it. That's not to say I don't have an interest in what's going on politically, I do, and I do more and more the older I get, despite my limited knowledge and understanding, but making art about what's going on politically isn't something that generally excites me.
And now I'm obviously going against all that in creating this Brexit themed installation, so it has been a little out of my comfort zone, but to be given the opportunity to work on something of this nature with Yasha from Urban Nation and the Moniker team, it's not something I could say no to. Also, if there's ever been a time to speak up about what's going on in the world around you, it's now.
Pure Evil: I wouldn't really say that I find it inspirational but I guess the conflict is something that I can kick against. I personally think it's a massive mistake but when you think about punk rock and Reagan that was a really creative time for the music of the time and so I guess people are trying to push against what's going on at the moment.
As I type this I am up in the mountains in France and I'm very happy not to be in London and not to be in the UK but being in France hanging out with my European buddies and just making art and raising hell.
When shit goes down It means we kick against the pricks.
Snik: I wouldn't say inspiring is the right word, more depressing. It gives fuel to creativity, which is a silver lining, but it's a shame we all have to go through this right now.
Widewalls: What will Brexit mean for the arts, in your opinion? What does it mean to you personally?
Eelus: Well, the loss of funding that the arts usually get from the EU will be a huge problem for galleries and museums, but the main problem I think will be the loss of freedom of movement. As it stands, the arts in the UK thrives on the multi-cultural diversity and the sharing of creative ideas and voices of people from all over the world visiting or living in the UK. When that stops, or suddenly becomes difficult, what a huge loss that's going to be.
Art exists to try and help us have an understanding of ourselves and the world around us, breaking through boundaries both culturally and mentally and creating a sense of unity. Brexit seeks to go against all that by building walls and creating division. It's a huge blow for us culturally.
I have a 2-year-old daughter and she's part of the generation who'll have to deal with consequences of this mess and help battle the monster that's being created. At some point, I'm going to have to try and explain all this to her. Explain how 52% of the country, most of which over the age of 50, decided all of this on her behalf largely due to fear, anger and confusion as a result of scaremongering and lies from the media and government. It's grossly unfair on these kids and I'm really worried about how their world is going to the dogs. I just hope they have the strength to keep fighting.
Pure Evil: It's going to completely suck because moving out from the UK into Europe is going to be more complicated with the whole duty thing. I also see the analogy of a house party... imagine you have a big house party with all your European friends and you turn off the music and you send them all away the next time you have a party they're going to hate you a little bit and they're not gonna wanna come and hang out with you so at the moment I'm spending a lot of time explaining to my euro friends that Brexit is not my idea and I think it's rubbish.
Snik: I hope that arts funding isn't cut and that we remain a very open society, without things being censored. There is a very real risk of these things happening, however. Personally, the worry is how it affects travel, we love Europe, to visit and to work. I have a feeling it is about to become much harder to move as freely as we have previously.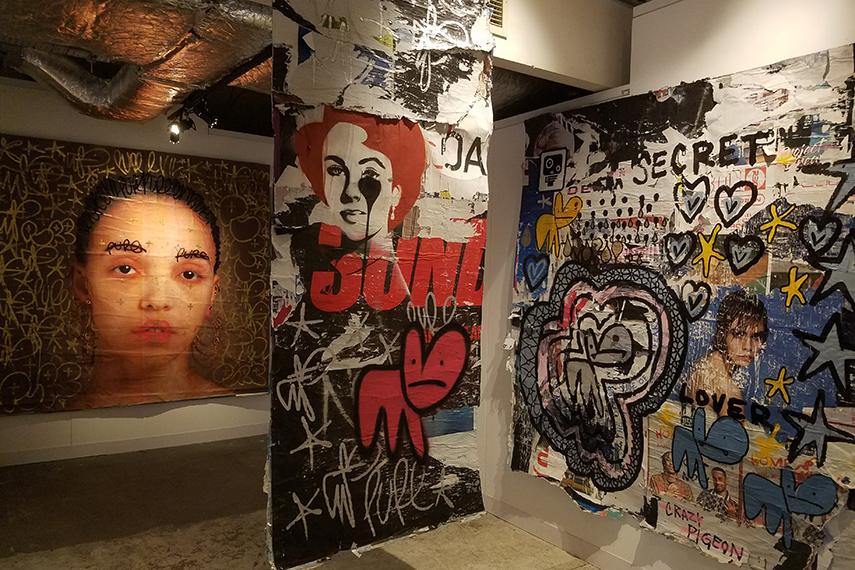 The English Edition 'Dear George the UNion is Cross'
Widewalls: Could you give us a sneak peek at what you will be presenting at Moniker, as part of "The English Edition 'Dear George the UNion is Cross'" show?
Eelus: Unfortunately I can't, as everything is being built from scratch on-site on the days leading up to the opening night. But I can tell you that as I look around the studio, I see tins of paint, coils of rope, piles of ivy, a white rabbit and a large arrangement of flowers. It actually smells nice in here for once.
Pure Evil: I'm doing something based on decollage I've been going out and tearing posters down from the streets and reconfiguring them and so I want it to be a confusing space where you go inside and you're being bombarded with too much information which is kind of how I feel about the media and about politics and everything that's going on. I am creating walls of confusion where we really don't know what's true and what's not and what we are supposed to believe. What's real and what's isn't? Isn't that the way the politicians want us to think?
I guess also the way that I usually work is if someone tells me to do something I don't listen to them and I do something completely different and so I guess that's what I've done here. I haven't chosen something obvious like a portrait of the Queen with the Union Jack I've just done that as a print separately, haha.
Snik: Afraid no final pics ready yet!
Widewalls: Have you had the chance to see other works in the exhibition? If so, impressions?
Eelus: There's been cryptic rumblings and strange murmurs about what everyone else is doing but I'm yet to see anything. I can't wait to get on-site and watch it all come together.
Pure Evil: I've been part of the WhatsApp group and actually we've been seeing a little bit of what everyone else is doing. We've all been keeping our cards quite close to our chests so let's wait-and-see.
Snik: Haven't seen anything yet, but with the roster of artists involved its sure to be first class, and very thought-provoking!
Widewalls: What's your relationship with Moniker Art Fair? Is this your first time?
Eelus: I've had the odd painting and print in one or two fairs over the years but this is the first really substantial piece I've been asked to work on. It's also my first ever installation piece so I'm really grateful to have been given the opportunity to work on something so different. I can't wait to get started.
Pure Evil: I haven't actually shown there as a gallery myself but I have tried to infiltrate it with installations before. The first time was an upside-down house, the second time was a replica of the psycho house and this time it's a room made of fucked-up advertising so I think there's definitely a thread of fucked-up houses going on.
Snik: We have always loved Moniker art fair, and always visited every year. This year with moving to Chelsea for the first time, it's sure to be a very different vibe, and as progressive as always!
Featured images: Eelus Mural, courtesy Moniker; Artworks by Nomad Clan, Dr.D, Subvertiser and Donk. Courtesy Widewalls.