The Culver City, Los Angeles based contemporary art gallery Susanne Vielmetter Los Angeles Projects has announced two forthcoming solo exhibitions that will run concurrently in their gallery spaces. Gallery 1 and 2 of the Susanne Vielmetter Los Angeles Projects will be presenting the third solo exhibition of Vancouver born painter Monique Van Genderen with the gallery, titled Manufactured Paintings while galleries 3 and 4 will host Screen Gems by the painter Brad Eberhard, his first solo exhibition with Susanne Vielmetter Los Angeles Projects, who in the 2014 hosted an exhibition by Whitney Bedford and will later this year be showing the work of Markus Bacher who was involved in the Like It exhibition that was created and curated by members of a social network.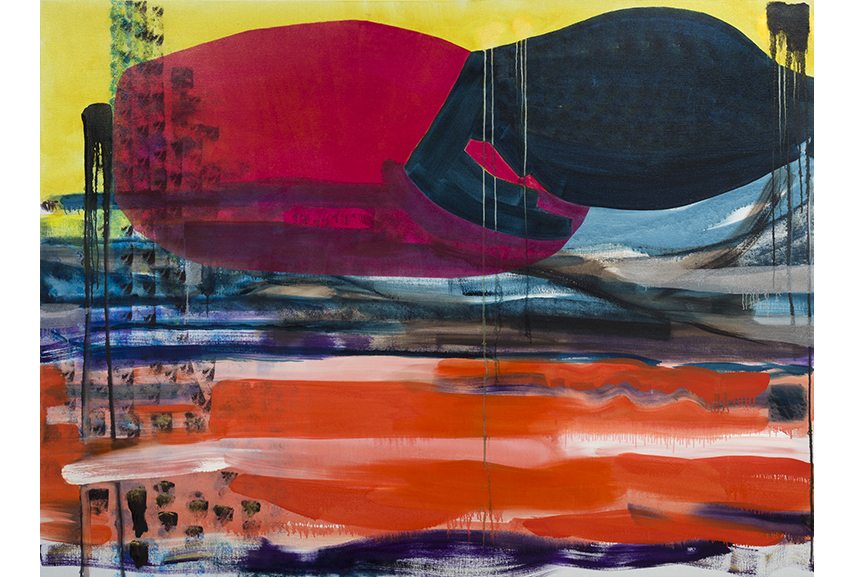 Monique Van Genderen – Manufactured Paintings
Monique Van Genderen is rightly considered to be one of the most important painters working in the field of contemporary abstraction and the solo exhibition Manufactured Paintings at Susanne Vielmetter Los Angeles Projects sees the painter demonstrate her creative process with a palette to canvas approach where the brush strokes themselves form the subject of the paintings. Monique Van Genderen explores the ideas of scale by pushing the physical boundaries of her studio; inspired by Morris Louis who created in his dining room with no idea of how the finished pieces would look when put together, she deliberately works from disorientating angles with works placed both on the wall and placed on the floor to allow a certain amount of risk and chance to shape the final abstractions. The research into abstraction will be presented as three large pieces in Gallery 1 at Susanne Vielmetter Los Angeles Projects while Gallery 2 will present a series of smaller works that contain one repeating brush stroke that were informed by artists such as Andy Warhol, Hans Hartung (see more images in this Hans Hartung video) and Mary Heilman. The works create a friction between the gestures and fabrication while the scale creates a certain physicality when viewing the works. You may also want to check out the works of Helen Frankenthaler or the works of John Henderson in A Revision.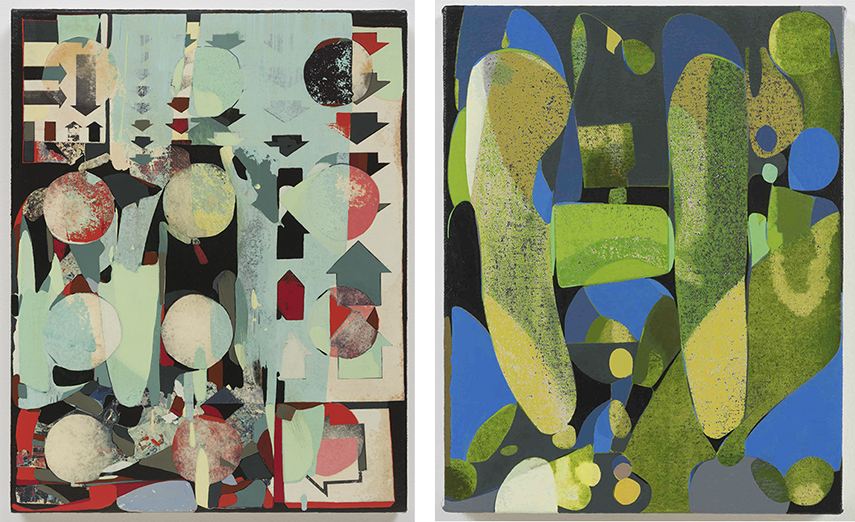 Brad Eberhard – Screen Gems
In contrast to the work of Monique Van Genderen, Brad Eberhard, in his solo exhibition Screen Gems in galleries 3 and 4 at Susanne Vielmetter Los Angeles Projects, will present twenty small scaled paintings that show the artists process of working slowly and in building up layers. The works of Eberhard refer to the works of Paul Klee, Max Ernst  Jasper Johns and modernist abstraction, layers built and destroyed; images emerge and vanish as if some geological process has taken place over time. Brad Eberhard adds visual references from culture and history such as masks, flags, totems, and weavings that all become woven into the fabric of the paint and textures that are sometimes collaged on or sanded and occasionally adds frames constructed from found objects. The process in the creation of the works by Brad Eberhard is just as vital as in the works of Monique Van Genderen, but here they feel more considered as if created by the passion of an engineer, carefully plotted to reveal the mechanics of the paintings. You may also enjoy reading the Abstract In Berlin article and Body & Matter about the art of Kazuo Shiraga and Satoru Hoshino.
The solo exhibitions Monique Van Genderen – Manufactured Paintings and Brad Eberhard – Screen Gems, will both open at Susanne Vielmetter Los Angeles Projects 21st February, 2015 and run through until 4th April, 2015.
Find more abstract painters by signing up to My Widewalls today!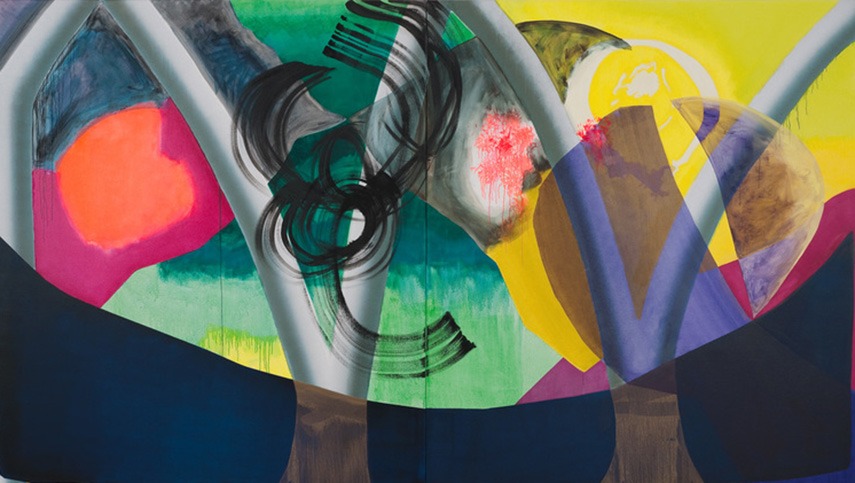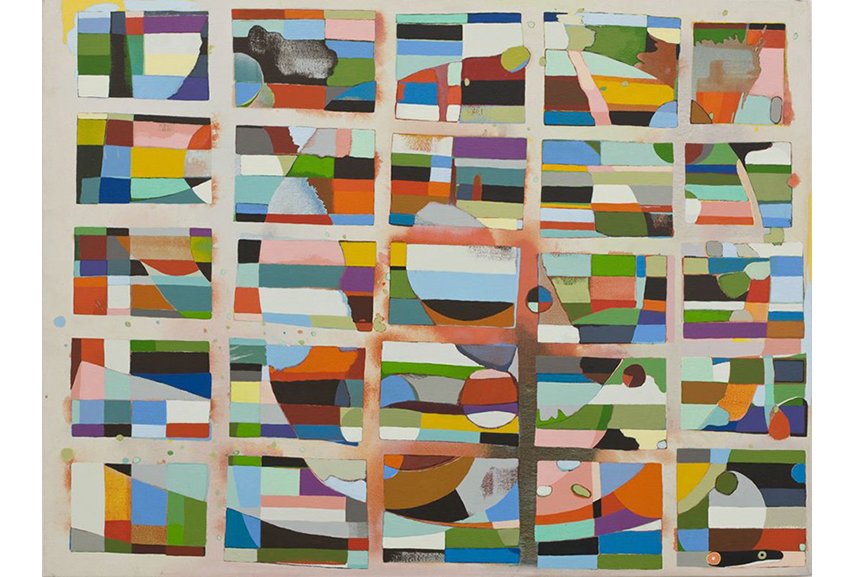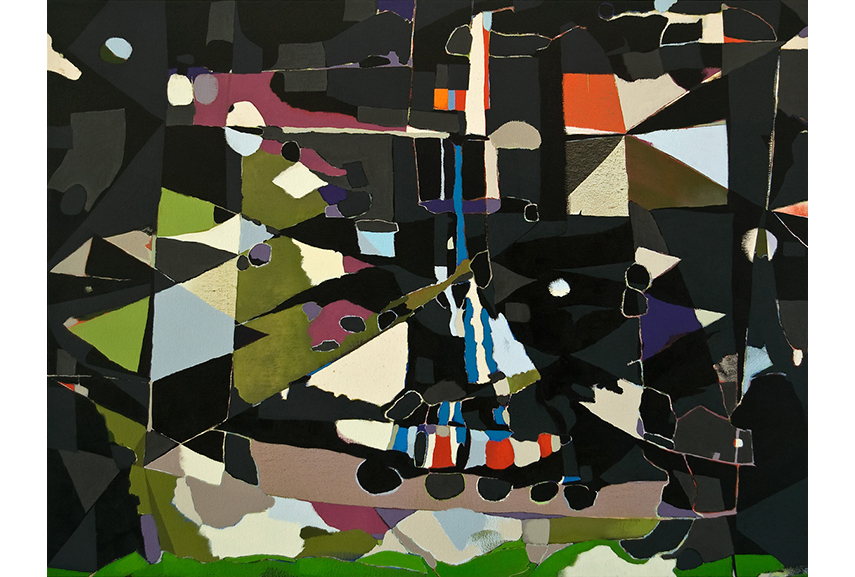 Images below article for illustrative purposes only.
All images courtesy of Susanne Vielmetter Los Angeles Projects & Artists unless otherwise credited.