The fantastic universe of Monkeybird seems as a gateway to a surreal and wonderful world packed with adventures and riches to explore. The French duo known for using symbolic anthropomorphism in their works, incarnates two faces of mankind - a realistic monkey and a dreaming bird. In this way, they aim to find a balance between wispy dreams and concrete convictions, in the attempt to discover the alchemy of living desire. Doing graffiti murals in abandoned spaces, stencils in quiet streets, and diffusing hundreds of paste-ups in the living heart of the city, they populate urban areas with the wildest of animals. The viewers are simply drawn into this dizzy universe inhabited by earthly creatures. Their latest body of work will soon be on view at Galerie Brugier-Rigail in the exhibition titled Palimpsestes.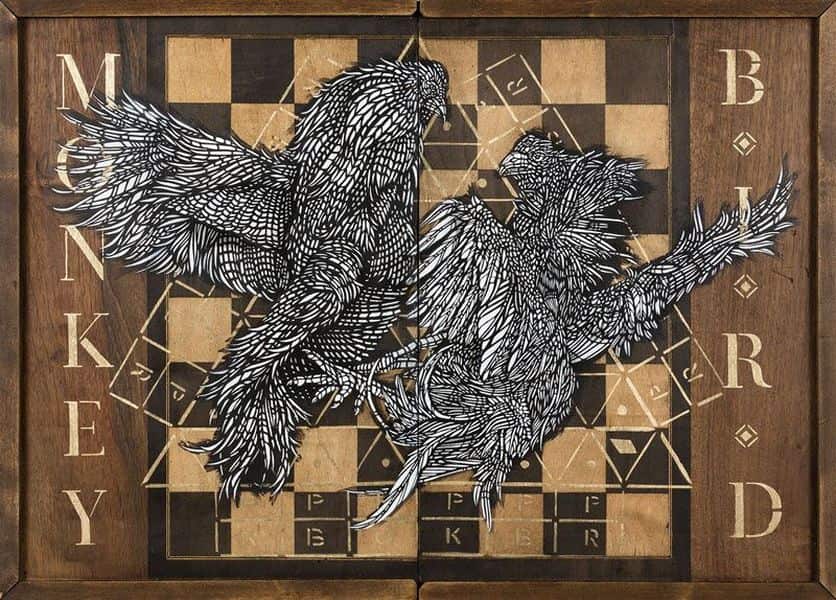 The Practice of Monkeybird
Ever since they started working together in 2010, the MonkeyBird crew, consisting of Blow the Bird and Temor the Monkey, has left their signature marks all around the world. The bird personifies the human soul imbued with notions of freedom, escape and mind games, while the monkey refers to the primitive human condition and the means used to resist our own nature.  Drawing inspiration from ephemeral monumentality, religious paintings and the Art Nouveau, they specialize in making metaphysical architectural representations. They have met on the street, while one of them was looking for a change in his work and the other a change in framework and identity. They allowed the symbols to come to them naturally, giving their approach a unique intellectual note.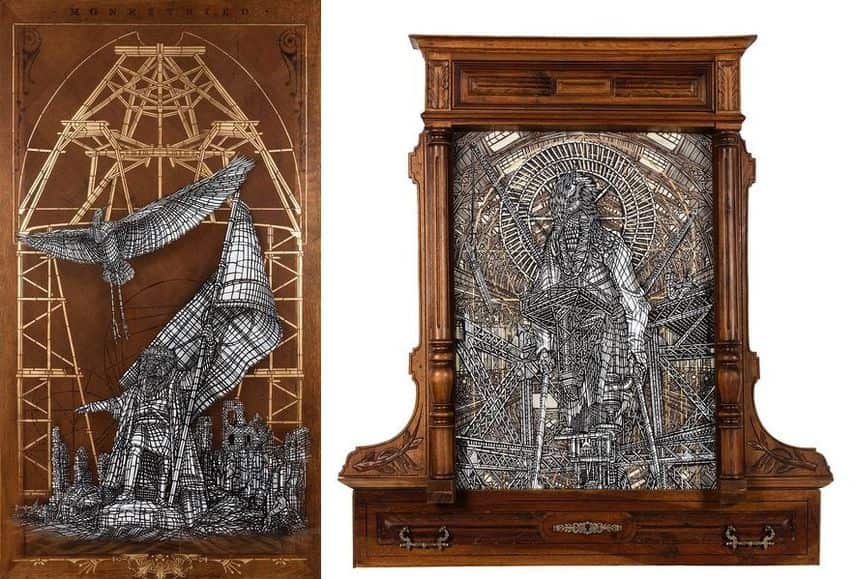 Towards a Forgotten Spirituality
In their work, MonkeyBird echo the principles of architecture and social apparatus. They make time disappear in the face of the almost magical entanglement of stencils, walking us through the maze of utopian cities that are forgotten and ancestral at the same time. Basing their work on the complexity of a society where everything is formatted, MonkeyBird presents us with wonders of architectural curves, scaffolds with stained glass windows, arches broken in ogives, and colonnades with niches populated by ancient statues. In this way, they guide the viewers' consciousness towards a forgotten spirituality. These architectural works, that are both Gothic and futuristic, take us into a place where our past never ceases to make winks to our present. Through representations of totem animals imbued with elaborate symbolism, the duo manages to transcribe social themes into unique wall tales.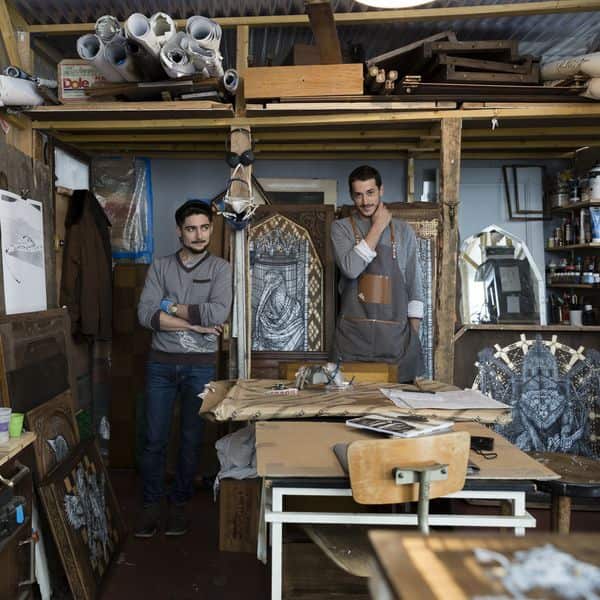 Monkeybird Art Exhibition at Galerie Brugier-Rigail
This prolific duo encourages humans to discover the right balance between their material obsessions and fantasies of freedom in order to build themselves as social animals. Be sure not to miss the latest exhibition by Monkeybird and allow yourself to get carried away by their irreverent and wise characters. The exhibition Palimpsestes will be on view at Galerie Brugier-Rigail in Paris from October 12th until November 7th, 2017. The vernissage will be held on October 12th, from 6 to 9 p.m.
Featured images: Monkeybird - Le Phoenix (detail), 2017. All images courtesy of Galerie Brugier-Rigail.