A French art duo, MonkeyBird is best known for works imbued with symbolic anthropomorphism. Working in a range of media and techniques, they portray wild animals in urban areas as part of an emotional and rational discussion about human progress.
The latest body of work of this dynamic duo will now be on view at Pretty Portal. Titled Between Here and Now, the exhibition brings together intricate works inspired by ephemeral monumentality, religious paintings and the art nouveau.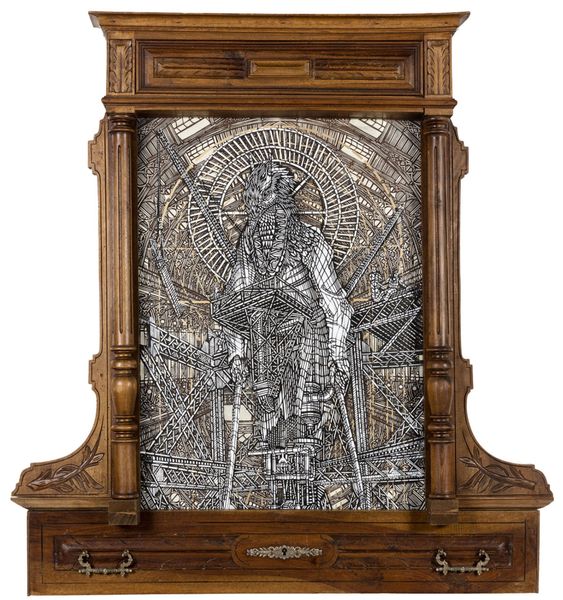 The Dynamic Duo
The duo consists of Blow the Bird and Temor the Monkey, together incarnating two faces of humankind – the monkey being the realist and the bird being the dreamer. The humanoid monkey and bird are also the recurring protagonists of their work.
Born in Bordeaux, the two artists met in 2008 in their native city. At the time, they were both working exclusively on the street and searching for something new in their practices - one looking for a change in his graffiti and the other a change in framework and identity.
Both having a graphic design and object and industrial design background, they have developed a unique aesthetic based on technique-driven stenciling, collages, spray painting, drawing, carving, silkscreen printing and engraving. Today, the anonymous duo travels widely to create murals in abandoned spaces, stencils in quiet streets, diffuse hundreds of paste-ups and create indoor installations. They have a preference for ancient doors, old walls, woody fences and other forgotten places.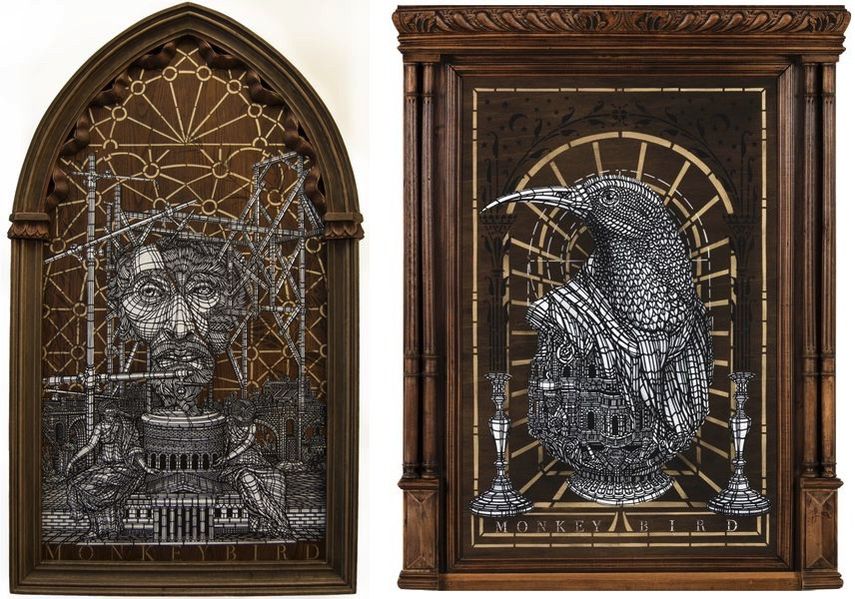 The Practice of MonkeyBird
Unconsciously, the symbols in MonkeyBird's work came to the artists naturally, giving their approach an intellectual note. Having a goal to become the alchemists of the living desire, the duo creates work which reflects a search for balance between dreams and reality. Following the ancestral knowledge and adapting it to reach modern society, they have forged a visual language imbued with symbolic pictures.
Their work comments on the human progress through symbols and allegories, featuring mythical animals accented in gold alongside old-world details like classical architecture, timekeeping devices, and weight scales. These anthropomorphic figures represent body and soul, evoking a complete being.
MonkeyBird finds inspiration in lyrical and sacral pieces such as illuminations, stained-glass windows, architectural ornaments, fantastic illustrations from the Art and Craft movement and Japanese sketches. Highly complex, their work is comprised of an accumulation of lines and an abundance of patterns which provide a vital vibration to their work.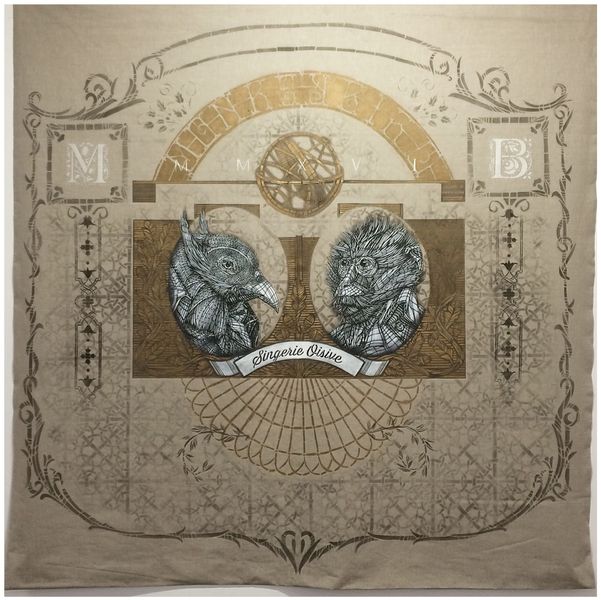 Between Here and Now at Pretty Portal Gallery
The exhibition Between Here and Now will be on view at Pretty Portal in Düsseldorf from December 12th, 2019 until January 1st, 2020.
The opening reception will take place on November 29th, 2019, from 7 to 10 p.m.
Featured image: MonkeyBird - Armoirie (detail). All images courtesy of Pretty Portal Gallery.