When six artists meet for two weeks to make monotype art together, it results with more than two hundred works, soon to be exhibited on the walls of Galleria Varsi. Colera is the name of this dense, stubborn and immediate project by Borondo, Run, Servadio and the Canemorto trio, which started spontaneously in 2015, when six of these highly versatile artists met in London. Their initial collaboration, which was based on a mutual affinity for the printing press and a passion for investigating the possibilities of monotype, will be revived again by new explorations aimed at merging together multiple thoughts and expressions into intrusive and bold fresh ink forms. In this new collaboration the creative process usually consists of pressure applied to a paper or other plate covered with ink, a process where each artist used a plate and inks for covering the entire surface of the gallery.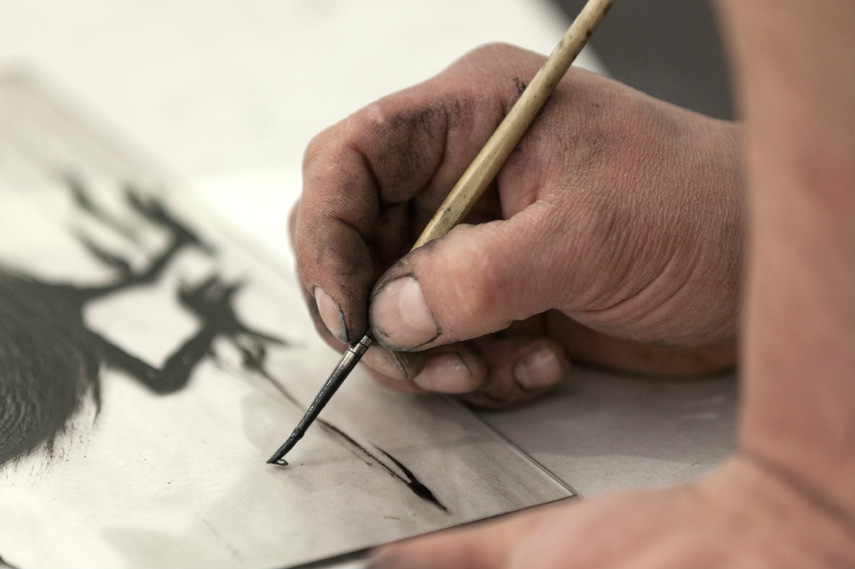 Investigating the Possibilities of Monotyping
Coming from the Greek word monos, meaning "one" and typos, meaning "impression", we could call the medium of monotype a hybrid form of expression which makes a boundary between painting and printing, resulting in the disappearance of matrix, and each work being followed by its own single ghost. The monotype is created by pressure, that of the plate of either wood, metal, glass or plexiglass painted in oil or ink on paper. Motoype with a plate is first designed in a reversed way and then finished by using paint brushes, rollers, drills or other experimental tools. This technique allows full freedom to interdisciplinary artists, offering them unique methods of expression, between intellectual and sensory pleasure. It also allows them to work with the concept of chance and surprise, creating works in which mistakes become more valuable than perfection, leading them to a place that surpasses the control and limit of their own hands.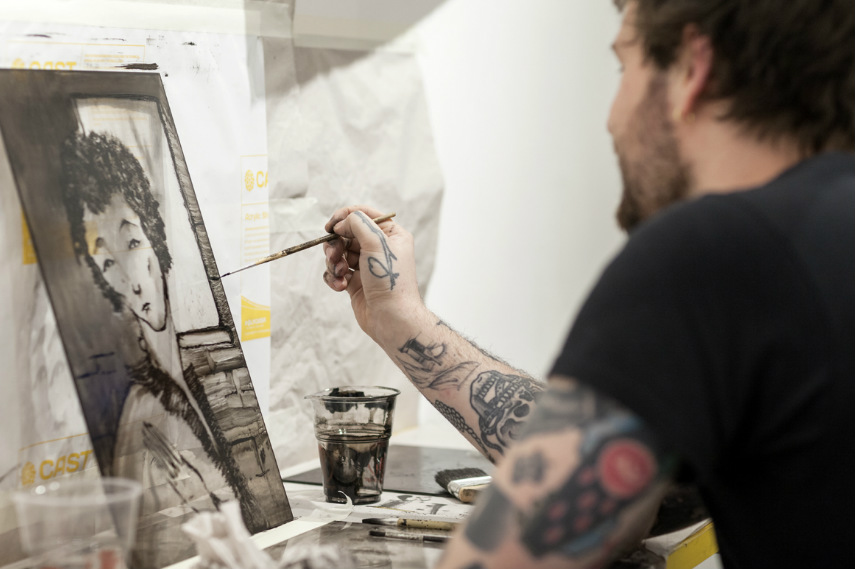 An Urgent Occupation of Space
Ever since these artists met and started getting together for monotypes in Servadio's workshop, they wanted to produce distinctive art filled with stubbornness, immediacy, obsessiveness and urgency of occupying large amounts of space with their works. The have a passion for creating art through bold, dense and dirty actions where usually  more than just a plate is covered with ink, resulting in their studio looking like "it was snowing sheets", by the words of Servadio, with floors and working spaces filled with inks, printing going on without stopping and using all available objects to produce textures which ended up being placed on all surfaces of the workshop. The monotype artist can use paper or any other available surface, which can become more liberating than drawing and painting. This is where they got the idea of actually fully covering all available spaces in the gallery with their art. Monotype can, in the end, be viewed as a chance-based created sign and signature of a moment.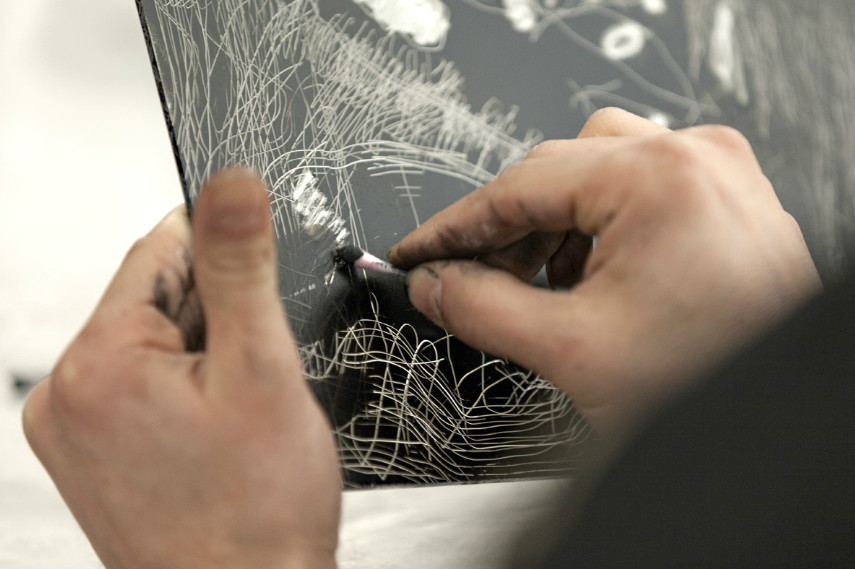 Monotype Art Becomes the Second Skin of Galleria Varsi
Bringing together six artists working in different media; ranging from drawing, painting, sculpture, installations, video, music, to tattoos, Galeria Varsi will host a unique exhibition that covers all of the gallery surfaces with more than two hundred works of monotype art. Working freely and without hesitation with this immediate and instinctive technique, Borondo, Run, Servadio and the Canemorto trio's art will be shown at the exhibition Colera opens on March 25, with the works remaining on view until April 23, 2017. 
Featured image: Galleria Varsi - Colera Group Show Preparation Page, 2017, Galleria Varsi - Colera Group Show Preparation Page Detail 3, 2017, Galleria Varsi - Colera Group Show Preparation Page Detail 4, 2017. All images courtesy of Galleria Varsi.