In the past few months, America has been grappling with both a deadly pandemic and the tragic consequences of systemic racism. As a result, many monuments have been taken down, monuments that have stood for years as overt reminders of the country's history of chattel slavery, racial apartheid, and the war fought to uphold it.
This summer, Socrates Sculpture Park opened the first part of an exhibition of new outdoor monuments, addressing the role of monuments in American society. Created by artists Jeffrey Gibson, Paul Ramírez Jonas, Nona Faustine and Xaviera Simmons, these works highlight underrepresented histories including queer, Indigenous, and diasporic narratives.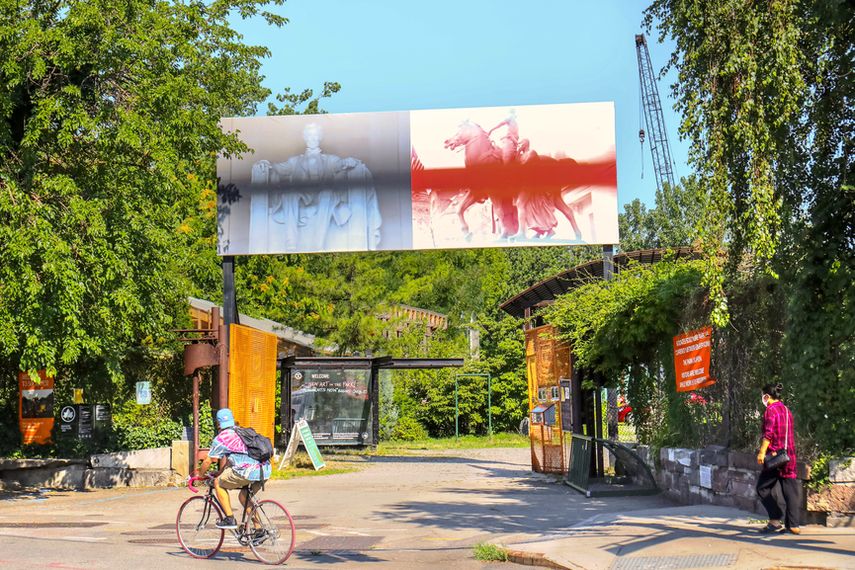 MONUMENTS NOW Part I
Evolving over three phases as a cumulative exhibition, MONUMENTS NOW will present ten monuments by artists selected through an open call application process. In addition to monuments by Jeffrey Gibson, Paul Ramírez Jonas, and Xaviera Simmons, the first part of the show also features a monuments-related artwork by photographer Nona Faustine presented at the Park's Broadway Billboard above the main entrance.
The exhibition was opened with the initial installation and presentation of Jeffrey Gibson's project, Because Once You Enter My House, It Becomes Our House. This large-scale public sculpture draws from Indigenous Mississippian culture, architecture, activist graphic traditions, and queer performative strategies, proposing a future vision of the world that embraces complexities within collective identity. It will be accompanied by a series of performances from Indigenous artists curated by Gibson that would be available to the public online.
The artist Paul Ramírez Jonas presented Eternal Flame, a monument in the form of a grill that honors the role of cuisine and cooking in cultural cohesion and expression among immigrant communities and identities. Designed to recognize the importance of dialogue and exchange, the monument highlights cooking culture as a symbolic eternal flame, enduring in communities for generations, over vast distances.
Xaviera Simmons presented a series of sculptural forms, featuring text culled from historical documents foundational to racial disenfranchisement in the United States. Through these works, the artist offers insight into governmental policies that continue to shape the racial caste system we live within presently.
Parts II and III
Through an open-call for Part II, MONUMENTS NOW: Call and Response, the Park selected the following artists from 200 proposals: Daniel Bejar, Fontaine Capel, Patrick Costello, Dionisio Cortes Ortega, Bel Falleiros, Jenny Polak, Aya Rodriguez-Izumi, Andrea Solstad, Kiyan Williams, and Sandy Williams IV.
For the third part, MONUMENTS NOW: The Next Generation, the Park invited high school students participating in the their arts education program, Socrateens, to collectively research and realize a monument sculpture and accompanying zine.
As John Hatfield, Executive Director of Socrates Sculpture Park, explains, "Nature and art make us human, heal our psyches, and provide rejuvenation when we most need it."
As an urban park, venue for contemporary public art and a cultural anchor in Queens, Socrates is the ideal venue to present new artist-driven perspectives on monuments for a 21st century America.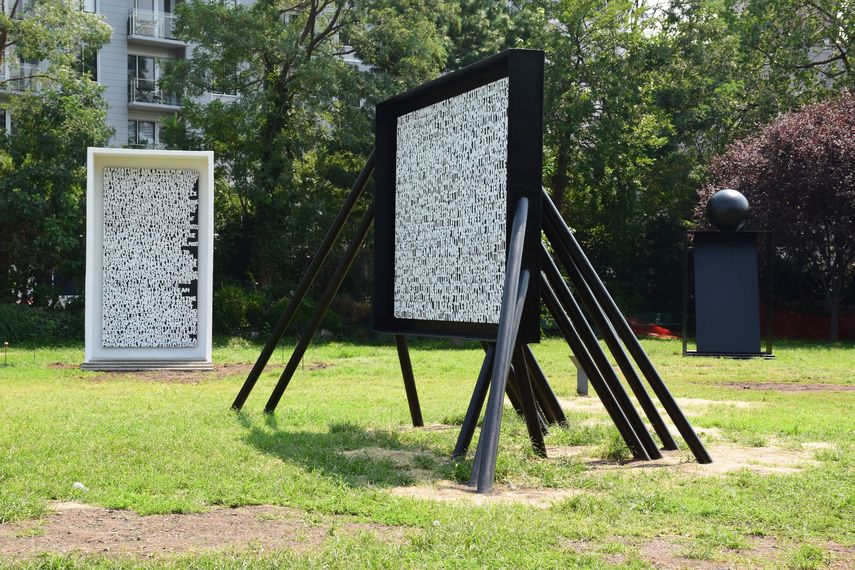 MONUMENTS NOW at Socrates Sculpture Park
Part I of MONUMENTS NOW is currently on view at Socrates Sculpture Park in New York and Part II and Part III will be on view from October 10th, 2020.
All three parts of MONUMENTS NOW – I. Jeffrey Gibson, Paul Ramírez Jonas, Xaviera Simmons; II. Call and Response; and III. The Next Generation – will remain at the Park through March 2021.
Featured image: Jeffrey Gibson - Because Once You Enter My House It Becomes Our House, 2020. Courtesy the Artist; Socrates Sculpture Park; Sikkema Jenkins & Co., New York; Kavi Gupta, Chicago; Roberts Projects, Los Angeles; Image by Scott Lynch.